Health
Nov. 17, 2015 10:13AM EST
7 Reasons You Should Hate Fast Fashion
Fast fashion has received a lot of criticism in recent years. As AlterNet's Glynis Sweeny explains, fast fashion fuels "rampant consumerism ... in which clothing is designed to be moved as quickly as possible from catwalk to store." And as we cycle through clothing faster and faster, the industry's environmental impact has exploded. "It is particularly worrisome," said Sweeny, "because it creates demand for and then constantly churns out massive amounts of cheap clothes, ultimately accelerating carbon emissions and global warming."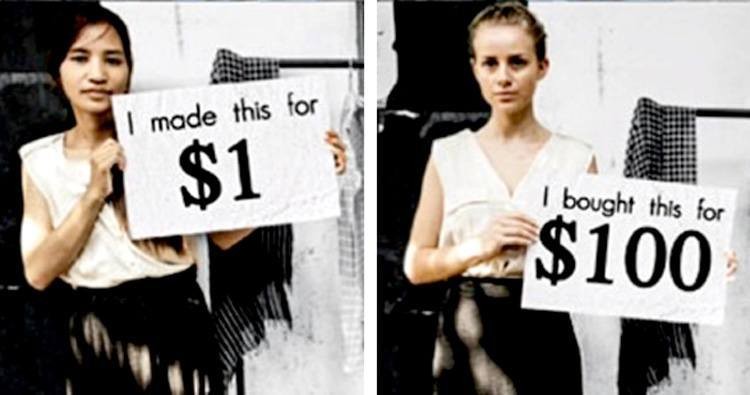 In April, Swedish-based clothing company H&M (considered a fast fashion giant) issued its annual sustainability report. While many commended the company's latest efforts, others, such as Veronica at xoJane, felt fast fashion and sustainability are simply incompatible.
She wrote:
"It's almost impossible for fast-fashion and sustainability to exist under the same roof: One thrives on the rapid mass-production of trendy clothes, using cheap materials and even cheaper labor to ensure prices that customers won't complain about; the other focuses on creating garments that will last a lifetime, from sustainable yet pricey raw materials, and, in the best case scenario, using labor that is fairly paid and production processes with limited impact on the environment."
By focusing on cutting costs wherever possible to mass-produce cheap, disposable clothing, fast fashion offers "trendy," bargain-price clothing at the expense of people and the planet. Here are seven reasons why you should hate fast fashion:
1. Cotton is a thirsty and chemically dependent plant: Cotton is the most commonly used fiber in the world, making its way into nearly 40 percent of our clothing. Though it only makes up 2.4 percent of all cropland, it uses 12 percent of all pesticides and 25 percent of insecticides.
"Cotton is one of the thirstiest crops in existence," demanding six times as much water as lettuce and 60 percent more than wheat, according to ProPublica. And yet the federal government subsidizes growing cotton in the Arizona desert.
2. Cotton alternatives aren't any better: As for common synthetic alternatives to cotton, such as polyester and nylon, they are made from petrochemicals that do not biodegrade. They require a great deal of energy to make, said Sweeny, and the manufactures of nylon emit large amounts of nitrous oxide, an incredibly potent greenhouse gas.
Recycled polyester, made from discarded plastics, uses half the energy as virgin polyester. But often times companies cannot get enough discarded plastic, so they buy unused water bottles directly from manufacturers to be able to market their product as "recycled" polyester, according to Sweeny. Fortunately, eco-friendly alternatives to these unsustainable fabrics are being developed, including products using pineapples, coconuts and bananas.
3. Garment operations, textile mills and dyeing plants are polluting waterways and endangering surrounding communities' health: Rivers around the world, but especially in Asia, where so much cheap clothing is made, are extremely polluted. Greenpeace East Asia's Detox campaign has been working to expose the textile industry's pollution and its effect on residents from Bangladesh to China to Indonesia.
4. Toxic chemicals and dangerous work conditions put factory workers at risk: For an excellent explanation on just how awful and dangerous working conditions are in garment factories, check out John Oliver's segment on fast fashion below. The Savar building collapse in 2013 in Dhaka, Bangladesh, which killed more than 1,100 people, shows just how dangerous working conditions can be.
The dangers from chemical exposure among factory workers range from acute to chronic and can ultimately lead to death. "Some dyes and chemicals, such as alum and copper sulfate, can irritate your skin and cause rashes, allergies or breathing problems," said Hesperian in its guide Hazards in Garment Factories. "Others are more dangerous, such as potassium dichromate and tanning acid, and can cause cancer as well as other health problems."
5. The chemicals in clothing linger: Chemicals, such as formaldehyde, perfluorinated chemical (PFC), nonylphenol ethoxylate (NPE), p-Phenylenediamine (PPD), volatile organic compounds (VOCs) and dioxin-producing bleach, are all commonly found in our clothing. And all of these chemicals have been shown to produce serious adverse health effects. Dangerous chemicals are found in kids' clothing too, according to a Greenpeace report.
6. That dress you just bought is more well traveled than you: Raw materials can be shipped from China, India or the U.S. to places like Bangladesh, Vietnam, Pakistan and the Philippines, explained Sweeny. Then, garments are put in shipping containers and sent by rail, container ships and eventually rail and trucks to the retailer. There's no way to gauge how much fuel is used in total, said Sweeny, but considering Americans buy 22 billion new clothing items every year, the fast fashion industry's emissions contribution is significant.
7. John Oliver hates fast fashion, so you should too: Oliver wanted to teach fashion CEOs a lesson for the horrible environmental and labor conditions in their factories, so he sent "suspiciously cheap" food to fashion CEOs selling "shockingly cheap" clothing.
If you haven't already seen "The True Cost," a documentary about the clothing industry's impact on the world, you should check it out:
YOU MIGHT ALSO LIKE
13-Year-Old Sues North Carolina, Asks Judge to Force State to Take Action on Climate Change
An Organic Indoor Vertical Farm May Be Coming to a City Near You
Indoor Veggie Garden Lets You Grow Your Own Food Right in Your Kitchen
Jul. 21, 2017 01:50PM EST
Will Rose / Greenpeace
Eleven peaceful activists from the Greenpeace ship Arctic Sunrise have taken to the water in inflatable boats with handheld banners to oppose the Statoil Songa Enabler oil rig, 275 km North off the Norwegian coast, in the Arctic Barents sea.
The banners say: "People Vs. Arctic Oil" and are directed at Statoil and the Norwegian government, which has opened a new, aggressive search for oil in the waters of the Barents Sea.
Keep reading...
Show less
Jul. 21, 2017 10:34AM EST
Dominion Pipeline Monitoring Coalition
The Federal Energy Regulatory Commission (FERC) paved the way Friday for the 600-mile, 42-inch fracked gas Atlantic Coast Pipeline to proceed when it issued the final environmental impact statement (FEIS). A joint project of utility giants Duke Energy and Dominion Energy, the Atlantic Coast Pipeline would move fracked gas from West Virginia into Virginia and North Carolina.
In April, the Sierra Club submitted more than 500 pages of legal and technical comments on FERC's draft EIS, which were joined by more than 18,000 individual comments detailing opposition to the project. The pipeline has been met with widespread opposition, with more than 1,000 people participating in public hearings across the three affected states. The Sierra Club recently requested that FERC issue a new environmental review document analyzing information that came in after or late in, the public comment process.
Keep reading...
Show less
Jul. 21, 2017 08:25AM EST
Greenpeace / PolluterWatch
By Jessica Corbett
"It's time Rex Tillerson step down or be removed," said Gigi Kellett of Corporate Accountability International, following an announcement on Thursday that ExxonMobil will pay $2 million for violating U.S. sanctions against Russian officials while the now-secretary of state was the company's CEO.
"ExxonMobil demonstrated reckless disregard for U.S. sanction requirements," according to enforcement filing released by the Treasury Department's Office of Foreign Assets Control (OFAC), which issued the penalty. Though the fine is reportedly the maximum penalty allowed, it's pittance to one of the world's most profitable and powerful corporations, which last year reported a profit of $7.8 billion.
Keep reading...
Show less
Jul. 21, 2017 11:15AM EST
New analysis from Amory B. Lovins debunks the notion that highly unprofitable, economically distressed nuclear plants should be further subsi­dized to meet financial, security, reliability and climate goals. The analysis, which will appear shortly in The Electricity Journal, shows that closing costly-to-run nuclear plants and reinvesting their saved operating costs in energy efficiency provides cheaper elec­tricity, increases grid reliability and security, reduces more carbon, and preserves (not distorts) market integrity—all without subsidies.

Keep reading...
Show less
Jul. 21, 2017 08:44AM EST
Oil Change International / Twitter
By Christian Detisch and Seth Gladstone
In the wake of Senate Republicans' ever-deepening debacle over their flailing attempts to strip health insurance from 22 million people, Majority Leader Mitch McConnell is desperate to do something—anything—to show that he can get legislation passed. To this end, he's bypassing the standard committee review process to push a complex 850+ page energy bill straight to the full Senate floor. Perhaps not surprisingly, this legislation, the Energy and Natural Resources Act of 2017, would be a disaster for public health and our climate.
Keep reading...
Show less
Jul. 21, 2017 08:11AM EST
Rooftop solar panels on a beach house in southern Florida. TAI VIINIKKA / CC BY-NC-ND 2.0
A new law passed this week in South Miami will require all new homes built in the city to install solar panels. The measure, which was inspired by a proposal from a teenage climate activist, will go into effect in September.
The text of the ordinance details the climate impacts facing South Miami.
Keep reading...
Show less
Jul. 21, 2017 10:27AM EST
www.youtube.com
Keep reading...
Show less
Jul. 21, 2017 08:49AM EST
iStock
By Katherine Paul and Ronnie Cummins
A recent series of articles by a Washington Post reporter could have some consumers questioning the value of the U.S. Department of Agriculture's (USDA) organic seal. But are a few bad eggs representative of an entire industry?
Consumers are all for cracking down on the fraudulent few who, with the help of Big Food, big retail chains and questionable certifiers give organics a bad name. But they also want stronger standards, and better enforcement—not a plan to weaken standards to accommodate "Factory Farm Organic."
Keep reading...
Show less