7 Reasons You Should Hate Fast Fashion
Fast fashion has received a lot of criticism in recent years. As AlterNet's Glynis Sweeny explains, fast fashion fuels "rampant consumerism ... in which clothing is designed to be moved as quickly as possible from catwalk to store." And as we cycle through clothing faster and faster, the industry's environmental impact has exploded. "It is particularly worrisome," said Sweeny, "because it creates demand for and then constantly churns out massive amounts of cheap clothes, ultimately accelerating carbon emissions and global warming."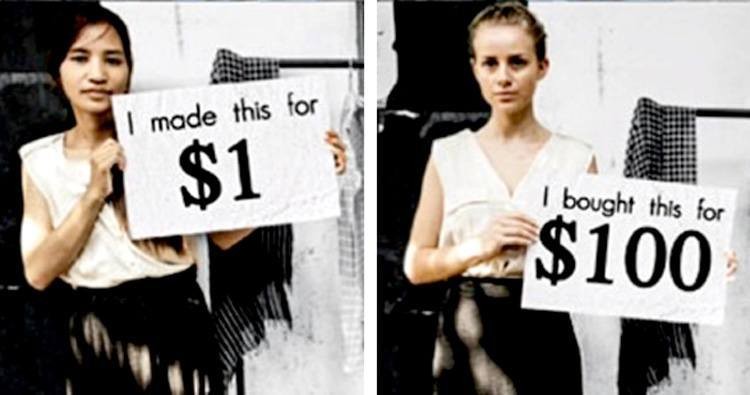 In April, Swedish-based clothing company H&M (considered a fast fashion giant) issued its annual sustainability report. While many commended the company's latest efforts, others, such as Veronica at xoJane, felt fast fashion and sustainability are simply incompatible.
She wrote:
"It's almost impossible for fast-fashion and sustainability to exist under the same roof: One thrives on the rapid mass-production of trendy clothes, using cheap materials and even cheaper labor to ensure prices that customers won't complain about; the other focuses on creating garments that will last a lifetime, from sustainable yet pricey raw materials, and, in the best case scenario, using labor that is fairly paid and production processes with limited impact on the environment."
By focusing on cutting costs wherever possible to mass-produce cheap, disposable clothing, fast fashion offers "trendy," bargain-price clothing at the expense of people and the planet. Here are seven reasons why you should hate fast fashion:
1. Cotton is a thirsty and chemically dependent plant: Cotton is the most commonly used fiber in the world, making its way into nearly 40 percent of our clothing. Though it only makes up 2.4 percent of all cropland, it uses 12 percent of all pesticides and 25 percent of insecticides.
"Cotton is one of the thirstiest crops in existence," demanding six times as much water as lettuce and 60 percent more than wheat, according to ProPublica. And yet the federal government subsidizes growing cotton in the Arizona desert.
2. Cotton alternatives aren't any better: As for common synthetic alternatives to cotton, such as polyester and nylon, they are made from petrochemicals that do not biodegrade. They require a great deal of energy to make, said Sweeny, and the manufactures of nylon emit large amounts of nitrous oxide, an incredibly potent greenhouse gas.
Recycled polyester, made from discarded plastics, uses half the energy as virgin polyester. But often times companies cannot get enough discarded plastic, so they buy unused water bottles directly from manufacturers to be able to market their product as "recycled" polyester, according to Sweeny. Fortunately, eco-friendly alternatives to these unsustainable fabrics are being developed, including products using pineapples, coconuts and bananas.
3. Garment operations, textile mills and dyeing plants are polluting waterways and endangering surrounding communities' health: Rivers around the world, but especially in Asia, where so much cheap clothing is made, are extremely polluted. Greenpeace East Asia's Detox campaign has been working to expose the textile industry's pollution and its effect on residents from Bangladesh to China to Indonesia.
4. Toxic chemicals and dangerous work conditions put factory workers at risk: For an excellent explanation on just how awful and dangerous working conditions are in garment factories, check out John Oliver's segment on fast fashion below. The Savar building collapse in 2013 in Dhaka, Bangladesh, which killed more than 1,100 people, shows just how dangerous working conditions can be.
The dangers from chemical exposure among factory workers range from acute to chronic and can ultimately lead to death. "Some dyes and chemicals, such as alum and copper sulfate, can irritate your skin and cause rashes, allergies or breathing problems," said Hesperian in its guide Hazards in Garment Factories. "Others are more dangerous, such as potassium dichromate and tanning acid, and can cause cancer as well as other health problems."
5. The chemicals in clothing linger: Chemicals, such as formaldehyde, perfluorinated chemical (PFC), nonylphenol ethoxylate (NPE), p-Phenylenediamine (PPD), volatile organic compounds (VOCs) and dioxin-producing bleach, are all commonly found in our clothing. And all of these chemicals have been shown to produce serious adverse health effects. Dangerous chemicals are found in kids' clothing too, according to a Greenpeace report.
6. That dress you just bought is more well traveled than you: Raw materials can be shipped from China, India or the U.S. to places like Bangladesh, Vietnam, Pakistan and the Philippines, explained Sweeny. Then, garments are put in shipping containers and sent by rail, container ships and eventually rail and trucks to the retailer. There's no way to gauge how much fuel is used in total, said Sweeny, but considering Americans buy 22 billion new clothing items every year, the fast fashion industry's emissions contribution is significant.
7. John Oliver hates fast fashion, so you should too: Oliver wanted to teach fashion CEOs a lesson for the horrible environmental and labor conditions in their factories, so he sent "suspiciously cheap" food to fashion CEOs selling "shockingly cheap" clothing.
If you haven't already seen "The True Cost," a documentary about the clothing industry's impact on the world, you should check it out:
YOU MIGHT ALSO LIKE
13-Year-Old Sues North Carolina, Asks Judge to Force State to Take Action on Climate Change
An Organic Indoor Vertical Farm May Be Coming to a City Near You
Indoor Veggie Garden Lets You Grow Your Own Food Right in Your Kitchen
www.elysee.fr
By Andy Rowell
There is a growing feeling within European capitals that a quiet, but deeply positive, revolution is happening under Emmanuel Macron in France.
Macron's opinion poll rating is high, especially boosted in how the young French president has reacted to Donald Trump on the international stage.
Keep reading...
Show less
www.facebook.com
Keep reading...
Show less
Keep reading...
Show less
www.youtube.com
According to Bloomberg, "SeaWorld Entertainment Inc. received a subpoena earlier this month from regulators investigating disclosures and public statements by executives, including comments about the Blackfish documentary that caused a public backlash against the confinement of orcas.
Keep reading...
Show less
By Mary Mazzoni
In 2013, shoppers were reacquainted with the tragic story of their clothing when a massive factory collapse claimed the lives of more than 1,100 Bangladeshi garment workers.
The nonprofit Fashion Revolution, formed in response to that disaster, continues to track the apparel industry's progress on environmental stewardship and human rights. But four years later, big brands are still not doing enough to disclose their efforts to customers, the organization concluded in a recent report.
Keep reading...
Show less
Hawaii Renewable Energy Alliance
The latest issue of the U.S. Energy Information's "Electric Power Monthly" (with data through April 30) reveals that—for the first time since the beginning of the nuclear era—renewable energy sources (i.e., biomass, geothermal, hydropower, solar—inc. small-scale PV, wind) are now providing a greater share of the nation's electrical generation than nuclear power.
Keep reading...
Show less
www.youtube.com
Check out this great 360° virtual reality video by NowThis on the world's largest indoor vertical farm, AeroFarms. Located in Newark, New Jersey, AeroFarms grows more than 2 million pounds of greens a year without sunlight, soil or pesticides.
As reported by EcoWatch in July 2105, the $30 million, 70,000-square-foot AeroFarms headquarters dwarfs Japan's (already impressive) 25,000-square-foot vertical indoor farm, which had been the world's largest until now.
www.facebook.com
"There's no such thing as clean coal," according to this ATTN: video.
Watch above as ATTN: explains the many hazards of coal beyond carbon emissions, that no matter what there's no reviving the coal industry and how investment in renewable energy is the best way forward.
Share this video if you think America needs real energy solutions.
Wikipedia
By Franziska Spritzler, RD, CDE
Boosting your metabolic rate can help you lose body fat. However, most "fat-burning" supplements on the market are either unsafe, ineffective or both.
Fortunately, several natural foods and beverages have been shown to increase your metabolism and promote fat loss.
Keep reading...
Show less


Get EcoWatch in your inbox