This website uses cookies to ensure you get the best experience while browsing it. By clicking 'Got It' you're accepting these terms.
7 Reasons Why the U.S. Government Must Label GMOs
Mar. 08, 2016 03:51PM EST
Food
By Zen Honeycutt
The Senate Ag Committee sent a bill to the Senate floor last week which, if passed, will eliminate mandatory GMO labeling, preempt state rights, go against what 90 percent of American citizens want and require the U.S. Department of Agriculture to spend taxpayer dollars to educate the public about the supposed "benefits" of GMOs.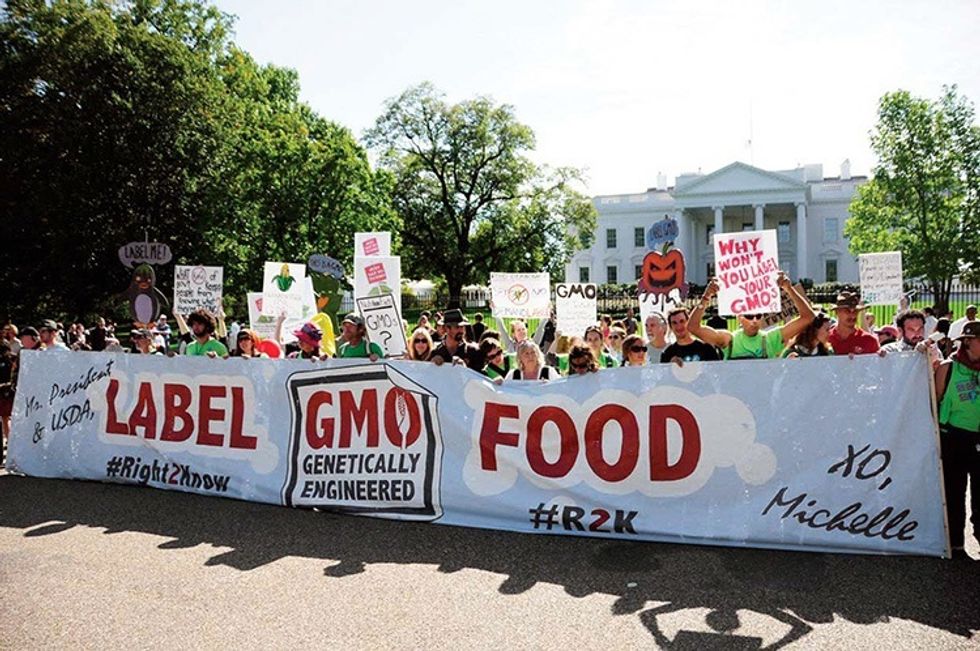 Here are seven reason why the U.S. government can't afford to pass the Safe and Accurate Food Labeling Act, otherwise known as, the Denying Americans the Right to Know Act or DARK Act:
1. GMOs are in our food. Food is the number one factor of the condition of our health.
Whether you believe GMOs are safe or not, everyone has a right to decide for themselves or their family how much or how often they eat something which may or may not be safe. Alcohol for instance, has a warning label because it is considered unsafe in large quantities and is not allowed under a certain age due to health risks. Aspartame and high fructose corn syrup have numerous studies showing harm, many report adverse effects and they are clearly labeled. At least consumers have a choice. The responsibility is on them to decide.
2. There are more than 1,000 studies and papers regarding harm from GMOs and related pesticides.
To ignore these studies and to continue to allow Americans, the sickest population in the developed world, with the most expensive health care, to eat this food unknowingly, is contrary to the government's role in building a successful nation. The cost of diabetes alone will bankrupt the U.S. health care budget in 11 years if swift action is not taken to turn around the health crisis we have in America today. A major factor of diabetes has been directly linked to the fact that glyphosate, sprayed on GMOs, destroys the body's ability to make serotonin, which regulates insulin. Diabetes in teens has quadrupled in the past 10 years, the same time period in which 70 percent of all the glyphosate which has ever been sold, has been used.
3. Eighty percent of GMOs are engineered to withstand toxic pesticides and herbicides.
Numerous new studies nullify the 40-year-old science which claims these chemicals are safe. These studies show that glyphosate, atrazine, 2,4-D and many more chemicals are neurotoxins, destroy the gut bacteria which is where 70 percent of the immune system lies, cause liver and kidney damage, cause organ damage, increase antibiotic resistance, cause placental cell death and breast cancer cell growth. They have also been shown to be endocrine disruptors, causing birth defects, miscarriages, sterility and infertility. We currently have the highest rate of infertility in recorded history.
We also have 50 percent more babies that die on the first day of life than all of the industrialized nations combined. With GMOs being in 85 percent of our processed foods and glyphosate, an acknowledged "reproductive effector" by the U.S. Environmental Protection Agency (EPA), allowed on 160 of U.S. foods, the Senate Ag Committee decision to continue to dis-allow citizens to at least self-regulate the amount of GMOs they eat, means the responsibility for the loss of these infants, if proven to be connected to these chemicals as indicated by the EPA, falls upon the government's shoulders.
4. The technology of GMO foreign proteins is recognized by world renowned scientists to be unpredictable, uncontrollable and have unforeseeable effects.
Numerous reports of prions causing diseased crops, increased loss of livestock to the tune of 40 million GMO fed chickens, primarily in Iowa last year and hundreds of millions of dollars lost in sales to exports due to concern about contamination, make GMO crops unsafe. If a crop contaminates other nearby crops, making them less valuable in the marketplace, that is a dangerous crop to the American economy. If something has genetic manipulations performed in a lab which have shown to have unpredictable effects within the organism and for future generations of that or nearby species, that organism is unsafe for the environment and consumers. The science that claims that GMOs are safe is unfoundedly based on short term studies produced by the companies who stand to benefit from them.
The fact that RNAi GMOs have promoters and "silencers" that silence the function of genes should be of grave concern to everyone. How do you know that those promoters are not "waking up" rare disease genes or silencers are not "silencing" the functioning of organs in your loved ones which could fight rare diseases? The problem is that we will never know, because we cannot retroactively prove that the bite of GMO corn led to the "waking up" of a rare disease gene in your child.
5. New research shows that GMO crops, with heavy herbicide use, destroy the microbiome of the soil, reduce the nutritional content of the food (organic food is more nutritous) and leave higher residues of chemicals on the food. This means that GMOs are substantially different and warrant labeling.
6. GMOs and related pesticides have been wrongly classified a process, not an additive, to intentionally get around the requirement that additives are safety tested and labeled on the package. When a herbicide classified as a probable carcinogen is sprayed on your food and it does not dry off, wash off for cook off, you might want to know that it is there and be given the choice to buy that food or not.
7. Religious sanctifications include that followers know if they are eating certain animals and avoid them.
With mandatory GMO labeling stricken down by Senators, in the future, Jewish people for example, would not know if fish, fruit or vegetables were genetically engineered with species which are not kosher. This is tantamount to a violation of their religious freedom.
The fact is that GMOs in our food need to be labeled because they are a factor of our health. GMO labeling has and always been and will always be, a health and safety issue first.
If citizens are not allowed to be responsible for their own health then the responsibility falls on the government. With 1 out of 2 males and 1 out of 3 females expected to get cancer in America today, 1 out 2 children with a chronic illness and 1 out of 2 children born 18 years from now expected to be diagnosed with autism, our elected officials have an obligation to make it a priority to protect the health of the American people, not chemical companies. The skyrocketing illnesses and rising healthcare costs in America make it evident that we simply cannot afford to not label GMOs.
We call on the Senate to give the American people the freedom to chose their food by voting no on the bill to stop mandatory GMO labeling and give us federal, mandatory, clear labeling on the package.
We citizens will vote for Senators at the next election which allow for personal freedom and health.
YOU MIGHT ALSO LIKE
France, Sweden, Italy and the Netherlands Rebel Against Relicensing of Monsanto's Glyphosate
Why Is Glyphosate Sprayed on Crops Right Before Harvest?
The Shocking Consequences of the World's Meat Addiction
DARK Act Heads to Senate, Bill Would Block Mandatory GMO Labeling
EcoWatch Daily Newsletter
A new report spotlights a U.N. estimate that at least 275 million people rely on healthy coral reefs. A sea turtle near the Heron Island in the Great Barrier Reef is seen above. THE OCEAN AGENCY / XL CATLIN SEAVIEW SURVEY
In a new report about how the world's coral reefs face "the combined threats of climate change, pollution, and overfishing" — endangering the future of marine biodiversity — a London-based nonprofit calls for greater global efforts to end the climate crisis and ensure the survival of these vital underwater ecosystems.
Half of the extracted resources used were sand, clay, gravel and cement, seen above, for building, along with the other minerals that produce fertilizer. Cavan Images / Cavan / Getty Images
The world is using up more and more resources and global recycling is falling. That's the grim takeaway from a new report by the Circle Economy think tank, which found that the world used up more than 110 billion tons, or 100.6 billion metric tons, of natural resources, as Agence France-Presse (AFP) reported.
By Gero Rueter
Heating with coal, oil and natural gas accounts for around a quarter of global greenhouse gas emissions. But that's something we can change, says Wolfgang Feist, founder of the Passive House Institute in the western German city of Darmstadt.

By George Citroner
Recent research finds that official government figures may be underestimating drug deaths by half.
Researchers estimate that 142,000 people died due to drug use in 2016.
Drug use decreases life expectancy after age 15 by 1.4 years for men and by just under 1 year for women, on average.
Government records may be severely underreporting how many Americans die from drug use, according to a new study by researchers from the University of Pennsylvania and Georgetown University.
Water coolers in front of shut-off water fountains at Center School in Stow, MA on Sept. 4, 2019 after elevated levels of PFAS were found in the water. David L. Ryan / The Boston Globe via Getty Images
In a new nationwide assessment of drinking water systems, the Environmental Working Group found that toxic fluorinated chemicals known as PFAS are far more prevalent than previously thought.