This website uses cookies to ensure you get the best experience while browsing it. By clicking 'Got It' you're accepting these terms.
Our bodies are around 60 percent water, give or take.
It is commonly recommended to drink eight 8-ounce glasses of water per day (the 8×8 rule).
Although there is little science behind this specific rule, staying hydrated is important.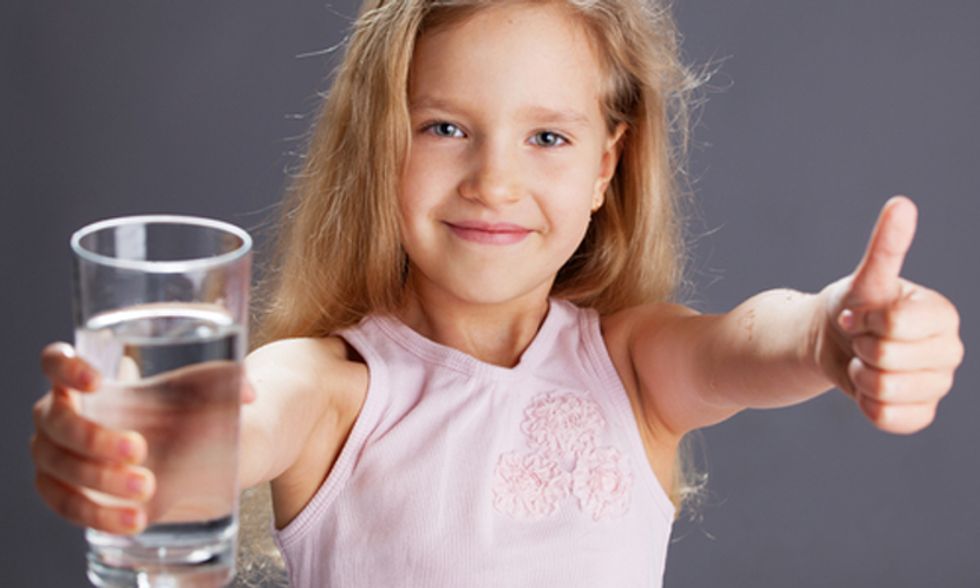 Photo credit: Shutterstock
Here are seven evidence-based health benefits of drinking plenty of water.
1. Water Helps to Maximize Physical Performance
If we do not stay hydrated, physical performance can suffer.
This is particularly important during intense exercise or high heat.
Dehydration can have a noticeable effect if you lose as little as 2 percent of your body's water content. However, it is not uncommon for athletes to lose up to 6-10 percent of their water weight via sweat (1, 2).
This can lead to altered body temperature control, reduced motivation, increased fatigue and make exercise feel much more difficult, both physically and mentally (3).
Optimal hydration has been shown to prevent this from happening, and may even reduce the oxidative stress that occurs during high intensity exercise. This is not surprising when you consider that muscle is about 80 percent water (4, 5).
So, if you exercise intensely and tend to sweat, then staying hydrated can help you perform at your absolute best.
Bottom Line: Losing as little as 2 percent of your body's water content can significantly impair physical performance.
2. Hydration Has a Major Effect on Energy Levels and Brain Function
Your brain is strongly influenced by hydration status.
Studies show that even mild dehydration (1-3 percent of body weight) can impair many aspects of brain function.
In a study of young women, fluid loss of 1.36 percent after exercise impaired both mood and concentration, and increased the frequency of headaches (6).
Another similar study, this time in young men, showed that fluid loss of 1.59 percent was detrimental to working memory and increased feelings of anxiety and fatigue (7).
A 1-3% fluid loss equals about 1.5-4.5 lbs (0.5-2 kg) of body weight loss for a 150 lbs (68 kg) person. This can easily occur through normal daily activities, let alone during exercise or high heat.
Many other studies, ranging from children to the elderly, have shown that mild dehydration can impair mood, memory and brain performance (8, 9, 10, 11, 12, 13).
Bottom Line: Mild dehydration (fluid loss of 1-3 percent) can impair energy levels and mood, and lead to major reductions in memory and brain performance.
3. Drinking Water May Help to Prevent and Treat Headaches
Dehydration can trigger headaches and migraines in some individuals (14, 15).
Several studies have shown that water can relieve headaches in those who are dehydrated (16).
However, this appears to depend on the type of headache.
One study of 18 people found that water had no effect on the frequency of headaches, but did reduce the intensity and duration somewhat (17).
Bottom Line: Drinking water can sometimes help relieve headache symptoms, especially in people who are dehydrated.
4. Drinking More Water May Help Relieve Constipation
Constipation is a common problem, characterized by infrequent bowel movements and difficulty passing stool.
Increasing fluid intake is often recommended as part of the treatment protocol, and there is some evidence to back this up.
Low water consumption appears to be a risk factor for constipation in both young and elderly individuals (18, 19).
Carbonated water in particular shows promising results for constipation relief, although the reason is not entirely understood (20, 21)
Bottom Line: Drinking plenty of water can help prevent and relieve constipation, especially in people who generally do not drink enough water.
5. Drinking Water May Help Treat Kidney Stones
Urinary stones are painful clumps of mineral crystal that form in the urinary system.
The most common form is kidney stones, which form in the kidneys.
There is limited evidence that water intake can help prevent recurrence in people who have previously gotten kidney stones (22, 23).
It is thought that a higher fluid intake increases the volume of urine passing through the kidneys, which dilutes the concentration of minerals, so they are less likely to crystallize and form clumps.
Water may also help prevent the initial formation of stones, but studies are required to confirm this.
Bottom Line: Increased water intake appears to decrease the risk of kidney stone formation. More research is needed in this area.
6. Water Helps Prevent Hangovers
A hangover refers to the unpleasant symptoms experienced after drinking alcohol.
Alcohol is a diuretic, so it makes you lose more water than you take in. This can lead to dehydration (24, 25).
Although dehydration is not the main cause of hangovers, it can cause symptoms like thirst, fatigue, headache and dry mouth.
A good way to reduce hangovers is to drink a glass of water between drinks, and to have at least one big glass of water before going to bed.
Bottom Line: Hangovers are partly caused by dehydration, and drinking water can help reduce some of the main symptoms of hangovers.
7. Drinking More Water Can Help With Weight Loss
Drinking plenty of water can help you lose weight.
This is due to the fact that water can increase satiety and boost your metabolic rate.
In two studies, drinking a half liter (17 ounces) of water was shown to increase metabolism by 24-30% for up to 1.5 hours (26, 27).
This means that drinking 2 liters of water every day can increase your total energy expenditure by up to 96 calories per day.
The timing is important too, and drinking water a half hour before meals is the most effective. It can make you feel more full, so that you eat fewer calories (28, 29).
In one study, dieters who drank a half liter of water before meals lost 44 percent more weight, over a period of 12 weeks (30).
It is actually best to drink water cold, because then the body will use additional energy (calories) to heat the water to body temperature.
YOU MIGHT ALSO LIKE
Why I am a Pegan—or Paleo-Vegan—and Why You Should Be Too
20 Nutrition Facts That Should Be Common Sense (But Aren't)
EcoWatch Daily Newsletter
Slowing deforestation, planting more trees, and cutting emissions of non-carbon dioxide greenhouse gases like methane could cut another 0.5 degrees C or more off global warming by 2100. South_agency / E+ / Getty Images
Killer hurricanes, devastating wildfires, melting glaciers, and sunny-day flooding in more and more coastal areas around the world have birthed a fatalistic view cleverly dubbed by Mary Annaïse Heglar of the Natural Resources Defense Council as "de-nihilism." One manifestation: An increasing number of people appear to have grown doubtful about the possibility of staving-off climate disaster. However, a new interactive tool from a climate think tank and MIT Sloan shows that humanity could still meet the goals of the Paris agreement and limit global warming.
A baby burrowing owl perched outside its burrow on Marco Island, Florida. LagunaticPhoto / iStock / Getty Images Plus
Burrowing owls, which make their homes in small holes in the ground, are having a rough time in Florida. That's why Marco Island on the Gulf Coast passed a resolution to pay residents $250 to start an owl burrow in their front yard, as the Marco Eagle reported.
Amazon and other tech employees participate in the Global Climate Strike on Sept. 20, 2019 in Seattle, Washington. Amazon Employees for Climate Justice continue to protest today. Karen Ducey / Getty Images
Hundreds of Amazon workers publicly criticized the company's climate policies Sunday, showing open defiance of the company following its threats earlier this month to fire workers who speak out on climate change.
Locusts swarm from ground vegetation as people approach at Lerata village, near Archers Post in Samburu county, approximately 186 miles north of Nairobi, Kenya on Jan. 22. "Ravenous swarms" of desert locusts in Ethiopia, Kenya and Somalia threaten to ravage the entire East Africa subregion, the UN warned on Jan. 20. TONY KARUMBA / AFP / Getty Images
East Africa is facing its worst locust infestation in decades, and the climate crisis is partly to blame.
By Dan Morgan
Antarctica is the remotest part of the world, but it is a hub of scientific discovery, international diplomacy and environmental change. It was officially discovered 200 years ago, on Jan. 27, 1820, when members of a Russian expedition sighted land in what is now known as the Fimbul Ice Shelf on the continent's east side.