7 Places With Unexpected Forest Restoration Potential
May. 31, 2014 10:00AM EST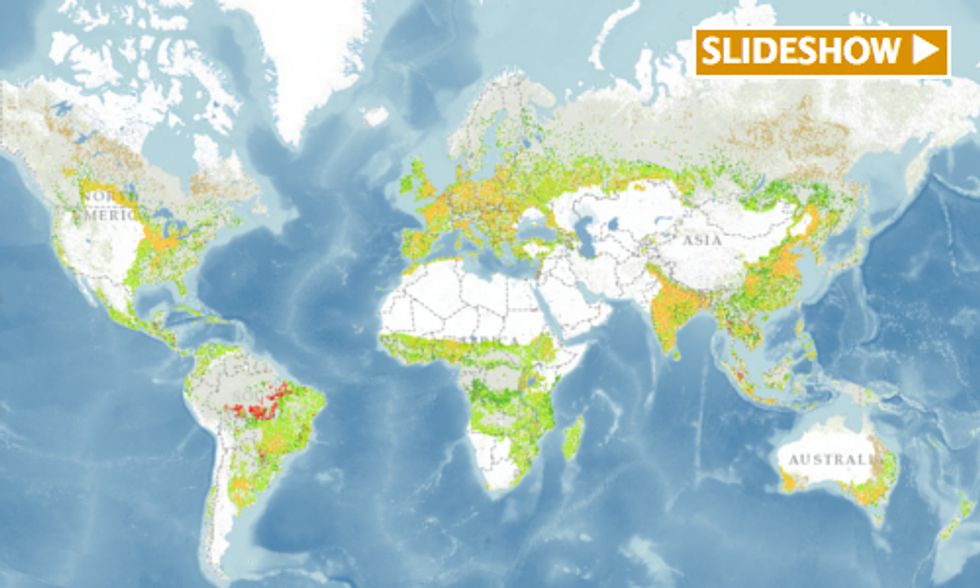 The world has lost almost half of its original forest cover, due largely to booming population growth and agricultural expansion. But even though these forests are gone, there is still a tremendous amount of underutilized and unproductive land that has the potential to provide valuable ecosystem services if trees are returned to the landscape. Clean water, improved soil fertility and income from forest products are just a few of the services that these lands, once restored, could provide.
So where in the world are the greatest opportunities for restoration? In collaboration with the University of Maryland and International Union for Conservation of Nature (IUCN), and as part of the Global Partnership on Forest Landscape Restoration, World Resources Institute (WRI) recently updated its Atlas of Forest Landscape Restoration Opportunities. We found that more than 2 billion hectares of land worldwide have the potential to be restored—and many of them are located in some unexpected places.
What Do We Mean by Restoration?
As we noted in a recent blog post, restoration isn't just about planting trees—it involves improving the productivity of landscapes that are deforested or degraded. Through a geospatial analysis involving dozens of datasets ranging from population density to land cover to climate, we produced a global map showing where deforested and degraded forest areas have the greatest potential to be restored. The map classifies the type of restoration opportunity using three main categories:
Wide-scale restoration aims to restore dense forests to the landscape. This type of restoration is most feasible in deforested or degraded landscapes with low population density (< 10 people/km2) that are also areas where forests formerly dominated the landscape.

Mosaic restoration integrates trees into mixed-use landscapes, such as agricultural lands and settlements. This is the most common opportunity. Trees in these regions can support people by improving water quality, increasing soil fertility and boosting other ecosystem services. This type of restoration works best in deforested or degraded landscapes with moderate population density (10 - 100 people/km2).

Remote restoration is reserved for deforested or degraded areas that are completely unpopulated and located far away from human settlements, such as northern Canada and Siberia. The reduced density of forests in these areas is likely due to fire and pests rather than human interventions, and their remoteness makes them a more costly, lower-priority restoration opportunity.
Where Can We Find Restoration Opportunities?
On a continental scale, Africa has the greatest area of opportunity for both wide-scale and mosaic restoration. At more than 720 million hectares, this area is roughly equivalent to the entire opportunity area for North and South America combined.
But there are also several unexpected countries that offer significant restoration opportunities. These seven places are surprising because we don't think of them as being forested in the traditional sense—their forests having long been cleared for other land uses–but their potential for restoration is great:
[slideshow_deploy id='351599']
Building a Restoration Movement
A global map that highlights potential opportunities is just the starting point, however. National and sub-national analyses are needed to identify more precisely where restoration can take place and how it can be done. WRI, in partnership with IUCN, is already working on these detailed analyses. The newly-released Restoration Opportunity Assessment Methodology Handbook provides an overview of how we are approaching these assessments and helping to create a roadmap toward large-scale restoration throughout the world.
By capitalizing on the world's bounty of restoration opportunities, we can ensure that forest landscapes realize their full potential for productivity and biodiversity.
--------
YOU MIGHT ALSO LIKE
Schwarzenegger's Financial to Palm Oil and Deforestation Revel Hypocrisy of Role in 'Years of Living Dangerously'
5 Deforestation Hotspots Flying Under the Radar
9 Maps That Analyze the World's Forests
--------
EcoWatch Daily Newsletter