This website uses cookies to ensure you get the best experience while browsing it. By clicking 'Got It' you're accepting these terms.
7 NASA Selfies Show Just How Much Our Climate Is Changing
Feb. 24, 2016 01:06PM EST
Climate
We've all heard the line that "a picture is worth a thousand words." So to bring home what's happening to our planet, we rounded up a series of pictures of Earth through the years from the U.S. National Aeronautics and Space Administration (NASA). And while some pictures could use a thousand words to make their point, these images only need four: "Our climate is changing."
Lyell Glacier, Yosemite National Park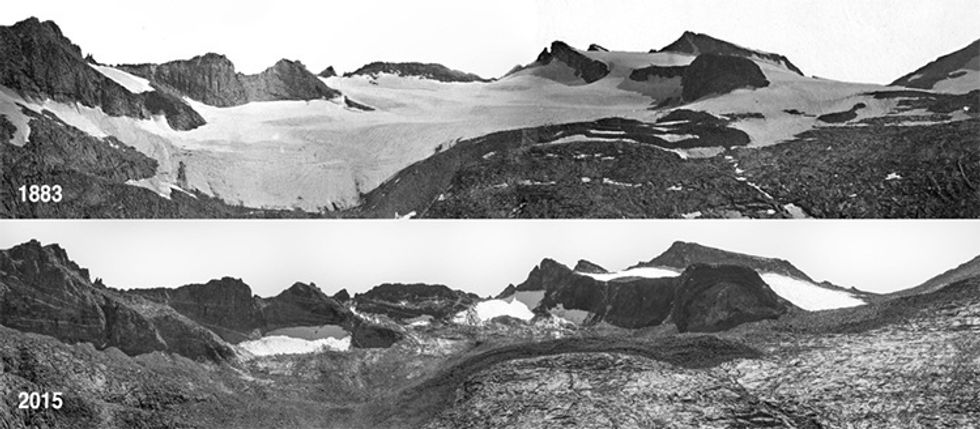 The largest glacier in Yosemite National Park, the Lyell Glacier, has lost almost 80 percent of its surface area and about 120 vertical feet (37 meters) of ice. While this change has occurred over the span of 132 years from 1883–2015, more than 10 percent of the total ice loss has happened in the past four years, thanks to warming temperatures and dry weather.
Scientific research shows glaciers have been losing mass since at least the 1970s and ice mass has been declining more quickly in the last 10 years. This melting ice has contributed to rising sea levels around the world, putting millions of people near coastal areas at risk to severe flooding as storms intensify.
Lake Mead, Nevada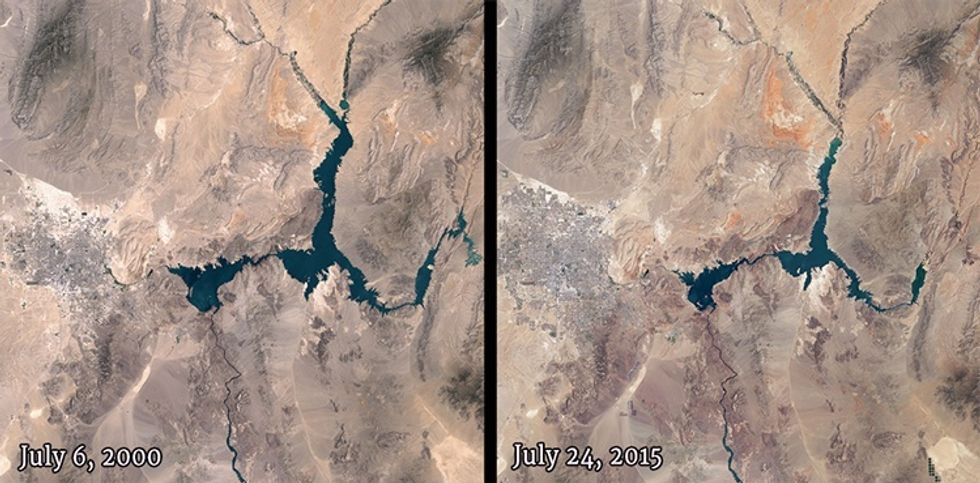 Lake Mead, a reservoir outside of Las Vegas that sustains nearly 20 million people in California, Arizona and Nevada, has suffered from intense droughts in recent years. The reservoir's water level declined about 120 feet (37 meters) between 2000–2015, hitting record lows as the drought spread across California and southwestern states in the U.S.
But it doesn't end with dry heat: Droughts mean the water supplies we depend on are affected as bodies of water like Lake Mead decline. A report by the Natural Resources Defense Council found that one-third of all the counties in the U.S.' lower 48 states are at higher risk of water shortages over the next 35 years because of climate change.
California Wildfires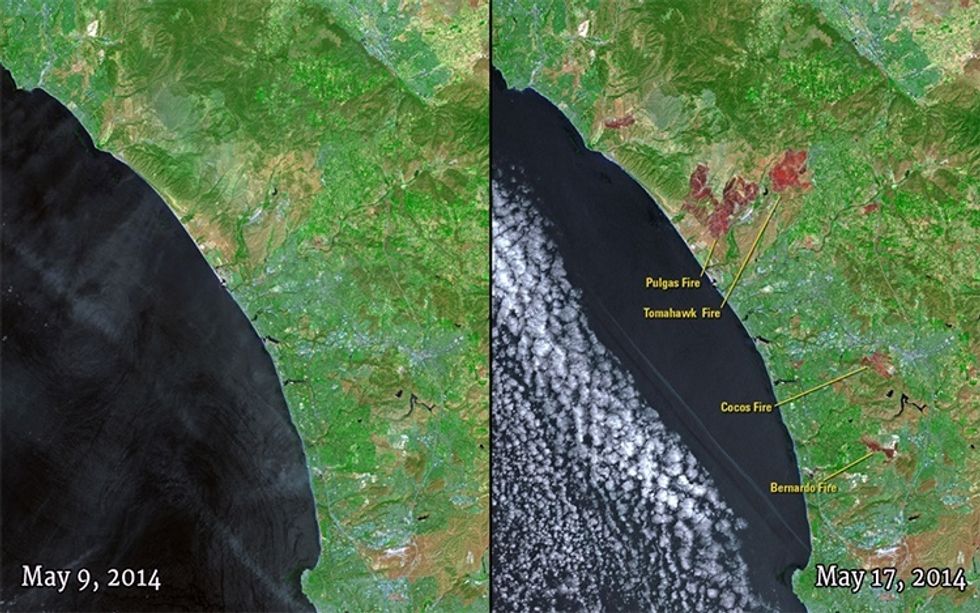 In May 2014, a series of wildfires hit the coastal area north of San Diego, California, thanks to a combination of heat, drought and dry winds that intensified the fires. The wildfires put thousands of nearby residents at risk, resulting in 175,000 evacuation notices.
Over the past decade, wildfires have caused significant damage throughout the western U.S. and other parts of the world and many scientists believe climate change is playing a role. There's an average of 72,000 wildfires per year and nine of the 10 years with the most burned acres have occurred since 2000. We can't yet say for sure, but we don't think it's a coincidence that the nine worst years for wildfires coincide with many of the hottest years on record.
Typhoon Haiyan, Philippines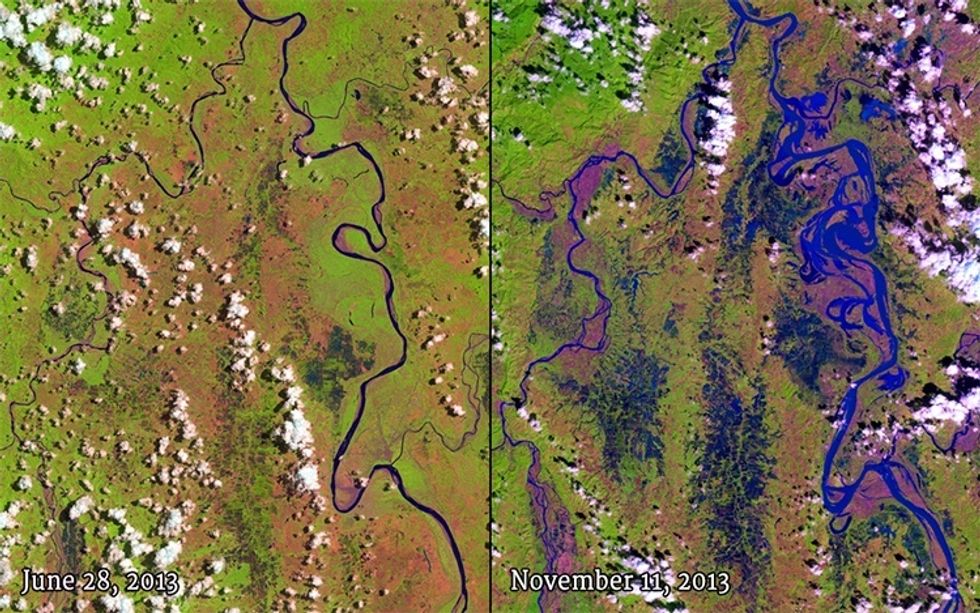 On Nov. 7, 2013, Typhoon Haiyan, known locally as Typhoon Yolanda, approached Guiuan on the Philippine island of Samar with winds close to 195 miles per hour (315 kilometers per hour). The storm became the deadliest on record in the Philippines and was responsible for more than 6,300 lost lives, more than 4 million displaced citizens and more than $2 billion in damages. Not all the devastation came when Haiyan first struck, as the storm also swelled the Agno River, shown in the second image above, causing severe flooding later.
Research shows that hurricanes and typhoons are likely to become more intense with stronger winds as the planet, including ocean temperatures, continues to warm. In the northwestern Pacific Ocean specifically, damaging typhoons have become about 10 percent more intense since the 1970s and even stronger storms are expected there as climate change worsens.
Deforestation in the Brazilian Amazon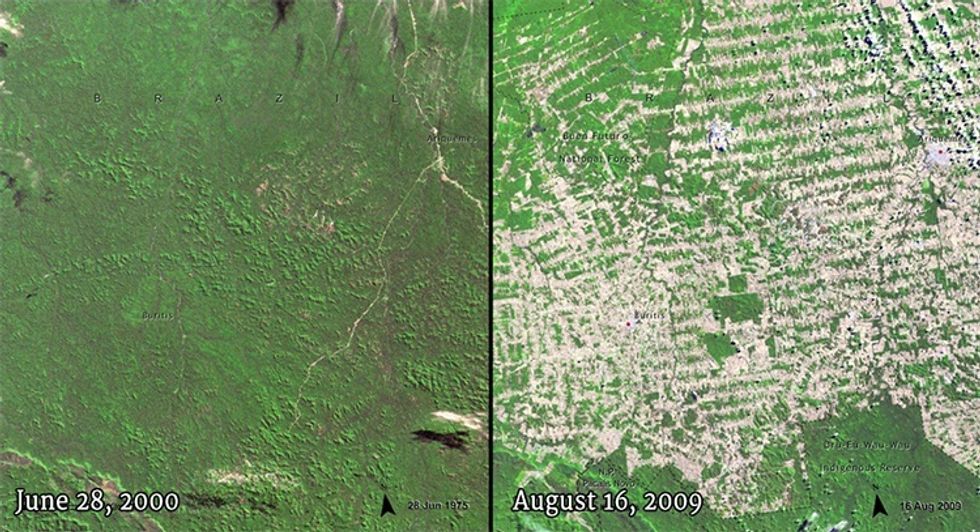 The images above show what deforestation looks like via satellite in the Amazon, specifically in the Brazilian state of Rondônia. Rondônia has the highest rate of deforestation in the Brazilian Amazon, partly because of the area's growing population from government-promoted immigration and the expansion of the wood-products industry. Rondônia's population has more than doubled over the past three decades, from about 500,000 in 1980 to more than 1.7 million today.
Deforestation or the clearing of forests on a massive scale, is a major contributor to climate change and responsible for about 15 percent of all greenhouse gas emissions. In the last 50 years, about 50 percent of the world's original forest cover has been lost due to deforestation. Deforestation not only releases greenhouse gases into the atmosphere, but it harms many other areas of the environment, including wildlife, water cycles and the livelihoods of people who rely on forests. Plus, as forests decline, so does their ability to act as carbon sinks that help remove greenhouse gases from the atmosphere. Talk about lose-lose-lose.
Population Growth in Beijing, China

The images above show the drastic population growth and infrastructure expansion in Beijing between 2000 and 2009. This has created what's known as a "heat island effect," which has contributed to an increase in winter temperatures by 5—7 degrees Fahrenheit (3—4 degrees Celsius).
With a population of more than 1 billion, an expanding middle class and an economy that has been rapidly growing over the past two decades, many eyes are on China to do its part in fighting climate change. Thankfully, that's what China has pledged to do in a commitment last year to peak carbon emissions by 2030 and source 20 percent of its primary energy consumption from clean energy sources. This was a major win for the climate movement.
Earth's Temperature Changes

If we had to pick one satellite image comparison to sum up how climate change affects our planet, this would be it. These striking images compare temperatures in each region of the world more than 100 years apart. The left image shows Earth's temperatures from 1880–1889 and the right image shows temperature from 2000–2009. What the two show is that Earth's average surface temperature has increased 1.3 degrees Fahrenheit (0.7 degrees Celsius) since 1880, with two-thirds of this increase happening in the last 40 years.
DSCOVR
Seen enough before-and-after images? So have we. Which is why it's worth taking a step back to look at the big picture and see just what's at stake with a recent shot from NASA's Deep Space Climate Observatory (DSCOVR).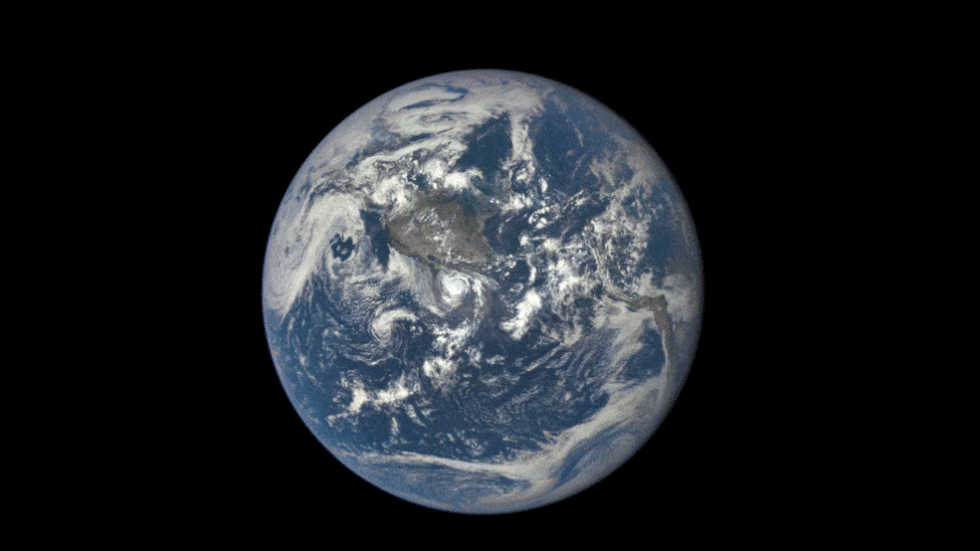 This beautiful planet is our home and it's our responsibility to protect it from the devastation of a changing climate. Ready to learn how you can help? Sign up to receive updates from The Climate Reality Project to find out more about what's changing in our climate, the solutions that exist and ways you can get involved.

YOU MIGHT ALSO LIKE
Sea Levels Rising at Fastest Rate in 3,000 Years
Virtual Reality Film Takes You to Rome for March for the Earth
Strongest Ever Southern Cyclone Crashes Into Fiji
EcoWatch Daily Newsletter
In Germany's Hunsrück village of Schorbach, numerous photovoltaic systems are installed on house roofs, on Sept. 19, 2019. Thomas Frey / Picture Alliance via Getty Images
Germany's target for renewable energy sources to deliver 65% of its consumed electricity by 2030 seemed on track Wednesday, with 52% of electricity coming from renewables in 2020's first quarter. Renewable energy advocates, however, warned the trend is imperiled by slowdowns in building new wind and solar plants.
In many parts of the U.S., family farms are disappearing and being replaced by suburban sprawl.
General view of the empty Alma bridge, in front of the Eiffel tower, while the city imposes emergency measures to combat the Coronavirus COVID-19 outbreak, on March 17, 2020 in Paris, France. Edward Berthelot / Getty Images
Half the world is on lockdown. So, the constant hum of cars, trucks, trains and heavy machinery has stopped, drastically reducing the intensity of the vibrations rippling through the Earth's crust. Seismologists, who use highly sensitive equipment, have noticed a difference in the hum caused by human activity, according to Fast Company.
The current rate of CO2 emissions is a major event in the recorded history of Earth. EPA
At several points in the history of our planet, increasing amounts of carbon dioxide in the atmosphere have caused extreme global warming, prompting the majority of species on Earth to die out.
The "Earthrise" photograph that inspired the first Earth Day. NASA / Bill Anders
For EcoWatchers, April usually means one thing: Earth Day. But how do you celebrate the environment while staying home to prevent the spread of the new coronavirus?