This website uses cookies to ensure you get the best experience while browsing it. By clicking 'Got It' you're accepting these terms.
7 Must-See Eco Docs at One of the Best Film Festivals in America
Mar. 30, 2016 07:20AM EST

EcoWatch is proud to be a media partner of the Cleveland International Film Festival (CIFF) again this year. From March 30 - April 10, CIFF, celebrating its 40th anniversary, will showcase 193 feature films and 213 short films representing 72 countries.
More than half of the 4,000 film festivals around the world are in the U.S., and according to USA TODAY, CIFF is ranked the second best film fest in America.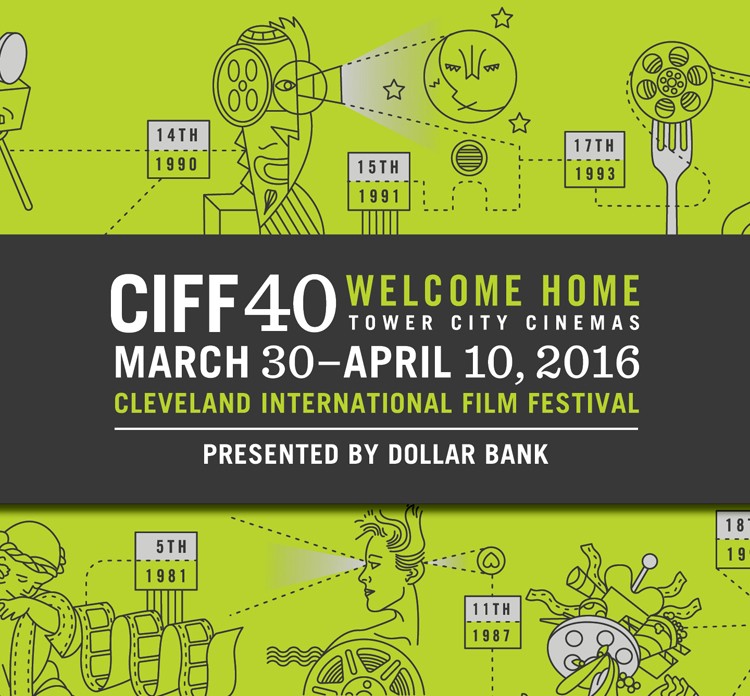 This year, EcoWatch is sponsoring Josh Fox's film, How to Let Go of the World and Love All the Things Climate Can't Change. Fox, best known for his Oscar-nominated film Gasland, is a pioneer of the grassroots anti-fracking movement in America.
Fox, who was arrested last week with six others at the Federal Energy Regulatory Commission (FERC) in Washington, DC, protesting fracking infrastructure projects including the construction of the Constitution Pipeline, is fearless in his work to educate the masses on the immediate need to keep fossil fuels in the ground and expedite renewable energy.
"Everyone I know is fighting a pipeline or a compressor station or a power plant that is in front of FERC for approval," he said after his arrest. "It is clear to me that FERC has to be the most destructive agency in the United States right now.  They are faceless, nameless, unelected and ignore citizen input. I think of FERC as the Phantom Menace. The agency's commissioners have been rubber stamping fracking infrastructure all over country that threatens local communities and the planet by accelerating climate change."
Fox is currently on his "Let Go and Love Tour" where he is presenting his new film to communities that are being targeted within expansion plans of fracked gas infrastructures, and to coastal communities at risk of being affected by sea level rise due to human induced climate change.
How to Let Go of the World and Love All the Things Climate Can't Change will be featured at CIFF April 3 at 11:10 a.m. and April 4 at 7:10 p.m.
Here's more information on Fox's film and six other eco-docs at this year's film fest worth checking out (descriptions courtesy of CIFF):
1. How to Let Go of the World and Love All the Things Climate Can't Change
Climate change is killing us. It's destroying our soil and ruining our landscape at an incredible pace. As humans, we are responsible for the damage that's being done. Ruled by greed, we've polluted our air and water. And it's only going to get worse. Pretty grim, right? The very thought of it leaves many of us depressed and scared. We feel powerless, which only spurs apathy. Director Josh Fox felt this way, too. Until he was face-to-face with climate change. His battle against the gas industry was detailed in his 2010 film, Gasland. This time around, he turns the camera outward. The inspiring How to Let Go of the World follows other Davids across the world, battling evil Goliaths. His journey leads him to 12 different countries, spanning six continents. Along the way, he discovers that fighting these giant corporations is only part of the solution. In the end, it's our human spirit and love that's most essential. No matter how much destruction they inflict, the polluters will never be able to take those things away from us.
2. World Premier: Cheshire, Ohio
For the most part, Cheshire, Ohio is a ghost town. Located 90 miles from Columbus, the town is now owned by American Electric Power (AEP), which operate two coal plants there. In 2001, residents began noticing a strong sulfur smell, accompanied by a bluish fog known as "blue plume." And then they started experiencing headaches, breathing problems, and itchy eyes. Concerned for their well-being, they hired a lawyer. Not long after, the Environmental Protection Agency began investigating the plants for violating the Clean Air Act. Feeling the pressure from both sides, the company came up with a radical solution. They purchased the town for 20 million dollars, buying out homeowners and businesses and then leveling the structures. Today, only a few residents remain; the tiny population consists of people who refused to leave or were permitted to stay, due to old age or illness. Many of them are still fighting against AEP's pollution. For others, the issue is complicated, as the plants employ their loved ones. Eve Morgenstern's Cheshire, Ohio talks with those who still call Cheshire home, discovering a rich history of a community that's nearly extinct.
3. Anthropocene
Are we living in a new epoch? While many think we are still in the Holocene period of the geologic timescale, a growing number of scientists are now proposing that we are in fact living in the Anthropocene. For those unfamiliar with the lingo of geology, this concept means human activity is the driving force of our Earth's ecosystems; what we do has altered our landscape and influenced changes within our soil, deep into the rock strata. It's believed to have begun nearly 6,000 years ago when agriculture shifted due to a vast expansion in human population. Popularized by Nobel laureate Paul Crutzen, the term is hotly debated within the scientific community. Opponents cite a lack of clear evidence, while proponents stress its importance in changing our attitudes about how we affect the environment. This incredibly engaging documentary lays out the vision of the Anthropocene through the eyes of stratigraphers in the field. Its beautiful and stylish cinematography is just as poignant as its crucial message. Anthropocene makes geology accessible, educating and captivating viewers with a fascinatingly unique approach.
The Anthropologist profiles the lives of renowned anthropologists, Margaret Mead and Susan Crate, through the eyes of their daughters. While Mead's groundbreaking work shaped the past, Crate's work is the future. She has dedicated her career to studying the impact climate change has on indigenous people and their communities. The film follows Crate and her teenage daughter, Kathryn, who gains a unique cultural education through their travels. Mead's daughter, Mary Catherine Bateson ( now in her seventies), followed in her mother's footsteps as well, publishing several books and teaching anthropology at Harvard University and George Mason University. This compelling documentary shines a light on an often underrated discipline that's incredibly vital to understanding the world around us. As these brilliant women demonstrate here, it's also an important asset in enacting change. Seeing how they've passed the torch is inspiring; their passion for what they do is truly contagious. Through its footage of Crate's expeditions, the film also paints a beautiful portrait of the cultural diversity of our planet.
5. Deep Time
A 2014 study found that the city of Williston, North Dakota had the highest average rent in the U.S., besting NYC, LA and DC. North Dakota has become the nation's second-largest oil producer, and with that distinction comes the inevitable boom to its economy. While North Dakota's oil boom is great for those in the industry, the insightful documentary Deep Time asks at what cost. Including interviews with leaders of the indigenous peoples, NASA scientists, and some of the transplant roughnecks working the oil rigs, Deep Time takes an all-encompassing look at how a small town can become a symbol of the destruction our dependency on oil can have on our history, our planet, and our people. We take without replacing, and this effect on Mother Earth is seen in rising temperatures and sea levels, which, in turn, is slowly killing our people. While oil companies bleed the inhabitants of cities like Williston in the name of progress, the economy may rise, but so do homelessness, drug abuse, and suicide rates. Deep Time is a poignant film that asks how much longer we can continue to destroy our past and our present without regard to our future.
Can planting a seed save someone's life? When neighborhoods in South Los Angeles began dying, Ron Finley, the "Guerilla Gardener," began planting seeds in his yard. And thus began one of the most important movements to hit the inner city. Finley's neighborhood has only four grocery stores within two miles, which are far far far outnumbered by liquor stores and fast food restaurants. With so few options for healthy food, it takes revolutionaries to bring change. In Can You Dig This, we meet some of the brave and intrepid people who can do just that: Mychael and Kenya who are looking for ways to leave the gang scene; Hosea who, after three decades in prison, is finding a new life with his garden; and eight-year-old Quimonie, the self-proclaimed Sheriff of the Garden, whose new-found dedication to the garden is making life-saving changes in her own home. Finley's TEDTalk already has millions of viewers, and the personalities of the other gardeners is infectious. But what is truly engrossing about this doc is its ability to make perfect, mind-numbing, hand-wringing sense. These ideas are game changers in communities that need changing, and Can You Dig This is an important testament to the power of community and growth.
Watch his TEDTalk:
7. Indian Point
Just 25 miles north of New York City is a nuclear power plant called Indian Point Energy Center. It was designed in the 1950s, shortly after President Dwight Eisenhower called for peaceful uses of nuclear power in his "Atoms for Peace" speech. It officially opened in Buchanan, New York in 1962, receiving the world's first permit for a power plant. The facility has been controversial in recent years, due to its lack of an evacuation plan, environmental concerns, and its proximity to a major city making it a possible target for terrorism. A heated debate over its safety hit a fever pitch in 2011, following the devastating meltdown at Japan's Fukushima plant. The potential health issues from radiation were initially downplayed, but the disaster later received the same risk rating from the International Atomic Energy Agency as Chernobyl. Fearing a similar situation in the U.S., a number of activists are calling for a shutdown of the Buchanan facility. Hear their impassioned pleas, as well as those who oppose its closure, in the eye-opening documentary, Indian Point.
YOU MIGHT ALSO LIKE
Leonardo DiCaprio: We Must Save the Last Place on Earth Where Orangutans, Tigers, Rhinos and Elephants Coexist
3 Vaquitas Found Dead: The Most Endangered Marine Mammal in the World
Induced Earthquakes Increase Chances of Damaging Shaking, Wastewater Disposal From Fracking Primary Cause
Community Builds Walden Pond Cabin in Thoreau-Inspired Fracking Pipeline Protest
Prince William and British naturalist David Attenborough attend converse during the World Economic Forum annual meeting, on January 22 in Davos, Switzerland. Fabrice Cofferini /AFP / Getty Images
Britain's Prince William interviewed famed broadcaster David Attenborough on Tuesday at the World Economic Forum's annual meeting in Switzerland.
During the sit-down, the 92-year-old naturalist advised the world leaders and business elite gathered in Davos this week that we must respect and protect the natural world, adding that the future of its survival—as well as humanity's survival—is in our hands.
Electric vehicle sales took off in 2018, with a record two million units sold around the world, according to a new Deloitte analysis.
What's more, the accounting firm predicts that another 21 million electric cars will be on the road globally over the next decade due to growing market demand for clean transportation, government subsidies, as well as bans on fossil fuel cars.
Teenager Alex Weber and friends collected nearly 40,000 golf balls hit into the ocean from a handful of California golf courses.
Alex Weber /
CC BY-ND
Southwest Greenland had the most consistent ice loss from 2003 to 2012. Eqalugaarsuit, Ostgronland, Greenland on Aug. 1, 2018.
Rob Oo / CC BY 2.0
Greenland is melting about four times faster than it was in 2003, a new study published Monday in the Proceedings of the National Academy of Sciences found, a discovery with frightening implications for the pace and extent of future sea level rise.
"We're going to see faster and faster sea level rise for the foreseeable future," study lead author and Ohio State University geodynamics professor Dr. Michael Bevis said in a press release. "Once you hit that tipping point, the only question is: How severe does it get?"
Finally, some good news about the otherwise terrible partial government shutdown. A federal judge ruled that the Trump administration cannot issue permits to conduct seismic testing during the government impasse.
The Justice Department sought to delay—or stay—a motion filed by a range of coastal cities, businesses and conservation organizations that are suing the Trump administration over offshore oil drilling, Reuters reported. The department argued that it did not have the resources it needed to work on the case due to the shutdown.
Most people have heard of the Amazon, South America's famed rainforest and hub of biological diversity. Less well known, though no less critical, is the Pantanal, the world's largest tropical wetland.
Like the Amazon, the Pantanal is ecologically important and imperiled. Located primarily in Brazil, it also stretches into neighboring Bolivia and Paraguay. Covering an area larger than England at more than 70,000 square miles, the massive wetland provides irreplaceable ecosystem services that include the regulation of floodwaters, nutrient renewal, river flow for navigability, groundwater recharge and carbon sequestration. The wetland also supports the economies of the four South American states it covers.
Demonstrators participate in a protest march over agricultural policy on Jan. 19 in Berlin, Germany. Carsten Koall / Getty Images Europe
By Andrea Germanos
Organizers said 35,000 people marched through the streets of the German capital on Saturday to say they're "fed up" with industrial agriculture and call for a transformation to a system that instead supports the welfare of the environment, animals and rural farmers.

The fire that erupted after a pipeline explosion in Mexico Friday. FRANCISCO VILLEDA / AFP / Getty Images
By Patrick Rogers
If you have ever considered making the switch to an environmentally friendly electric vehicle, don't drag your feet. Though EV prices are falling, and states are unveiling more and more public charging stations and plug-in-ready parking spots, the federal government is doing everything it can to slam the brakes on our progress away from gas-burning internal combustion engines. President Trump, likely pressured by his allies in the fossil fuel industry, has threatened to end the federal tax credits that have already helped put hundreds of thousands of EVs on the road—a move bound to harm not only our environment but our economy, too. After all, the manufacturing and sale of EVs, hybrids, and plug-in hybrids supported 197,000 jobs in 2017, according to the most recent U.S. Energy and Employment Report.