This website uses cookies to ensure you get the best experience while browsing it. By clicking 'Got It' you're accepting these terms.
The Chinese have a saying: Eat only until you are 70 percent full. The trouble is, many of us can't resist that last 30 percent. Fortunately, there are foods we can enjoy that prevent us from overeating (something most of us fall victim to, especially around the winter months). But now that the holidays have passed and we've recovered from "weight scale" shock, it's time to address the problem. Here are seven foods that will help.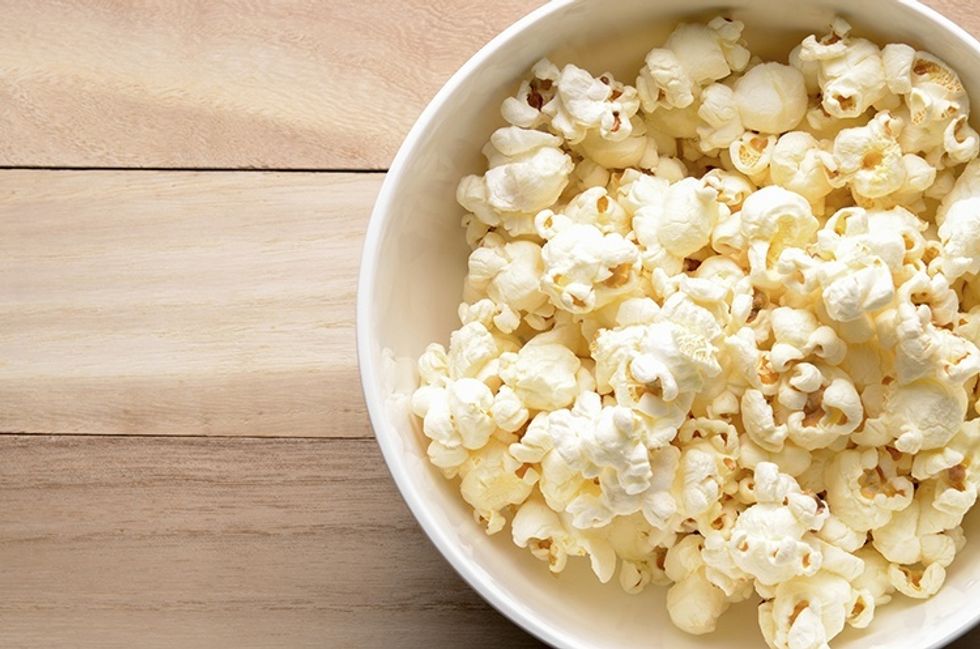 1. Cappuccino Instead of Candy. Skip the lunchtime candy bar and reduce those hunger cravings with a cappuccino. As noted in PubMed, aerated, foam-based drinks can reduce your appetite and trick your brain into feeling fuller. Sugary foods, on the other hand, can make you feel hungrier.
2. Hummus to Reduce Hunger. Hummus is packed with protein and pairs well with fiber-rich vegetables. Combining hummus with veggies like snap peas, carrots or celery will make you feel fuller, so you'll eat less at lunch or dinner. In a WebMD feature archive, Mark Gold, MD, at the University of Florida noted that the higher the fiber and protein content of a food or meal, the more likely your stomach will be satisfied.
3. Avocados Help Suppress Appetite. Avocados eaten in moderation can help regulate your hunger hormones. The Nutrition Journal reported a study that eating half a fresh avocado with lunch reduced the desire to eat for hours afterward.
4. Popcorn Cancels Appetite. Air-popped corn can make you feel full without adding lots of calories. Skip the butter or margarine and instead try nutritional yeast and lime juice. The air-injected snack fights the urge to snack on chips, cookies, ice cream and other high calorie snacks.
5. Beat the Urge with Bananas. To beat the blues and stresses of today's fast-paced living, pack some bananas for lunch. The sugar in this healthy fruit will keep you from those high calorie vending machine snacks.
6. Reach for the All-Bran Cereal. WebMD also notes that researchers at the University of Sydney indicated a number of foods that make people feel full. Among the foods that scored highest was all-bran cereal. So if you feel the need to snack at home or at office, fill a bowl of all-bran cereal with skim milk to satisfy those midday hunger pangs. An article in Prevention points to a Journal of American Dietetic Association that links lower body mass index with a high fiber intake.
7. Choose High-Fiber Fruits. Apples and oranges are high in fiber, water content and protein. All these ingredients help satiate your hunger and reduce your tendency to overeat. Prevention notes that you should "munch on fiber all day long."
YOU MIGHT ALSO LIKE 
What You Should Eat to Balance Your pH and Alkalize Your Body
EcoWatch Daily Newsletter
Traffic moves across the Brooklyn Bridge on Aug. 2, 2018 in New York City. Drew Angerer / Getty Images
The Trump administration is expected to unveil its final replacement of Obama-era fuel-efficiency standards for cars and light trucks Tuesday in a move likely to pump nearly a billion more tons of carbon dioxide into the atmosphere over the lifetime of those less-efficient vehicles.
U.S. President Donald Trump listens as Anthony Fauci, Director of the National Institute of Allergy and Infectious Diseases speaks in the Rose Garden for the daily coronavirus briefing at the White House on March 29 in Washington, DC. Tasos Katopodis / Getty Images
By Jake Johnson
Just over a month after proclaiming that the number of coronavirus cases in the U.S. would soon "be down to close to zero," President Donald Trump said during a press briefing on the White House lawn Sunday that limiting U.S. deaths from the pandemic to between 100,000 and 200,000 people would mean his administration and the country as a whole did "a very good job."
Dicamba is having a devastating impact in Arkansas and neighboring states. A farmer in Mississippi County, Arkansas looks at rows of soybean plants affected by dicamba. The Washington Post / Getty Images
Documents unearthed in a lawsuit brought by a Missouri farmer who claimed that Monsanto and German chemical maker BASF's dicamba herbicide ruined his peach orchard revealed that the two companies knew their new agricultural seed and chemical system would likely damage many U.S. farms, according to documents seen by The Guardian.
Washington State Governor Jay Inslee and other leaders speak to the press on March 28, 2020 in Seattle. Karen Ducey / Getty Images
A bushfire burns outside the Perth Cricket Stadium in Perth, Australia on Dec. 13, 2019. PETER PARKS / AFP via Getty Images

By Albert Van Dijk, Luigi Renzullo, Marta Yebra and Shoshana Rapley
2019 was the year Australians confronted the fact that a healthy environment is more than just a pretty waterfall in a national park; a nice extra we can do without. We do not survive without air to breathe, water to drink, soil to grow food and weather we can cope with.