This website uses cookies to ensure you get the best experience while browsing it. By clicking 'Got It' you're accepting these terms.
The Chinese have a saying: Eat only until you are 70 percent full. The trouble is, many of us can't resist that last 30 percent. Fortunately, there are foods we can enjoy that prevent us from overeating (something most of us fall victim to, especially around the winter months). But now that the holidays have passed and we've recovered from "weight scale" shock, it's time to address the problem. Here are seven foods that will help.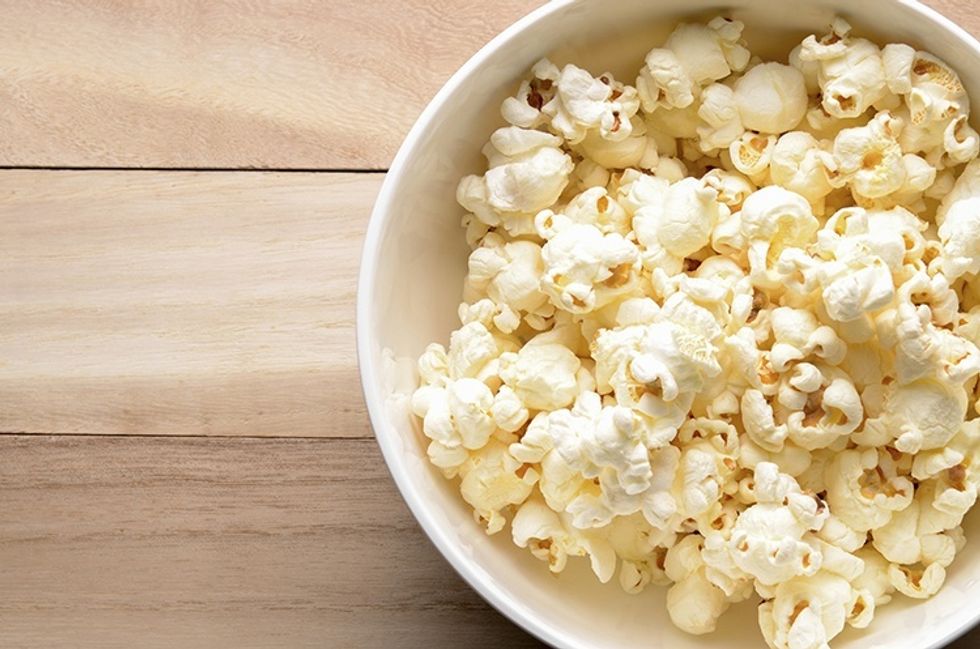 1. Cappuccino Instead of Candy. Skip the lunchtime candy bar and reduce those hunger cravings with a cappuccino. As noted in PubMed, aerated, foam-based drinks can reduce your appetite and trick your brain into feeling fuller. Sugary foods, on the other hand, can make you feel hungrier.
2. Hummus to Reduce Hunger. Hummus is packed with protein and pairs well with fiber-rich vegetables. Combining hummus with veggies like snap peas, carrots or celery will make you feel fuller, so you'll eat less at lunch or dinner. In a WebMD feature archive, Mark Gold, MD, at the University of Florida noted that the higher the fiber and protein content of a food or meal, the more likely your stomach will be satisfied.
3. Avocados Help Suppress Appetite. Avocados eaten in moderation can help regulate your hunger hormones. The Nutrition Journal reported a study that eating half a fresh avocado with lunch reduced the desire to eat for hours afterward.
4. Popcorn Cancels Appetite. Air-popped corn can make you feel full without adding lots of calories. Skip the butter or margarine and instead try nutritional yeast and lime juice. The air-injected snack fights the urge to snack on chips, cookies, ice cream and other high calorie snacks.
5. Beat the Urge with Bananas. To beat the blues and stresses of today's fast-paced living, pack some bananas for lunch. The sugar in this healthy fruit will keep you from those high calorie vending machine snacks.
6. Reach for the All-Bran Cereal. WebMD also notes that researchers at the University of Sydney indicated a number of foods that make people feel full. Among the foods that scored highest was all-bran cereal. So if you feel the need to snack at home or at office, fill a bowl of all-bran cereal with skim milk to satisfy those midday hunger pangs. An article in Prevention points to a Journal of American Dietetic Association that links lower body mass index with a high fiber intake.
7. Choose High-Fiber Fruits. Apples and oranges are high in fiber, water content and protein. All these ingredients help satiate your hunger and reduce your tendency to overeat. Prevention notes that you should "munch on fiber all day long."
YOU MIGHT ALSO LIKE 
What You Should Eat to Balance Your pH and Alkalize Your Body
EcoWatch Daily Newsletter
California Gov. Gavin Newsom speaking with attendees at the 2019 California Democratic Party State Convention at the George R. Moscone Convention Center in San Francisco.
Gage Skidmore
/ Flickr /
CC BY-SA 2.0
California Gov. Gavin Newsom imposed new restrictions on oil exploration in his state yesterday by putting a moratorium on hundreds hydraulic fracturing permits until the projects are reviewed by independent scientists, as the AP reported.
The endangered Houston toad. Courtesy of U.S. Fish and Wildlife Service
While the planet continues to heat up, almost every single one of the 459 species listed as endangered in the U.S. will struggle as the climate crisis intensifies, according to new research published in the journal Nature Climate Change.
"This singular scientific achievement was accomplished at Heliogen's commercial facility in Lancaster, California."
Heliogen
A startup backed by Bill Gates unveiled a breakthrough solar technology Tuesday that could free heavy industry from fossil fuels.
Rhodiola rosea is an adaptogenic herb that can help with chronic fatigue and stress-related burnout. Tero Laakso / Flickr
By Gavin Van De Walle, MS, RD
While everyone has specific life stressors, factors related to job pressure, money, health, and relationships tend to be the most common.
Stress can be acute or chronic and lead to fatigue, headaches, upset stomach, nervousness, and irritability or anger.
A video shows a woman rescuing a koala from Australia's wildfires.
VOA News / YouTube screenshot
More than 350 koalas may have died in the wildfires raging near the Australian town of Port Macquarie in New South Wales, but one got a chance at survival after a woman risked her life to carry him to safety.