This website uses cookies to ensure you get the best experience while browsing it. By clicking 'Got It' you're accepting these terms.
7 Edible Plants You Wouldn't Think You Could Grow Inside in the Winter
Feb. 03, 2015 11:28AM EST
Maybe you're lying on your couch right now, flipping through seed catalogs and wondering when the guy who plows your driveway is going to arrive. You close your eyes and recall what it was like in July when your vegetable plot was at peak production. You may have some pots of herbs—rosemary, sage, chives or oregano—in a sunny south-facing window, available to pluck and drop into that hearty stew or hot stew or even a planter of salad greens, one of the easiest things to grow indoors.
But how nice would it be to have a little indoor farm, full of the types of healthy plant foods you spoil yourself with in the summer? You might even be tempted to eat a little better, reaching for a veggie bursting with vitamins and minerals instead of a bowl of macaroni and cheese. With a little loving care you can have a variety of fresh produce as close as your front room. Some of these will require taking the next step up to grow lights even if you have sunny windows—some require longer daylight hours than you'll have in February. But you don't have to buy an expensive system. A trip to the hardware store will get you what you need— some full-range fluorescent lamps and inexpensive holders and stands should do it.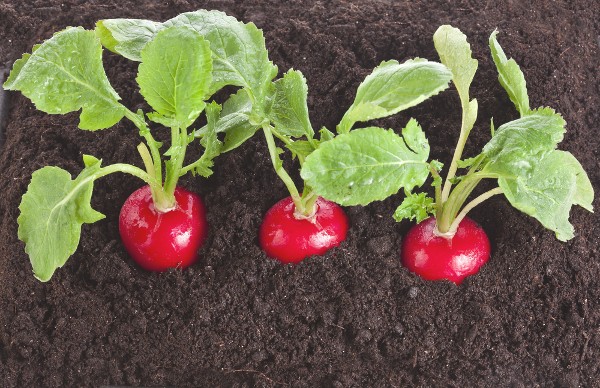 Photo credit: Shutterstock
1. Radishes are easy to grow from seed and provide quick gratification, with some varieties ready to harvest in as little as a month, the longest taking about two months. That's why they're often used in classrooms to demonstrate to children how vegetables are grown. They don't require particularly deep soil but it should be well-drained. And these days, radish seed is available in  a profusion of colors and shapes that make the plain old round, red ones look ordinary. Experiment with white, purple, green, black and even multicolored ones.
2. Carrots can require a very deep planter because they have such long roots, and they need a soil loose enough to burrow through. But you can make it easier to grow them by choosing a shorter, fatter variety and or smaller type that requires less depth to grow. Try a baby carrot variety like Caracas that only grows to around 3 or 4 inches or the round Atlas that looks sort of like an orange radish. Baby varieties are quick growers too, usually maturing in less than two months.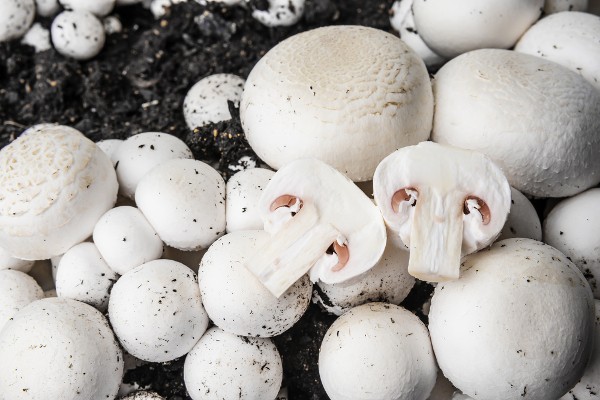 Photo credit: Shutterstock
3. Since mushrooms like cool, dark, moist places, they're ideal to grow inside in the winter. You don't have to worry about limited daylight, and they'll love it in your basement. The easiest way to grow them is to purchase a kit that has everything you need. It will have the correct growing medium for the type of mushroom spawn—the equivalent of seed—it contains. You just follow the directions, doing little more than keeping it watered. Since you'll have mushrooms in a couple of weeks, this is another fun project for impatient kids.
4. Scallions aka green onions can be grown right from the bunch you bought at the supermarket. Take the bottoms—the white bulb part—and bunch them together with a tie or a rubber band and just put them in a glass with about an inch of water. Change the water daily and a little more than a week when new shoots start to appear, plant them in a pot of soil. You can cut as much of the green shoots as you need while they continue to grow.
5. Many garden centers and plant catalogs sell dwarf citrus trees like lemon, lime and tangerine trees in pots, ready to set out on your porch or patio in the summer or in a sunny alcove in your house in the winter to fill your house with their bright, tart fragrances. Think of them as large houseplants, ranging in size from 3 to 4 feet wide and tall. They'll need as much light as possible, and if you want fruit immediately, buy a plant that's already a couple of years old. You can enjoy their tropical fruit all winter.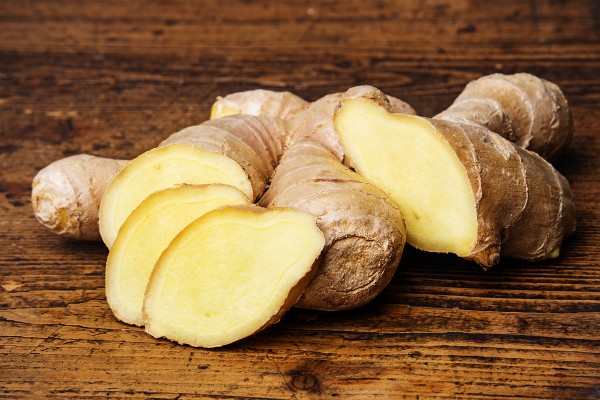 Photo credit: Shutterstock
6. Tumeric and ginger are two plants whose underground rhizomes are harvested for their superfood health-giving properties, almost too numerous to mention. Both can flourish indoors in pots and, like the citrus plants, be put outside in the summer. You can start to grow them by planting a store-bought chunk of rhizome that has growth buds on it. They like it warm and moist and can be started indoors or out, but won't survive in harsh winter conditions. Both are also available as plants from more cutting-edge garden centers.
7. Tomatoes are a little more challenging to grow indoors than some of these other things, but eating a fresh tomato in the middle of the winter is like having a burst of summer in your mouth. Go with a small-fruited variety—a grape, pear or cherry type that sets its fruit more quickly than the bigger ones. They will need large pots and lots of daylight—this is where grow lights become essential with two lights per plant. Turn them on and off to simulate daylight conditions in the summer when they're at their peak. Sure, it's a little extra trouble, but the result is surely worth it.
YOU MIGHT ALSO LIKE
How to Create Your Indoor Edible Garden
Hydroponic Planter Makes It Easy to Grow Your Own Indoor Edible Garden
School Garden Program Teaches Kids to Eat and Grow Healthy Food
Southwest Greenland had the most consistent ice loss from 2003 to 2012. Eqalugaarsuit, Ostgronland, Greenland on Aug. 1, 2018.
Rob Oo / CC BY 2.0
Finally, some good news about the otherwise terrible partial government shutdown. A federal judge ruled that the Trump administration cannot issue permits to conduct seismic testing during the government impasse.
The Justice Department sought to delay—or stay—a motion filed by a range of coastal cities, businesses and conservation organizations that are suing the Trump administration over offshore oil drilling, Reuters reported. The department argued that it did not have the resources it needed to work on the case due to the shutdown.
Climate change has been called the biggest challenge of our time. Last year, scientists with the United Nations said we basically have 12 years to limit global warming to 1.5ºC to avoid planetary catastrophe.
Amid a backdrop of rising global carbon emissions, there's a real case for pessimism. However, many scientists are hopeful of a way out.
Demonstrators participate in a protest march over agricultural policy on Jan. 19 in Berlin, Germany. Carsten Koall / Getty Images Europe
By Andrea Germanos
Organizers said 35,000 people marched through the streets of the German capital on Saturday to say they're "fed up" with industrial agriculture and call for a transformation to a system that instead supports the welfare of the environment, animals and rural farmers.

A Massachusetts road coated with snow and ice following the winter storm which prompted Trump to mock climate change. Scott Eisen / Getty Images
President Donald Trump has once again contradicted the findings of the U.S. government when it comes to the threat posed by climate change. Days after a Department of Defense report outlined how climate-related events like wildfires and flooding put U.S. military installations at risk, Trump took to Twitter to mock the idea that the world could be getting warmer, Time reported.
Trump's tweet came in response to a massive winter storm that blanketed the Midwest and Northeast this weekend.
The fire that erupted after a pipeline explosion in Mexico Friday. FRANCISCO VILLEDA / AFP / Getty Images
By Jason Bittel
Formidable predators stalk the forests between Panama and northern Argentina. They are sometimes heard but never seen. They are small but feisty and have even been documented trying to take down a tapir, which can top out at nearly 400 pounds. Chupacabras? No.
Mead is a fermented beverage traditionally made from honey, water and a yeast or bacterial culture.
U.S. Army member helps clear debris from Tyndall Air Force Base following Hurricane Michael.
U.S. Army
A tree found severed in half in an act of vandalism in Joshua Tree National Park. Gina Ferazzi / Los AngelesTimes / Getty Images
By Rhea Suh
One month on, the longest and most senseless U.S. government shutdown in history is taking a grave and growing toll on the environment and public health.

Food inspectors have been idled or are working without pay, increasing the risk we'll get sick from eating produce, meat and poultry that isn't properly checked. National parks and public wilderness lands are overrun by vandals, overtaken by off-road joyriders, and overflowing with trash. Federal testing of air and water quality, as well as monitoring of pollution levels from factories, incinerators and other sources, is on hold or sharply curtailed. Citizen input on critical environmental issues is being hindered. Vital research and data collection are being sidelined.