This website uses cookies to ensure you get the best experience while browsing it. By clicking 'Got It' you're accepting these terms.
7 Edible Plants You Wouldn't Think You Could Grow Inside in the Winter
Feb. 03, 2015 11:28AM EST
Food
Maybe you're lying on your couch right now, flipping through seed catalogs and wondering when the guy who plows your driveway is going to arrive. You close your eyes and recall what it was like in July when your vegetable plot was at peak production. You may have some pots of herbs—rosemary, sage, chives or oregano—in a sunny south-facing window, available to pluck and drop into that hearty stew or hot stew or even a planter of salad greens, one of the easiest things to grow indoors.
But how nice would it be to have a little indoor farm, full of the types of healthy plant foods you spoil yourself with in the summer? You might even be tempted to eat a little better, reaching for a veggie bursting with vitamins and minerals instead of a bowl of macaroni and cheese. With a little loving care you can have a variety of fresh produce as close as your front room. Some of these will require taking the next step up to grow lights even if you have sunny windows—some require longer daylight hours than you'll have in February. But you don't have to buy an expensive system. A trip to the hardware store will get you what you need— some full-range fluorescent lamps and inexpensive holders and stands should do it.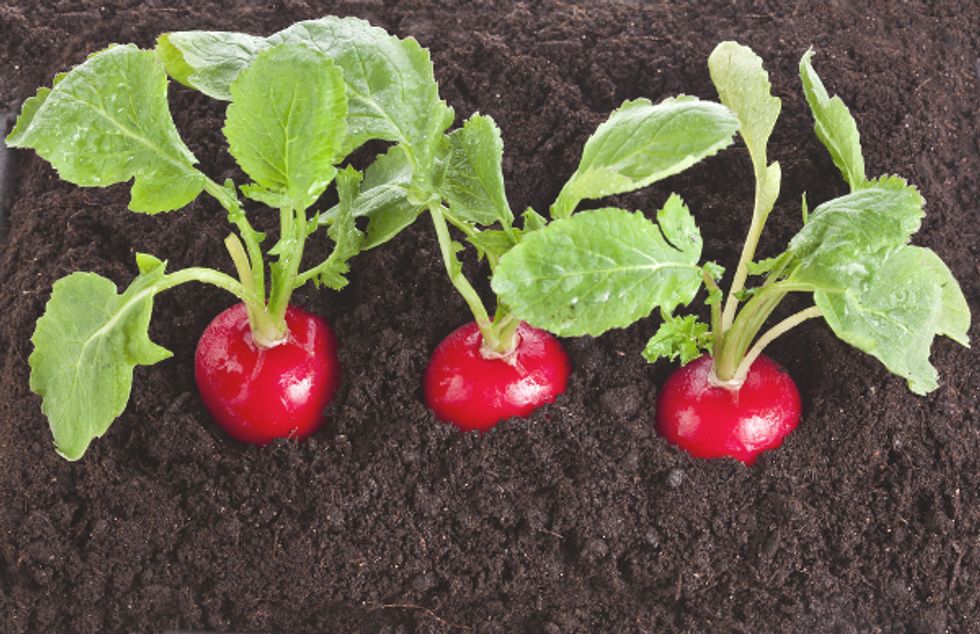 Photo credit: Shutterstock
1. Radishes are easy to grow from seed and provide quick gratification, with some varieties ready to harvest in as little as a month, the longest taking about two months. That's why they're often used in classrooms to demonstrate to children how vegetables are grown. They don't require particularly deep soil but it should be well-drained. And these days, radish seed is available in  a profusion of colors and shapes that make the plain old round, red ones look ordinary. Experiment with white, purple, green, black and even multicolored ones.
2. Carrots can require a very deep planter because they have such long roots, and they need a soil loose enough to burrow through. But you can make it easier to grow them by choosing a shorter, fatter variety and or smaller type that requires less depth to grow. Try a baby carrot variety like Caracas that only grows to around 3 or 4 inches or the round Atlas that looks sort of like an orange radish. Baby varieties are quick growers too, usually maturing in less than two months.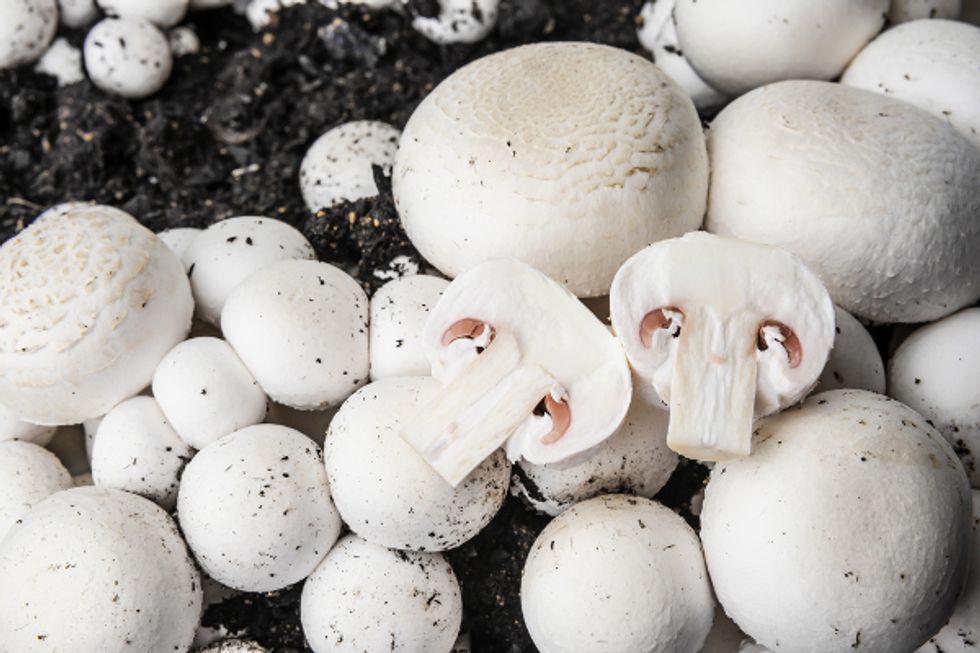 Photo credit: Shutterstock
3. Since mushrooms like cool, dark, moist places, they're ideal to grow inside in the winter. You don't have to worry about limited daylight, and they'll love it in your basement. The easiest way to grow them is to purchase a kit that has everything you need. It will have the correct growing medium for the type of mushroom spawn—the equivalent of seed—it contains. You just follow the directions, doing little more than keeping it watered. Since you'll have mushrooms in a couple of weeks, this is another fun project for impatient kids.
4. Scallions aka green onions can be grown right from the bunch you bought at the supermarket. Take the bottoms—the white bulb part—and bunch them together with a tie or a rubber band and just put them in a glass with about an inch of water. Change the water daily and a little more than a week when new shoots start to appear, plant them in a pot of soil. You can cut as much of the green shoots as you need while they continue to grow.
5. Many garden centers and plant catalogs sell dwarf citrus trees like lemon, lime and tangerine trees in pots, ready to set out on your porch or patio in the summer or in a sunny alcove in your house in the winter to fill your house with their bright, tart fragrances. Think of them as large houseplants, ranging in size from 3 to 4 feet wide and tall. They'll need as much light as possible, and if you want fruit immediately, buy a plant that's already a couple of years old. You can enjoy their tropical fruit all winter.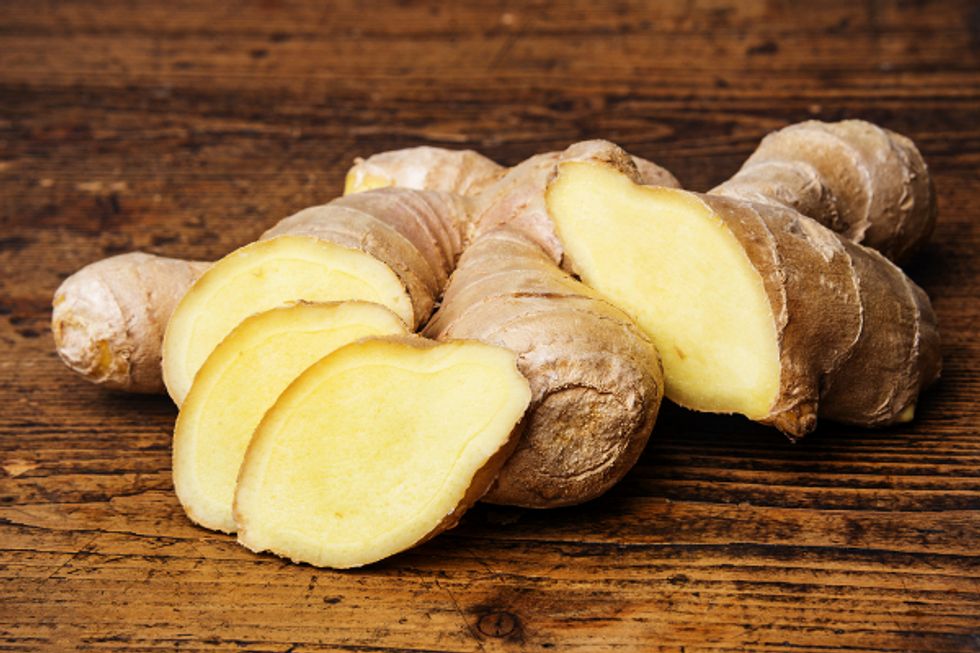 Photo credit: Shutterstock
6. Tumeric and ginger are two plants whose underground rhizomes are harvested for their superfood health-giving properties, almost too numerous to mention. Both can flourish indoors in pots and, like the citrus plants, be put outside in the summer. You can start to grow them by planting a store-bought chunk of rhizome that has growth buds on it. They like it warm and moist and can be started indoors or out, but won't survive in harsh winter conditions. Both are also available as plants from more cutting-edge garden centers.
7. Tomatoes are a little more challenging to grow indoors than some of these other things, but eating a fresh tomato in the middle of the winter is like having a burst of summer in your mouth. Go with a small-fruited variety—a grape, pear or cherry type that sets its fruit more quickly than the bigger ones. They will need large pots and lots of daylight—this is where grow lights become essential with two lights per plant. Turn them on and off to simulate daylight conditions in the summer when they're at their peak. Sure, it's a little extra trouble, but the result is surely worth it.
YOU MIGHT ALSO LIKE
How to Create Your Indoor Edible Garden
Hydroponic Planter Makes It Easy to Grow Your Own Indoor Edible Garden
School Garden Program Teaches Kids to Eat and Grow Healthy Food
EcoWatch Daily Newsletter
Aerial view of Ruropolis, Para state, northen Brazil, on Sept. 6, 2019. Tthe world's biggest rainforest is under threat from wildfires and rampant deforestation. JOHANNES MYBURGH / AFP via Getty Images
By Kate Martyr
Deforestation in Brazil's Amazon rainforest last month jumped to the highest level since records began in 2015, according to government data.
A total of 563 square kilometers (217.38 square miles) of the world's largest rainforest was destroyed in November, 103% more than in the same month last year, according to Brazil's space research agency.
From January to November this year an area almost the size of the Caribbean island of Puerto Rico was destroyed — an 83% overall increase in destruction when compared with the same period last year.
The figures were released on Friday by the National Institute for Space Research (INPE), and collected through the DETER database, which uses satellite images to monitor forest fires, forest destruction and other developments affecting the rainforest.
What's Behind the Rise?
Overall, deforestation in 2019 has jumped 30% compared to last year — 9,762 square kilometers (approximately 3769 square miles) have been destroyed, despite deforestation usually slowing during November and December.
Environmental groups, researchers and activists blamed the policies of Brazil's president Jair Bolsonaro for the increase.
They say that Bolosonaro's calls for the Amazon to be developed and his weakening support for Ibama, the government's environmental agency, have led to loggers and ranchers feeling safer and braver in destroying the expansive rainforest.
His government hit back at these claims, pointing out that previous governments also cut budgets to environment agencies such as Ibama.
The report comes as Brazil came to loggerheads with the Association of Small Island States (AOSIS) over climate goals during the UN climate conference in Madrid.
AOSIS blasted Brazil, among other nations, for "a lack of ambition that also undermines ours."
Last month, a group of Brazilian lawyers called for Bolsonaro to be investigated by the International Criminal Court over his environmental policies.
Reposted with permission from DW.
The Carolina parakeet went extinct in 1918. James St. John /
CC BY 2.0
The Carolina parakeet, the only parrot species native to the U.S., went extinct in 1918 when the last bird died at the Cincinnati Zoo. Now, a little more than 100 years later, researchers have determined that humans were entirely to blame.
Pexels
Vitamin C is a very important nutrient that's abundant in many fruits and vegetables.
BLM drill seeders work to restore native grasses after wildfire on the Bowden Hills Wilderness Study Area in southeast Oregon, Dec. 14, 2018. Marcus Johnson / BLM / CC BY 2.0
By Tara Lohan
In 2017 the Thomas fire raged through 281,893 acres in Ventura and Santa Barbara counties, California, leaving in its wake a blackened expanse of land, burned vegetation, and more than 1,000 destroyed buildings.