This website uses cookies to ensure you get the best experience while browsing it. By clicking 'Got It' you're accepting these terms.
The official start of summer is right around the corner. But there's one major downside to spending time outside: Ticks, which threaten both humans and animals by spreading disease when they bite and latch onto the skin.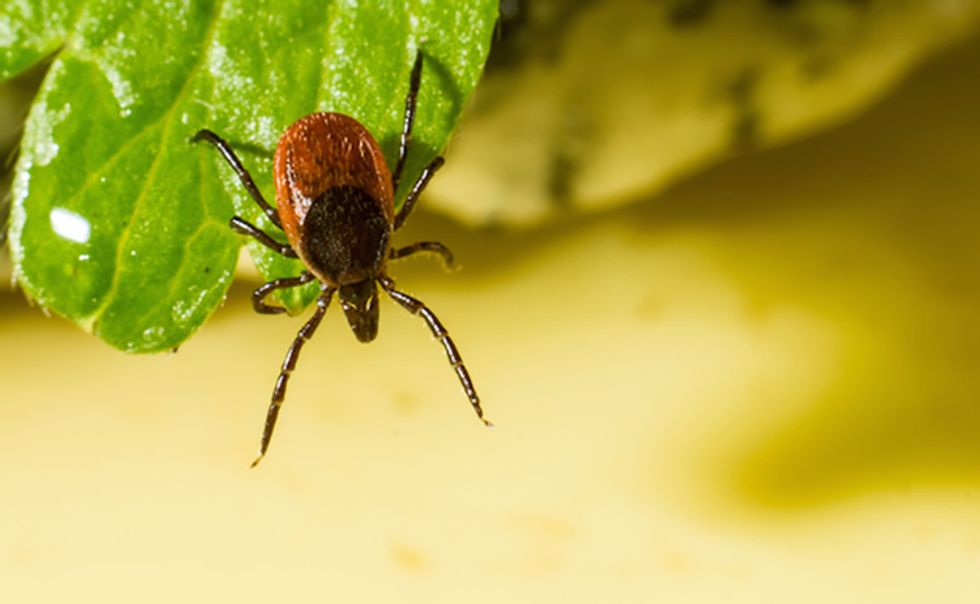 According to a recent Science Mag report from the American Association for the Advancement of Science (AAAS), Lyme disease-carrying ticks have been on the rise in the U.S. over the past two decades. In just that short period of time, Lyme disease cases have tripled and now affect around 300,000 Americans each year.
When it comes to tick-related information and safety, separating fact from fiction is necessary—especially if you plan to head outdoors often this summer. Here are a few common tick myths that have been totally busted to help clear up any confusion you may have about ticks and tick bites.
Myth #1: All ticks carry disease.
Despite the fact that the number of disease-carrying ticks has indeed shot right up in recent years, most ticks actually do not carry disease. Blacklegged ticks are the only species that can carry the bacterium Borrelia burgdorferi responsible for Lyme disease, according to the Centers for Disease Control and Prevention (CDC).
Myth #2: Ticks find their way to people and animals by falling or jumping from trees.
Ticks can't jump. They generally hang out on shrubs or tall grasses, waiting to crawl over to their targets when they brush by the plant that they're sitting on. They can also crawl right up a person or animal's body from the ground.
Myth #3: You'll feel it when you've been bitten.
Unlike mosquitos and other insects that bite, tick bites usually aren't felt at all, which is why it's so important to check yourself and/or your pet after spending time in ungroomed outdoor areas.
Myth #4: If you've been bitten, you can smother the tick with a harsh liquid substance.
You can find all sorts of people on the internet claiming that anyone can kill a tick by suffocating it to death with nail polish, petroleum jelly, alcohol or something else. Ticks, however, are tough little insects that can still survive through these substances. The CDC recommends using tweezers to grab hold of the tick as close to the skin as possible for safe removal.
Myth #5: If you've been bitten, you can burn the tick with a match.
Another rumored tick removal remedy involves irritating the tick by lighting a match, blowing it out and holding the hot tip of the match next to it to force it to come out. This an ineffective method that's also very dangerous since you could easily burn yourself or your pet. Stick to the tweezers and remember to clean the area well afterward.
Myth #6: You can't remove just part of the tick from the skin—you have to remove the entire thing.
This one is a bit tricky. WebMD, the Mayo Clinic and the CDC all advise completely removing the mouth parts or the entire head of the tick from the skin, which are the parts you really need to worry about. The idea is to get at least the living part of the tick out within 24 hours to prevent disease.
Myth #7: You'll know you have Lyme disease if you see a rash that looks like a bullseye.
A telltale sign of Lyme disease is a bullseye-like rash where the bite took place, commonly appearing as a red spot with a red ring around it. According to the CDC's signs and symptoms of untreated Lyme disease, however, only about 70 to 80 percent of infected people get this type of rash—so you could still be infected even if your skin doesn't show it.
To prevent your relatives, your pets and yourself from tick bites, make sure to avoid areas outdoors with thick foliage and tall grass. And when you do decide to venture out in forested areas, make sure to stick to the paths and wear long pants. Do a thorough tick check afterward anyway just to be safe and if you spot a tick, remove it right away.
Pets may be especially at risk if you let them roam outdoors and off leash quite often. Here's how to properly remove a tick from your pet.
YOU MIGHT ALSO LIKE
5 Facts You Should Know About Pesticides on Fruits and Vegetables
Is Roundup Sprayed at Your Local Park?
5 Reasons Why You Should Think Twice Before Jumping Into Your Local River
Climate Change to Widen Range of Disease-Carrying Mosquitoes
EcoWatch Daily Newsletter
A healthy diet may reduce hearing loss later in life, according to a new study. PamelaJoeMcFarlane / E+ / Getty Images
Weight loss aside, there is no shortage of benefits to eating healthier: a lower risk of heart disease and cancer, reduced gut inflammation and preventing memory loss later in life, to name a few. A healthy diet may also reduce hearing loss later in life, according to a new study out of Brigham and Women's Hospital.
A video shows a woman rescuing a koala from Australia's wildfires.
VOA News / YouTube screenshot
More than 350 koalas may have died in the wildfires raging near the Australian town of Port Macquarie in New South Wales, but one got a chance at survival after a woman risked her life to carry him to safety.
Tesla co-founder and CEO Elon Musk discusses vehicle dimensions in front of the newly unveiled all-electric battery-powered Tesla Cybertruck at Tesla Design Center in Hawthorne, California on Nov. 21. FREDERIC J. BROWN / AFP via Getty Images
Tesla just unveiled its first electric truck.
CEO Elon Musk showed off the new design at a launch event at the company's Design Studio in Hawthorne, California Thursday.
This study found evidence of illegal hammerhead fins in 46 out of 46 sampling events in Hong Kong. NOAA / Teachers at Sea Program
By Jason Bittel
Authorities in Hong Kong intercepted some questionable cargo three years ago — a rather large shipment of shark fins that had originated in Panama. Shark fins are a hot commodity among some Asian communities for their use in soup, and most species are legally consumed in Hong Kong, but certain species are banned from international trade due to their extinction risk. And wouldn't you know it: this confiscated shipment contained nearly a ton of illegal hammerhead fins.
Heat waves emanate from the exhaust pipe of a city transit bus as it passes an American flag hung on the Los Angeles County Hall of Justice on April 25, 2013. David McNew / Getty Images
Air pollution rules aren't doing enough to protect Americans, finds a major new study that examined the cause of death for 4.5 million veterans, as The Guardian reported.