This website uses cookies to ensure you get the best experience while browsing it. By clicking 'Got It' you're accepting these terms.
7 Climate Records Broken in 2014 Indicates Earth Is 'Gravely Ill'
Jul. 17, 2015 11:14AM EST
Climate
The annual State of the Climate report from the National Oceanic and Atmospheric Administration (NOAA) and American Meteorological Society assembles climate studies and reports from the previous year in one package. The 25th annual report is out and the news isn't good: indicators of climate change show up everywhere.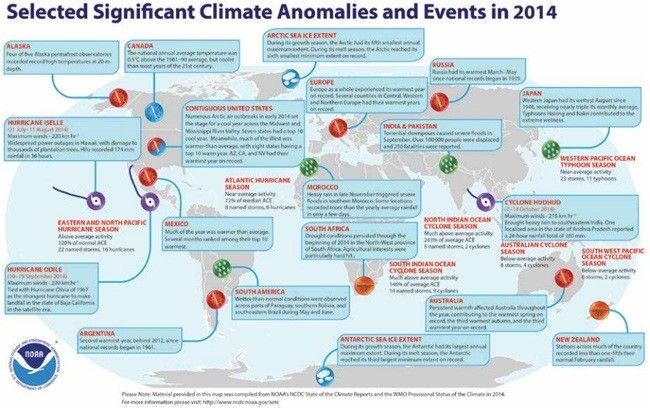 "Most of the dozens of essential climate variables monitored each year in this report continued to follow their long-term trends in 2014, with several setting new records," the report said.
A lot of the 292-page study is highly technical as it incorporates the work of more than 400 scientists analyzing everything from temperatures to precipitation to extreme weather events to ice melt all over the world. But one of the main conclusions of the report is how much things are changing and how quickly.
Perhaps Jeff Severinghaus of the Scripps Institution of Oceanography provides the best takeaway from the report, saying, if this is Earth's annual checkup, "the doctor is saying 'you are gravely ill.'"
Here are seven climate records broken in 2014:
1. Hottest Year: Records for the hottest temperature were set around the world with the highest average global surface temperature since record-keeping began, according to four separate analyses. Records were shattered everywhere. Europe and Mexico had their warmest years ever, while Argentina and Uruguay had their second hottest years and Australia its third warmest after enduring all-time record heat in 2013. Africa and Asia also had above-average temperatures.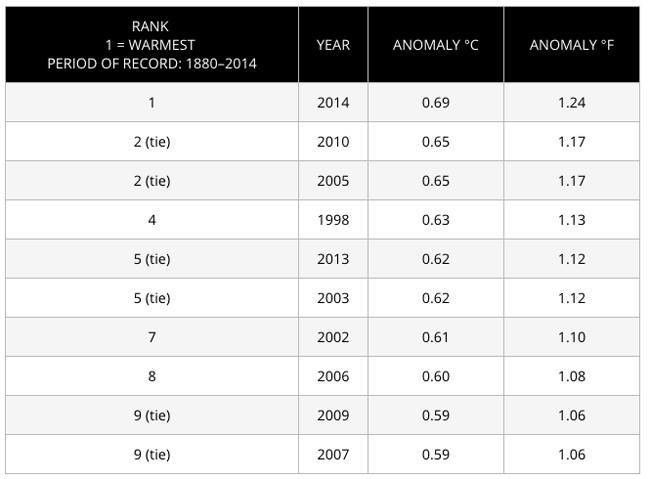 "Warmer-than-average conditions were present across much of the world's land and ocean surfaces during 2014," the report said. "These contributed to a global average temperature that was the highest or joint highest since records began in the mid-to-late 1800s. Over land surfaces, Eurasia and western North America were particularly warm, while noticeable cold was felt in eastern North America, which suffered several Arctic cold-air outbreaks in early 2014. The frequency of warm extreme temperatures was above average for all regions apart from North America."
2. Greenhouse Gas Emissions: Driving those temperature increases were all the major heat-trapping greenhouse gases, including carbon dioxide, methane and nitrous oxide, which reported record high atmospheric concentrations. Carbon levels at Mauna Loa stayed above 400 ppm from April through June, and globally the average was 397.2ppm. Methane concentrations rose as well, with an increase that's bigger than the average annual increase of the past decade.
3. Sea Surface Temperature: The average sea surface temperature globally was the highest on record, with especially warm temperatures in the western Atlantic and central and northeast Pacific. While this didn't drive an El Niño event in 2014, scientists expect one to arrive in 2015.
4. Ocean Temperature: The heat content of the ocean's waters also set a record, reflecting the fact that the oceans absorb more than 90 percent of the heat trapped in the Earth's atmosphere by greenhouse gases. As greenhouse gases rise, therefore, so do ocean temperatures.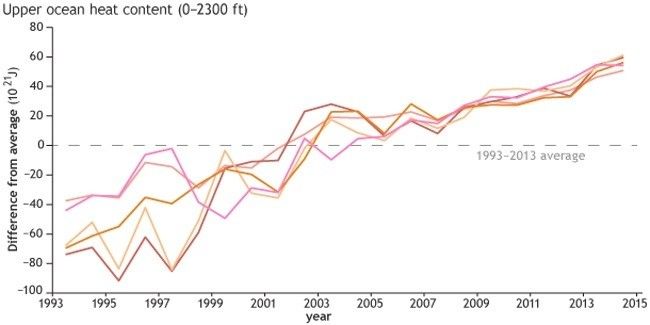 Ocean heat content each year since 1993 compared to the 1993-2013 average (dashed line) from a variety of data sources. Exact estimates differ among data sets, but they all show the same upward trend. Graph adapted from Figure 3.7 in State of the Climate in 2014.
5. Sea Level Rise: Sea levels are setting records too. Sea levels are now about 67 millimeters, or about 2.6 inches, higher than they were in 1993. Factors contributing to this rise include the melting of glaciers and other sea ice, the fact that water expands as it warms and melting land ice flowing out to sea.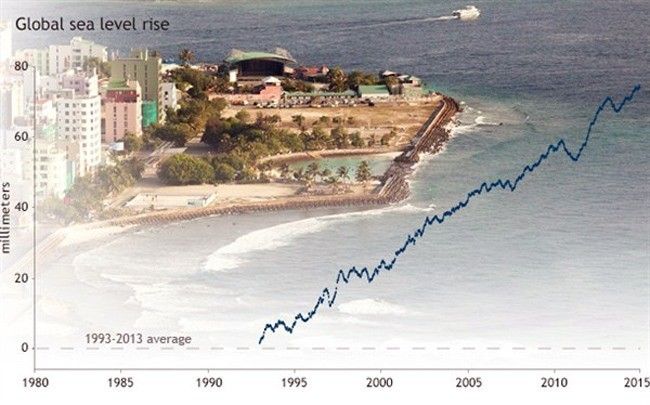 6. Greenland Ice Melt: The Greenland ice sheet was above average in its rate for melt for 90 percent of the regular melt season. It hit a record low for August in how much of the sun's energy is reflected off its surface. Melting darkens the ice sheet's surface, making it less able to reflect the sun's energy.
7. Antarctic Ice Melt: Antarctic sea ice set a different record—for highest sea ice extent, which has broken records three years running. One possible reason for that is changing wind patterns, scientists say. Without land to block it as in the Arctic, ice near land blows out to sea, exposing open water, which then freezes. While it might sound counterintuitive to the idea of a warming planet, it's indicative of  potentially climate change-driven atmospheric shifts.
"As we step into the next quarter-century of this report's life, we look forward to seeing our Earth science disciplines grow to meet the challenges associated with documenting the evolving state of our planet's climate system in this series," says the report. "These challenges are not just in observing and documenting, but in connecting: across the climate system's several major components and associated myriad sub-components, the time scales and observing practices related to these, and the possibilities of satellite-era Big Data with the longevity and purpose of more traditional observations."
YOU MIGHT ALSO LIKE
David Suzuki: Is the Climate Crisis Creating a Global Consciousness Shift?
June 2015 Smashes Heat and Rainfall Records in U.S.
Antarctica Records Hottest Day Ever, New Study Finds Rapid Acceleration of Ice Melt
EcoWatch Daily Newsletter
A Boeing 737-800 BCF (Boeing Converted Freighter) is marked "Prime Air" as part of Amazon Prime's freight aircraft during the 53rd International Paris Air Show at Le Bourget Airport near Paris, France on June 22. Mustafa Yalcin / Anadolu Agency / Getty Images
It's Prime Day! The day when thousands of increasingly absurd items are discounted so deeply that you suddenly need items you never knew existed. Yes, I do need a hotdog shaped toaster next to me while I watch this Fast & Furious seven movie box set! And I need it in my house today!
By Peter Sinclair
The weather in many areas across the U.S. has been – and certainly throughout America's heartland was for much of the past winter and spring – frightful.
Golde Wallingford submitted this photo of "Pure Joy" to EcoWatch's first photo contest. Golde Wallingford
EcoWatch is pleased to announce our third photo contest!

There's a short window between when a tick bites and when it passes on bacteria or virus.
MSU Ag Communications, Courtesy Dr. Tina Nations, CC BY-ND
By Jerome Goddard
When it comes to problems caused by ticks, Lyme disease hogs a lot of the limelight. But various tick species carry and transmit a collection of other pathogens, some of which cause serious, even fatal, conditions.

tomosang / Moment / Getty Images
By Jessica A. Knoblauch
Say goodbye to one of the dreamiest things about childhood. In the Midwest, fireflies are dying off.
A new Climate Emergency Fund contains more than $625,000 which will go to grassroots climate action groups like Extinction Rebellion and students who have organized weekly climate strikes all over the world. @ExtinctionR / Twitter
By Julia Conley
Heeding the call of grassroots campaigners, several wealthy philanthropists announced Friday a new fund that will raise money for climate action groups around the world.
Skyhobo / iStock / Getty Images
The Trump administration is preparing to roll out a proposal that would remove communities' ability to officially contest decisions regarding how much pollution can be released by local power plants and factories, the New York Times reports.
In this May 10 photo oil flows at a Chevron oil field in Kern County, California. California Department of Fish and Wildlife's Office of Spill Prevention and Response
California officials ordered Chevron Friday "to take all measures" to stop a release that has spilled around 800,000 gallons of water and crude oil into a dry creek bed in Kern County, KQED reported.