This website uses cookies to ensure you get the best experience while browsing it. By clicking 'Got It' you're accepting these terms.
68 Elephants Massacred in Democratic Republic of Congo in Past 60 Days, Is Extinction Only Decades Away?
Mar. 27, 2015 08:46AM EST
Animals
[Editor's note: The International Fund for Animal Welfare (IFAW) said this week that 68 elephants have been killed in Garamba National Park in the Democratic Republic of Congo in the past two months, with AFP reporting 30 killed in just over two weeks. Armed Militants have aggressively moved into the poaching business to use money from illegal ivory to buy food, weapons and ammunition.]
The poaching of elephants at Garamba Park in the Democratic Republic of Congo is increasing at an unprecedented rate http://t.co/lceCZjw0ig

— Tito (@TitoElmasduro) March 26, 2015
A recent summit on elephant population and habitat has led to some dire predictions: the African elephant may go extinct within our lifetimes.
Putting the end date at just decades away, the African Elephant Summit, which hosted delegates from various Asian, European and African countries, focused on mitigating poaching and increasing elephant habitats around the continent.
The statistics presented are staggering. In the 1940s, there were thought to be around 3-5 million African elephants in the wild. These days conservation organizations are estimating only 500,000 to 700,000 elephants currently exist. The largest drops came during the 1980′s when the continent saw widespread turbulence. Rather than rising back up from the fall when stability took over much of the region, increased poaching has hastened the elephant's population decline.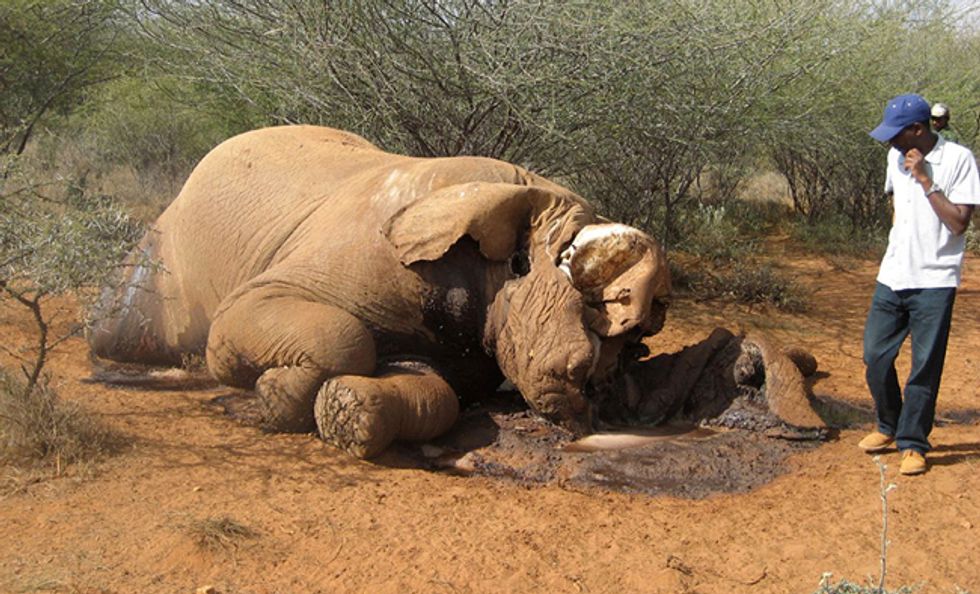 The summit highlighted the link between poverty, infant mortality and poaching, showing a correlation between desperate communities, and how susceptible they can be to engaging in the illegal wildlife trade.
Yet, despite these dire warnings, there is a small beacon of hope in the midst.
Uganda, which saw a dramatic loss in wildlife during the 1980 bush wars, has become an example to many African nations on how to reintroduce the species while combating poaching.
In 1982 the population of elephants in Uganda fell to the drastically low number of 2,000. Today, that number has more than doubled with more than 5,000 elephants roaming freely and steady population increases.
Although poaching still exists in Uganda's national parks, the rate has fallen in recent years.
In 2010, the Uganda Wildlife Authority (UWA) noted that 25 elephants were killed by poachers annually in their national parks. However, thanks to new outposts, community outreach and advancing technology, by 2013 that number fell to just five elephants. In fact, although Uganda remains a transit hub for ivory poached in conflict zones such as South Sudan and the DRC, comparatively little ivory is sourced from Uganda.
Jossy Muhangi, a spokesman with the UWA, says to combat local poachers (who often sell to international syndicates), they've created intelligence agencies that go into local communities and attempt to discourage the hunting of bush meat and trading of ivory or pangolin skins. It is this community outreach that has led to several important tips on ivory smugglers, including a storehouse outside of Entebbe, where raw ivory was manufactured into trinkets.
He also says that increased ranger posts, both on lakes and on land, have helped discourage those that try to slip out by boat under the cover of darkness. It is this multi-pronged approach that has helped elephants continue to increase their populations around the country, while keeping poaching deaths at a regional low.
In fact, the Uganda Conservation Foundation measured a 40 percent increase in elephants coming to Uganda (from Democratic Republic of Congo borders) and a 24 percent reduction in elephants entering the Democratic Republic of Congo. This is likely due to sporadic fighting in the Democratic Republic of Congo and protection afforded to elephants within the Ugandan side of the park.
Although other countries around Africa have a myriad of different issues which contribute to high rates of poaching, it seems that addressing local factors such as poverty, as well as porous borders and a lack of highly trained anti-poaching task forces, can make significant headway in anti-poaching measures. This is a model many countries can emulate around the continent, ensuring that within our lifetimes, the African elephant remains an important member of the continent's ecosystem.
YOU MIGHT ALSO LIKE
Global War Against Nature: 100 Elephants Killed Each Day in Illegal Ivory Trade
David Suzuki: Hundreds of Grizzly Bears Will Die in Barbaric Trophy Hunt
Vandana Shiva: 'Our Very Existence on This Planet Is Being Called Into Question'
EcoWatch Daily Newsletter
Aerial shot top view Garbage trucks unload garbage to a recycle in the vicinity of the city of Bangkok, Thailand. bugto / Moment / Getty Images
German researchers have identified a strain of bacterium that not only breaks down toxic plastic, but also uses it as food to fuel the process, according to The Guardian.
The Environmental Protection Agency (EPA) issued a policy memo yesterday that is an expansive relaxation of legally mandated regulations on polluting industries, saying that industries may have trouble adhering to the regulations while they are short-staffed during the coronavirus global pandemic, according to the AP.
Hurricane Dorian was one of the 2019 Atlantic hurricane season's most devastating storms. NASA
2019 marked the fourth year in a row that the Atlantic hurricane season saw above-average activity, and it doesn't look like 2020 will provide any relief.
The deep, open ocean may seem like an inhospitable environment, but many species like human-sized Humboldt squids are well-adapted to the harsh conditions. 1,500 feet below the ocean's surface, these voracious predators could be having complex conversations by glowing and changing patterns on their skin that researchers are just beginning to decipher.
A worker distributes disinfection wipes at a farmers market at Richard Tucker Park in New York City on March 21, 2020. Lev Radin / Pacific Press / LightRocket via Getty Images
Not many restaurants will be able to survive coronavirus, and this is a personal, social and national tragedy.
I'm worried about farmers markets too.