This website uses cookies to ensure you get the best experience while browsing it. By clicking 'Got It' you're accepting these terms.
600,000+ Join Yeb Sano Signing #WeStandWithYou Petition Urging Action at UN Climate Talks
Nov. 19, 2013 10:15AM EST
Climate
By Jamie Henn
Civil society groups and young people joined Avaaz, 350.org and Filipino climate negotiator Yeb Saño at the UN Climate Talks today, to deliver more than 600,000 signatures from people around the world who are standing with the Philippines to demand progress here in Warsaw.
"We stand here knowing that hundreds of thousands maybe even millions around the world are standing with us in this difficult time for our country, but also in this difficult time for the planet, for the climate," said Saño.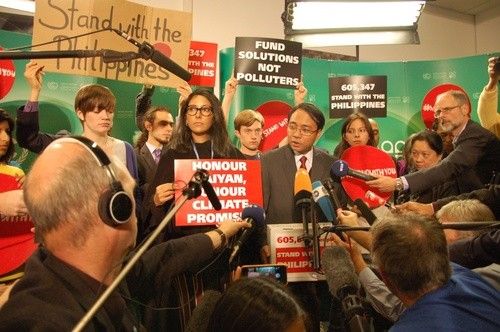 He continued:
We are deeply moved and deeply touched by this expression of solidarity from hundreds of thousands of people and we are here to deliver their voices into this process, into this national stadium here in Warsaw. We hope that they can create the kind of impact that people around the world—billions and billions—are desiring.
This is a call, once and for all, to take ambitious steps to address climate change, which is now affecting lives and livelihoods. We are very glad and heartened to see this kind of solidarity being expressed by civil society, especially by many young people here. I cannot thank them enough for what they have done in supporting the call for action in the climate negotiations.
Last week, in an unprecedented move for an official negotiator, Yeb Saño authored a petition on Avaaz calling for "major steps forward" here in Warsaw on the issues of carbon pollution reduction, finance and "loss and damage," a new system to help countries manage the risks and deal with the losses to climate disasters.
"Typhoon Haiyan shows that climate change is happening now and is claiming lives," said Iain Keith, senior campaigner at Avaaz.org "The urgent need to cut carbon emissions and help vulnerable countries prepare for climate chaos could not be clearer and today over half a million people have joined Yeb Sano's campaign demanding action."
"Their message is clear: we urgently need rich polluting countries to honor their promises, and outline a clear plan on climate finance in Warsaw," Keith concluded.
Saño's call was supported by similar petitions from 350.org, MoveOn, Friends of the Earth, CREDO Action, Forecast the Facts, SustainUS, 18 Million Rising, and other organizations. In total, more than 600,000 people have signed on to these calls for immediate action. Many organizations, including those listed above, are also fundraising for immediate relief in the Philippines.
"The climate-related disaster in the Philippines is an urgent call to action which has been echoed around the world," said Hoda Baraka, global communications manager for 350.org. "We stand with the Philippines to honor the victims of this tragedy—and all those impacted by climate change—and shine a light on the real culprits: the fossil fuel industry."
The typhoon, Yeb Saño's emotional appeal for action and his commitment to fast throughout the talks, has inspired a widespread show of global solidarity. In Warsaw, a number of delegates at the talks are fasting in solidarity with Saño. This week, hundreds—perhaps thousands—of people are expected to join the voluntary fast for at least a day. On Thursday evening, candlelit vigils united by the message #WeStandWithYou are planned around the world.
"The climate justice movement is gaining momentum every day," said Silje Lundberg, from Young Friends of the Earth Norway. "Young people stood with the Philippines after Typhoon Bopha and we continue to do so, now by fasting in solidarity after another super typhoon. We refuse to accept inaction and will be doing everything we can to put pressure on our governments and the polluters that stand in the way of progress."
Despite the climate-related tragedy in the Philippines, the Warsaw climate talks have been plagued by a lack of ambition from rich countries. These nations have yet to offer serious financial commitments or up their levels of ambition to cut emissions. Instead, nations like Japan and Australia are backing away from previously made commitments.
Super Typhoon Haiyan (called Yolanda by many in the Philippines) was the strongest tropical cyclone to make landfall in world history. There are several ways in which climate change can affect typhoons like Haiyan, and will continue to do so in the future, including: increasing sea surface temperatures, adding more energy to storms; increasing the amount of precipitation associated with tropical cyclones, because warm air holds more water than cold; and, causing sea level rise which increases the destructive power of storm surges.
After a year of storms, droughts, wildfires and flooding around the world, Typhoon Haiyan has helped solidify the connection between extreme weather and climate change in the mainstream media and public consciousness. In a recent speech, UN Secretary General Ban Ki Moon connected the typhoon to climate change, calling it an "urgent warning."
On Saturday, British Prime Minister David Cameron said, "evidence seems to me to be growing" that typhoons like Haiyan are connected to climate change and that scientists are "giving us a very certain message" about the threat of the climate crisis.
—————
 Below, filmmaker James Shikada edited down Yeb Sano's impassioned speech, pleaing for urgent action at the UN climate talks, and paired it with images of destruction from Super Typhoon Haiyan:
Visit EcoWatch's CLIMATE CHANGE page for more related news on this topic. 

EcoWatch Daily Newsletter
The Democratic primary candidates take the stage during Tuesday's debate. SAUL LOEB / AFP via Getty Images
On Tuesday night, the Democratic presidential candidates gathered for what The Guardian said was the largest primary debate in U.S. history, and they weren't asked a single question about the climate crisis.
A. Battenburg / Technical University of Munich
By Sarah Kennedy
Algae in a pond may look flimsy. But scientists are using algae to develop industrial-strength material that's as hard as steel but only a fraction of the weight.
Variety of fermented food korean traditional kimchi cabbage and radish salad. white and red sauerkraut in ceramic plates over grey spotted background. Natasha Breen / REDA&CO / Universal Images Group / Getty Image
Even if you've never taken probiotics, you've probably heard of them.
These supplements provide numerous benefits because they contain live microorganisms, such as bacteria or yeast, which support the healthy bacteria in your gut (1, 2, 3, 4).
Pexels
Singapore will become the first country in the world to place a ban on advertisements for carbonated drinks and juices with high sugar contents, its health ministry announced last week. The law is intended to curb sugar consumption since the country has some of the world's highest diabetes rates per capita, as Reuters reported.
A typical adult takes around 20,000 breaths per day. If you live in a megacity like Beijing, with many of those lungfuls you're likely to inhale a noxious mixture of chemicals and pollutants.
Fred Stone holds his brown swiss cow Lida Rose at his Arundel dairy farm on March 18 after a press conference where he spoke about PFAS chemical contamination in his fields. Gregory Rec / Portland Portland Press Herald via Getty Images
By Susan Cosier
First there was Fred Stone, the third-generation dairy farmer in Maine who discovered that the milk from his cows contained harmful chemicals. Then came Art Schaap, a second-generation dairy farmer in New Mexico, who had to dump 15,000 gallons of contaminated milk a day.
Protesters attend the 32nd annual Fur-Free Friday demonstration on Nov. 23, 2018 in Beverly Hills, California. Ella DeGea / Getty Images
California Governor Gavin Newsom signed into law a bill that that bans the sale and manufacture of fur products in the state. The fur ban, which he signed into law on Saturday, prohibits Californians from selling or making clothing, shoes or handbags with fur starting in 2023, according to the AP.
By Simon Evans
During the three months of July, August and September, renewables generated an estimated total of 29.5 terawatt hours (TWh), compared with just 29.1TWh from fossil fuels, the analysis shows.