This website uses cookies to ensure you get the best experience while browsing it. By clicking 'Got It' you're accepting these terms.
60% of Loggerhead Turtles Stranded on Beaches in South Africa Had Ingested Plastic
May. 03, 2016 08:47AM EST
Animals
We know that ocean plastic can have a devastating impact on aquatic life such as seabirds, fish and whales. Now, researchers have found that 60 percent of post-hatchling loggerhead turtles stranded on southern Cape beaches in South Africa have been impacted by growing quantities of human-caused debris such as plastic fragments, packaging and fibers.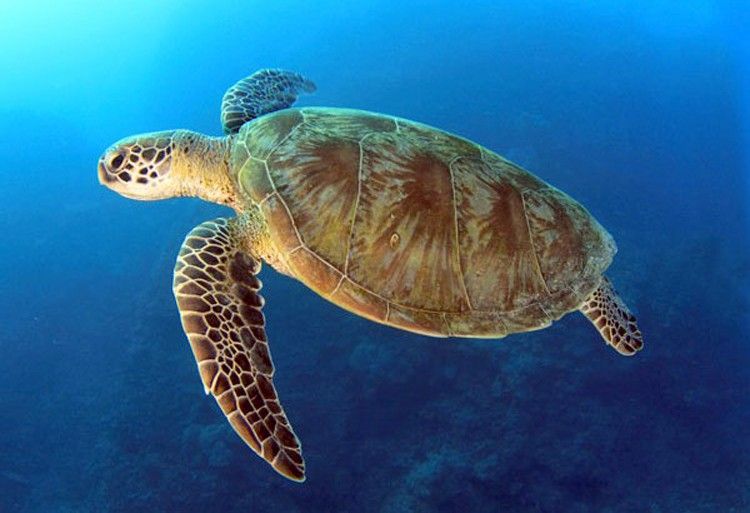 A new study published in Marine Pollution Bulletin last month reported that 24 out of 40 of loggerhead turtles died within two months of stranding in April 2015. Of the turtles that died, 16 had ingested plastic. Gruesomely, 11 of these turtles died because plastic was blocking their digestive tracts or bladders.
Here are other key points from the study, as reported by South Africa's Times Live:
Plastic comprised 99 percent of debris collected.
The majority

—

77 percent

—

w

ere hard plastic fragments' 10 percent were from flexible packaging and 8 percent were fibers.
Industrial pellets comprised 3 percent, compared to around 70 percent in a previous study between 1968 and 1973.
In the earlier study' only 12 percent of stranded post-hatchlings contained plastics' compared to the 60 percent of the current study.
"Our results indicate that the amount and diversity of plastic ingested by post-hatchling loggerhead turtles off South Africa have increased over the last four decades, and now kill some turtles," the study says.
South Africa's beaches are inundated with plastic, the Sunday Times reported in December. According to data released by Plastics South Africa, there are roughly 400 pieces of plastic per square meter. Another study found that South Africa ranks as the 11th worst country for dumping plastics in the ocean, between Bangladesh and India, the publication noted.
The turtle study's lead author, Peter Ryan of the Percy FitzPatrick Institute of African Ornithology and the DST-NRF's Centre of Excellence at the University of Cape Town, told the Sunday Times that South Africa needs multiple strategies to clean up its plastic problem.
"There's nothing wrong with plastic—the problem is what people do with it'" Ryan said' explaining that half of South Africa's solid waste does not go into formal waste streams.
He also pointed out that plastic packaging such as candy wrappers are difficult to recycle.
"Every time you do one of these (beach litter) surveys you discover a whole new kind of packaging'" Ryan said. "We need to be more proactive about how we package things."
Ryan, however, said that a solution is possible.
"It's a question of making sure that we dispose of plastic properly and working towards making sure there is a value attached to waste plastic'" he said. "It's a completely solvable problem."
Plastic pollution is impacting sea turtles around the world. Last summer, EcoWatch posted a viral video of researchers from The Leatherback Trust removing a 4-inch plastic straw from a male olive ridley turtle's nose in Costa Rica.
A few months after saving the first turtle, the researchers found another olive ridley in Costa Rica with plastic lodged deeply in its nostril—this time a 5-inch plastic fork.
Thankfully, the research team was able to relieve both turtles, but as Dr. George Shillinger, the executive director of the Monterey, California-based conservation nonprofit, told EcoWatch, it's "just the tip of the iceberg."
"This was an isolated incident involving a single turtle in a small area off a nesting beach in Costa Rica," Shillinger said. "Just imagine globally what's happening."
Last year, researchers from the Commonwealth Scientific and Industrial Research Organization in Australia and Imperial College London released a report with the startling finding that 90 percent of seabirds today have eaten plastic, and if humans don't stop dumping plastic into the ocean, it's predicted that 99 percent of seabirds will swallow plastic by 2050.
When asked if this trend is also happening with turtles, Shillinger replied without hesitation: "Totally. Turtles are occupying the same habitats … Without a doubt these animals are consuming plastics in areas where they'd otherwise go to consume prey."
Approximately 8 million metric tons of plastic waste is dumped into our oceans every year, and the pollution is only getting worse as consumer use of plastic and plastic-intensive goods intensifies in emerging countries.
Not only that, an alarming study by the University of Delaware physical oceanographer Tobias Kukulka reported that there might be much more plastic than what's estimated.
"My research has shown that ocean turbulence actually mixes plastics and other pollutants down into the water column despite their buoyancy," Kukulka said, according to UD Daily. "This means that surface measurements could be wildly off and the concentration of plastic in the marine environment may be significantly higher than we thought."
YOU MIGHT ALSO LIKE
One of the World's Most Endangered Turtles Nearly Extinct With Fewer Than 10 Left in the Wild
Cousteau to SeaWorld: Captive Orcas 'Need to Be Released'
Is the Whale Shark Tourism Industry Conservation or Exploitation?
EcoWatch Daily Newsletter
Artist's conception of solar islands in the open ocean. PNAS
Millions of solar panels clustered together to form an island could convert carbon dioxide in seawater into methanol, which can fuel airplanes and trucks, according to new research from Norway and Switzerland and published in the Proceedings of the National Academy of Sciences journal, PNAS, as NBC News reported. The floating islands could drastically reduce greenhouse gas emissions and dependence on fossil fuels.
Marcos Alves / Moment Open / Getty Images
More than 40 percent of insects could go extinct globally in the next few decades. So why did the U.S. Environmental Protection Agency (EPA) last week ok the 'emergency' use of the bee-killing pesticide sulfoxaflor on 13.9 million acres?
EcoWatch teamed up with Center for Biological Diversity via EcoWatch Live on Facebook to find out why. Environmental Health Director and Senior Attorney Lori Ann Burd explained how there is a loophole in the The Federal Insecticide, Fungicide, and Rodenticide Act under section 18, "that allows for entities and states to request emergency exemptions to spraying pesticides where they otherwise wouldn't be allowed to spray."
Simple swaps that cut down on kitchen trash.
Sponsored
By Kayla Robbins
Along with the bathroom, the kitchen is one of the most daunting areas to try and make zero waste.
View of downtown Miami, Florida from Hobie Island on Feb. 2, 2019.
Michael Muraz / Flickr
The Democratic candidates for president descended upon Miami for a two-night debate on Wednesday and Thursday. Any candidate hoping to carry the state will have to make the climate crisis central to their campaign, as The New York Times reported.
By Sharon Kelly
On Monday, the Wall Street Journal featured a profile of Scott Sheffield, CEO of Pioneer Natural Resources, whose company is known among investors for its emphasis on drawing oil and gas from the Permian basin in Texas using horizontal drilling and hydraulic fracturing, or fracking.
Pexels
By Craig K. Chandler
The federal government has available to it, should it choose to use them, a wide range of potential climate change management tools, going well beyond the traditional pollution control regulatory options. And, in some cases (not all), without new legislative authorization.
Denis Poroy / Getty Images
By Dan Gray
Processed foods, in their many delicious forms, are an American favorite.
But new research shows that despite increasing evidence on just how unhealthy processed foods are, Americans have continued to eat the products at the same rate.
By Sarah Steffen
With a profound understanding of their environmental surroundings, indigenous communities around the world are often cited as being pivotal to tackling climate change.