This website uses cookies to ensure you get the best experience while browsing it. By clicking 'Got It' you're accepting these terms.
6 Ways to Include Superfoods When You Travel
Nov. 05, 2014 09:04AM EST
Food
You know you should be eating better, incorporating some of those great superfoods into your diet regularly. But when you travel for your job, you find yourself grabbing something quick on the go, and somehow you find yourself nodding off at that meeting or crashing too early.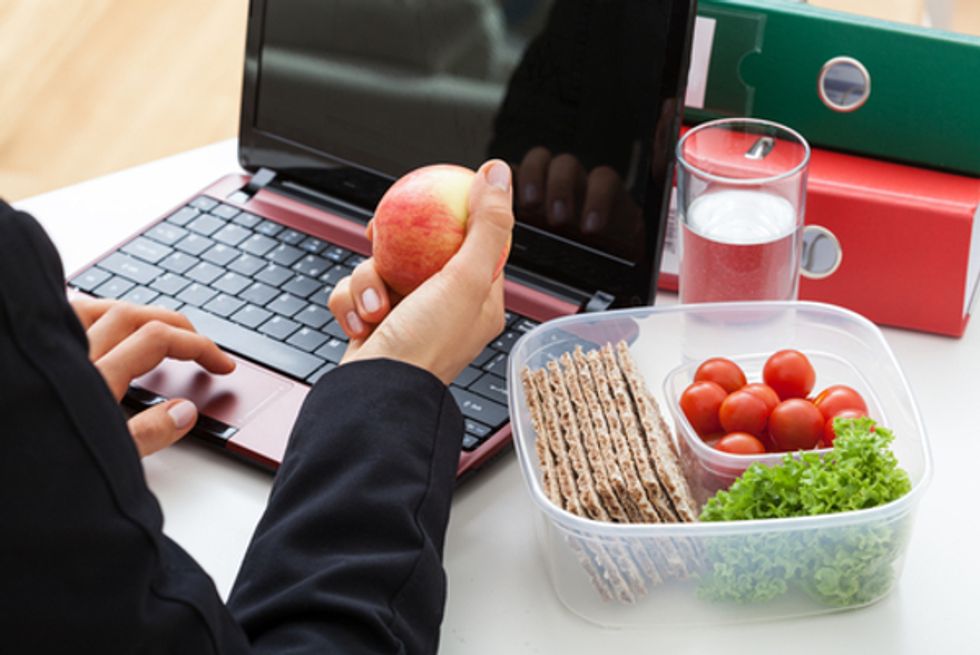 Photo credit: Shutterstock
There are plenty of great, nutritious solutions for that, and they are easy to pack and eat when you're flying, in a hotel room or sitting in meetings and seminars all day. You don't have to rely on airport food or that tray of Danish in the conference room. And you shouldn't. Try bringing along some of these instead.
1. That conference room will probably have coffee and hot water with generic supermarket teabags. Those have some good nutrients but why not make it better? One of the easiest things to stick in your purse, briefcase or knapsack is a fistful of teabags with healthful effects to bolster your immune system when you're around a bunch of people who may have—no, not Ebola!—sniffles and flu. Herbal effusions like mint, ginger, chamomile or lemon balm, not technically teas but good for you, can also be just the thing for that unsettled digestive system that sometimes comes with being in an unfamiliar setting.
2. Bring along a baggie of lemon slices and a mini-container of honey (They make those bear-shaped ones in little sizes!). The lemon gives you a shot of vitamin C and the honey adds some trace minerals and citamins—and both give you antioxidants you need to maintain your overall well-being. Don't open yourself to the temptation of adding a package of refined sugar or artificial sweetener to your tea; neither is good for you. Throw some whole lemons in your suitcase as well and start your day with some lemon-infused hot water, a wonderful way to stay hydrated and giving your body the moisture it needs in those artificially cooled and heated rooms.
3. Don't forget to drink plenty of water. You already know not to drink sugary drinks or soda; they'll just make you feel icky. But for a little extra boost when you're feeling stressed, coconut water is a good, refreshing option, with energy-giving electrolytes like sodium and potassium and lots of essential vitamins. Be sure to look for fresh unpasteurized coconut water not made from concentrate and with no added sugar or other flavorings.
4. Stop! Back away from that table laden with donuts and sticky buns. Yes, it was nice of them to think of you, but you won't feel better by the end of the day if you eat that. A great alternative is a container of berries you can munch on while listening to the keynote speaker. They're not messy, they don't make crunchy noises, and berries like blueberries and blackberries—all highly portable and less prone to crushing than, say, raspberries—are full of antioxidants, vitamins and minerals that enhance overall good health. Goji berries can help you sleep, a real benefit when you are off your regular schedule.
5. Take some containers of a salad you make at home with your favorite superfoods. They're easy to pop open on an airplane, and you never know when the only lunch choices near the convention center will be chain restaurants and fast food. While your colleagues are gulping down that burger or cheese-heavy panini (and paying the price for it later), you can be enjoying  the benefits of foods like quinoa—good for giving you energy or quelling motion sickness—and that ultimate superfood, kale, with its calcium, iron, vitamins and multitude of cancer-preventing compounds. Make up a batch of tabouli with that quinoa, vitamin K & C-loaded parsley, lemon juice, mint and that healthiest of fats, olive oil—a medley of nutrients, antioxidants and anti-inflammatories that will make you feel more focused, alert and energetic.
6. Pack some herbs and spices to give you a lift when you're not feeling quite up to par. A stick of ginger is great to chew on if your stomach is queasy. Mint can freshen your breath more easily then sneaking away in the middle of the day to brush your teeth and it can also help you overcome nausea. Fennel seeds are good to have on hand to cope with indigestion, heartburn and bloating.
YOU MIGHT ALSO LIKE
New App Helps You Eat Healthier
Why Antioxidants in Superfoods Are Essential to Your Diet
EcoWatch Daily Newsletter
Climate activists protest Chase Bank's continued funding of the fossil fuel industry on May 16, 2019 by setting up a tripod-blockade in midtown Manhattan, clogging traffic for over an hour. Michael Nigro / Pacific Press / LightRocket / Getty Images
By Julia Conley
Climate campaigners on Friday expressed hope that policymakers who are stalling on taking decisive climate action would reconsider their stance in light of new warnings from an unlikely source: two economists at J.P. Morgan Chase.
Protesters holding signs in solidarity with the Wet'suwet'en Nation outside the Canadian Consulate in NYC. The Indigenous Peoples Day NYC Committee (IPDNYC), a coalition of 13 Indigenous Peoples and indigenous-led organizations gathered outside the Canadian Consulate and Permanent Mission to the UN to support the Wet'suwet'en Nation in their opposition to a Coastal GasLink pipeline scheduled to enter their traditional territory in British Columbia, Canada. Erik McGregor / LightRocket / Getty Images
Tensions are continuing to rise in Canada over a controversial pipeline project as protesters enter their 12th day blockading railways, demonstrating on streets and highways, and paralyzing the nation's rail system
Horseshoe Bend (seen above) is a horseshoe-shaped meander of the Colorado River in Page, Arizona.
didier.camus
/ Flickr /
public domain
Millions of people rely on the Colorado River, but the climate crisis is causing the river to dry up, putting many at risk of "severe water shortages," according to new research, as The Guardian reported.
An alarming sign of an impending drought is the decreased snowpack in the Sierra Nevada Mountain range, as seen here in Christmas Valley, South Lake Tahoe, California on Feb. 15, 2020.
jcookfisher
/
CC BY 2.0
California is headed toward drought conditions as February, typically the state's wettest month, passes without a drop of rain. The lack of rainfall could lead to early fire conditions. With no rain predicted for the next week, it looks as if this month will be only the second time in 170 years that San Francisco has not had a drop of rain in February, according to The Weather Channel.