This website uses cookies to ensure you get the best experience while browsing it. By clicking 'Got It' you're accepting these terms.
6 Toothpaste Ingredients You Should Avoid
Aug. 15, 2014 07:53AM EST
Health + Wellness
Reposted with permission from Rodale News.
"Brush three times a day!" You probably grew up hearing that conventional oral-hygiene wisdom, but unfortunately, doing so today could pose an unnecessary threat to your health, thanks to certain bad-actor ingredients cropping up in popular toothpaste brands. The kicker? Some of the worst ingredients don't even help keep your teeth cleaner. "Does the risk outweigh the benefits?" asks Linda A. Straub-Bruce, BS Ed, RDH, author of Dental Herbalism. "It's what I always ask my patients to consider."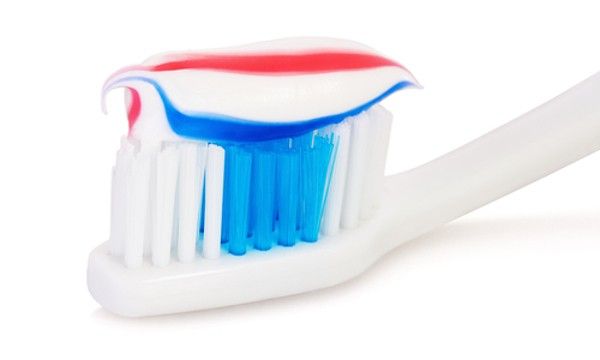 The "benefit" of these dyes is pretty obvious: They color the toothpaste. That's it. Photo courtesy of Shutterstock
She recommends avoiding these six ingredients that just aren't worth the risk:
1. Sodium Laurel Sulfate (SLS)
SLS seems to fuel canker sores. Researchers have linked SLS to higher numbers of canker sore outbreaks. As if that's not enough, SLS also seems to cause more frequent outbreaks that last longer, too, Straub-Bruce says. She also points out that there is a definite correlation with cold sensitivity as well. No one likes canker sores or sensitive teeth, so manufacturers must have a really good reason to justify its inclusion, right?
Nope.
"All it does is foam," explains Straub-Bruce. "There is no other viable purpose other than the experience. This doesn't translate into better health or lower microbial load, but people associate foaming with clean." In fact, she suggests that you get more cleaning power from the scraping action of brushing or flossing (or even just eating a carrot) than you do from SLS.
2. Triclosan 
"About 15 years ago, triclosan came to oral care because it fights the bacteria in plaque for up to 12 hours," says Straub-Bruce. Unfortunately, research is now showing that, much like BPA, triclosan is a hormone disruptor.
"And now that it's been out for a long time and it's been going down the drain, we're starting to see the environmental impacts," says Straub-Bruce. She points out that not only is it a hormone disruptor for people, but it's also a food-chain disruptor because it affects algae.
3. Blue #1 and #2
The "benefit" of these dyes is pretty obvious: They color the toothpaste. That's it. Unfortunately, the fun color is offset by some pretty serious health concerns. "When swallowed it's a respiratory irritant, digestive tract irritant, and there have been correlational studies between blue #1 and behavioral problems in children," says Straub-Bruce.
4. Flavoring
Sure, we love the minty-fresh taste, but what do the toothpaste companies add to make their pastes palatable? "No matter what it says on the front, you have to read the back," says Straub-Bruce. It's important to watch out for flavoring agents like aspartame.  If you're making the jump to natural herbal rinses and need help getting used to the new taste, she recommends looking for natural sweeteners like xylitol or stevia.
5. Hydrated Silica 
This chemical is used for stain removal, but Straub-Bruce explains that it doesn't break down over time. "This means that it can damage your enamel," she says. She recommends using baking soda instead. You'll get sparkling teeth—without destroying them.
6. Alcohol
Straub-Bruce points out that alcohol is a false friend when it comes to mouth rinses: "Alcohol is an antimicrobial, but it's also a drying agent," she says. "So while it freshens your breath initially, it flips back twofold later because the bacteria thrive in a dry mouth."
Instead, Straub-Bruce suggests making a tea of herbs (and letting it cool) as a rinse. To freshen your breath, try brewing a 2:1:1:0.5 ratio of cardamom, cumin, fennel and orange peel in water. After it's cooled, rinse as you would with your regular mouthwash.
Want to control what's going into your toothpaste? Try making it yourself.
You Might Also Like
What to Avoid in Toothpaste, and How to Make Your Own
Fluoride, Deemed Toxic by Harvard Doctor, Under Fire in U.S. Federal Court
EcoWatch Daily Newsletter
Sen. Michael Bennet (D-CO) speaks during the North American Building Trades Unions Conference at the Washington Hilton April 10, 2019 in Washington, DC. Zach Gibson / Getty Images
Colorado senator and 2020 hopeful Michael Bennet introduced his plan to combat climate change Monday, in the first major policy rollout of his campaign. Bennet's plan calls for the establishment of a "Climate Bank," using $1 trillion in federal spending to "catalyze" $10 trillion in private spending for the U.S. to transition entirely to net-zero emissions by 2050.
When Trump's Environmental Protection Agency (EPA) announced its replacement for the Obama-era Clean Power Plan in August 2018, its own estimates said the reduced regulations could lead to 1,400 early deaths a year from air pollution by 2030.
Now, the EPA wants to change the way it calculates the risks posed by particulate matter pollution, using a model that would lower the death toll from the new plan, The New York Times reported Monday. Five current or former EPA officials familiar with the plan told The Times that the new method would assume there is no significant health gain by lowering air pollution levels below the legal limit. However, many public health experts say that there is no safe level of particulate matter exposure, which has long been linked to heart and lung disease.
A crate carrying one of the 33 lions rescued from circuses in Peru and Columbia is lifted onto the back of a lorry before being transported to a private reserve on April 30, 2016 in Johannesburg, South Africa. Dan Kitwood / Getty Images
By Andrea Germanos
Animal welfare advocates are praising soon-to-be introduced legislation in the U.S. that would ban the use of wild animals in traveling circuses.
A tornado Monday in Union City, Oklahoma.
TicToc by Bloomberg / YouTube screenshot
A woman walks in front of her water-logged home in Sriwulan village, Sayung sub-district of Demak regency, Central Java, Indonesia on Feb. 2, 2018. Siswono Toyudho / Anadolu Agency /Getty Images
Matt Cardy / Stringer / Getty Images
The Guardian is changing the way it writes about environmental issues.
Blueberry yogurt bark. SEE D JAN / iStock / Getty Images Plus
Having nutritious snacks to eat during the workday can help you stay energized and productive.

A 2017 flood in Elk Grove, California. Florence Low / California Department of Water Resources
By Tara Lohan
It's been the wettest 12 months on record in the continental United States. Parts of the High Plains and Midwest are still reeling from deadly, destructive and expensive spring floods — some of which have lasted for three months.
Mounting bills from natural disasters like these have prompted renewed calls to reform the National Flood Insurance Program, which is managed by Federal Emergency Management Agency and is now $20 billion in debt.