This website uses cookies to ensure you get the best experience while browsing it. By clicking 'Got It' you're accepting these terms.
6 Toothpaste Ingredients You Should Avoid
Aug. 15, 2014 07:53AM EST
Health + Wellness
Reposted with permission from Rodale News.
"Brush three times a day!" You probably grew up hearing that conventional oral-hygiene wisdom, but unfortunately, doing so today could pose an unnecessary threat to your health, thanks to certain bad-actor ingredients cropping up in popular toothpaste brands. The kicker? Some of the worst ingredients don't even help keep your teeth cleaner. "Does the risk outweigh the benefits?" asks Linda A. Straub-Bruce, BS Ed, RDH, author of Dental Herbalism. "It's what I always ask my patients to consider."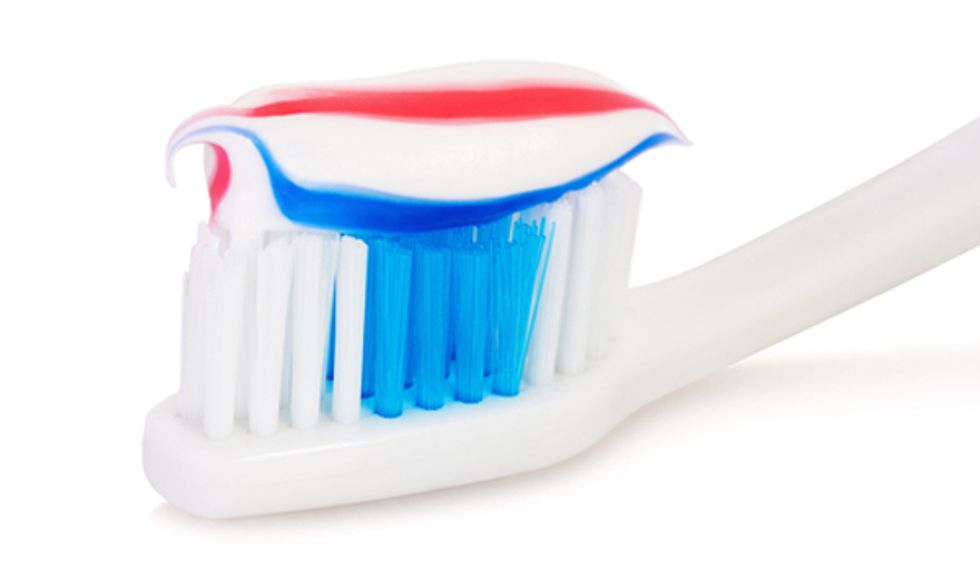 The "benefit" of these dyes is pretty obvious: They color the toothpaste. That's it. Photo courtesy of Shutterstock
She recommends avoiding these six ingredients that just aren't worth the risk:
1. Sodium Laurel Sulfate (SLS)
SLS seems to fuel canker sores. Researchers have linked SLS to higher numbers of canker sore outbreaks. As if that's not enough, SLS also seems to cause more frequent outbreaks that last longer, too, Straub-Bruce says. She also points out that there is a definite correlation with cold sensitivity as well. No one likes canker sores or sensitive teeth, so manufacturers must have a really good reason to justify its inclusion, right?
Nope.
"All it does is foam," explains Straub-Bruce. "There is no other viable purpose other than the experience. This doesn't translate into better health or lower microbial load, but people associate foaming with clean." In fact, she suggests that you get more cleaning power from the scraping action of brushing or flossing (or even just eating a carrot) than you do from SLS.
2. Triclosan 
"About 15 years ago, triclosan came to oral care because it fights the bacteria in plaque for up to 12 hours," says Straub-Bruce. Unfortunately, research is now showing that, much like BPA, triclosan is a hormone disruptor.
"And now that it's been out for a long time and it's been going down the drain, we're starting to see the environmental impacts," says Straub-Bruce. She points out that not only is it a hormone disruptor for people, but it's also a food-chain disruptor because it affects algae.
3. Blue #1 and #2
The "benefit" of these dyes is pretty obvious: They color the toothpaste. That's it. Unfortunately, the fun color is offset by some pretty serious health concerns. "When swallowed it's a respiratory irritant, digestive tract irritant, and there have been correlational studies between blue #1 and behavioral problems in children," says Straub-Bruce.
4. Flavoring
Sure, we love the minty-fresh taste, but what do the toothpaste companies add to make their pastes palatable? "No matter what it says on the front, you have to read the back," says Straub-Bruce. It's important to watch out for flavoring agents like aspartame.  If you're making the jump to natural herbal rinses and need help getting used to the new taste, she recommends looking for natural sweeteners like xylitol or stevia.
5. Hydrated Silica 
This chemical is used for stain removal, but Straub-Bruce explains that it doesn't break down over time. "This means that it can damage your enamel," she says. She recommends using baking soda instead. You'll get sparkling teeth—without destroying them.
6. Alcohol
Straub-Bruce points out that alcohol is a false friend when it comes to mouth rinses: "Alcohol is an antimicrobial, but it's also a drying agent," she says. "So while it freshens your breath initially, it flips back twofold later because the bacteria thrive in a dry mouth."
Instead, Straub-Bruce suggests making a tea of herbs (and letting it cool) as a rinse. To freshen your breath, try brewing a 2:1:1:0.5 ratio of cardamom, cumin, fennel and orange peel in water. After it's cooled, rinse as you would with your regular mouthwash.
Want to control what's going into your toothpaste? Try making it yourself.
You Might Also Like
What to Avoid in Toothpaste, and How to Make Your Own
Fluoride, Deemed Toxic by Harvard Doctor, Under Fire in U.S. Federal Court
EcoWatch Daily Newsletter
A Starbucks barista prepares a drink at a Starbucks Coffee Shop location in New York. Ramin Talaie / Corbis via Getty Images
By Cathy Cassata
Are you getting your fill of Starbucks' new Almondmilk Honey Flat White, Oatmilk Honey Latte, and Coconutmilk Latte, but wondering just how healthy they are?
By Sharon Kelly
Back in April last year, the Trump administration's Environmental Protection Agency decided it was "not necessary" to update the rules for toxic waste from oil and gas wells. Torrents of wastewater flow daily from the nation's 1.5 million active oil and gas wells and the agency's own research has warned it may pose risks to the country's drinking water supplies.
Swedish climate activist Greta Thunberg takes part in a "Friday for Future" youth demonstration in a street of Davos on Jan. 24, 2020 on the sideline of the World Economic Forum annual meeting. FABRICE COFFRINI / AFP via Getty Images
Treasury Secretary Steven Mnuchin pretended not to know who Greta Thunberg is, and then he told her to get a degree in economics before giving world leaders advice, as The Guardian reported.
The Visible Infrared Imaging Radiometer Suite on the Suomi NPP satellite acquired this image of forest fire smoke hovering over North America on Aug. 15, 2018. NASA Earth Observatory
New York City isn't known for having the cleanest air, but researchers traced recent air pollution spikes there to two surprising sources — fires hundreds of miles away in Canada and the southeastern U.S.
If temperatures continue to rise, the world is at risk from global
sea-level rise
, which will flood many coastal cities as seen above in Bangladesh. NurPhoto / Contributor / Getty Images
The mounting climate emergency may spur the next global financial crisis and the world's central banks are woefully ill equipped to handle the consequences, according to a new book-length report by the Bank for International Settlements (BIS), as S&P Global reported. Located in Basel, Switzerland, the BIS is an umbrella organization for the world's central banks.