This website uses cookies to ensure you get the best experience while browsing it. By clicking 'Got It' you're accepting these terms.
6 Things You Need to Know About Food and Cancer
Aug. 07, 2014 03:36PM EST
Food
The notion of using food to prevent or delay the onset of certain ailments is centuries old—Hippocrates himself is famous for saying "Let food be thy medicine and medicine be thy food." But, as more and more research is devoted to exploring how what we eat affects what diseases we get, the movement is just now gaining mainstream attention.
Recently, the Journal of the American College of Nutrition featured a list of dietary pointers compiled by the Physicians Committee for Responsible Medicine—a nonprofit group of health care professionals who advocate for preventive medicine—aimed at reducing a person's risk for developing certain types of cancer.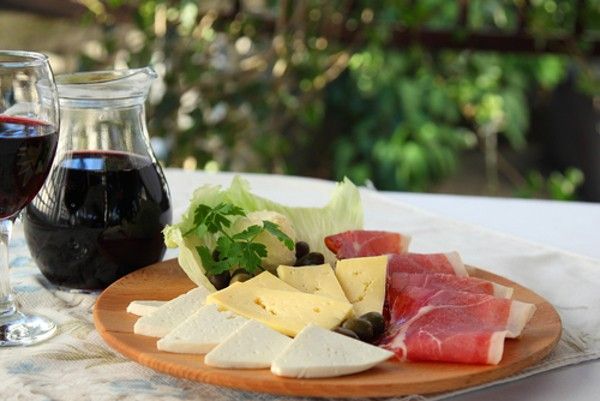 Dietary pointers tell us that having too much meat, cheese or alcohol can be linked to cancer. Photo courtesy of Shutterstock
The argument that good nutrition is enough to ward off deadly diseases has its fair share of supporters and detractors. But the authors of the guidelines point out that their recommendations are "based on the principle that diet changes are justified, even when evidence on certain issues are up for debate."
Here are a few of their tips:
Steer clear of red and processed meats.
Eating just one simple sausage link per day could up your colorectal cancer risk by 20 percent, while a small steak could bump it up to 28 percent. This is due to the cancer-contributing compounds found in many red and processed meats—nitrites, too many amino acids, heme iron and heterocyclic amines.
Take it easy on the alcohol.
The notion that a nightly glass of red wine is good for your heart is often used as an excuse to imbibe more often. But you may want to go easy on that extra serving. An additional drink each week increases larynx, pharynx and mouth cancer by as much as 24 percent. And since it's the alcohol—as opposed to the additives—that appears to create problems, no alcoholic beverage is entirely benign.
Beware of certain meal prep methods.
Broiling, frying and grilling meats contributes to the formation of heterocyclic amines (HCAs). Eating HCAs may impair DNA functioning in the body, which can aid the growth of colorectal cancer.
Decrease your dairy intake.
For men seeking to avoid prostate cancer, abstaining from too much dairy may be an important step. A daily regimen of two glasses of milk has been shown to increase prostate cancer risk by as much as 60 percent in some men. And calcium supplements aren't necessarily safe either. Men who take more than 400 milligrams of calcium each day could up their chances of prostate cancer by 51 percent.
Make friends with fruits and veggies.
A well-worn piece of food wisdom that nonetheless bears repeating, evidence consistently shows that men and women who consume greater amounts of fruits and vegetables are healthier overall. Leafy greens and cruciferous vegetables (kale, cabbage and broccoli, in particular) may help reduce colon cancer risk by as much as 18 percent, according to the Physicians Committee experts. For women, carrots and sweet potatoes have been dubbed especially potent at combating breast cancer. And (even though you may need an extra breath mint afterwards) increasing your intake of allium vegetables like garlic and onions could cut your gastric cancer risk.
Certain women should seek soy.
Soy is a much-debated dietary element—especially when it comes to cancer. Some studies indicate that women who eat more soy have a decreased risk for developing breast cancer. Yet other investigations highlight a potential increase in cancer risk that corresponds with an increase in soy consumption. "Research on soy and cancer is highly complex, controversial and evolving," according to Dr. Marji McCullough, strategic director of the American Cancer Society's nutritional epidemiology and epidemiology research program. McCullough points out that the negative evidence against soy largely comes from studies conducted on mice and other rodents, which means that it may not be directly applicable to human beings. While the jury's still out in terms of a definitive answer, McCullough says soy probably isn't harmful, and the Physicians Committee doctors claim that natural forms of soy—organic tofu, tempeh and edamame are healthy options for women seeking to lessen their breast cancer risk.
In essence, these dietary recommendations closely mirror the ones espoused by many nutritional experts: load up on fruits and veggies, keep red meat and dairy products to a minimum, enjoy the occasional glass of alcohol and try to get most of your vitamins and minerals from natural foods, as opposed to supplements.
As study author Susan Levin, M.S., R.D., C.S.S.D., director of nutrition education for the Physicians Committee says, "There's considerable benefit—and no harm—in loading up with plant-based foods. Large bodies of research show fruits, vegetables and legumes offer a variety of protective properties, so why not move these foods to the center of our plates?"
EcoWatch Daily Newsletter
Sen. Michael Bennet (D-CO) speaks during the North American Building Trades Unions Conference at the Washington Hilton April 10, 2019 in Washington, DC. Zach Gibson / Getty Images
Colorado senator and 2020 hopeful Michael Bennet introduced his plan to combat climate change Monday, in the first major policy rollout of his campaign. Bennet's plan calls for the establishment of a "Climate Bank," using $1 trillion in federal spending to "catalyze" $10 trillion in private spending for the U.S. to transition entirely to net-zero emissions by 2050.
When Trump's Environmental Protection Agency (EPA) announced its replacement for the Obama-era Clean Power Plan in August 2018, its own estimates said the reduced regulations could lead to 1,400 early deaths a year from air pollution by 2030.
Now, the EPA wants to change the way it calculates the risks posed by particulate matter pollution, using a model that would lower the death toll from the new plan, The New York Times reported Monday. Five current or former EPA officials familiar with the plan told The Times that the new method would assume there is no significant health gain by lowering air pollution levels below the legal limit. However, many public health experts say that there is no safe level of particulate matter exposure, which has long been linked to heart and lung disease.
A crate carrying one of the 33 lions rescued from circuses in Peru and Columbia is lifted onto the back of a lorry before being transported to a private reserve on April 30, 2016 in Johannesburg, South Africa. Dan Kitwood / Getty Images
By Andrea Germanos
Animal welfare advocates are praising soon-to-be introduced legislation in the U.S. that would ban the use of wild animals in traveling circuses.
A tornado Monday in Union City, Oklahoma.
TicToc by Bloomberg / YouTube screenshot
A woman walks in front of her water-logged home in Sriwulan village, Sayung sub-district of Demak regency, Central Java, Indonesia on Feb. 2, 2018. Siswono Toyudho / Anadolu Agency /Getty Images
Matt Cardy / Stringer / Getty Images
The Guardian is changing the way it writes about environmental issues.
Blueberry yogurt bark. SEE D JAN / iStock / Getty Images Plus
Having nutritious snacks to eat during the workday can help you stay energized and productive.

A 2017 flood in Elk Grove, California. Florence Low / California Department of Water Resources
By Tara Lohan
It's been the wettest 12 months on record in the continental United States. Parts of the High Plains and Midwest are still reeling from deadly, destructive and expensive spring floods — some of which have lasted for three months.
Mounting bills from natural disasters like these have prompted renewed calls to reform the National Flood Insurance Program, which is managed by Federal Emergency Management Agency and is now $20 billion in debt.