This website uses cookies to ensure you get the best experience while browsing it. By clicking 'Got It' you're accepting these terms.
6 Striking Aerial Images Show How Deforestation Has Altered the Earth
Jan. 28, 2015 01:56PM EST
There's no debating that humans have greatly scarred the Earth. And, there's no better way to see the extent of that damage than via aerial images. Below are six NASA satellite images that show massive deforestation in many parts of the world.
According to NASA, the state of Rondônia in western Brazil—once home to 208,000 square kilometers of forest (about 51.4 million acres), an area slightly smaller than the state of Kansas—has become one of the most deforested parts of the Amazon. In the past three decades, clearing and degradation of the state's forests have been rapid: 4,200 square kilometers cleared by 1978; 30,000 by 1988; and 53,300 by 1998. By 2003, an estimated 67,764 square kilometers of rainforest—an area larger than the state of West Virginia—had been cleared.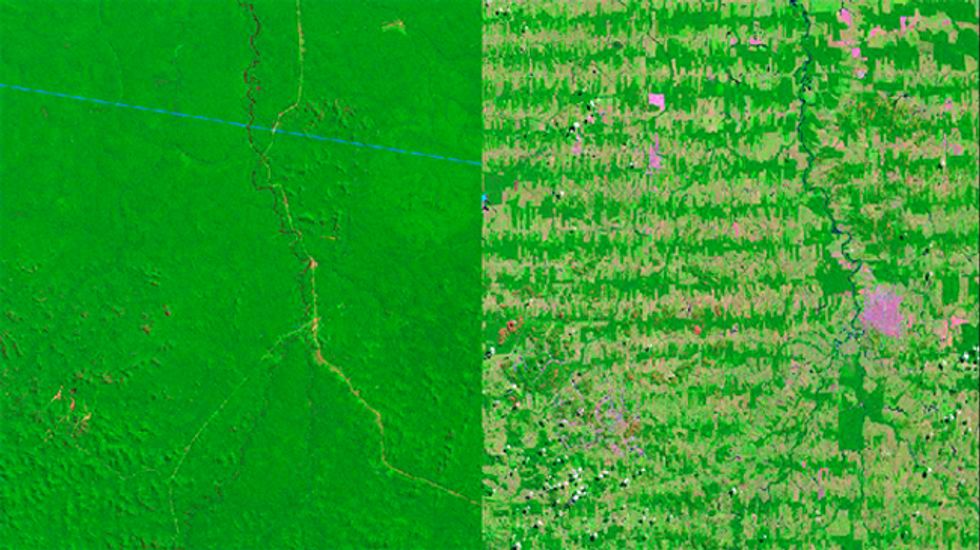 You can also watch this animation of images from 1975 until 2012, acquired by NASA's Landsat 5 and 7 satellites, showing enormous tracts of Amazonian forest disappearing in Rondônia, Brazil.
This NASA satellite image from Aug. 28, 2013 shows deforestation that has occurred in Peru near Tamshiyacu.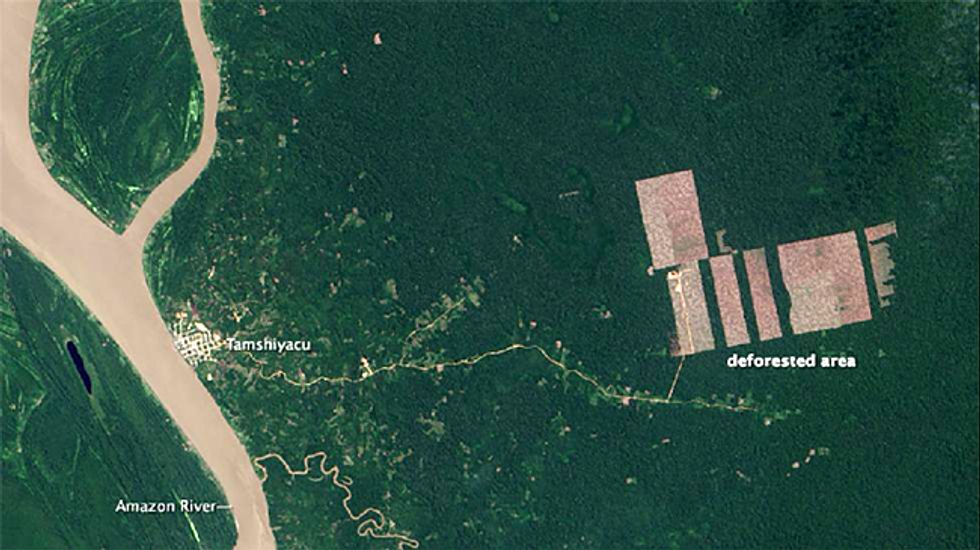 This NASA satellite image from 1988 shows widespread deforestation in Mexico compared to its neighbor Guatemala.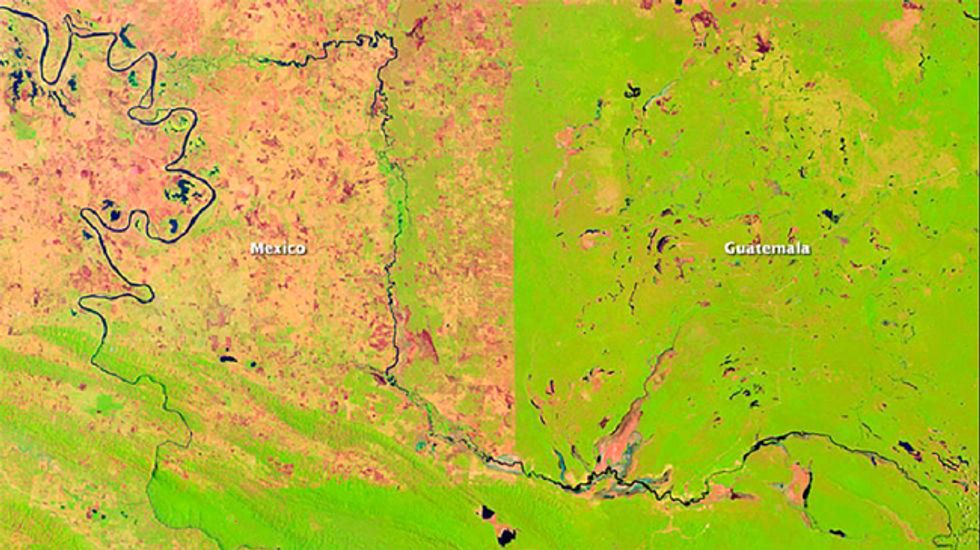 This NASA satellite image shows Haiti (left) and the Dominican Republic (right).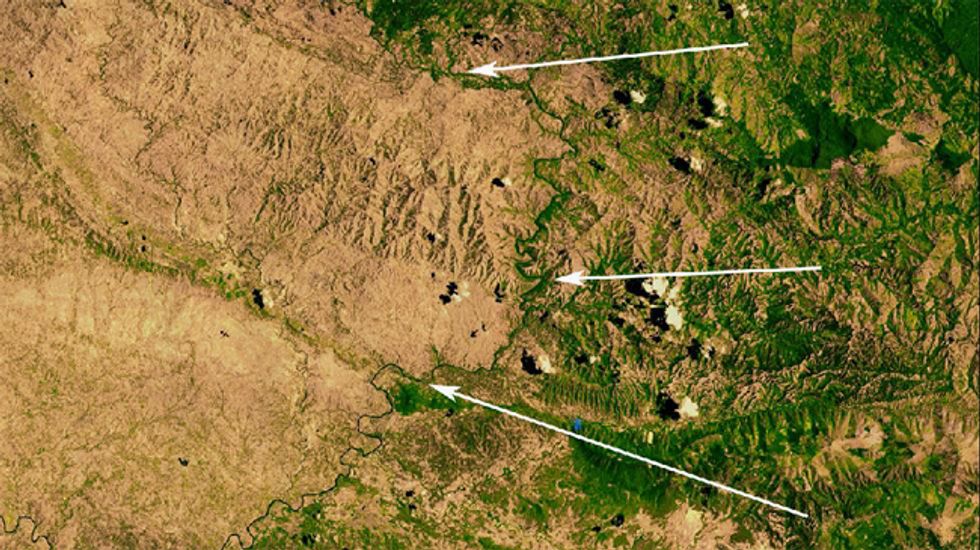 This image, taken in April 2001 from the International Space Station, shows scars from deforestation in Bolivia where the stripped land is used for agriculture. Each of the pinwheel stripped areas are centered around a small community.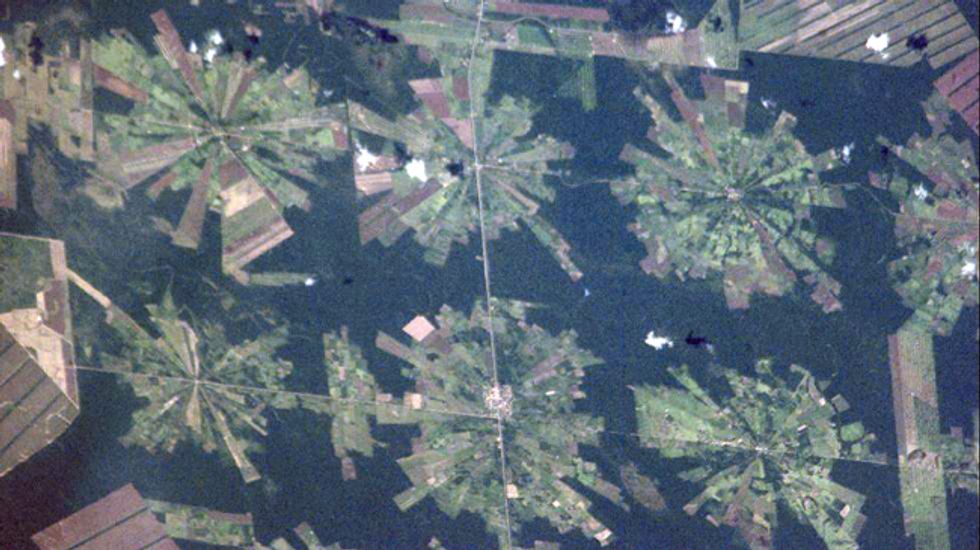 These satellite images show before and after deforestation due to gold mining in the Peruvian Amazon.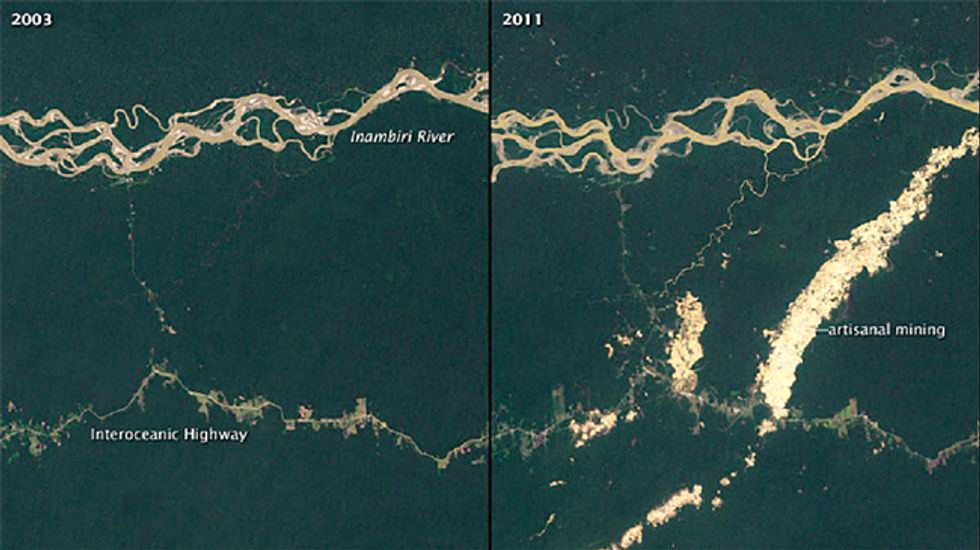 YOU MIGHT ALSO LIKE
How Palm Oil, Fruit Bats and Deforestation Could Be Linked to Ebola Epidemic
2 Americans Make History Free-Climbing Yosemite's El Capitan
Stunning Photos Show Similarities Between Humans and Other Animals
EcoWatch Daily Newsletter
A harbour seal on an ice floe in Glacier Bay, Alaska. A new study shows that the climate crisis has warmed waters, changing ecosystems and crippling sea ice growth. Janette Hill / robertharding / Getty Images Plus
Doctors report that only 1 in 4 children are getting the recommended 60 minutes of physical activity per day. Ronnie Kaufman / DigitalVision / Getty Images
By Dan Gray
Pediatricians are being urged to start writing "exercise prescriptions" for the children they see in their office.
A First Nations protester walks in front of a train blockade in Tyendinaga, near Belleville, Ontario, Canada on Feb. 21, 2020. LARS HAGBERG / AFP via Getty Images
An indigenous rail blockade that snarled train travel in Canada for more than two weeks came to an end Monday when police moved in to clear protesters acting in solidarity with another indigenous community in British Columbia (B.C.), which is fighting to keep a natural gas pipeline off its land.
A rainbow snake, a rare reptile spotted in a Florida county for the first time in more than 50 years, seen here on July 5, 2013.
Kevin Enge / FWC Fish and Wildlife Research Institute / Flickr
A Florida hiker recently stumbled across a slithering surprise — a rare snake that hadn't been spotted in the area for more than 50 years.
We need our government to do everything it can to stop PFAS contamination and exposure from wreaking havoc in communities across the country. LuAnn Hun /
Unsplash
By Genna Reed
The EPA announced last week that it is issuing a preliminary regulatory determination for public comment to set an enforceable drinking water standard to two of the most common and well-studied PFAS, PFOA and PFOS.
This decision is based on three criteria:
PFOA and PFOS have an adverse effect on public health
PFOA and PFOS occur in drinking water often enough and at levels of public health concern;
regulation of PFOA and PFOS is a meaningful opportunity for reducing the health risk to those served by public water systems.