This website uses cookies to ensure you get the best experience while browsing it. By clicking 'Got It' you're accepting these terms.
6 Signs That ALEC Is Losing Its War Against Solar
Jun. 12, 2015 08:08AM EST
Business
The American Legislative Exchange Council—popularly known as ALEC—operated in the shadows for years, writing its so-called "model legislation," which has been introduced and promoted in state assemblies across the country by member legislators.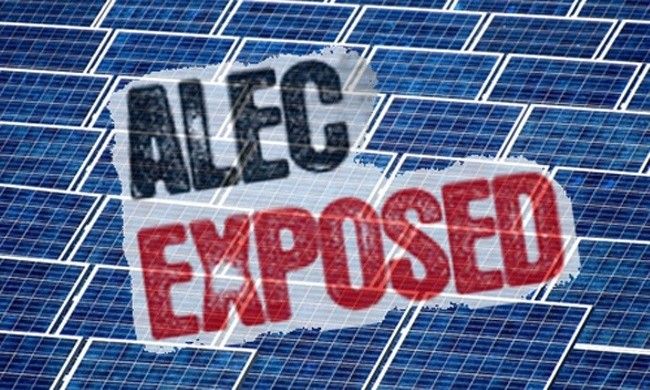 That legislation features a conservative "free market" agenda—weakening unions, fighting increases in the minimum wage, reducing corporate taxation, supporting gun owner rights and fighting against the environmental regulations despised by its funders from the fossil fuel industry such as Exxon Mobile and the Koch brothers. Among other things, it's pushed for states to withdraw from climate compacts, penalize rooftop solar installations and repeal renewable portfolio standards.
ALEC has been around since 1973. But it's only in the past five years that the public has become more aware of its existence and its mission. Maybe that's why, despite some successes, it's starting to lose some key battles. Here are the top six:
1. In the last year, ALEC-affiliated legislators in multiple states introduced bills to repeal states renewable portfolio standards (RPS), which were widely established by overwhelming bipartisan majorities in the last 10 years to encourage the growth of renewable energy industries, such as solar and wind, by requiring a certain percentage of energy to be generated by theses sources in the state. Despite several attempts to challenge these RPS laws, ALEC and its allies, such as Americans for Prosperity and the Heartland Institute, have not succeeded. However three states—Ohio, West Virginia and Kansas—have passed ALEC-affiliated legislation that altered its renewable energy goals.
Ohio froze its RPS for two years. Kansas reached a compromise that substituted voluntary standards for mandatory ones but took penalties for the wind industry off the table. And, according to the American Wind Energy Association, "West Virginia did not actually have an RPS. This standard (not counted as one of the 29 RPS laws) could have been met entirely without renewable energy. Besides renewables, the eligible resources included 'advanced coal technology,' coal bed methane, natural gas, including any component of raw natural gas, fuel produced by a coal gasification or liquefaction facility, and tire-derived fuel, among others. The law was enacted in 2011 and required no compliance until this year, 2015, but is now repealed."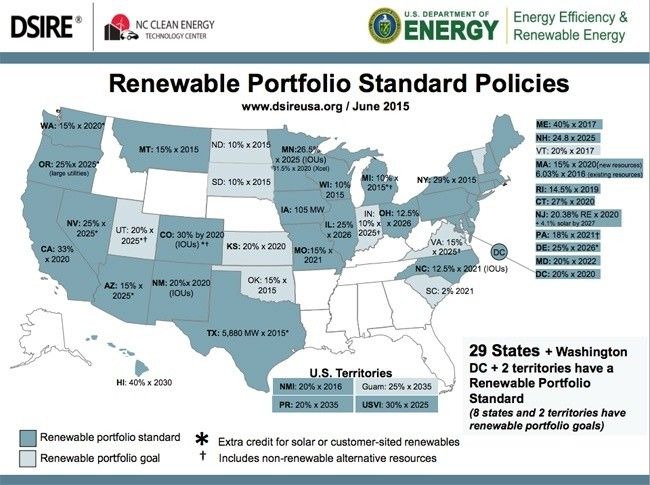 These efforts are meeting resistance in other states too such as North Carolina where business and environmental groups are pushing back against a repeal bill introduced by an ALEC-affiliated legislator. Even the state's big utility Duke Energy isn't supporting the repeal. The state is third in the U.S. in the amount of solar power on its grid, thanks to its RPS. Apple already has two huge solar farms in the state and is developing a third. And the University of North Carolina is pushing ahead with a study on the potential for offshore wind farms off the state's coast. RPS repeal bills have also failed to advance in Colorado, Arizona, New Mexico and New Hampshire.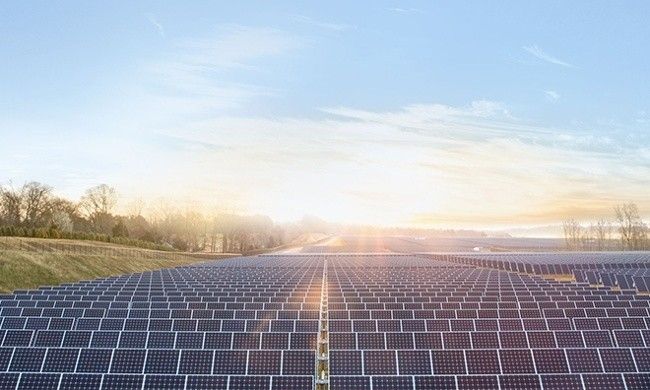 2. In Florida, ALEC joined with big utilities to launch an attack of rooftop solar, undermining its claim to "free market" principles. Former State Rep. Jimmy Patronis was ALEC's Florida chair and last September, Gov. Rick Scott appointed him to the Public Service Commission, which regulates utilities. But an odd-bedfellows coalition of free-market advocates, Tea Party members, progressive environment organizations and Christian groups fought back in the sunny state that should be one of the country's solar leaders, and they're starting to make some inroads. The coalition, Floridians for Solar Choice, is working on a 2016 ballot initiative that would deregulate solar power, allowing third party-funded solar leasing and electricity sales by private parties, policies that have driven solar growth elsewhere. Perhaps bowing to the inevitable, two big utilities, Florida Power & Light and Duke Energy Florida, have announced large-scale solar projects.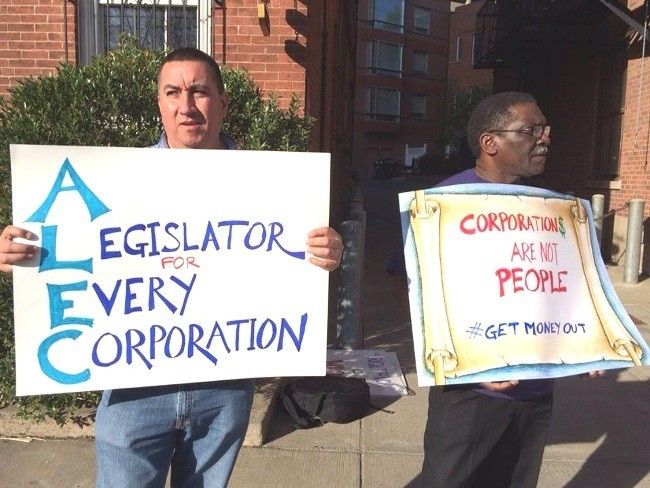 3. The parade of high-profile businesses who were corporate members of ALEC has grown to a stampede, thanks to pressure campaigns by advocacy groups like Common Cause. and anti-climate denier group Forecast the Facts. Microsoft, Facebook, Yelp!, Yahoo, eBay, T-Mobile, BP and Google all dropped their memberships in the past year. Walmart, General Motors, Visa, Amazon and McDonalds departed in the previous three to four years as public awareness of ALEC's controversial stands and activities increased. Last September, Google CEO Eric Schmidt told NRP host Diane Rehm that its membership in ALEC was a "mistake," saying "The facts of climate change are not in question anymore. Everyone understands climate change is occurring, and the people who oppose it are really hurting our children and our grandchildren and making the world a much worse place. And so we should not be aligned with such people—they're just literally lying."
4. ALEC exposed its vulnerability and got a public black eye this spring when it sent cease-and-desist letters to the League of Conservation Voters and Common Cause, threatening to sue them if they did not retract statements saying that ALEC promoted climate denial. ALEC claimed that it accepted the facts of human-caused climate change and even denied that Schmidt said ALEC was lying about the facts of climate change. In fact, ALEC has said that, while human activity "may" lead to changes in the climate, "a great deal of scientific uncertainty surrounds the nature of these prospective changes." That's classic climate denier speak; very little scientific uncertainly surrounds them. So far, neither group has retracted its statements and neither has indicated that ALEC has sued it.
5. Not only is Common Cause not backing down but it's joined with the Center for Media and Democracy to file new evidence with the IRS that ALEC's long-claimed tax exempt status as a charity group is bogus and that it is really a lobbying organization, something it's always denied, despite its obvious direct advocacy to lawmakers for bills such as the renewable portfolio standards repeals and surcharges on rooftop solar. The groups are also calling attention to the fact that legislators are using tax dollars to pay for their ALEC memberships.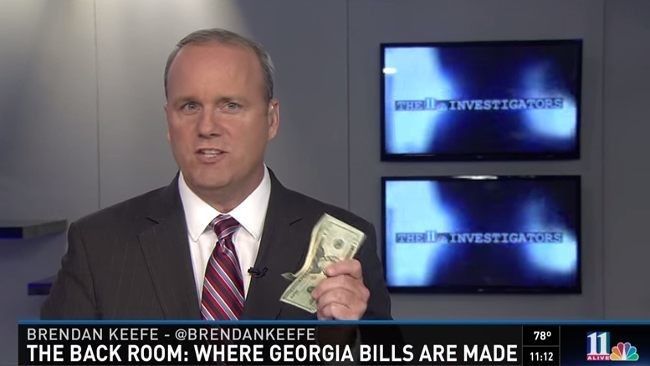 6. Speaking of public black eyes, ALEC got more unfavorable publicity recently, when Atlanta's TV 11 went undercover at a resort in Savannah where corporate lobbyists met in secret with Georgia state legislators at ALEC's Spring Task Force Summit, protected by armed guards. "There really are back rooms where corporate lobbyists have direct access to lawmakers completely out of sight, with no transparency or public filings," said TV 11. The TV 11 team was evicted from the hotel, where it was registered as a paying guest, at the request of ALEC officials. And the station was told by a lawyer for the general assembly that it could not have information about reimbursements and receipts legislators may have received because "The general assembly is not subject to the Georgia Open Records law."
Watch the video here:
On top of that, a TV 11 investigator reported a conversation he heard in which a legislator told a lobbyist, "I'm the state chair of ALEC, and I look for financial supporters, lobbyists and the like, to send us a couple thousand bucks every so often." Even in a conservative state like Georgia, this report will tarnish ALEC's reputation. And Georgia is moving ahead on clean energy anyway. Last month, the legislature passed and Gov. Nathan Deal signed the Solar Power Free-Market Financing Act, allowing third-party financing that makes solar installations more accessible to homeowners.
YOU MIGHT ALSO LIKE
ALEC in Denial of Its Climate Denial, Threatens to Sue
Battle Continues in Fight to Save States' Renewable Energy Policies
EcoWatch Daily Newsletter

YinYang / E+ / Getty Images
Ragú Old World Style Traditional is one of three flavors named in a voluntary recall.
Mike Mozart
/
CC BY 2.0
Spaghetti with plastic sauce? That's what you might be eating if you pour one of three flavors of Ragú sauce over your pasta.
Mizkan America, the food company that owns Ragú, announced Saturday that it was voluntarily recalling some Chunky Tomato Garlic & Onion, Old World Style Traditional and Old World Style Meat sauces because they might be contaminated with plastic fragments, The Today Show reported.
A dead sea lion on the beach at Border Field State Park, near the international border wall between San Diego, California and Tijuana, Mexico. Sherry Smith / iStock / Getty Images
People crossing the Brooklyn Bridge on July 20, 2017 in New York City sought to shield themselves from the sun as the temperature reached 93 degrees. Drew Angerer / Getty Images
by Jordan Davidson

Taking action to stop the mercury from rising is a matter of life and death in the U.S., according to a new study published in the journal Science Advances.
Salmon fry before being released just outside San Francisco Bay. Jim Wilson / The New York Times / Redux
By Alisa Opar
For Chinook salmon, the urge to return home and spawn isn't just strong — it's imperative. And for the first time in more than 65 years, at least 23 fish that migrated as juveniles from California's San Joaquin River and into the Pacific Ocean have heeded that call and returned as adults during the annual spring run.
Protesters hold a banner and a placard while blocking off the road during a protest against Air pollution in London. Ryan Ashcroft / SOPA Images / LightRocket / Getty Images
By Jessica Corbett
Dozens of students, parents, teachers and professionals joined a Friday protest organized by Extinction Rebellion that temporarily stalled morning rush-hour traffic in London's southeasten borough of Lewisham to push politicians to more boldly address dangerous air pollution across the city.

Jose A. Bernat Bacete / Moment / Getty Images
By Bridget Shirvell
On a farm in upstate New York, a cheese brand is turning millions of pounds of food scraps into electricity needed to power its on-site businesses. Founded by eight families, each with their own dairy farms, Craigs Creamery doesn't just produce various types of cheddar, mozzarella, Swiss and Muenster cheeses, sold in chunks, slices, shreds and snack bars; they're also committed to becoming a zero-waste operation.