This website uses cookies to ensure you get the best experience while browsing it. By clicking 'Got It' you're accepting these terms.
6 Reasons Why You Should Try Camelina Oil Today
Sep. 30, 2015 12:12PM EST
Food
Camelina oil was first used in northern Europe hundreds of years ago for food, medicine and lamp oil. It is extracted from seeds of Camelina sativa, a plant native to Europe, which grows well in cold and arid climates. Camelina production dropped after World War II, as camelina was replaced with higher-yielding crops.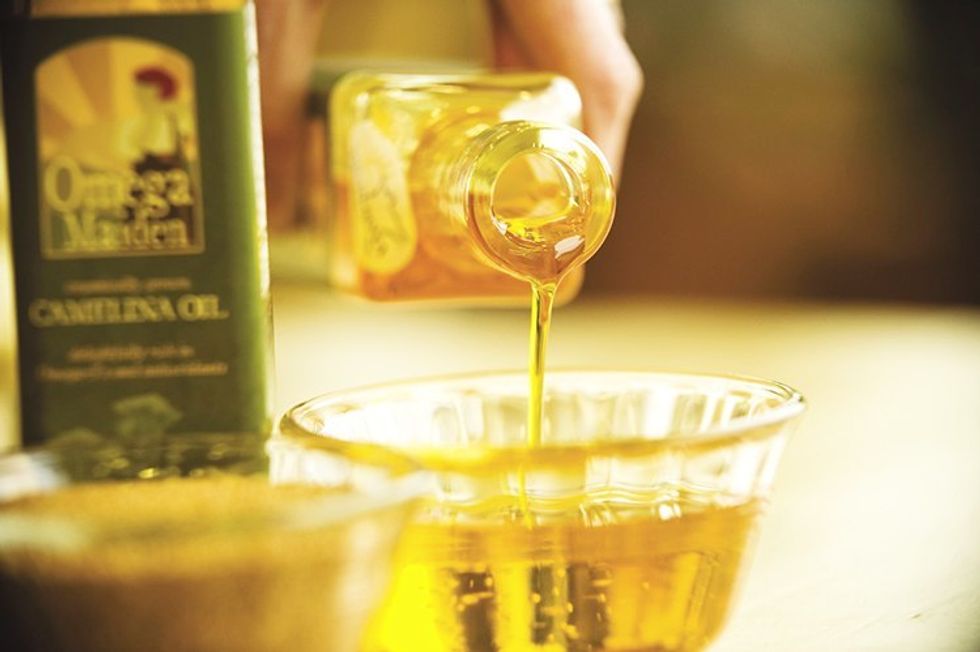 Recently, camelina oil has gained new attention as a potentially beneficial food oil. Photo credit: Rolf Hagberg / Agricultural Utilization Research Institute
Recently, camelina oil has gained new attention as a potentially beneficial food oil. It's now available from various oil producer. You may have seen it in your local natural foods market. It has many beneficial properties that make it well worth checking out.
1. High in Omega-3 Oil
The typical American diet tends to contain 14 to 25 times more omega-6 oils than omega-3 oils. This is a problem because over-consumption of omega-6 oils has been linked to inflammation, cancer and heart disease.
It's recommended to eat a healthier balance of oils with more omega-3s and less omega-6s. Camelina oil has twice as much omega-3 oils as omega-6 oils, which is a much healthier ratio than oils like olive, canola or sunflower seed that have higher amounts of omega-6.
There are different types of omega-3 oils, including EPA and DHA, which are both primarily found in fish. Camelina oil is high in ALA (alpha-linolenic acid).
There is still some debate about which forms of omega-3 oil are the most beneficial, but research suggests that all the forms have their own unique health benefits. ALA has been shown to have a protective effect on heart health, regulate inflammation and improve central nervous system function.
2. Contains Vitamin E
Camelina oil is also rich in alpha and gamma tocopherol, two forms of vitamin E. These compounds protect the oil from oxidation and rancidity. This is why the oil can be stored up to 18 months.
In comparison, flax oil becomes rancid very quickly and is best consumed within one month.
The antioxidant effects of vitamin E are also important for our health. Vitamin E helps to prevent free radical damage, which in turn can prevent heart disease, arthritis and cancer.
Vitamin E has also been linked to enhanced immune function, prevention of eye problems and easing menstrual symptoms.
3. Helps Control Cholesterol
Camelina oil is abundant in sterols, which are shown to interfere with cholesterol absorption. In one study, it was shown that adding camelina oil to the participants' diet reduced blood cholesterol levels. Camelina was twice as effective when compared to olive or canola oil.
Also, most of the fats in camelina oil are polyunsaturated. These types of fats are needed for healthy cell function in your body. Whereas, camelina is very low in saturated fats that can lead to increased blood cholesterol and heart disease.
4. Appropriate for Cooking
The oil composition in camelina gives it a high smoke point of 475°F (246°C).
The smoke point of an oil is the point when it becomes hot enough to start essentially burning, which produces smoke and harmful chemical byproducts.
It's recommended to use an oil with a smoke point of 400°F (204°C) or higher for frying. Gentle sautéing is usually alright with slightly lower smoke point oils, as long as they're kept on a lower heat.
As a comparison, extra-virgin olive oil and coconut oil have smoke points of approximately 350°F (176°C), compared to camelina's 475°F (246°C). This makes it a better choice for any high temperature cooking.
5. Benefits Skin
Camelina oil is shown to act as a good skin moisturizer. Its texture and mild scent also make a nice massage oil. The vitamin E and omega oils help to improve skin tone and prevent free radical damage.
A hot oil scalp massage is another useful treatment. It moisturizes the scalp and gets rid of excess dandruff or flakiness. Work it into your hair as well to provide a hot oil conditioning to keep hair soft and healthy.
6. Not Genetically Modified (Yet)
Up until now, the camelina grown commercially has remained essentially in its native form. But camelina is being investigated for use in biodiesel, animal feed and, of course, for human consumption.
This commercial interest in camelina has prompted genetic modification experiments. Trials have already been carried out growing a variety of camelina that has been genetically modified to produce the omega-3 fish oils EPA and DHA in their seeds. As mentioned above, natural camelina only contains the omega-3 oil ALA.
The main goal of the genetically modified (GM) camelina is to feed it to farmed fish instead of the current aquaculture practice of feeding them fishmeal and fish oil.
Although the genetically modified varieties are still in the research phase and meant for fish farms, it's always best to look for organic camelina oil to ensure it's free of GM material, pesticides and synthetic fertilizers.
YOU MIGHT ALSO LIKE
Dr. Mark Hyman: 8 Ways to Kick Your Sugar Addiction
Is Drinking Red Wine Healthy for Me?
Coconut Water vs. Lemon Water: Which Is Healthier For You?
EcoWatch Daily Newsletter
A new report spotlights a U.N. estimate that at least 275 million people rely on healthy coral reefs. A sea turtle near the Heron Island in the Great Barrier Reef is seen above. THE OCEAN AGENCY / XL CATLIN SEAVIEW SURVEY
In a new report about how the world's coral reefs face "the combined threats of climate change, pollution, and overfishing" — endangering the future of marine biodiversity — a London-based nonprofit calls for greater global efforts to end the climate crisis and ensure the survival of these vital underwater ecosystems.
Half of the extracted resources used were sand, clay, gravel and cement, seen above, for building, along with the other minerals that produce fertilizer. Cavan Images / Cavan / Getty Images
The world is using up more and more resources and global recycling is falling. That's the grim takeaway from a new report by the Circle Economy think tank, which found that the world used up more than 110 billion tons, or 100.6 billion metric tons, of natural resources, as Agence France-Presse (AFP) reported.
By Gero Rueter
Heating with coal, oil and natural gas accounts for around a quarter of global greenhouse gas emissions. But that's something we can change, says Wolfgang Feist, founder of the Passive House Institute in the western German city of Darmstadt.

By George Citroner
Recent research finds that official government figures may be underestimating drug deaths by half.
Researchers estimate that 142,000 people died due to drug use in 2016.
Drug use decreases life expectancy after age 15 by 1.4 years for men and by just under 1 year for women, on average.
Government records may be severely underreporting how many Americans die from drug use, according to a new study by researchers from the University of Pennsylvania and Georgetown University.
Water coolers in front of shut-off water fountains at Center School in Stow, MA on Sept. 4, 2019 after elevated levels of PFAS were found in the water. David L. Ryan / The Boston Globe via Getty Images
In a new nationwide assessment of drinking water systems, the Environmental Working Group found that toxic fluorinated chemicals known as PFAS are far more prevalent than previously thought.