This website uses cookies to ensure you get the best experience while browsing it. By clicking 'Got It' you're accepting these terms.
6 Reasons Why You Should Try Camelina Oil Today
Sep. 30, 2015 01:12PM EST
Food
Camelina oil was first used in northern Europe hundreds of years ago for food, medicine and lamp oil. It is extracted from seeds of Camelina sativa, a plant native to Europe, which grows well in cold and arid climates. Camelina production dropped after World War II, as camelina was replaced with higher-yielding crops.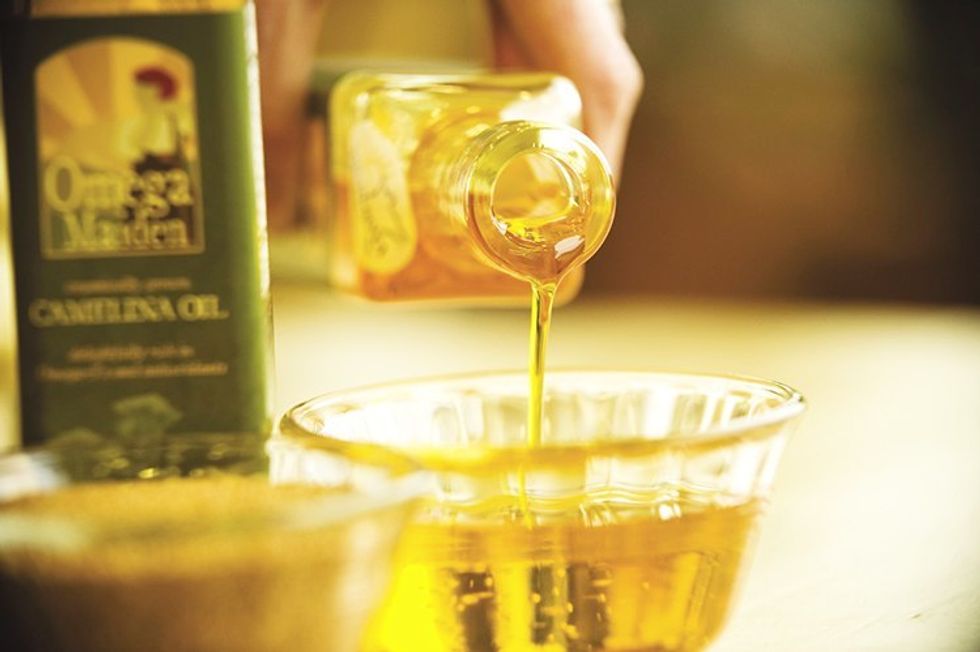 Recently, camelina oil has gained new attention as a potentially beneficial food oil. Photo credit: Rolf Hagberg / Agricultural Utilization Research Institute
Recently, camelina oil has gained new attention as a potentially beneficial food oil. It's now available from various oil producer. You may have seen it in your local natural foods market. It has many beneficial properties that make it well worth checking out.
1. High in Omega-3 Oil
The typical American diet tends to contain 14 to 25 times more omega-6 oils than omega-3 oils. This is a problem because over-consumption of omega-6 oils has been linked to inflammation, cancer and heart disease.
It's recommended to eat a healthier balance of oils with more omega-3s and less omega-6s. Camelina oil has twice as much omega-3 oils as omega-6 oils, which is a much healthier ratio than oils like olive, canola or sunflower seed that have higher amounts of omega-6.
There are different types of omega-3 oils, including EPA and DHA, which are both primarily found in fish. Camelina oil is high in ALA (alpha-linolenic acid).
There is still some debate about which forms of omega-3 oil are the most beneficial, but research suggests that all the forms have their own unique health benefits. ALA has been shown to have a protective effect on heart health, regulate inflammation and improve central nervous system function.
2. Contains Vitamin E
Camelina oil is also rich in alpha and gamma tocopherol, two forms of vitamin E. These compounds protect the oil from oxidation and rancidity. This is why the oil can be stored up to 18 months.
In comparison, flax oil becomes rancid very quickly and is best consumed within one month.
The antioxidant effects of vitamin E are also important for our health. Vitamin E helps to prevent free radical damage, which in turn can prevent heart disease, arthritis and cancer.
Vitamin E has also been linked to enhanced immune function, prevention of eye problems and easing menstrual symptoms.
3. Helps Control Cholesterol
Camelina oil is abundant in sterols, which are shown to interfere with cholesterol absorption. In one study, it was shown that adding camelina oil to the participants' diet reduced blood cholesterol levels. Camelina was twice as effective when compared to olive or canola oil.
Also, most of the fats in camelina oil are polyunsaturated. These types of fats are needed for healthy cell function in your body. Whereas, camelina is very low in saturated fats that can lead to increased blood cholesterol and heart disease.
4. Appropriate for Cooking
The oil composition in camelina gives it a high smoke point of 475°F (246°C).
The smoke point of an oil is the point when it becomes hot enough to start essentially burning, which produces smoke and harmful chemical byproducts.
It's recommended to use an oil with a smoke point of 400°F (204°C) or higher for frying. Gentle sautéing is usually alright with slightly lower smoke point oils, as long as they're kept on a lower heat.
As a comparison, extra-virgin olive oil and coconut oil have smoke points of approximately 350°F (176°C), compared to camelina's 475°F (246°C). This makes it a better choice for any high temperature cooking.
5. Benefits Skin
Camelina oil is shown to act as a good skin moisturizer. Its texture and mild scent also make a nice massage oil. The vitamin E and omega oils help to improve skin tone and prevent free radical damage.
A hot oil scalp massage is another useful treatment. It moisturizes the scalp and gets rid of excess dandruff or flakiness. Work it into your hair as well to provide a hot oil conditioning to keep hair soft and healthy.
6. Not Genetically Modified (Yet)
Up until now, the camelina grown commercially has remained essentially in its native form. But camelina is being investigated for use in biodiesel, animal feed and, of course, for human consumption.
This commercial interest in camelina has prompted genetic modification experiments. Trials have already been carried out growing a variety of camelina that has been genetically modified to produce the omega-3 fish oils EPA and DHA in their seeds. As mentioned above, natural camelina only contains the omega-3 oil ALA.
The main goal of the genetically modified (GM) camelina is to feed it to farmed fish instead of the current aquaculture practice of feeding them fishmeal and fish oil.
Although the genetically modified varieties are still in the research phase and meant for fish farms, it's always best to look for organic camelina oil to ensure it's free of GM material, pesticides and synthetic fertilizers.
YOU MIGHT ALSO LIKE
Dr. Mark Hyman: 8 Ways to Kick Your Sugar Addiction
Is Drinking Red Wine Healthy for Me?
Coconut Water vs. Lemon Water: Which Is Healthier For You?
EcoWatch Daily Newsletter
ROBYN BECK / AFP / Getty Images
By Dave Cooke
So, they finally went and did it — the Trump administration just finalized a rule to undo requirements on manufacturers to improve fuel economy and reduce greenhouse gas emissions from new passenger cars and trucks. Even with the economy at the brink of a recession, they went forward with a policy they know is bad for consumers — their own analysis shows that American drivers are going to spend hundreds of dollars more in fuel as a result of this stupid policy — but they went ahead and did it anyway.
By Richard Connor
A blood test that screens for more than 50 types of cancer could help doctors treat patients at an earlier stage than previously possible, a new study shows. The method was used to screen for more than 50 types of cancer — including particularly deadly variants such as pancreatic, ovarian, bowel and brain.
By Raya A. Al-Masri
Different strategies for resisting the spread of the new coronavirus have emerged in different countries. But the one that has cut through everywhere is simple and, supposedly, can be done by anyone: "Wash your hands with water and soap for at least 20 seconds."
A USGS map showing the location of a 6.5 magnitude quake that shook Idaho Tuesday evening. USGS
Idaho residents were rattled Tuesday evening by the biggest earthquake to shake the state in almost 40 years.
A sign marks the ground covering TransCanada's Keystone I pipeline outside of Steele City, Nebraska on April 21, 2012. Lucas Oleniuk / Toronto Star via Getty Images

The company behind the controversial and long-delayed Keystone XL pipeline announced it would proceed with the project Tuesday, despite concerns about the climate impacts of the pipeline and the dangers of transporting construction crews during a pandemic.