This website uses cookies to ensure you get the best experience while browsing it. By clicking 'Got It' you're accepting these terms.
6 Reasons Why You Should Try Camelina Oil Today
Sep. 30, 2015 12:12PM EST
Food
Camelina oil was first used in northern Europe hundreds of years ago for food, medicine and lamp oil. It is extracted from seeds of Camelina sativa, a plant native to Europe, which grows well in cold and arid climates. Camelina production dropped after World War II, as camelina was replaced with higher-yielding crops.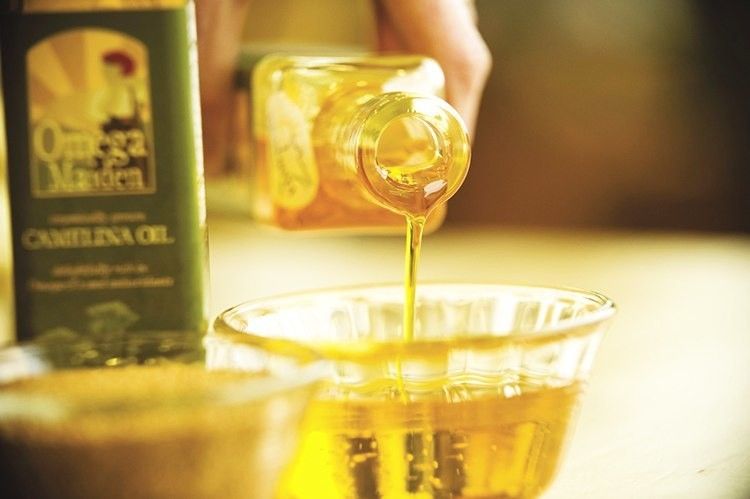 Recently, camelina oil has gained new attention as a potentially beneficial food oil. Photo credit: Rolf Hagberg / Agricultural Utilization Research Institute
Recently, camelina oil has gained new attention as a potentially beneficial food oil. It's now available from various oil producer. You may have seen it in your local natural foods market. It has many beneficial properties that make it well worth checking out.
1. High in Omega-3 Oil
The typical American diet tends to contain 14 to 25 times more omega-6 oils than omega-3 oils. This is a problem because over-consumption of omega-6 oils has been linked to inflammation, cancer and heart disease.
It's recommended to eat a healthier balance of oils with more omega-3s and less omega-6s. Camelina oil has twice as much omega-3 oils as omega-6 oils, which is a much healthier ratio than oils like olive, canola or sunflower seed that have higher amounts of omega-6.
There are different types of omega-3 oils, including EPA and DHA, which are both primarily found in fish. Camelina oil is high in ALA (alpha-linolenic acid).
There is still some debate about which forms of omega-3 oil are the most beneficial, but research suggests that all the forms have their own unique health benefits. ALA has been shown to have a protective effect on heart health, regulate inflammation and improve central nervous system function.
2. Contains Vitamin E
Camelina oil is also rich in alpha and gamma tocopherol, two forms of vitamin E. These compounds protect the oil from oxidation and rancidity. This is why the oil can be stored up to 18 months.
In comparison, flax oil becomes rancid very quickly and is best consumed within one month.
The antioxidant effects of vitamin E are also important for our health. Vitamin E helps to prevent free radical damage, which in turn can prevent heart disease, arthritis and cancer.
Vitamin E has also been linked to enhanced immune function, prevention of eye problems and easing menstrual symptoms.
3. Helps Control Cholesterol
Camelina oil is abundant in sterols, which are shown to interfere with cholesterol absorption. In one study, it was shown that adding camelina oil to the participants' diet reduced blood cholesterol levels. Camelina was twice as effective when compared to olive or canola oil.
Also, most of the fats in camelina oil are polyunsaturated. These types of fats are needed for healthy cell function in your body. Whereas, camelina is very low in saturated fats that can lead to increased blood cholesterol and heart disease.
4. Appropriate for Cooking
The oil composition in camelina gives it a high smoke point of 475°F (246°C).
The smoke point of an oil is the point when it becomes hot enough to start essentially burning, which produces smoke and harmful chemical byproducts.
It's recommended to use an oil with a smoke point of 400°F (204°C) or higher for frying. Gentle sautéing is usually alright with slightly lower smoke point oils, as long as they're kept on a lower heat.
As a comparison, extra-virgin olive oil and coconut oil have smoke points of approximately 350°F (176°C), compared to camelina's 475°F (246°C). This makes it a better choice for any high temperature cooking.
5. Benefits Skin
Camelina oil is shown to act as a good skin moisturizer. Its texture and mild scent also make a nice massage oil. The vitamin E and omega oils help to improve skin tone and prevent free radical damage.
A hot oil scalp massage is another useful treatment. It moisturizes the scalp and gets rid of excess dandruff or flakiness. Work it into your hair as well to provide a hot oil conditioning to keep hair soft and healthy.
6. Not Genetically Modified (Yet)
Up until now, the camelina grown commercially has remained essentially in its native form. But camelina is being investigated for use in biodiesel, animal feed and, of course, for human consumption.
This commercial interest in camelina has prompted genetic modification experiments. Trials have already been carried out growing a variety of camelina that has been genetically modified to produce the omega-3 fish oils EPA and DHA in their seeds. As mentioned above, natural camelina only contains the omega-3 oil ALA.
The main goal of the genetically modified (GM) camelina is to feed it to farmed fish instead of the current aquaculture practice of feeding them fishmeal and fish oil.
Although the genetically modified varieties are still in the research phase and meant for fish farms, it's always best to look for organic camelina oil to ensure it's free of GM material, pesticides and synthetic fertilizers.
YOU MIGHT ALSO LIKE
Dr. Mark Hyman: 8 Ways to Kick Your Sugar Addiction
Is Drinking Red Wine Healthy for Me?
Coconut Water vs. Lemon Water: Which Is Healthier For You?
EcoWatch Daily Newsletter
David Gilmour performs at Anfiteatro Scavi di Pomei on July 7, 2016 in Pompei, Italy. Francesco Prandoni / Redferns / Getty Images
David Gilmour, guitarist, singer and songwriter in the rock band Pink Floyd, set a record last week when he auctioned off 126 guitars and raised $21.5 million for ClientEarth, a non-profit environmental law group dedicated to fighting the global climate crisis, according to CNN.
U.S. Secretary of Agriculture Sonny Perdue speaks during a forum April 18, 2018 in Washington, DC. Alex Wong / Getty Images
The Trump administration ratcheted up its open hostility to climate science in a move that may hide essential information from the nation's farmers.
Simple swaps that cut down on kitchen trash.
Sponsored
By Kayla Robbins
Along with the bathroom, the kitchen is one of the most daunting areas to try and make zero waste.
Protestors and police stand on ether side of railway tracks. dpa / picture-alliance
Police have cleared 250 climate activists who stayed overnight at the Garzweiler brown coal mine in western Germany, officials said Sunday.
Cecilie_Arcurs / E+ / Getty Images
By Megan Jones and Jennifer Solomon
The #MeToo movement has caused profound shake-ups at organizations across the U.S. in the last two years. So far, however, it has left many unresolved questions about how workplaces can be more inclusive and equitable for women and other diverse groups.

Cigarette butts are the most-littered item found at beach clean ups. John R. Platt
By Tara Lohan
By now it's no secret that plastic waste in our oceans is a global epidemic. When some of it washes ashore — plastic bottles, plastic bags, food wrappers — we get a stark reminder. And lately one part of this problem has been most glaring to volunteers who comb beaches picking up trash: cigarette butts.

Andrea Rodgers, second from the right, takes notes during a hearing in the Juliana v. U.S. case before the 9th Circuit Court of Appeals in Portland, Oregon on June 4. Colleague Elizabeth Brown sits to her left, while colleague Julia Olson sits on her right, with co-council Philip Gregory on Julia's right. Robin Loznak / Our Children's Trust
By Fran Korten
On June 4, Andrea Rodgers was in the front row of attorneys sitting before a three-judge panel of the 9th Circuit Court. The court session, held in Portland, Oregon, was to determine whether the climate change lawsuit (Juliana v. United States) brought by 21 young plaintiffs should be dismissed, as requested by the U.S. government, or go on to trial.
Seventy Extinction Rebellion protesters were arrested outside The New York Times building Saturday.
SCOOTERCASTER / YouTube screenshot