This website uses cookies to ensure you get the best experience while browsing it. By clicking 'Got It' you're accepting these terms.
6 Reasons Why You Should Eat Hemp Seeds
Sep. 18, 2015 03:59PM EST
Hemp seeds are the seeds of the hemp plant, Cannabis sativa.
They are from the same species as cannabis (marijuana).
However, hemp seeds contain only trace amounts of THC, the compound that causes the drug-like effects of marijuana.
Hemp seeds are exceptionally nutritious and rich in healthy fats, protein and various minerals.
Here are six health benefits of hemp seeds that are backed up by science.
1. Hemp Seeds Are Incredibly Nutritious
Technically a nut, hemp seeds are very nutritious. They have a mild, nutty flavor and are often referred to as hemp hearts.
Hemp seeds contain more than 30 percent fat. They are exceptionally rich in two essential fatty acids, linoleic acid (omega-6) and alpha-linolenic acid (omega-3).
They also contain gamma-linolenic acid, which has been linked with several health benefits (1).
Hemp seeds are a great protein source, as more than 25 percent of their total calories are from high-quality protein.
That is considerably more than similar foods like chia seeds and flaxseeds, which provide about 16–18 percent.
This is what whole and shelled hemp seeds look like: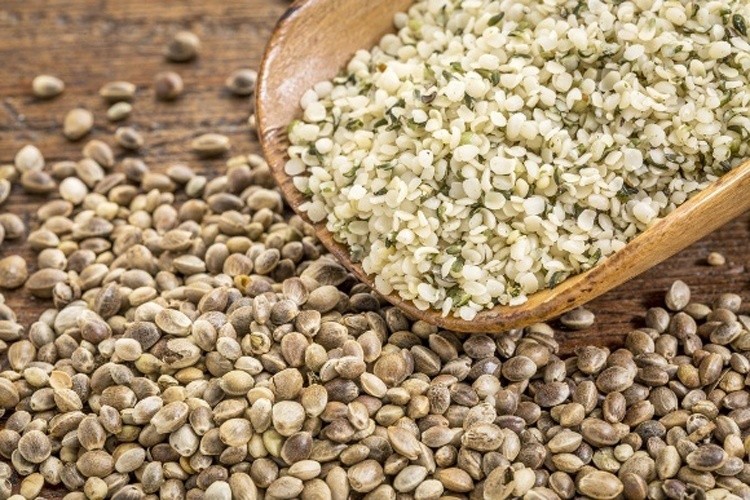 Hemp seeds are also a great source of vitamin E and minerals such as phosphorus, potassium, sodium, magnesium, sulfur, calcium, iron and zinc (1, 2).
Hemp seeds can be consumed raw, cooked or roasted. Hemp seed oil is also very healthy, and has been used as a food/medicine in China for at least 3,000 years (1).
Bottom Line: Hemp seeds are rich in healthy fats and essential fatty acids. They are also a great protein source and contain high amounts of vitamin E, phosphorus, potassium, sodium, magnesium, sulfur, calcium, iron and zinc.
2. Hemp Seeds May Reduce the Risk of Heart Disease
Heart disease is the number one killer worldwide (3).
Interestingly, eating hemp seeds may reduce the risk of heart disease via several mechanisms.
They contain high amounts of the amino acid arginine, which is used to produce nitric oxide in the body (4).
Nitric oxide is a gas molecule that makes the blood vessels dilate and relax, leading to lowered blood pressure and a reduced risk of heart disease (5).
In one large study of more than 13,000 people, increased arginine intake was linked with decreased levels of C-reactive protein (CRP). CRP is an inflammatory marker linked with heart disease (6, 7).
The gamma-linolenic acid found in hemp seeds has also been linked with reduced inflammation, which may decrease the risk of diseases like heart disease (8, 9).
Additionally, animal studies have shown that hemp seeds or hemp seed oil may reduce blood pressure, decrease the risk of blood clot formation and help the heart recover after a heart attack (10, 11, 12).
Bottom Line: Hemp seeds are a great source of arginine and gamma-linolenic acid, which have been linked with a reduced risk of heart disease.
3. Hemp Seeds and Oil May Benefit Skin Disorders
Fatty acids may affect immune responses in the body (13, 14, 15).
This may have something to do with the balance of omega-6 and omega-3 fatty acids.
Hemp seeds are a good source of polyunsaturated and essential fatty acids. They have about a 3:1 ratio of omega-6 to omega-3, which is considered in the optimal range.
Studies have shown that giving hemp seed oil to people with eczema may improve blood levels of essential fatty acids.
It may also relieve dry skin, improve itchiness and reduce the need for skin medication (16, 17).
Bottom Line: Hemp seeds are rich in healthy fats. They have a 3:1 ratio of omega-6 to omega-3, which may benefit skin diseases. In some cases, this may provide relief from eczema and its uncomfortable symptoms.
4. Hemp Seeds Are a Great Source of Plant-Based Protein
About 25 percent of calories in hemp seeds come from protein, which is relatively high.
In fact, by weight, hemp seeds provide amounts of protein similar to beef and lamb. 30 grams of hemp seeds, or 2–3 tablespoons, provide about 11 grams of protein (1).
They are considered a complete protein source, which means that they provide all the essential amino acids. Essential amino acids are not produced in the body and need to be gotten from the diet.
Complete protein sources are very rare in the plant kingdom, as plants often lack the amino acid lysine. Quinoa is another example of a complete, plant-based protein source.
Hemp seeds contain significant amounts of the amino acids methionine and cysteine, as well as very high levels of arginine and glutamic acid (18).
The digestibility of hemp protein is also very good—better than protein from many grains, nuts and legumes (19).
Bottom Line: About 25 percent of the calories in hemp seeds come from protein. Hemp seeds contain all the essential amino acids, making them a complete protein source.
5. Hemp Seeds May Reduce Symptoms of PMS and Menopause
Up to 80 percent of women of reproductive age may suffer from physical or emotional symptoms caused by premenstrual syndrome (PMS) (20).
These symptoms are very likely caused by sensitivity to the hormone prolactin (21).
Gamma-linolenic acid (GLA), found in hemp seeds, produces prostaglandin E1, which reduces the effects of prolactin (22, 23, 24).
In a study of women with PMS, taking one gram of essential fatty acids (including 210 mg of GLA) per day resulted in a significant decrease in symptoms (22).
Other studies have shown that primrose oil, which is rich in GLA, may be highly effective in reducing symptoms for women who have failed other PMS therapies.
It decreased breast pain and tenderness, depression, irritability and fluid retention associated with PMS (25).
Because hemp seeds are high in GLA, several studies have indicated that hemp seeds may also help reduce the symptoms of menopause.
Exactly how this works is unknown, but it has been suggested that the GLA in hemp seeds may help to regulate the hormone imbalances and inflammation associated with menopause (26, 27, 28).
Bottom Line: Hemp seeds may reduce symptoms associated with premenstrual syndrome (PMS), and may also positively affect symptoms of menopause.
6. Whole Hemp Seeds May Aid Digestion
Fiber is an essential part of the diet and is linked with better digestive health (29).
Whole hemp seeds are a good source of both soluble (20 percent) and insoluble (80 percent) fiber (1).
Soluble fiber forms a gel-like substance in the gut. It is a valuable source of nutrients for the beneficial digestive bacteria, and may also reduce spikes in blood sugar and regulate cholesterol levels (29, 30).
Insoluble fiber adds bulk to fecal matter and may help food and waste pass through the gut. Consuming insoluble fiber has also been linked with a reduced risk of diabetes (31, 32).
However, de-hulled or shelled hemp seeds (also known as hemp hearts) contain very little fiber, because the fiber-rich shell has been removed.
Bottom Line: Whole hemp seeds contain high amounts of fiber, both soluble and insoluble, which benefits digestive health. De-hulled hemp seeds have had the fiber-rich shell removed, and therefore contain very little fiber.
Take Home Message
Although hemp seeds have not been popular until recently, they are an old staple food and people are now realizing their excellent nutritional value.
They are very rich in healthy fats, high-quality protein and several minerals.
However, hemp seed shells may contain trace amounts of THC (< 0.3 percent), the active compound in marijuana. People who have been addicted to cannabis may want to avoid consuming hemp or hemp seeds in any form.
Overall, hemp seeds are incredibly healthy. They might just be one of the few superfoods that are actually worthy of their reputation.
This article was reposted from our media associate Authority Nutrition.
YOU MIGHT ALSO LIKE
6 Healthy Foods That Are Packed With Sugar
Whipped Body Butter: Homemade Lotion Is Just a Few Simple Steps Away
World's First Hydraulic-Driven Vertical Farm Produces 1 Ton of Vegetables Every Other Day
Elena Pueyo / Moment / Getty Images
Opinions on coffee vary greatly—some consider it healthy and energizing, while others claim it's addictive and harmful.
Morning fog over a boreal forest in Alaska. Alan Majchrowicz / Stockbyte / Getty Images
By Jennifer Skene and Shelley Vinyard
For most people, toilet paper only becomes an issue when it unexpectedly runs out. Otherwise, it's cheap and it's convenient, something we don't need to think twice about. But toilet paper's ubiquity and low sticker price belie a much, much higher cost: it is taking a dramatic and irreversible toll on the Canadian boreal forest, and our global climate. As a new report from NRDC and Stand.earth outlines, when you flush that toilet paper, chances are you are flushing away part of a majestic, old-growth tree ripped from the ground, and destined for the drain. This is why NRDC is calling on Procter & Gamble, the manufacturer of Charmin, to end this wasteful and destructive practice by changing the way it makes its toilet paper through solutions that other companies have already embraced.
Cycling advocates set up "ghost bikes," like this one in Brooklyn, in memory of bikers killed in traffic.
Nick Gray
/
CC BY-SA
By John Rennie Short
As cities strive to improve the quality of life for their residents, many are working to promote walking and biking. Such policies make sense, since they can, in the long run, lead to less traffic, cleaner air and healthier people. But the results aren't all positive, especially in the short to medium term.
smodj / iStock / Getty Images Plus
By Pete Stauffer
For those of us who love the coast, the negative impacts of offshore oil drilling are obvious. Offshore drilling has a proven track record of polluting the ocean, damaging coastal economies and threatening a way of life enjoyed by millions of people. Yet, the oil and gas industry—and the elected officials who prioritize them over the public interest—would like you to believe that offshore drilling is somehow a safe and necessary practice.
An indigenous environmental activist was killed in Morelos, Mexico Wednesday, three days before a referendum on the construction of a gas pipeline and two thermoelectric plants that he had organized to oppose, the Associated Press reported.
Samir Flores Soberanes had challenged the words of government representatives at a forum about the so-called Morelos Comprehensive Project a day before his murder, The Peoples in Defense of Land and Water Front (FPDTA), the group Soberanes organized with, said in a statement.