This website uses cookies to ensure you get the best experience while browsing it. By clicking 'Got It' you're accepting these terms.
6 Reasons Why Nuke Fan Is Dead Wrong About Wind Energy
Dec. 07, 2013 11:45AM EST
Business
By Michael Goggin
The Energy Collective blog recently carried a column, Limitations of Unreliable Energy Sources, aka 'Renewables,' by Rod Adams, a longtime nuclear power advocate and critic of competing energy sources. In his column, Adams repeats a number of false statements about wind power.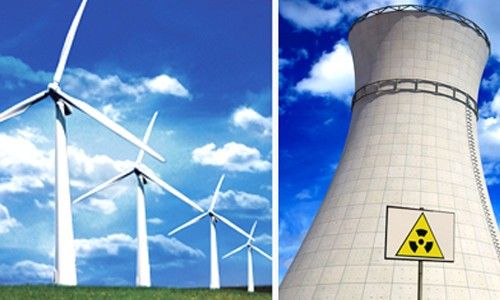 When corrected, his claims actually highlight a number of ways in which wind energy's efficiency is superior to that of other energy sources.
Wind energy significantly reduces carbon emissions and does not noticeably reduce the efficiency of fossil-fired power plants on the utility system. 
Recent analysis of the impact of wind on the efficiency of fossil-fired power plants found that with renewable energy supplying 33 percent of the electricity, wind produces 99.8 percent of the expected fuel use and carbon dioxide (CO2) emissions savings after accounting for all cycling impacts, or savings of 1,190 pounds of CO2 per megawatt hour (MWh) of wind. This analysis is based on real-world hourly emissions data for all fossil-fired power plants in the Western U.S, and puts to rest the fossil fuel industry myth that wind energy's emissions savings are lower than expected.
Transmission pays for itself through economic and reliability benefits.
Numerous studies show that grid upgrades more than pay for themselves through the reliability and economic benefits they provide to consumers. The claim that a significant amount of wind energy is lost in transmission to consumers is false, as almost all line losses occur on low-voltage distribution lines, and thus apply to all energy sources evenly (page 30).
Wind energy has a lower integration cost than large conventional power plants. 
Every wind integration study has found that there is more than enough flexibility on the power system today to accommodate very high levels of wind energy. In contrast, the need for reserves to accommodate the sudden failure of conventional power plants is far larger and many times more costly than for wind (see calculations in footnotes 6 and 7). Adding wind energy to the grid does not cause any need for new power plant capacity, and actually significantly reduces the total need for power plants.
Wind energy curtailment has only occurred due to localized transmission constraints (that are being eliminated), and never because the amount of wind output exceeded total demand on the power system.
Even the curtailment caused by localized transmission congestion is being eliminated as long-needed grid upgrades catch up with wind energy's rapid growth, with curtailment cut in half from 2011 to 2012. (see page 44) Further declines are occurring in 2013, with curtailment on the ERCOT (Electric Reliability Council of Texas) system now approaching zero.
Onsite energy use is far higher at conventional power plants, on the order of 7 to 15 percent of power plant energy production.
In contrast, the figure for wind plants is typically far less than 1 percent. A comprehensive literature review of all peer-reviewed studies on the lifecycle carbon emissions impacts of all energy sources demonstrates that wind's impact is a fraction of all conventional energy sources, and is also much lower than most other renewable energy sources.
Energy storage is not needed for wind energy.
The U.S. has added 60 gigawatts (GW) of wind, and Europe even more, with zero need to add energy storage. As explained above, there is plenty of flexibility on the existing power system. Interestingly, nearly all of the 22 GW of pumped hydro energy storage in the U.S. was added to help accommodate the inflexibility and additional reserve needs imposed by large nuclear power plants.
Finally, it seems strange to talk about the efficiency of different energy sources without discussing the fact that most fossil and nuclear power plants immediately waste 2/3 of the energy in their fuel as waste heat at the power plant, while most modern wind turbines capture around 50 percent of the energy available in their fuel. The U.S. Department of Energy's data on the average efficiency of different types of power plants is here:
Coal: 32.7 percent efficiency
Gas: 41.9 percent efficiency
Nuclear: 32.6 percent efficiency
Visit EcoWatch's RENEWABLES page for more related news on this topic.

EcoWatch Daily Newsletter

georgeclerk / E+ / Getty Images
By Jennifer Molidor
One million species are at risk of extinction from human activity, warns a recent study by scientists with the United Nations. We need to cut greenhouse gas pollution across all sectors to avoid catastrophic climate change — and we need to do it fast, said the Intergovernmental Panel on Climate Change.
This research should serve as a rallying cry for polluting industries to make major changes now. Yet the agriculture industry continues to lag behind.
Edwin Remsburg / VW Pics / Getty Images
Botswana, home to one third of Africa's elephants, announced Wednesday that it was lifting its ban on the hunting of the large mammals.
"The Ministry of Environment, Natural Resources Conservation and Tourism wishes to inform the public that following extensive consultations with all stakeholders, the Government of Botswana has taken a decision to lift the hunting suspension," the government announced in a press release shared on social media.
Pxhere
By Richard Denison
Readers of this blog know how concerned EDF is over the Trump EPA's approval of many dozens of new chemicals based on its mere "expectation" that workers across supply chains will always employ personal protective equipment (PPE) just because it is recommended in the manufacturer's non-binding safety data sheet (SDS).
By Grant Smith
From 2009 to 2012, Gregory Jaczko was chairman of the Nuclear Regulatory Commission, which approves nuclear power plant designs and sets safety standards for plants. But he now says that nuclear power is too dangerous and expensive — and not part of the answer to the climate crisis.
A lake in Rocky Mountain National Park. Brett Walton / Circle of Blue
By Brett Walton
When Greg Wetherbee sat in front of the microscope recently, he was looking for fragments of metals or coal, particles that might indicate the source of airborne nitrogen pollution in Rocky Mountain National Park. What caught his eye, though, were the plastics.
Gabriele Holtermann Gorden / Pacific Press / LightRocket / Getty Images
In a big victory for animals, Prada has announced that it's ending its use of fur! It joins Coach, Jean Paul Gaultier, Giorgio Armani, Versace, Ralph Lauren, Vivienne Westwood, Michael Kors, Donna Karan and many others PETA has pushed toward a ban.
This is a victory more than a decade in the making. PETA and our international affiliates have crashed Prada's catwalks with anti-fur signs, held eye-catching demonstrations all around the world, and sent the company loads of information about the fur industry. In 2018, actor and animal rights advocate Pamela Anderson sent a letter on PETA's behalf urging Miuccia Prada to commit to leaving fur out of all future collections, and the iconic designer has finally listened.
Amer Ghazzal / Barcroft Media / Getty Images
If people in three European countries want to fight the climate crisis, they need to chill out more.
That's the conclusion of a new study from think tank Autonomy, which found that Germany, the UK and Sweden all needed to drastically reduce their workweeks to fight climate change.
Amazon Employees for Climate Justice held a press conference after the annual shareholder meeting on May 22. Amazon Employees for Climate Justice