This website uses cookies to ensure you get the best experience while browsing it. By clicking 'Got It' you're accepting these terms.
6 Reasons Why Nuke Fan Is Dead Wrong About Wind Energy
Dec. 07, 2013 11:45AM EST
By Michael Goggin
The Energy Collective blog recently carried a column, Limitations of Unreliable Energy Sources, aka 'Renewables,' by Rod Adams, a longtime nuclear power advocate and critic of competing energy sources. In his column, Adams repeats a number of false statements about wind power.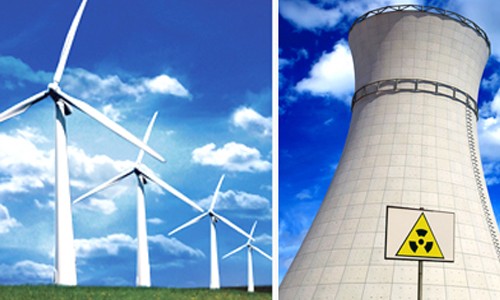 When corrected, his claims actually highlight a number of ways in which wind energy's efficiency is superior to that of other energy sources.
Wind energy significantly reduces carbon emissions and does not noticeably reduce the efficiency of fossil-fired power plants on the utility system. 
Recent analysis of the impact of wind on the efficiency of fossil-fired power plants found that with renewable energy supplying 33 percent of the electricity, wind produces 99.8 percent of the expected fuel use and carbon dioxide (CO2) emissions savings after accounting for all cycling impacts, or savings of 1,190 pounds of CO2 per megawatt hour (MWh) of wind. This analysis is based on real-world hourly emissions data for all fossil-fired power plants in the Western U.S, and puts to rest the fossil fuel industry myth that wind energy's emissions savings are lower than expected.
Transmission pays for itself through economic and reliability benefits.
Numerous studies show that grid upgrades more than pay for themselves through the reliability and economic benefits they provide to consumers. The claim that a significant amount of wind energy is lost in transmission to consumers is false, as almost all line losses occur on low-voltage distribution lines, and thus apply to all energy sources evenly (page 30).
Wind energy has a lower integration cost than large conventional power plants. 
Every wind integration study has found that there is more than enough flexibility on the power system today to accommodate very high levels of wind energy. In contrast, the need for reserves to accommodate the sudden failure of conventional power plants is far larger and many times more costly than for wind (see calculations in footnotes 6 and 7). Adding wind energy to the grid does not cause any need for new power plant capacity, and actually significantly reduces the total need for power plants.
Wind energy curtailment has only occurred due to localized transmission constraints (that are being eliminated), and never because the amount of wind output exceeded total demand on the power system.
Even the curtailment caused by localized transmission congestion is being eliminated as long-needed grid upgrades catch up with wind energy's rapid growth, with curtailment cut in half from 2011 to 2012. (see page 44) Further declines are occurring in 2013, with curtailment on the ERCOT (Electric Reliability Council of Texas) system now approaching zero.
Onsite energy use is far higher at conventional power plants, on the order of 7 to 15 percent of power plant energy production.
In contrast, the figure for wind plants is typically far less than 1 percent. A comprehensive literature review of all peer-reviewed studies on the lifecycle carbon emissions impacts of all energy sources demonstrates that wind's impact is a fraction of all conventional energy sources, and is also much lower than most other renewable energy sources.
Energy storage is not needed for wind energy.
The U.S. has added 60 gigawatts (GW) of wind, and Europe even more, with zero need to add energy storage. As explained above, there is plenty of flexibility on the existing power system. Interestingly, nearly all of the 22 GW of pumped hydro energy storage in the U.S. was added to help accommodate the inflexibility and additional reserve needs imposed by large nuclear power plants.
Finally, it seems strange to talk about the efficiency of different energy sources without discussing the fact that most fossil and nuclear power plants immediately waste 2/3 of the energy in their fuel as waste heat at the power plant, while most modern wind turbines capture around 50 percent of the energy available in their fuel. The U.S. Department of Energy's data on the average efficiency of different types of power plants is here:
Coal: 32.7 percent efficiency
Gas: 41.9 percent efficiency
Nuclear: 32.6 percent efficiency
Visit EcoWatch's RENEWABLES page for more related news on this topic.

PeopleImages / E+ / Getty Images
By Daniel Ross
Hurricane Florence, which battered the U.S. East Coast last September, left a trail of ruin and destruction estimated to cost between $17 billion and $22 billion. Some of the damage was all too visible—smashed homes and livelihoods. But other damage was less so, like the long-term environmental impacts in North Carolina from hog waste that spilled out over large open-air lagoons saturated in the rains.
Hog waste can contain potentially dangerous pathogens, pharmaceuticals and chemicals. According to the state's Department of Environmental Quality, as of early October nearly 100 such lagoons were damaged, breached or were very close to being so, the effluent from which can seep into waterways and drinking water supplies.
This picture taken on May 21, 2018 shows discarded climbing equipment and rubbish scattered around Camp 4 of Mount Everest. Decades of commercial mountaineering have turned Mount Everest into the world's highest rubbish dump as an increasing number of big-spending climbers pay little attention to the ugly footprint they leave behind. DOMA SHERPA / AFP / Getty Images
China has closed its Everest base camp to tourists because of a buildup of trash on the world's tallest mountain.
Researchers tested the eggs of Arctic northern fulmers like these in Nunavut, Canada.
Fiona Paton / Flickr
By Madison Dapcevich
Plastics have been recorded in every corner of the world, from the remote icy waters of Antarctica to the bellies of deep-sea fishes. Now, preliminary findings presented at this year's American Association for the Advancement of Science (AAAS) annual meeting in Washington, DC suggest that bird eggs from the high Arctic—one of the most remote wildernesses on the planet—show evidence of contamination from chemicals used in plastics.

A small Australian rat that lived on a 12 acre island in the Great Barrier Reef has become the first mammal to go extinct primarily because of human-caused climate change, the Australian Government confirmed Monday.
The Bramble Cay melomys was first declared extinct after a 2014 search on Bramble Cay, its native island in the Torres Strait, between Queensland, Australia and Papua New Guinea, according to a 2016 report by the University of Queensland and the Queensland government.