6 Reasons Why Bike Commuting Is the Fastest Growing Mode of Transportation
Have you noticed more two-wheelers on your commute, especially if you live in a city? According to the U.S. Census Bureau, the number of Americans who travel to work by bike increased an incredible 60 percent over the last decade, making it the largest percentage increase of all commuting modes.
People choose to bike for many reasons (it saves money, it's good for health), but here are six big reasons more Americans are leaving the car keys at home: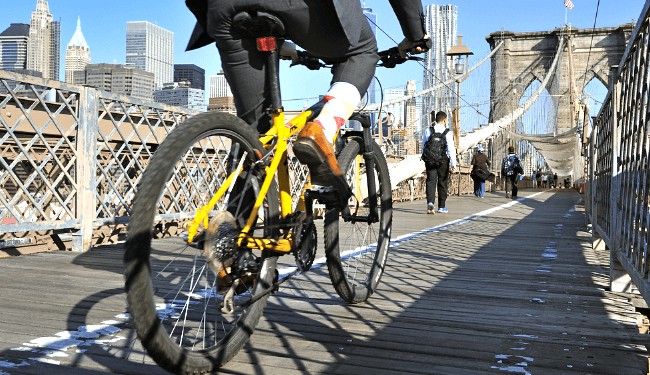 Photo Credit: T photography
/
Shutterstock
1. Cities are wooing millenials. The Pew Charitable Trusts reported that communities are trying to build a cycling-friendly reputation to attract millennials and the creative and economic energy that comes with them. "States and cities are competing for the most mobile generation ever and so the job creators and the innovators are really pushing for these amenities," said Bill Nesper of the League of American Bicyclists in the report. "Baby boomers want to live near millennial children and their grandchildren, so we're really seeing Washington and most major cities seeing this as a way to attract and keep talented people." Amenities such as ...
2. Bike infrastructure. Paths dedicated to two-wheelers are popping up in climates of all sorts, from sunny Malibu to chilly Anchorage. According to the Alaska Dispatch News, the Alaskan city is adding 3.75 miles of bike lanes to its existing 15 miles, with more expected next summer.
The reason bikers love bike paths? Simply because they don't have to contend with scary motor traffic. (It's also a win for cities since it helps reduce congestion).
"Bike lanes give a dedicated lane for people to bicycle," Lori Schanche, non-motorized transportation coordinator for the Municipality of Anchorage told the publication. "It's a lot safer for everyone all around." In fact, Pew's research noted that across the country, there's been a 31 percent decline in serious injuries over the last 20 years, even though there are more people riding on bikes—fatalities for bike commuters fell from 21 per 10,000 trips in 1980 to only nine in 2008.
With these safety measures, cities have seen an uptick in pedaling. According to People for Bikes, after Honolulu installed protected bike barriers on one of its streets last year, biking increased by a whopping 71 percent. In Brooklyn, nearly 200 percent. Check out the graph below: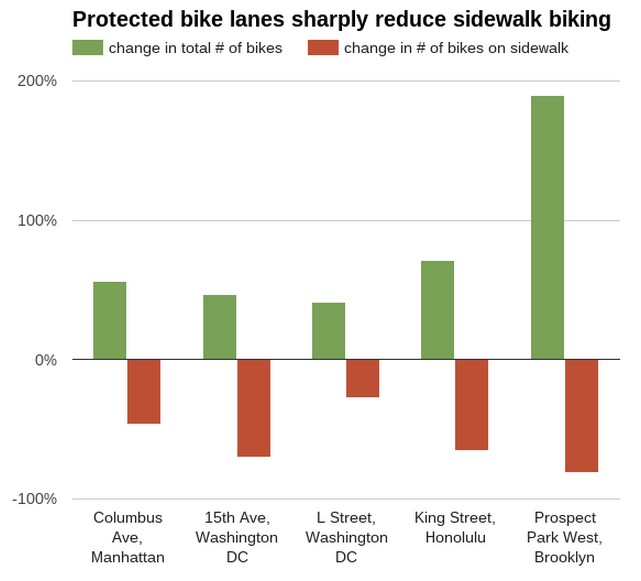 3. Women. So you know that 60 percent increase in biking we cited in the beginning of this article? Well, most of the new riders are men. The Census Bureau found that the rate of bicycle commuting for men was more than double that of women. There are many reasons why women bike less than men, but it comes down to safety concerns, convenience, confidence, feeling welcome in male-dominated bike shops and belonging to a community that welcomes women riders, the League of American Bicyclists noted in a report.
However, when cities improved biking infrastructure, the number of female riders shot up, the report found. Some examples:
According to a 2013 analysis, the presence of a bike lane on a street increases women's ridership, on average, by 276 percent in Philadelphia.

The number of female riders grew 115 percent after the installation of a bike lane on New Orleans' South Carrollton Avenue in 2009.

The number of women riders rose 100 percent on Los Angeles' Spring Street after the installation of a buffered bike lane in 2011.
The widespread adoption of family-friendly cargo biking has surely encouraged more women to pick up riding as well; they're kind of like pedal-powered minivans.
4. Bike-friendly legislation. Cities have created laws that better accommodate bicyclists. For example, Portland, Oregon (which has the highest bicycle-commuting rate in the country at 6.1 percent) lowered the speed limit on neighborhood greenways by five miles to 20 miles per hour in order to reduce the crash and fatality rate. Portland, as well as other bike-centric communities, also has bicycle-sensitive traffic signals and speed bumps to calm car traffic.
Some communities are also making sure that bikers have a place to park their ride. A report from the League of American Bicyclists said that a Santa Monica, California ordinance stipulates that destinations have an adequate supply of bike racks, and also requires event organizers to have monitored bicycle parking for 200-250 bikes if attendance is expected to reach 1,000 or more, as well as three attendants to guard the area.
5. Bike shares. A flurry of cities have adopted bike sharing, and cities are seeing huge numbers of participants. According to a post from architect and urban planning firm Opticos Design, Austin, Texas's new bike sharing program set a nationwide record at last year's South by Southwest (SXSW) music festival. "The 10-day event held March 7–16 saw an average of 6.4 checkouts per bike per day. On Friday, March 14, that number jumped to 2,774 checkouts, an average of 10.1 checkouts per bike for the day, beating the previous record held by New York City's Citi Bike program. The total number of checkouts during SXSW reached 17,000," the post read.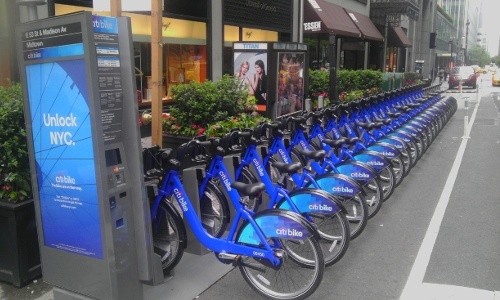 6. The green movement. For many Americans, it's no longer a rite-of-passage to own a car. We reported that car ownership is declining and the proportion of residents bicycling to work increased in 85 out of 100 of America's largest urbanized areas between 2000 and 2011. More than half of the U.S. population lives within five miles of their workplace, making it easier to commute via bike. It also comes down to changing attitudes about sustainability, the improvement in public transportation and the growth of the sharing economy.
With the Obama administration OK'ing Shell's plan to drill for oil in the Arctic Ocean, it's clear that the we must look to other ways to curb consumption of dirty fossil fuels. In fact, biking just two days a week can reduce carbon pollution by an average of two tons per year, the Environmental Protection Agency says.
Now that National Biking Month is in full swing and Bike to Work Day happening this Friday, perhaps you should consider breaking out that pollution-free vehicle to get to work.
YOU MIGHT ALSO LIKE
5 Cool Ways to Make Urban Biking Safer
5 Reasons Cargo Bikes Are the Perfect Mode of Transportation
Jul. 21, 2017 01:50PM EST
Will Rose / Greenpeace
Eleven peaceful activists from the Greenpeace ship Arctic Sunrise have taken to the water in inflatable boats with handheld banners to oppose the Statoil Songa Enabler oil rig, 275 km North off the Norwegian coast, in the Arctic Barents sea.
The banners say: "People Vs. Arctic Oil" and are directed at Statoil and the Norwegian government, which has opened a new, aggressive search for oil in the waters of the Barents Sea.
Keep reading...
Show less
Jul. 21, 2017 10:34AM EST
Dominion Pipeline Monitoring Coalition
The Federal Energy Regulatory Commission (FERC) paved the way Friday for the 600-mile, 42-inch fracked gas Atlantic Coast Pipeline to proceed when it issued the final environmental impact statement (FEIS). A joint project of utility giants Duke Energy and Dominion Energy, the Atlantic Coast Pipeline would move fracked gas from West Virginia into Virginia and North Carolina.
In April, the Sierra Club submitted more than 500 pages of legal and technical comments on FERC's draft EIS, which were joined by more than 18,000 individual comments detailing opposition to the project. The pipeline has been met with widespread opposition, with more than 1,000 people participating in public hearings across the three affected states. The Sierra Club recently requested that FERC issue a new environmental review document analyzing information that came in after or late in, the public comment process.
Keep reading...
Show less
Jul. 21, 2017 08:25AM EST
Greenpeace / PolluterWatch
By Jessica Corbett
"It's time Rex Tillerson step down or be removed," said Gigi Kellett of Corporate Accountability International, following an announcement on Thursday that ExxonMobil will pay $2 million for violating U.S. sanctions against Russian officials while the now-secretary of state was the company's CEO.
"ExxonMobil demonstrated reckless disregard for U.S. sanction requirements," according to enforcement filing released by the Treasury Department's Office of Foreign Assets Control (OFAC), which issued the penalty. Though the fine is reportedly the maximum penalty allowed, it's pittance to one of the world's most profitable and powerful corporations, which last year reported a profit of $7.8 billion.
Keep reading...
Show less
Jul. 21, 2017 11:15AM EST
New analysis from Amory B. Lovins debunks the notion that highly unprofitable, economically distressed nuclear plants should be further subsi­dized to meet financial, security, reliability and climate goals. The analysis, which will appear shortly in The Electricity Journal, shows that closing costly-to-run nuclear plants and reinvesting their saved operating costs in energy efficiency provides cheaper elec­tricity, increases grid reliability and security, reduces more carbon, and preserves (not distorts) market integrity—all without subsidies.

Keep reading...
Show less
Jul. 21, 2017 08:44AM EST
Oil Change International / Twitter
By Christian Detisch and Seth Gladstone
In the wake of Senate Republicans' ever-deepening debacle over their flailing attempts to strip health insurance from 22 million people, Majority Leader Mitch McConnell is desperate to do something—anything—to show that he can get legislation passed. To this end, he's bypassing the standard committee review process to push a complex 850+ page energy bill straight to the full Senate floor. Perhaps not surprisingly, this legislation, the Energy and Natural Resources Act of 2017, would be a disaster for public health and our climate.
Keep reading...
Show less
Jul. 21, 2017 08:11AM EST
Rooftop solar panels on a beach house in southern Florida. TAI VIINIKKA / CC BY-NC-ND 2.0
A new law passed this week in South Miami will require all new homes built in the city to install solar panels. The measure, which was inspired by a proposal from a teenage climate activist, will go into effect in September.
The text of the ordinance details the climate impacts facing South Miami.
Keep reading...
Show less
Jul. 21, 2017 10:27AM EST
www.youtube.com
Keep reading...
Show less
Jul. 21, 2017 08:49AM EST
iStock
By Katherine Paul and Ronnie Cummins
A recent series of articles by a Washington Post reporter could have some consumers questioning the value of the U.S. Department of Agriculture's (USDA) organic seal. But are a few bad eggs representative of an entire industry?
Consumers are all for cracking down on the fraudulent few who, with the help of Big Food, big retail chains and questionable certifiers give organics a bad name. But they also want stronger standards, and better enforcement—not a plan to weaken standards to accommodate "Factory Farm Organic."
Keep reading...
Show less