This website uses cookies to ensure you get the best experience while browsing it. By clicking 'Got It' you're accepting these terms.
6 Reasons to Go Gluten-Free
Sep. 26, 2014 07:49AM EST
Food
Awareness of the negative health effects of gluten has increased in the past few years.
One 2013 survey shows that a third of Americans are actively trying to eliminate gluten from their diets.
But gluten-free is more than just the latest fad … there are multiple studies showing that gluten can cause harmful effects.
Here are 6 reasons to avoid gluten.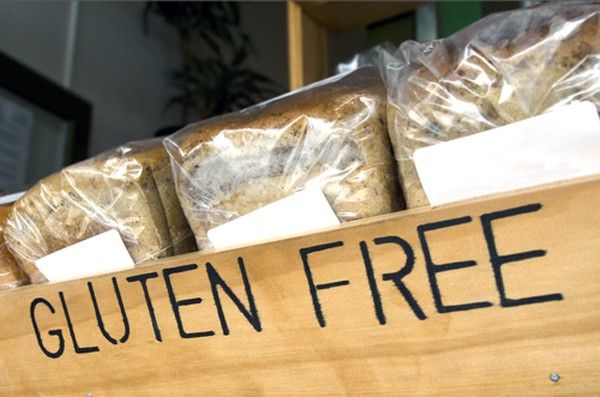 Photo credit: Shutterstock
1. Celiac Disease is on the Rise and Most People Remain Undiagnosed
Gluten is a protein composite found in several types of grains, including wheat, spelt, rye and barley.
Gluten consists of two proteins … gliadin and glutenin. It is the gliadin part that people react negatively to.
When flour is mixed with water, gluten forms a sticky cross-linked network of proteins, giving elastic properties to dough and allowing bread to rise when baked.
Actually, the name gluten is derived from these glue-like properties.
When gluten reaches the digestive tract and is exposed to the cells of the immune system, they mistakenly believe that it is coming from some sort of foreign invader, like a bacteria.
In certain people who are sensitive to gluten, this causes the immune system to mount an attack against it.
In celiac disease (the most severe form of gluten sensitivity), the immune system attacks the gluten proteins, but it also attacks an enzyme in the cells of the digestive tract called tissue transglutaminase.
Therefore, gluten exposure in celiacs causes the immune system to attack both the gluten as well as the intestinal wall itself. For this reason, celiac disease is classified as an autoimmune disease.
The immune reaction can cause degeneration of the intestinal wall, which leads to nutrient deficiencies, various digestive issues, anemia, fatigue, failure to thrive as well as an increased risk of many serious diseases.
Celiac disease is believed to afflict about 1 percent of people, but it may be more common (more than 2 percent) in the elderly. There are also studies showing that the rate of celiac disease is increasing rapidly in the population.
Keep in mind that a large percentage of celiacs don't even have abdominal symptoms, making diagnosis on clinical grounds very difficult.
The symptoms might manifest themselves in different ways, like fatigue, anemia … or something much worse, like a doubled risk of death in several studies.
According to one study, more than 80 percent of people with celiac disease don't even know that they have it.
Bottom Line: Celiac disease currently afflicts about 1 percent of the population, but the prevalence is increasing. 80 percent of people with celiac disease are unaware of it.
2. Gluten Sensitivity is Much More Common and Can Also Have Serious Consequences
You don't need to have full-blown celiac disease to have adverse reactions to gluten.
There is another disorder called gluten sensitivity (or gluten intolerance), which is much more common.
Although there is no clear definition of gluten sensitivity, it basically means having some sort of adverse reaction to gluten and an improvement in symptoms on a gluten-free diet.
If you have adverse reactions to gluten, but celiac disease is ruled out, then it is callednon-celiac gluten sensitivity.
In non-celiac gluten sensitivity, there is no attack on the body's own tissues. However, many of the symptoms are similar to those in celiac disease, including bloating, stomach pain, fatigue, diarrhea, as well as pain in the bones and joints.
Unfortunately … because there is no clear way of diagnosing gluten sensitivity, reliable numbers on how common it is are impossible to find.
There are two sources showing that up to 6-8 percent people may have gluten sensitivity, based on anti-gliadin antibodies found in the blood.
However, one gastroenterologist found that 11 percent of people had antibodies against gluten in their blood and 29 percent of people had antibodies against it in stool samples.
About 40 percent of people carry the HLA-DQ2 and HLA-DQ8 genes, which make people susceptible to gluten sensitivity.
Given that there is no clear definition of gluten sensitivity, or a good way to diagnose it, the only true way of knowing is by eliminating gluten temporarily from your diet, then reintroducing it to see if you have symptoms.
Bottom Line: Gluten sensitivity is much more common than celiac disease, also leading to multiple adverse effects. However, there is no clear way of diagnosing it yet.
3. Gluten May Cause Adverse Effects, Even in People Who Don't Have Gluten Sensitivity
There are also studies showing that individuals with neither celiac disease nor diagnosed gluten sensitivity have adverse reactions to gluten.
In one of these studies, 34 individuals with irritable bowel syndrome were randomized to either a gluten-containing or a gluten-free diet.
The group on the gluten-containing diet had more pain, bloating, stool inconsistency and fatigue compared to the other group.
There are also studies showing that gluten can cause inflammation in the intestine and a degenerated intestinal lining.
Gluten may also have negative effects on the barrier function of the intestine, allowing unwanted substances to "leak" through into the bloodstream.
However, according to one study, this "leakiness" of the gut only happens in celiac patients.
Irritable bowel syndrome (IBS) involves various digestive issues with an unknown cause, afflicting about 14 percent of people in the U.S. According to the studies above, some cases of IBS may be either caused or exacerbated by gluten.
Although this needs to be studied a lot more, it seems very clear that many more people than just celiac patients react negatively to gluten.
Bottom Line: Several studies show that individuals (especially IBS patients) who don't have diagnosed gluten sensitivity can have adverse reactions to gluten.
4. Many Brain Disorders Are Associated With Gluten and Patients See Dramatic Improvements on a Gluten-Free Diet
Even though gluten primarily works its "magic" in the gut, it can also have severe effects on the brain. Many cases of neurological illness may be caused and/or exacerbated by gluten consumption. This is called gluten-sensitive idiopathic neuropathy.
In a study of patients with neurological illness of an unknown cause, 30 of 53 patients (57 percent) had antibodies against gluten in the blood. The main neurological disorder believed to be at least partly caused by gluten is cerebellar ataxia, a serious disease of the brain that involves an inability to coordinate balance, movements, problems talking, etc. It is now known that many cases of ataxia are directly linked to gluten consumption. This is called gluten ataxia and involves irreversible damage to the cerebellum, a part of the brain that is important in motor control.
Many studies show strong statistical associations between gluten consumption, gluten sensitivity and cerebellar ataxia. There is also a controlled trial showing that ataxia patients improve significantly on a gluten-free diet.There are several other brain disorders that respond well to a gluten-free diet:
If you have any neurological problems and your doctor doesn't have a clue what is causing them … then it makes sense to try removing gluten from your diet.
Bottom Line: Several disorders of the brain respond well to a gluten-free diet, including autism, schizophrenia and a rare form of epilepsy.
5. Wheat Gluten May be Addictive
There are many people who believe that wheat may be addictive. Getting unnatural cravings for things like bread or donuts is very common. Even though this is far from being proven, there are some studies suggesting that gluten may have addictive properties.
When gluten is broken down in a test tube, the peptides that are formed can activate opioid receptors. These peptides (small proteins) are called gluten exorphins. Exorphin = peptide that is not formed in the body, that can activate opioid receptors in the brain.
Given that gluten may cause increased permeability in the intestine (at least in celiac patients), some believe that these exorphins can find their way into the bloodstream, then reaching the brain and causing addiction. Gluten exorphins have been found in the blood of celiac patients. There is also some evidence from animal studies that these opioid-like peptides derived from gluten can make it into the brain.
It is well known in various food addiction circles that wheat is one of the most addictive foods there are (right after sugar). This doesn't prove anything of course, but it's something to keep in mind.
Bottom Line: Many people report getting unnatural cravings for wheat and there is some evidence of gluten having opioid-like effects. However, this is definitely not proven and is mostly speculation at this point.
6. Gluten is Associated With Autoimmune Diseases
Autoimmune diseases are caused by the immune system attacking things that are found naturally in the body.
There are many types of autoimmune diseases that affect various organ systems.
All of them combined afflict about 3 percent of the population.
Celiac disease is one type of autoimmune disease and celiac patients are at a drastically increased risk of getting other autoimmune diseases as well.
Many studies have found strong statistical associations between gluten, celiac disease and various other autoimmune diseases, including Hashimotos Thyroiditis, Type 1 Diabetes, Multiple sclerosis and various others.
Additionally, celiac disease is associated with a ton of other serious diseases, many of which have nothing to do with digestion.
Bottom Line: Studies show strong statistical association between gluten, celiac disease and various autoimmune diseases.
Eliminate Gluten For 30 Days
Of course, it is far from being definitively proven that gluten causes harm in a large percentage of people and that most people would do best by avoiding it. This area is in desperate need of some more research. However, the evidence that we DO have is pretty damning.
Until more research is done, I think the cautionary principle should apply … why eat something that is likely to cause harm, when you could eat something else instead that definitely won't harm you? Also keep in mind that wheat (the unhealthiest grain, by far) can be problematic for many reasons, some of which have nothing to do with the gluten.
At the end of the day, the only way to know if you should avoid gluten or not, is to remove it from your diet, then reintroduce it and see if you get symptoms. If you completely eliminate gluten for 30 days (no cheating), then eat a meal with gluten and experience adverse effects, then you probably have gluten sensitivity and should make a serious effort to avoid it. If you have any mysterious health issues, then you owe it to yourself to try a gluten-free diet for 30 days. You have nothing to lose.
YOU ALSO MIGHT LIKE
Move Over, Quinoa, a New Superfood Grain Is in Town
EcoWatch Daily Newsletter
Sen. Michael Bennet (D-CO) speaks during the North American Building Trades Unions Conference at the Washington Hilton April 10, 2019 in Washington, DC. Zach Gibson / Getty Images
Colorado senator and 2020 hopeful Michael Bennet introduced his plan to combat climate change Monday, in the first major policy rollout of his campaign. Bennet's plan calls for the establishment of a "Climate Bank," using $1 trillion in federal spending to "catalyze" $10 trillion in private spending for the U.S. to transition entirely to net-zero emissions by 2050.
When Trump's Environmental Protection Agency (EPA) announced its replacement for the Obama-era Clean Power Plan in August 2018, its own estimates said the reduced regulations could lead to 1,400 early deaths a year from air pollution by 2030.
Now, the EPA wants to change the way it calculates the risks posed by particulate matter pollution, using a model that would lower the death toll from the new plan, The New York Times reported Monday. Five current or former EPA officials familiar with the plan told The Times that the new method would assume there is no significant health gain by lowering air pollution levels below the legal limit. However, many public health experts say that there is no safe level of particulate matter exposure, which has long been linked to heart and lung disease.
A crate carrying one of the 33 lions rescued from circuses in Peru and Columbia is lifted onto the back of a lorry before being transported to a private reserve on April 30, 2016 in Johannesburg, South Africa. Dan Kitwood / Getty Images
By Andrea Germanos
Animal welfare advocates are praising soon-to-be introduced legislation in the U.S. that would ban the use of wild animals in traveling circuses.
A tornado Monday in Union City, Oklahoma.
TicToc by Bloomberg / YouTube screenshot
A woman walks in front of her water-logged home in Sriwulan village, Sayung sub-district of Demak regency, Central Java, Indonesia on Feb. 2, 2018. Siswono Toyudho / Anadolu Agency /Getty Images
Matt Cardy / Stringer / Getty Images
The Guardian is changing the way it writes about environmental issues.
Blueberry yogurt bark. SEE D JAN / iStock / Getty Images Plus
Having nutritious snacks to eat during the workday can help you stay energized and productive.

A 2017 flood in Elk Grove, California. Florence Low / California Department of Water Resources
By Tara Lohan
It's been the wettest 12 months on record in the continental United States. Parts of the High Plains and Midwest are still reeling from deadly, destructive and expensive spring floods — some of which have lasted for three months.
Mounting bills from natural disasters like these have prompted renewed calls to reform the National Flood Insurance Program, which is managed by Federal Emergency Management Agency and is now $20 billion in debt.