This website uses cookies to ensure you get the best experience while browsing it. By clicking 'Got It' you're accepting these terms.
6 Reasons Not to Underestimate Bernie Sanders' Presidential Run
May. 21, 2015 12:20PM EST
Politics
Three weeks ago, a slightly disheveled U.S. senator wandered out to the front lawn of the Capitol Building and declared his campaign for president. Bernie Sanders, an avowed democratic socialist from the small state of Vermont, was in.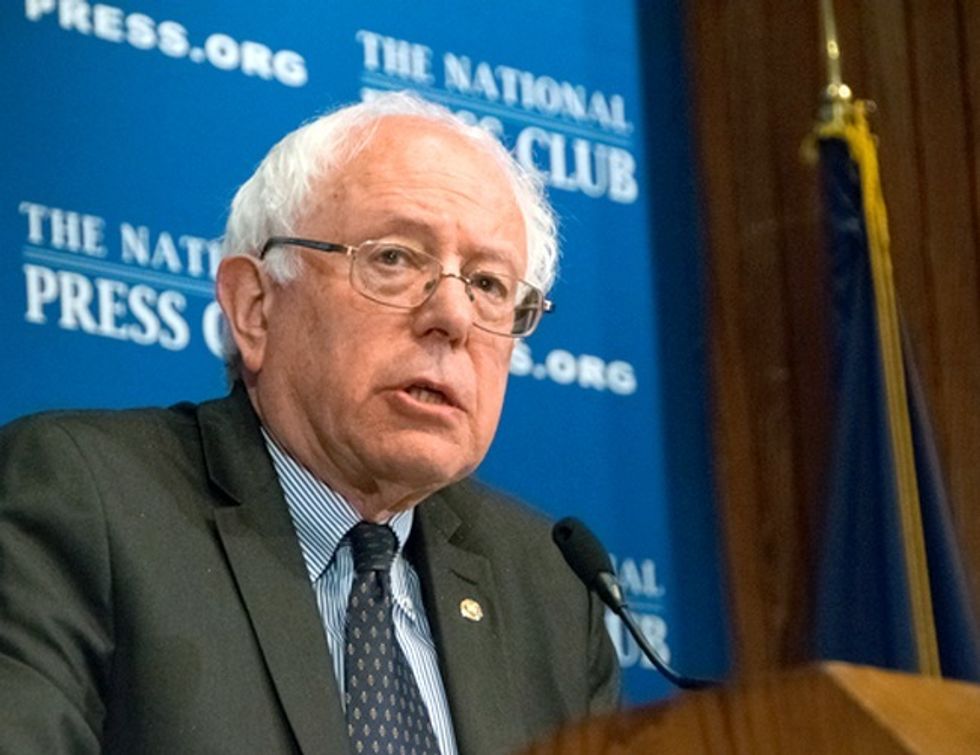 Albert H. Teich
/
Shutterstock.com
The simplicity and directness of the setting signaled that Sanders wasn't just another candidate in a crowded race, but a whole different kind of challenger. As Sanders was quick to warn, "People should not underestimate me." He's not kidding. As Sanders' career has demonstrated, he doesn't just hold policy positions, he acts on them.
1. He's an Open Socialist
That Sanders is in the Senate at all is somewhat amazing. Sanders is the first Socialist elected in Senate history, no mean feat in the days when neoliberal economic policy rules.
But where it would have been the easiest thing in the world to change the (I) after his name to a (D), Sanders stuck with the affiliation. "I wouldn't deny it," he said. "Not for one second. I'm a democratic socialist." (note the "democratic" part; Sanders is quick to distance himself from the autocratic iterations of his philosophy.)
Not only does he not deny it, he flaunts it. New York Times political profilist Mark Leibovich paid the then just-elected socialist a visit in his brand new office and noticed the socialist accents were a bit heavy:
But he does little to airbrush the red "S" from his political profile. On the wall of his Congressional office hangs a portrait of Eugene V. Debs, the Socialist Party presidential candidate of the early 20th century. A poster in a conference room marks Burlington's sister-city relationship with Puerto Cabeza, Nicaragua—one of a few such alliances he forged with cities in Marxist states during his 10-year stint as mayor of Vermont's biggest city in the 1980s.
And where Reagan-inflected patriotism is the standard campaign rhetoric, Sanders openly praises Scandinavian socialism. "What's wrong with that?" he asked ABC News' George Stephanopoulos. "What's wrong when you have more income and wealth equality? What's wrong when they have a stronger middle class in many ways than we do, higher minimum wage than we do and they are stronger on the environment than we do?"
2. He Trounced a Self-Funded Billionaire
Don't knock winning as a socialist, not even in Vermont, which despite its solid-blue reputation voted for a Democratic president only once before 1992. (That would LBJ; the liberal northeastern Republicans balked at Barry Goldwater in 1964.)
But Sanders didn't just win; he trounced a self-funded tech billionaire, the exact kind of person he warns is taking over the American political system. A novelist could not have devised a more fitting villain for Sanders' 2006 campaign than business mogul Rich Tarrant. (Sanders, by contrast, is one of the few non-millionaires wandering the halls of the Senate.) Tarrant spent a whopping $7 million of his own money to defeat Sanders, turning the race into one of the most expensive Senate campaigns in history. He had little to show for it. Sanders beat him by a 2-1 margin, meaning Tarrant spent almost $100 per vote.
Along the way, Tarrant cut some vicious ads going after Sanders for out-of-context votes. Sanders' distaste for negative campaigning lasts until today, as he reminds every cable news pundit who tries to make him take a potshot at Hillary Clinton.
3. He Filibustered the Extension of the Bush Tax Cuts
In 2010, as the Senate considered the extension of the Bush tax cuts in a complicated lame-duck legislative maneuver, Sanders stood against extending the tax breaks for people making over $250,000—literally stood, for 8.5 hours, as he patiently explained the injustice of giving tax breaks to the wealthiest as the middle class struggled and wages stagnated. The tax package passed anyway, but Sanders helped set the opposition to the upper echelon of the Bush tax cuts that were finally nixed in 2013.
Sanders' filibuster was notable for another reason; his marathon speech came in the midst of the Senate GOP's use of the cloture filibuster, requiring 60 votes to bring a bill to discussion, which effectively ground the Senate to a halt for much of Obama's presidency. The use of "filibusters" ballooned during this period, accounting for more filibusters than in the decades preceding it combined. But until then not one Republican actually stood up and did a real one. Sanders did.
4. He Caused Republicans to Run in Fear over a Climate Change Amendment
Tired of Republican politicians' "I'm not a scientist" escape hatch in response to questions about the existence of climate change, Sanders devised a way to force senators to say yes or no. He proposed an amendment to the Keystone Pipeline legislation. Sanders' "sense of Congress" resolution would have forced senators to vote on whether:
"One, climate change is real. Two, climate change is caused by human activity. Three, climate change has already caused devastating problems in the United States and around the world. And, four, it is imperative the United States transform its energy system away from fossil fuels and toward energy efficiency and sustainable energy."
The amendment so scared the Senate GOP that it managed to squelch the thing, even after Senate Majority Leader Mitch McConnell (R-KY) had said he was open to any and all amendments on the pipeline bill.
Sanders has been active on climate change in the Senate, but the chamber has not jibed with his sense of urgency. In 2013 Sanders and Senator Barbara Boxer (D-CA) introduced what they called a "gold standard" climate change bill, taxing carbon emissions to pay for a massive expansion in green energy industries while ending loopholes for fracking. The bill didn't "settle for half-measures, but rather [laid] out an actual solution to the climate crisis." Too ambitious for Congress, however, the bill died, and the Senate's unwillingness to confront climate change only worsened with the 114th Congress that knocked the Democrats out of the majority.
Nonetheless, Sanders' record on climate change looks to be one of the major selling points of his campaign. If he won't win the nomination, he can influence the debate, in part by framing climate change as a primary issue. Sanders once co-authored a bill with then-Senator Hillary Clinton on stimulating green job creation, and as Clinton's main liberal rival he'd be perfectly placed to press her on the issue at a time when the frontrunner is backing off of controversial policy positions.
5. He's Keeping Hillary Clinton Honest on Trade
That's not the only way a Sanders campaign could impact the Democratic primary. Sanders is liberal enough—and blunt enough—to keep Clinton honest on a range of issues, most recently the Trans-Pacific Partnership, a trade deal pitting progressives and organized labor against the centrist Democratic wing, including President Barack Obama.
It's the exact fight a candidate like Clinton, a centrist seeking to woo the left, dreads. Clinton has studiously avoided taking a position on the trade deal for fear of alienating either wing of her party before her campaign gets under way in earnest. Sanders won't let her get away with this. "You are either for it or you're against it," he said on CNN's State of the Union last Sunday. "No fence-sitting on this one."
6. He'll Make Overturning Citizens United a Litmus Test
Sanders has been one of the most vocal opponents of Citizens United, which unleashed hundreds of millions of dollars in outside campaign spending. As usual, his advocacy extends far beyond press releases and into action. Where every other 2016 candidate is tripping over him or herself to found a super-PAC, Sanders is going without one. "I am not going to start a super-PAC," he declared. "I'm not going to go around the country talking to millionaires … We're looking at a system where our democracy is being owned by a handful of billionaires."
Not engaging in the campaign finance arms race is a major handicap, especially when Sanders will be going up against one of the best-financed candidates in electoral history in Hillary Clinton. Nonetheless, the donations came pouring in following his announcement, and Sanders posted $1.5 million raised from over 35,000 donors, a number that almost tripled in the following fortnight. And where GOP candidates are relying on the multimillion-dollar contributions of Wall Street investors, casino magnates and the Koch brothers, Sanders' can boast an average contribution of $43. That's not the type of money that buys you an election, but it is the kind you can brag about on the campaign trail.
Sanders is so committed to reversing the effects of Citizens United, he's declared that a willingness to overturn it will be litmus test for any potential Supreme Court nominee. Here he's already having his desired effect on the race: days later, Hillary Clinton announced she would implement that test, too. Clinton may have the money and the press, but so long as Sanders is around, he may be setting her policy.
YOU MIGHT ALSO LIKE
President Obama: Climate Change Is an 'Immediate Risk to Our National Security'
4 Climate Surprises From Al Gore in Iowa
Nearly 40 Million Birds Dead as Avian Flu Ravages Midwest
EcoWatch Daily Newsletter
A Starbucks barista prepares a drink at a Starbucks Coffee Shop location in New York. Ramin Talaie / Corbis via Getty Images
By Cathy Cassata
Are you getting your fill of Starbucks' new Almondmilk Honey Flat White, Oatmilk Honey Latte, and Coconutmilk Latte, but wondering just how healthy they are?
By Sharon Kelly
Back in April last year, the Trump administration's Environmental Protection Agency decided it was "not necessary" to update the rules for toxic waste from oil and gas wells. Torrents of wastewater flow daily from the nation's 1.5 million active oil and gas wells and the agency's own research has warned it may pose risks to the country's drinking water supplies.
Swedish climate activist Greta Thunberg takes part in a "Friday for Future" youth demonstration in a street of Davos on Jan. 24, 2020 on the sideline of the World Economic Forum annual meeting. FABRICE COFFRINI / AFP via Getty Images
Treasury Secretary Steven Mnuchin pretended not to know who Greta Thunberg is, and then he told her to get a degree in economics before giving world leaders advice, as The Guardian reported.
The Visible Infrared Imaging Radiometer Suite on the Suomi NPP satellite acquired this image of forest fire smoke hovering over North America on Aug. 15, 2018. NASA Earth Observatory
New York City isn't known for having the cleanest air, but researchers traced recent air pollution spikes there to two surprising sources — fires hundreds of miles away in Canada and the southeastern U.S.
If temperatures continue to rise, the world is at risk from global
sea-level rise
, which will flood many coastal cities as seen above in Bangladesh. NurPhoto / Contributor / Getty Images
The mounting climate emergency may spur the next global financial crisis and the world's central banks are woefully ill equipped to handle the consequences, according to a new book-length report by the Bank for International Settlements (BIS), as S&P Global reported. Located in Basel, Switzerland, the BIS is an umbrella organization for the world's central banks.