This website uses cookies to ensure you get the best experience while browsing it. By clicking 'Got It' you're accepting these terms.
6 Reasons Drinking Tea Will Keep You Healthy This Winter
Nov. 04, 2014 09:43AM EST
Food
The weather's gotten cooler. Daylight savings time is behind us so we've got longer, darker evenings ahead of us. And winter is coming, along with flu and cold season.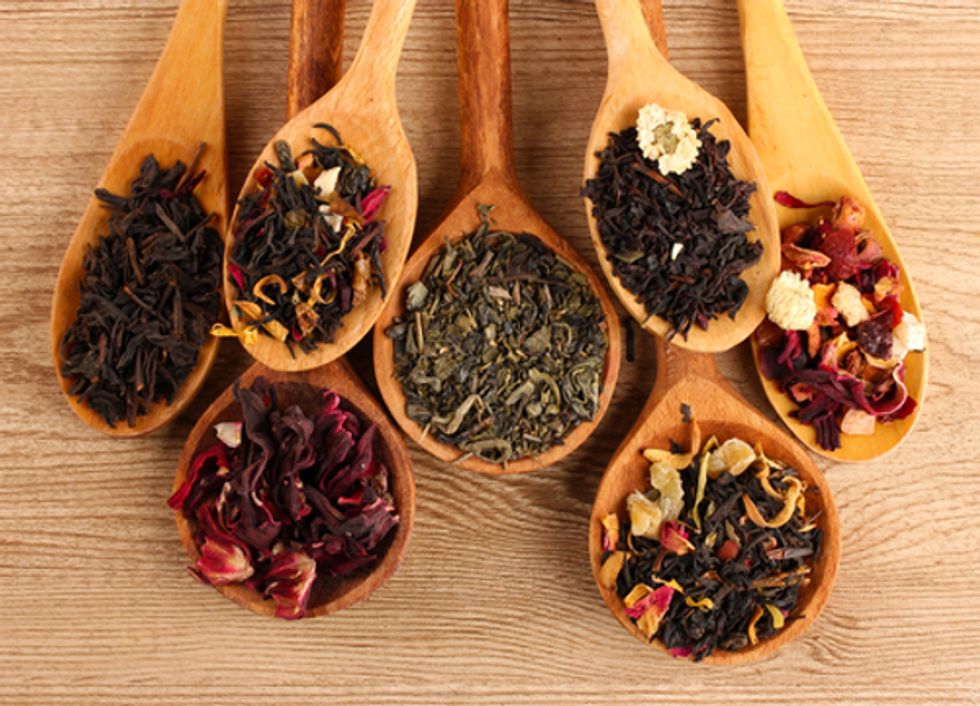 Photo credit: Shutterstock
But there are compensations. On a blustery day, there's nothing better than curling up on the couch, wrapped in a blanket, with a good book, an affectionate pet—and a steaming cup of tea. It warms your belly, it warms your hands—and that cup can contain all kinds of great health benefits that can help you get through the winter feeling good.
What are some of the things hot tea can do for you?
1. Tea is a heady brew of hundreds of natural chemicals, many of them beneficial or even essential to health. Foremost among them are polyphenols, a form of antioxidant flavonoids. These are essential for cell regeneration and staving off the effects of aging, including conditions like heart disease, cancer and possibly even Alzheimer's. Tea has been associated with a lower incidence of Parkinson's disease as well. It's not a miracle elixir but it can help strengthen the body's defenses against the ravages of time.
2. Tea has been shown to have an impact on oral health and have cavity-fighting properties. Studies have shown that the polyphenols found in black tea can inhibit the growth of bacteria in your mouth and help prevent plaque buildup.
3. Although tea does have some caffeine, it doesn't have nearly as much as coffee. So while it can be a mild stimulant and give you a little jolt of energy and mental alertness, it isn't going to put you as much on edge as too much coffee might and it's not as likely to keep you up all night—depending on how much you drink, of course, and how close to bedtime.
4. Different teas—white, green, black and oolong—have different benefits. Green tea, for instance, may build bone density, making your bones stronger. And white and green teas, the least processed, retain more of their flavonoids and have even greater cancer-fighting properties. Herbal infusions are not actually teas, but may have a range of health benefits of their own, including settling an upset stomach, helping you fall asleep or relieving constipation.
5. Tea, especially oolong teas, have been associated with boost in metabolism, leading to potential weight loss. A couple of studies have shown that oolong tea drinkers have smaller waist sizes.
6. Ladling in the refined white sugar will certainly counteract any possible weight loss, and it isn't a good idea for a lot of reasons. But other traditional tea go-withs, like lemon and honey, bring potential health assets of their own. Honey has traces of vitamin and minerals and a bunch of antioxidants of its own. If you feel a sore throat coming on, it coats the throat and soothes it. The vitamin C in lemon is another antioxidant that gives a boost to the immune system and helps fight off seasonal bugs. So there really is something to that prescription of a cup of hot tea with honey and lemon when you've got the winter blahs.
YOU MIGHT ALSO LIKE
Why Antioxidants in Superfoods Are Essential to Your Diet
EcoWatch Daily Newsletter
Solar panel installations and a wind turbine at the Phu Lac wind farm in southern Vietnam's Binh Thuan province on April 23, 2019. MANAN VATSYAYANA / AFP via Getty Images
The buildings of downtown Los Angeles are partially obscured at midday on November 5, 2019 as seen from Pasadena, California. Mario Tama / Getty Images.
By Ajit Niranjan
Two main risk factors are currently known to raise the chance of dying from the novel coronavirus that has brought the world to a halt: being old and having a weak immune system.
Air pollution makes the second of those more likely.
Hospital workers applaud during a tribute to the essential health care workers at Hospital Universitario de Mostoles in Mostoles, Spain on March 27, 2020. Legan P. Mace / SOPA Images / LightRocket via Getty Images
Essential farm workers continue to work as Florida agriculture industry struggles during coronavirus pandemic. Joe Raedle / Getty Images.
By Liz Carlisle
This opinion piece was originally published by Yes! Magazine on March 30, 2020.
As the coronavirus crisis has laid bare, the U.S. urgently needs a strategic plan for farmland. The very lands we need to ensure community food security and resilience in the face of crises like this pandemic and climate change are currently being paved over, planted to chemically raised feed grains for factory farm animals, and acquired by institutional investors and speculators. For far too long, the fate of farmlands has flown under the radar of public dialogue—but a powerful new proposal from think tank Data for Progress lays out how a national strategic plan for farmland could help boost economic recovery while putting the U.S. on a path to carbon neutrality.
A worker with nonprofit organization Martha's Table loads bags of fresh produce to distribute to people in need during the novel coronavirus outbreak on April 1, 2020 in Washington, DC. Chip Somodevilla / Getty Images
By Shawn Radcliffe
The CDC recommends that all people wear cloth face masks in public places where it's difficult to maintain a 6-foot distance from others. This will help slow the spread of the virus from people without symptoms or people who do not know they have contracted the virus. Cloth face masks should be worn while continuing to practice social distancing. Instructions for making masks at home can be found here. Note: It's critical to reserve surgical masks and N95 respirators for healthcare workers.