This website uses cookies to ensure you get the best experience while browsing it. By clicking 'Got It' you're accepting these terms.


The best of EcoWatch, right in your inbox. Sign up for our email newsletter!
6 Reasons Drinking Tea Will Keep You Healthy This Winter
Nov. 04, 2014 09:43AM EST
Food
The weather's gotten cooler. Daylight savings time is behind us so we've got longer, darker evenings ahead of us. And winter is coming, along with flu and cold season.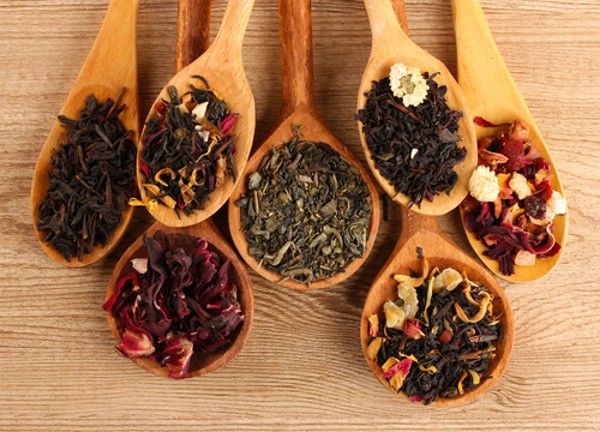 Photo credit: Shutterstock
But there are compensations. On a blustery day, there's nothing better than curling up on the couch, wrapped in a blanket, with a good book, an affectionate pet—and a steaming cup of tea. It warms your belly, it warms your hands—and that cup can contain all kinds of great health benefits that can help you get through the winter feeling good.
What are some of the things hot tea can do for you?
1. Tea is a heady brew of hundreds of natural chemicals, many of them beneficial or even essential to health. Foremost among them are polyphenols, a form of antioxidant flavonoids. These are essential for cell regeneration and staving off the effects of aging, including conditions like heart disease, cancer and possibly even Alzheimer's. Tea has been associated with a lower incidence of Parkinson's disease as well. It's not a miracle elixir but it can help strengthen the body's defenses against the ravages of time.
2. Tea has been shown to have an impact on oral health and have cavity-fighting properties. Studies have shown that the polyphenols found in black tea can inhibit the growth of bacteria in your mouth and help prevent plaque buildup.
3. Although tea does have some caffeine, it doesn't have nearly as much as coffee. So while it can be a mild stimulant and give you a little jolt of energy and mental alertness, it isn't going to put you as much on edge as too much coffee might and it's not as likely to keep you up all night—depending on how much you drink, of course, and how close to bedtime.
4. Different teas—white, green, black and oolong—have different benefits. Green tea, for instance, may build bone density, making your bones stronger. And white and green teas, the least processed, retain more of their flavonoids and have even greater cancer-fighting properties. Herbal infusions are not actually teas, but may have a range of health benefits of their own, including settling an upset stomach, helping you fall asleep or relieving constipation.
5. Tea, especially oolong teas, have been associated with boost in metabolism, leading to potential weight loss. A couple of studies have shown that oolong tea drinkers have smaller waist sizes.
6. Ladling in the refined white sugar will certainly counteract any possible weight loss, and it isn't a good idea for a lot of reasons. But other traditional tea go-withs, like lemon and honey, bring potential health assets of their own. Honey has traces of vitamin and minerals and a bunch of antioxidants of its own. If you feel a sore throat coming on, it coats the throat and soothes it. The vitamin C in lemon is another antioxidant that gives a boost to the immune system and helps fight off seasonal bugs. So there really is something to that prescription of a cup of hot tea with honey and lemon when you've got the winter blahs.
YOU MIGHT ALSO LIKE
Why Antioxidants in Superfoods Are Essential to Your Diet
EcoWatch Daily Newsletter
jenifoto / iStock / Getty Images
Many people consider granola bars a convenient and healthy snack and enjoy their flavor and versatility.
A common green darners (Anax junius). Judy Gallagher / Flickr
By Jason Bittel
It's that time of year again: Right now, monarch butterflies are taking wing in the mountains of northwestern Mexico and starting to flap their way across the United States.
fstop123 / iStock / Getty Images Plus
At EcoWatch, our team knows that changing personal habits and taking actions that contribute to a better planet is an ongoing journey. Earth Day, happening on April 22, is a great reminder for all of us to learn more about the environmental costs of our behaviors like food waste or fast fashion.
To offer readers some inspiration this Earth Day, our team rounded up their top picks for films to watch. So, sit back and take in one of these documentary films this Earth Day. Maybe it will spark a small change you can make in your own life.
Denali national park. Domen Jakus / Flickr / CC BY-NC 2.0
By Stephanie Gagnon
Happy National Parks Week! This year, between April 20 and 28, escape to the beautiful national parks — either in person or in your imagination — and celebrate the amazing wildlife that calls these spaces home.
Sesame, three months old, at Seal Rescue Irleand.
Screenshot / Seal Rescue Ireland Instagram
On Friday, Seal Rescue Ireland released Sesame the seal into the ocean after five months of rehabilitation at the Seal Rescue Ireland facility. Watch the release on EcoWatch's Facebook.

Beer packs of Guinness will now come in a cardboard box. Diageo

By Jordan Davidson
Guinness is joining the fight against single use plastic. The brewer has seen enough hapless turtles and marine life suffering from the scourge of plastic.
Maskot / Getty Images
People of all ages are spending more of their day looking at their phones, computers and television screens, but parents now have another reason for limiting how much screen time their children get — it could lead to behavioral problems.