6 of Donald Trump's Most Outrageous Tweets on Climate Change
Oct. 19, 2015 03:22PM EST
Popular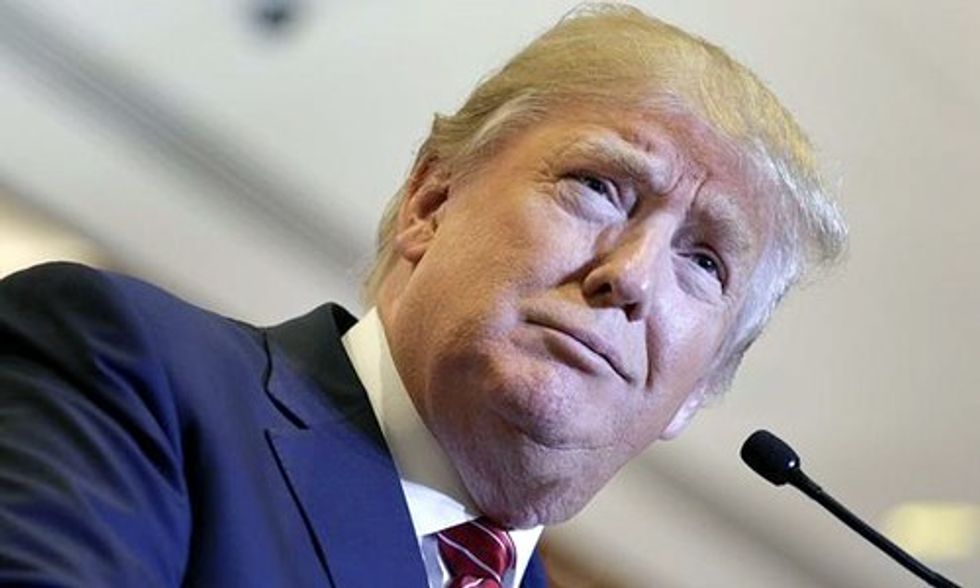 Donald Trump is yet again claiming that global warming isn't occurring because, well, because it's "really cold" in New York City today.
It's really cold outside, they are calling it a major freeze, weeks ahead of normal. Man, we could use a big fat dose of global warming!

— Donald J. Trump (@Donald J. Trump)1445261430.0
Forget that not only is this year going to go down as the hottest year on record globally, but it will, in the words of Joe Romm at Think Progress, "crush 2014," which holds the current record. Donald Trump has repeatedly denied what 97 percent of the global scientific community agrees on: the climate is changing and humans are to blame.
To this day, Trump believes global warming is a "hoax," something only nine percent of Republicans believe (even conservative Republicans), according to a recent survey conducted by three prominent Republican pollsters.
Here's just a sampling of The Donald's tweets on the subject:
This very expensive GLOBAL WARMING bullshit has got to stop. Our planet is freezing, record low temps,and our GW scientists are stuck in ice

— Donald J. Trump (@Donald J. Trump)1388623196.0
Any and all weather events are used by the GLOBAL WARMING HOAXSTERS to justify higher taxes to save our planet! They don't believe it $$$$!

— Donald J. Trump (@Donald J. Trump)1390772433.0
The concept of global warming was created by and for the Chinese in order to make U.S. manufacturing non-competitive.

— Donald J. Trump (@Donald J. Trump)1352229352.0
It's snowing & freezing in NYC. What the hell ever happened to global warming?

— Donald J. Trump (@Donald J. Trump)1363875906.0
Ice storm rolls from Texas to Tennessee - I'm in Los Angeles and it's freezing. Global warming is a total, and very expensive, hoax!

— Donald J. Trump (@Donald J. Trump)1386342836.0
In reality, fall as we know it is "disappearing," according to the folks at Discovery News. Climate change is wreaking havoc on many of the quintessential aspects of autumn: fall colors, cool weather and pumpkins. That's right. Just as Starbucks announced its beloved Pumpkin Spice Latte will actually contain real pumpkin, climate change is putting a real damper on America's pumpkin crop.
Watch this video to find out why:
YOU MIGHT ALSO LIKE
4 Ways to Determine if Your Nutritional Supplement Is Healthy for You
Larry David as Bernie Sanders on Saturday Night Live: 'We Need a Revolution'
Bill McKibben Gets Arrested Exposing Exxon's 'Unparalleled Evil'
EcoWatch Daily Newsletter
Recent Stories from EcoWatch