This website uses cookies to ensure you get the best experience while browsing it. By clicking 'Got It' you're accepting these terms.
It's that time of year for those yucky minor ailments like stuffed noses, coughs and sore throats. A lot of times they're inconvenient and make you feel less than your best, but aren't quite serious enough to justify staying home and snuggling under the covers. It might be tempting to take an over-the-counter anti-inflammatory drug or cough syrup, and they can help. But if you'd like to try something natural first, here are a few choices.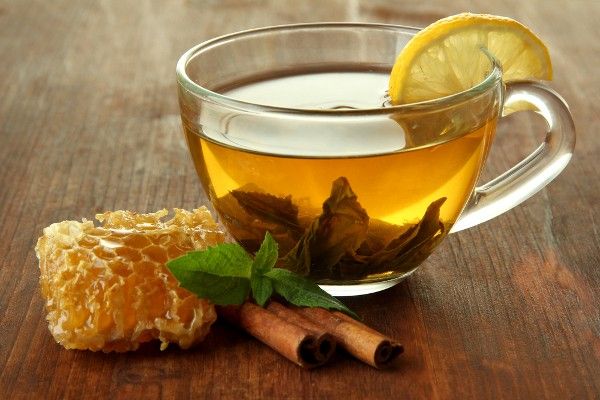 Photo credit: Shutterstock
1. You've heard that old standby "hot tea with lemon and honey" a million times. It's the first thing all your friends will suggest when you say you're feeling achey and congested. There's a reason for that. It works. The hot beverage relaxes and soothes your throat, the lemon cuts through the mucus and honey adds a soothing coating to your throat—one that has antibacterial properties as well.
2. What kind of tea? Chances are your favorite oolong or Earl Grey will be just fine. But some herbal varieties are reputed to have curative powers. Marshmallow root and slippery elm bark, with their throat-coating mucilage, are said to be effective sore throat remedies. Steep a couple of teaspoons in boiling water for ten minutes before drinking several times a day.
3. Try a natural gargle with simple ingredients you have in your kitchen. A salt water gargle is one of the best. Dissolve a half teaspoon of salt in a cup of warm water, gargle for a minute like you would a mouthwash and spit it out. The salt water reduces the swelling and inflammation in your mucus membranes and draws out the excess phlegm they produce. Since it's that swelling that makes your throat feel sore, you'll start to feel better. Or gargle with baking soda, an antibacterial that's effective against minor skin irritations including the inflamed tissue in your throat. Follow the same process for making a salt gargle. Do either 3-4 times a day.
4. Ginger is a great digestive aid, with the ability to quell nausea and queasiness. But it's also an anti-inflammatory and antibacterial that helps loosen the buildup of mucus clogging up your throat and nose. You can make a tea with fresh ginger root by cutting it into tiny pieces and pouring some boiling water over it. Or just chew on a piece if you don't mind its bracing taste—and it may remind you of your favorite Thai restaurant, a motivation to kick that bug.
5. Your grandmother was right: some hot chicken soup would do you good! Like hot tea, it's soothing and relaxing going down, and it contains nutrients in easy-to-digest form that are beneficial if you're fighting off an illness. You may not feel like eating much if you're under the weather but you need nutrition when you've got the blahs. And just the smell of that chicken soup could make you feel better, especially if it's your grandmother's recipe
6. A sore throat is often a scratchy, dry throat and it needs moisture to heal. That can come in many forms, starting with drinking plenty of water or fresh juice. Make sure your house is humidified. You don't necessarily need an expensive humidifier—just place bowls of waters in the rooms where you hang out. Steam is great for your throat too. Boil a big pot of water and inhale. To avoid getting too close for comfort but to get the maximum benefit of the steam, drape a towel over your head. Or just fill a wash basin with the hottest water you can, stand over it and inhale.
If your sore throat lingers for more than a few days, it could be a sign of a more serious illness and you'll want to get it checked out. But if it's merely a mild winter bug, try these old-fashioned cures and you may find yourself feeling in prime condition in no time.
YOU MIGHT ALSO LIKE
6 Reason Drinking Tea Will Keep You Healthy This Winter
EcoWatch Daily Newsletter
ThitareeSarmkasat / iStock / Getty Images
Every fruit lover has their go-to favorites. Bananas, apples, and melons are popular choices worldwide and can be purchased almost anywhere.
belchonock / iStock / Getty Images Plus
Wesley Martinez Da Costa / EyeEm / Getty Images
By David R. Montgomery
Would it sound too good to be true if I was to say that there was a simple, profitable and underused agricultural method to help feed everybody, cool the planet, and revitalize rural America? I used to think so, until I started visiting farmers who are restoring fertility to their land, stashing a lot of carbon in their soil, and returning healthy profitability to family farms. Now I've come to see how restoring soil health would prove as good for farmers and rural economies as it would for the environment.
skaman306 / Moment / Getty Images
Radish (Raphanus sativus) is a cruciferous vegetable that originated in Asia and Europe (1Trusted Source).
The Centers for Disease Control (CDC) released new numbers that show vaping-related lung illnesses are continuing to grow across the country, as the number of fatalities has climbed to 33 and hospitalizations have reached 1,479 cases, according to a CDC update.
During the summer, the Arctic tundra is usually a thriving habitat for mammals such as the Arctic fox. Education Images / Universal Images Group via Getty Images
Reports of extreme snowfall in the Arctic might seem encouraging, given that the region is rapidly warming due to human-driven climate change. According to a new study, however, the snow could actually pose a major threat to the normal reproductive cycles of Arctic wildlife.