This website uses cookies to ensure you get the best experience while browsing it. By clicking 'Got It' you're accepting these terms.
6 Jailed, 9 Arrested in Ongoing Fight Against Methane Gas Storage
Dec. 05, 2014 10:07AM EST
Energy
New York's Town of Reading courtroom was full Wednesday night when 19 people were arraigned after being arrested for blockading the gates of Crestwood Midstream in an ongoing "We Are Seneca Lake" campaign protesting the storage of fracked gas along the shores of Seneca Lake.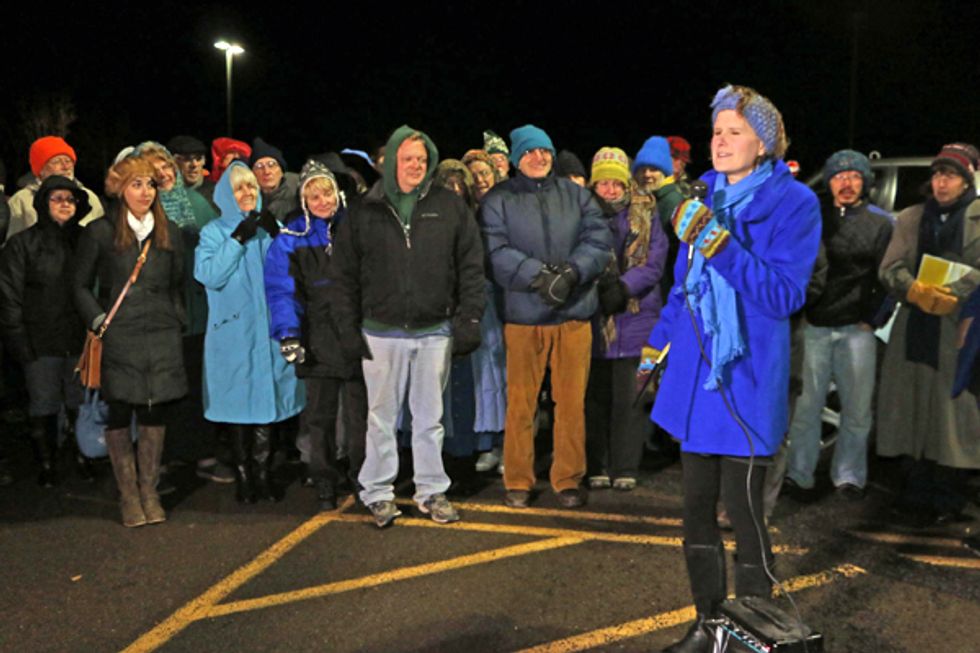 Nearly four hours in the courtroom resulted in jail terms of wildly different lengths for six of the defendants and a mix pleas. The court hearing took place after a rally outside the courthouse in blustery, cold conditions with more than 100 supporters. Former Schuyler County legislator, Ruth Young, 77, and current Town of Caroline council member, Irene Weiser, led the rally and later pled not guilty to their trespassing charges and were given April 15 trial dates.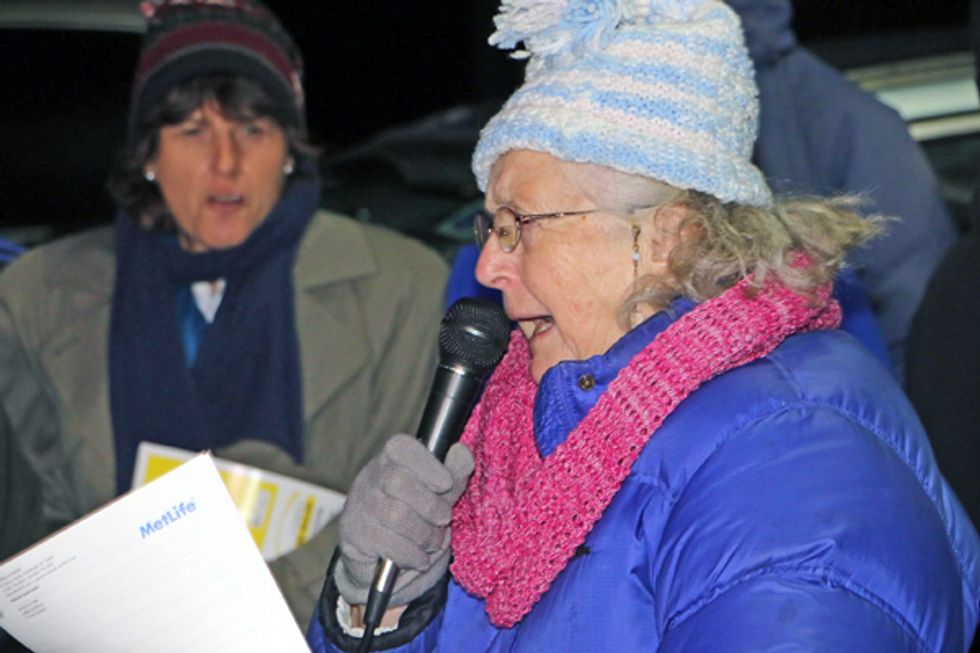 Yesterday, nine more people were arrested for blockading Crestwood's gates, bringing the total number of arrests to 92.
All of the defendants who pled guilty before Justice Raymond H. Berry Wednesday night petitioned the court for reduced fines or minimum sentences. Those who refused to pay the fine and accepted jail sentences said they did so on ethical grounds.
Many defendants gave impassioned pre-sentencing statements in order to petition the court for less-than-maximum sentences—a $375 fine or 15 days in jail—on the grounds that they did not seek to impose ruinous costs on Schuyler County for jailing them and that, as civil disobedients, their motivation in breaking the law was to protect, rather than cause, harm. Their appeal was echoed throughout the evening by attorney Sujata Gibson, of Ithaca, New York who acted as legal advisor to the group.
So far throughout the six-week campaign, Justice Berry has consistently meted out maximum sentences to all protesters who appeared before him and pled guilty.
"I would like to know why the trespass violations are being pursued so vigorously by Reading Town Court with maximum sentences handed down, while Crestwood seems to be in violation of the Town of Reading's own land use law of 1992 and nothing is being done about it," said John Dennis, a 64-year-old environmental planner and consultant from Ithaca.
Dennis received the maximum sentence of 15 days in jail and was transported by deputies to Schuyler County Jail as the arraignments continued.
Three other defendants—Jimmy Betts, 30, of Omaha, Nebraska; Michael Clark, 29 Cuyahoga Falls, OH; and Kelsey Erickson, 23, a Cornell University graduate from Carlisle, Massachussets—also received maximum jail sentences. They were all part of the recent Great March for Climate Action, a 3,000 mile walk from California to Washington, DC calling for climate action.
"I am here, one of the Seneca Lake Defenders, because this affects every single one of us, whether we realize it or not," said Betts to the judge. "This is not just a local issue. Climate change affects us all from coast to coast and globally."
"This is an act of love to stand with a community who is trying to defend itself," said Clark. "I petition for a minimum sentence to give you an opportunity to stand with us."
Erickson told the judge, "It's my obligation to protect the water, the air, the planet we all depend on."
Attorney Gibson appealed to the judge for leniency throughout the first half of arraignments and sentencing. "We need to take into account whether anyone was hurt and what their motivations are. These are outstanding members of the community. The maximum penalty is not justified," she said.
Then Gibson asked the judge to recuse himself for prejudging the case during the arraignment of Judy Leaf of Ithaca. The judge refused. A brief adjournment was called by the judge so that the violation trespass statute could be reviewed. When court was again called to order, Leaf was sentenced to one day in jail and taken into custody. She was later released from the Schuyler County Jail shortly after midnight, time served.
The last defendant of the evening to refuse the fine on ethical grounds—Susan Mead, 66, from Ithaca—was sentenced to seven days in jail. The judge offered no explanation for his change of heart in meting out maximum sentences, nor why Leaf and Mead received less-than-maximum sentences of different lengths. The only clue to his reasoning came in a comment the judge made about grandchildren in a reply to Mead's pre-sentencing statement.
"I believe I'm part of the last generation who can turn global warming around. With that belief, I participated in this action," said Mead to the judge.
Judge Berry responded before issuing the 7-day sentence, "I don't like putting people in jail. My granddaughter doesn't like it when I put people in jail, and she won't speak to me when I do. I don't know if you have a grandchild, but it's very difficult. I will give you a break."
Mead and Erickson were transported to the Schuyler County Jail, processed and then remanded to Wayne County Jail. Schuyler County has no facility to house female inmates. Dennis, Clark and Betts will serve their maximum sentences in Schuyler County Jail.
Judge Berry offered no leniency to Paul Passavant, 48, from Geneva, New York. Passavanant, who identified himself to the judge as a professor of constitutional law at Hobart and William Smith and a member of the Town of Geneva's planning board, provided a tutorial on civil disobedience during his pre-sentencing statement. Referring to civil disobedience as "an appeal to the public's conscience," Passavant argued that judges should treat civil disobedience actions with leniency because they "presuppose a commitment to democracy."
Passavant received the maximum fine of $375 and chose to pay it. His fine was paid with community donations to We Are Seneca Lake.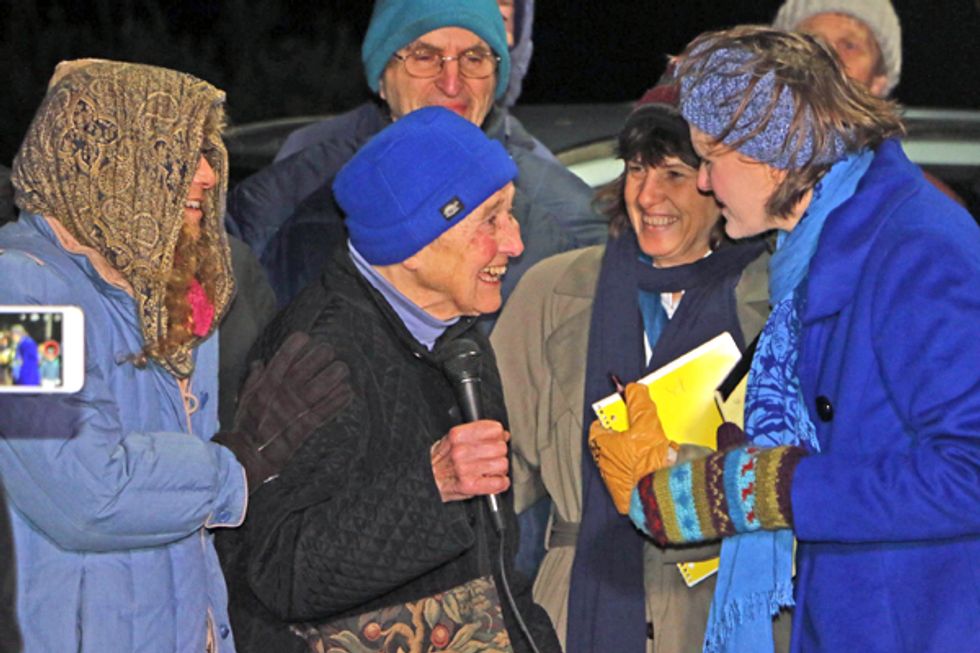 "It was hard to know what was going to happen next," said Sandra Steingraber, 55, one of the original conveners of We Are Seneca Lake—and who herself had been recently released from jail after receiving a maximum 15-day sentence from Justice Berry on Nov. 19. "The judge was, by turns, sarcastic and compassionate, condescending and flummoxed. The sentences he dispensed were certainly erratic."
"Some kind of change came over him after hearing a parade of defendants give moving statements about the moral urgency of climate change and the obligation to protect water," Steingraber said. "But then Judge Berry recovered from his temporary lapse into mercy and returned to maximum sentencing. It was hard to know why."
Near the end of the evening, Irene Weiser, a town council member in nearby Caroline, asked the judge to consult his grandchild—to whom he had earlier referred—on her behalf. Here are excerpts of Weiser's statement:
"Tell her what's happening in this courtroom. Tell her what it's like to be part of this historical moment. Like the civil rights movement, what do you …  want her to know about it? What do you want her to see? … Tell her what kind of future you want for her and about the changes you've seen in the lake during all the years that you've lived here."
YOU MIGHT ALSO LIKE
17 Arrested Fighting Fracking Infrastructure
Anti-Fracking Warriors Steingraber and Boland Released From Jail
EcoWatch Daily Newsletter
Deserted view of NH24 near Akshardham Temple on day nine of the 21-day nationwide lockdown to curb the spread of coronavirus on April 2, 2020 in New Delhi, India. Raj K Raj / Hindustan Times via Getty Images
A Unicef social mobilizer uses a speaker as she carries out public health awareness to prevent the spread and detect the symptoms of the COVID-19 coronavirus by UNICEF at Mangateen IDP camp in Juba, South Sudan on April 2. ALEX MCBRIDE / AFP / Getty Images
By Eddie Ndopu
South Africa is ground zero for the coronavirus pandemic in Africa.
Its townships are typical of high-density neighbourhoods across the continent where self-isolation will be extremely challenging.
The failure to eradicate extreme poverty is a threat beyond the countries in question.
The outside of the Food and Drug Administration headquarters in White Oak, Md. on Nov. 9, 2015. Al Drago / CQ Roll Call
The U.S. Food and Drug Administration has approved the use of two malarial drugs to treat and prevent COVID-19, the respiratory infection caused by the SARS-CoV-2 coronavirus, despite only anecdotal evidence that either is proven effective in treating or slowing the progression of the disease in seriously ill patients.

Some
speculate
that the dissemination of the Antarctic beeches or Nothofagus moorei (seen above in Australia) dates to the time when
Antarctica
, Australia and
South America
were connected. Auscape / Universal Images Group / Getty Images
A team of scientists drilled into the ground near the South Pole to discover forest and fossils from the Cretaceous nearly 90 million years ago, which is the time when dinosaurs roamed the Earth, as the BBC reported.
The recovery of elephant seals is one of the "signs of hope" that scientists say show the oceans can recover swiftly if we let them. NOAA /
CC BY 2.0