This website uses cookies to ensure you get the best experience while browsing it. By clicking 'Got It' you're accepting these terms.


The best of EcoWatch, right in your inbox. Sign up for our email newsletter!
6 Initiatives That Empower Women in Agriculture
Apr. 08, 2014 09:50AM EST
Food
Farmers and farmers groups, researchers and scientists, and government leaders and policy-makers from across the continent are gathered to better understand family farming in North America and to agree upon common recommendations for the development and support of family farmers in the U.S. and Mexico. The dialogue also hopes to identify the key challenges family farmers face as well as the solutions they're developing in their communities.
This week, Food Tank is also excited to announce our collaboration with the Global Forum on Agricultural Research (GFAR). GFAR brings together all those working to strengthen and transform agricultural research for development around the world. During 2014 and the International Year of Family Farming, GFAR is working with Food Tank to showcase and raise awareness and understanding of the challenges faced by smallholders and help identify efficient ways to support family farmers, especially women farmers.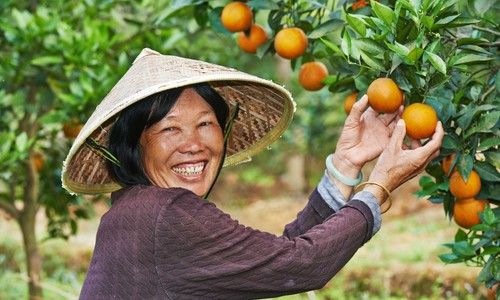 Photo courtesy of Shutterstock
GFAR's Gender in Agriculture Partnership (GAP) is "transforming agriculture to empower women and deliver food, nutrition and income security." GAP is a "vibrant, collective movement for change," bringing together more than 150 institutions comprised of equally committed actors who work to break down gender barriers and achieve gender equality in agriculture. GAP member projects highlight the role of men and women as producers, develop participatory processes, address social norms and power relations in creating disparities, and put a spotlight on women farmers as the backbone of the land.
The timing of this initiative is more important than ever. Although women make up at least 43 percent of the agricultural labor force worldwide, they typically lack access to education, extension services, land and credit.
 
And this gender inequality comes at a huge cost, not just for women, but society as a whole. Discrimination against women can undermine economic development by limiting food security for families and preventing women and girls from achieving greater opportunities in education. In addition, many agricultural research and development programs ignore the needs and hopes of women farmers.
 
But research from the U.N. Food and Agriculture Organization shows that if women had the same access to non-land resources as male farmers, they could lift 100-150 million people out of hunger. And according to Landesa, when women farmers have secure land rights family nutrition improves, women become less vulnerable to contracting HIV/AIDS; they may be less likely to be victims of domestic violence; children, especially girls, are more likely to receive an education and stay in school longer; and women's participation in household decision-making increases.
 
GFAR, among its many roles, works to highlight the important work of women farmers—as food producers, nutrition providers and care-takers, and as scientists, practitioners and innovators and teachers in villages and cities, in governments and leadership at NGOs, and at research institutions all over the world.
 
In 2012, GFAR helped bring together women farmers and leaders from more than 50 countries at the First Global Conference of Women in Agriculture to highlight the importance of reducing the gender gap in agriculture and identifying ways forward to ensure that men and women are equal partners in food and nutrition security. The conference gave rise to GAP—eliminating the gender gap in agriculture, GFAR knows, requires cooperation and collaboration from a variety of food system stakeholders.
 
To celebrate this important work and the crucial role of women farmers, female agricultural scientists and researchers, and women-led food NGOs and businesses, GFAR and Food Tank are highlighting six innovative projects and initiatives that are working to strengthen women's empowerment in agriculture:
African Women in Agricultural Research and Development (AWARD)—AWARD is a career-development program for prominent women agricultural scientists in sub-Saharan Africa. AWARD provides fellowships aimed at teaching research and leadership and is focused on the success and security of African smallholder farmers—most of these farmers are women. AWARD fellows are selected through a highly competitive process. 
Jamaican Pig Farmer Association (JPFA) and The Jamaica Network of Rural Women Producers (JNRWP)—Mildred Crawford, a pig farmer and pig artificial inseminator, helped create JPFA and JNRWP. JPFA works with pig farmers and other industry players to provide leadership, advocacy in representing the industry at a national level, and resources for the development of pig farmers in Jamaica. The Most Honorable Lady Cooke, former First Lady of Jamaica, launched JNRWP in 1999—it works alongside various stakeholders to foster economic and social development of rural women in Jamaica. This organization works to empower and motivate rural women so they can improve the quality of their lives and the welfare of their communities. 
Maruzi Beekeeping Association—Rose Akaki, a beef farmer from Uganda, diversified her family beef farm and encouraged neighbors to become beekeepers, eventually forming the Maruzi Beekeeping Association. This association has grown beyond their village to regional membership, now involved in processing, packaging and marketing a product called "Go Honey."
National Agricultural Innovation System Support Project (Peru)—The objective of this project is to create acceptable conditions in the National Agricultural Innovation System (SNIA) in order to support the effectiveness of its member organizations in providing improved agricultural technologies. Women-based organizations are a main beneficiary of this project, as the role of rural women tends to be marginalized outside of the household, even though women participate in all agriculture tasks.
World Farmers Organization (WFO)—WFO partners with GAP to empower women farmers and find ways to lift up all farmers from inequities that exist today. Susan Carlson, the WFO Women's Committee Chair, explains that "women farmer's innovation and entrepreneurship are evidence of their commitment and dedication to their family farm—their way of life and their livelihood."
Young Professionals for Agricultural Development (YPARD)—YPARD is a network of young farmers, researchers, scientists and other food system stakeholders. YPARD helps to give a voice to these young women and men, amplifying their voices and giving them a seat at the table in decisions around agricultural development. Through national meetings, conferences and other initiatives, women are using the YPARD platform to highlight the issues most important to them at the national, regional and international level.
What other projects helping empower women farmers can you add to this list?
——–
YOU MIGHT ALSO LIKE
Which State Best Supports Its Locally Grown Foods?
'Just Eat It': Documentary Explores Food Waste From Farm to Fridge
Vertical Farming: Feeding Tomorrow's World With Today's Emerging Technologies
——–
EcoWatch Daily Newsletter
Did you know that more than a third of food is wasted or thrown away every year? And that only 25 percent of it would be enough to feed the 795 million undernourished people in the world? That's why today is Stop Food Waste Day, a chance to reflect on what you can do to waste less of the food you buy.
Stop Food Waste Day is an initiative of food service company Compass Group. It was launched first in the U.S, in 2017 and went global the year after, making today it's second worldwide celebration.
Flames and smoke are seen billowing from the roof at Notre-Dame Cathedral on April 15 in Paris, France. Veronique de Viguerie / Getty Images
When Paris's Notre Dame caught fire on April 15, the flames threatened more than eight centuries of culture and history. The fire evoked shock, horror and grief worldwide. While the cathedral burned, French President Emmanuel Macron expressed determination to rebuild what the French regard as a sacred site.
An artist's impression of NASA's InSight lander on Mars. NASA / JPL-CALTECH
Scientists have likely detected a so-called marsquake — an earthquake on Mars — for the first time, The National Aeronautics and Space Administration (NASA) announced on Tuesday.
Hero Images / Getty Images
Across the political aisle, a majority of American parents support teaching climate change in schools even though most teachers currently do not.
By Andrea Germanos
Lawyer and visionary thinker Polly Higgins, who campaigned for ecocide to be internationally recognized as a crime on par with genocide and war crimes, died Sunday at the age of 50.
She had been diagnosed with an aggressive cancer last month and given just weeks to live.
The Anopheles stephensi mosquito, which carries malaria. CDC / Jim Gathany
The world's first malaria vaccine was launched in Malawi on Tuesday, NPR reported. It's an important day in health history. Not only is it the first malaria vaccine, it's the first vaccine to target any human parasite.