This website uses cookies to ensure you get the best experience while browsing it. By clicking 'Got It' you're accepting these terms.
6 Devastating Heat Waves Hitting the Planet
Jun. 23, 2015 10:28AM EST
Climate
Need proof that we're having the hottest year on record? Scorching heat is searing parts of the world, sparking wildfires and claiming lives due to heat stroke and dehydration.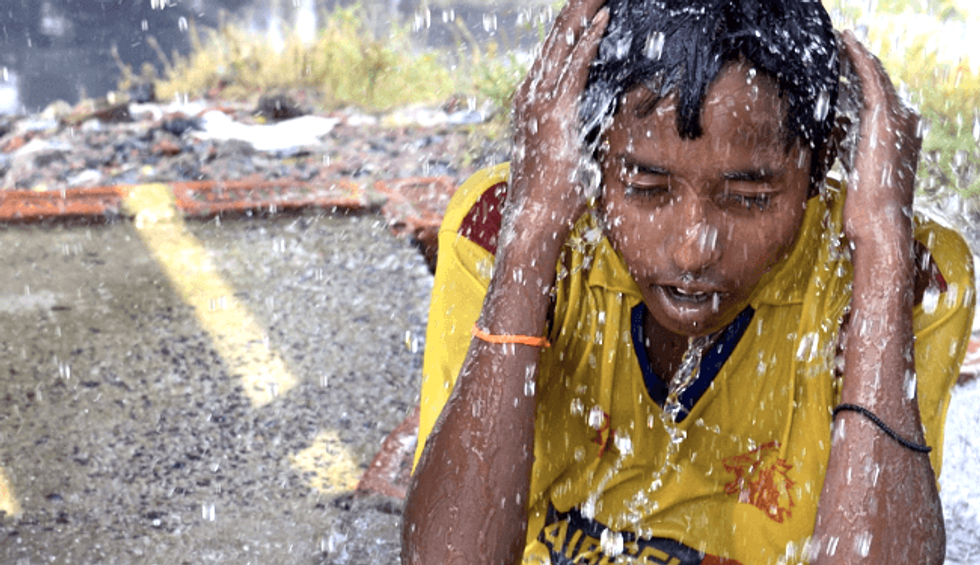 Photo Credit: Saikat Paul
/
Shutterstock.com
1. India. The relentless heat since mid-April has claimed about 2,330 lives, overwhelming hospitals and devastating the country. As we previously reported, officials have blamed the heat on global warming.
"It's not just another unusually hot summer—it is climate change," said Dr. Harsh Vardhan, India's Minister of Science and Technology and Earth Sciences. "Let us not fool ourselves that there is no connection between the unusual number of deaths from the ongoing heatwave and the certainty of another failed monsoon."
Temperatures have neared 122 degrees Fahrenheit (50 degrees Celsius), causing roads to literally melt in New Delhi.
Heat wave in India is literally melting the roads with temps up to 48 °C / 118 °F. http://t.co/TNMvePI5Dj pic.twitter.com/j8gx5DYOz7

— Imgur (@imgur) May 26, 2015
2. Pakistan. India's neighboring country is also suffering from the horrible heat, with the city of Karachi experiencing temperatures of 113 degrees Fahrenheit (45 degrees Celsius). According to BBC News, the weather has led to the deaths of nearly 700 people, mostly poor and elderly.
Making matters worse, with Pakistanis observing the holy month of Ramadan and fasting during daylight hours, an increased use of electricity for air conditioning has caused outages on their already-unstable grid.
In Video: As deadly heat wave hits Pakistan, Al Jazeera speaks to families of victims http://t.co/nk8VX7H62A pic.twitter.com/McYpZQCD18

— AJE News (@AJENews) June 22, 2015
3. The U.S. Southeast. Over on our shores, temperatures in the American South are about 5-15 degrees higher than usual with temperatures ranging between 100 and 115 degrees Fahrenheit, AccuWeather noted. Southerners, especially in southern Georgia and Florida, are also sweltering in the extreme humidity (in the upper 60s and 70s), making it feel even hotter, Weather.com reported.
A dangerous heat wave will persist across the South this week. http://t.co/F8yA3t07Hf pic.twitter.com/9fQ1W6wu63

— AccuWeather.com (@breakingweather) June 22, 2015
Those on the West Coast should also brace for extreme heat and wildfires later this month, due to a shift in the jet stream pattern.
4. Alaska. Not only are glaciers rapidly melting, the northernmost U.S. state experienced record heat at the end of May where parts of Alaska recorded temperatures higher than in Arizona.
Unseasonably high temperatures, unpredictable winds and low humidity have been the perfect storm for wildfires to break out in the state, and as of last Sunday, more than 100 new fires have ignited across the state.
#RedCross is responding to #AKfire & severe weather across the country. See the latest update: http://t.co/JxyVtLixQw pic.twitter.com/0c9i5aWR2d

— American Red Cross (@RedCross) June 17, 2015
5. Israel. Temperatures recently reached 113 degrees Fahrenheit (45 degrees Celsius) in some parts of the country, causing fires to break out.
In the photo below, animals kept in Israeli zoos are being fed frozen treats to help cool off.
IN PICTURES: Heat wave washes over Israel http://t.co/KtVtKrNKZh pic.twitter.com/Bvw6hOrlhK

— Haaretz.com (@haaretzcom) May 28, 2015
Last month, a 20-year-old tourist from Florida died after taking a fall while hiking the desert fortress of Masada on one of the hottest days of the year. The scary part? According to the Associated Press, she didn't die from injuries from the fall, but from dehydration.
6. Japan. The East Asian country has been shattering their temperature records. According to the Weather Channel, in the city of Otsu in Hokkaido, its April high of 89.4 degrees Fahrenheit (31.9 degrees Celsius) smashed the usual high of 50.9 degrees Fahrenheit (10.5 degrees Celsius). And just this month, roughly 780 people across the country were admitted into hospitals due to a heat wave, Sputnik reported. So far, two people have been reported dead due to the heat.
While the current rainfall must be a welcome reprieve, several prefectures have issued warnings of possible landslides and flooding, according to Sputnik.
About 780 hospitalized in #Japan #heatwave http://t.co/p3RFICK1ec pic.twitter.com/tM8zrBAjm6

— Sputnik (@SputnikInt) June 16, 2015
YOU MIGHT ALSO LIKE
Alaska's Heat Wave Ignites Fires as Glaciers Rapidly Melt
NOAA: Hottest Spring and Hottest Year to Date on Record
NASA: More Than One-Third of Earth's Largest Aquifers Are Being Rapidly Depleted
EcoWatch Daily Newsletter
Pro-environment demonstrators on the streets of Washington, DC during the Jan. 20, 2017 Trump inauguration.
Mobilus In Mobili
/ Flickr /
CC BY-SA 2.0
By Dr. Brian R. Shmaefsky
One year after the Flint Water Crisis I was invited to participate in a water rights session at a conference hosted by the US Human Rights Network in Austin, Texas in 2015. The reason I was at the conference was to promote efforts by the American Association for the Advancement of Science (AAAS) to encourage scientists to shine a light on how science intersects with human rights, in the U.S. as well as in the context of international development. My plan was to sit at an information booth and share my stories about water quality projects I spearheaded in communities in Bangladesh, Colombia, and the Philippines. I did not expect to be thrown into conversations that made me reexamine how scientists use their knowledge as a public good.
Mt. Rainier and Reflection Lake on Sept. 10, 2015. Crystal Geyser planned to open a bottling plant near Mt. Rainier, emails show.
louelke - on and off / Flickr
Bottled water manufacturers looking to capture cool, mountain water from Washington's Cascade Mountains may have to look elsewhere after the state senate passed a bill banning new water permits, as The Guardian reported.
Large storage tank of Ammonia at a fertilizer plant in Cubatão, Sao Paulo State, Brazil. Luis Veiga / The Image Bank / Getty Images
The shipping industry is coming to grips with its egregious carbon footprint, as it has an outsized contribution to greenhouse gas emissions and to the dumping of chemicals into open seas. Already, the global shipping industry contributes about 2 percent of global carbon emissions, about the same as Germany, as the BBC reported.
At high tide, people are forced off parts of the pathway surrounding DC's Tidal Basin. Andrew Bossi /
Wikimedia
The Jefferson Memorial in Washington, DC overlooks the Tidal Basin, a man-made body of water surrounded by cherry trees. Visitors can stroll along the water's edge, gazing up at the stately monument.
But at high tide, people are forced off parts of the path. Twice a day, the Tidal Basin floods and water spills onto the walkway.
Lioness displays teeth during light rainstorm in Kruger National Park, South Africa. johan63 / iStock / Getty Images
Ahead of government negotiations scheduled for next week on a global plan to address the biodiversity crisis, 23 former foreign ministers from various countries released a statement on Tuesday urging world leaders to act "boldly" to protect nature.