This website uses cookies to ensure you get the best experience while browsing it. By clicking 'Got It' you're accepting these terms.
6 Common Food Additives Used in the U.S. That Are Banned in Other Countries
Mar. 09, 2015 11:22AM EST
Food
The U.S. Food and Drug Administration (FDA) regulates the use of food additives like preservatives, colors, sweeteners, fat replacers, emulsifiers and other ingredients added to food to maintain or improve safety, freshness, nutritional value, taste, texture and appearance. Food additives can be direct (those added for a specific purpose) or indirect (those added in trace amounts due to packaging, storage or handling) and are determined safe for market use only after stringent FDA review.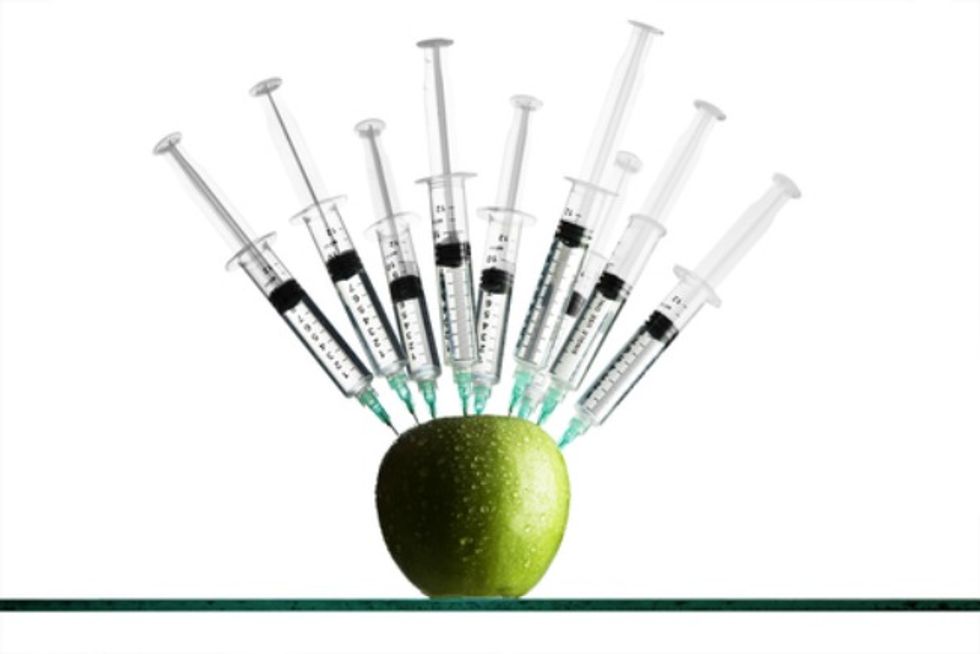 Photo credit: Shutterstock
Due to the FDA's regulation of food additives, most people assume that if food is on grocery store shelves, it must be 100 percent safe for human consumption. Unfortunately, this isn't always the case. As the FDA states: "Because of inherent limitations of science, FDA can never be absolutely certain of the absence of any risk from the use of any substance." In fact, several food additives approved for use in the U.S. by the FDA are banned in other parts of the world.
So if you think everything in your pantry is safe to eat, think again. Here are 6 common food additives found in the U.S. that are banned in other countries.
Azodicarbonamide (ADA)
Use: whitening or bleaching agent for cereal flour and as a dough conditioner in baking; also used to make rubber products like yoga mats and shoe soles

Concerns: During baking ADA breaks down to form new chemicals, one of which, semicarbizide (SEM), is known to increase the incidence of tumors in lab rats.

Banned: European Union
Use: improves gluten content in baked goods to strengthen dough and promote rising

Concerns: Studies dating back to 1982 have found that potassium bromate used in bromated flour causes cancer in lab rats and is "possibly carcinogenic to humans"

Banned: European Union, Canada, Brazil, Peru, China
Brominated vegetable oil (BVO)
Use: added to citrus drinks like Mountain Dew to keep flavor evenly distributed; also used as a flame retardant

Concerns: nervous system depressant, endocrine disruptor, causes reproductive and behavioral problems

Banned: Europe and Japan
Use: fat-free fat replacer in foods like potato chips

Concerns: gastrointestinal distress and diarrhea; interferes with absorption of fat-soluble vitamins

Banned: U.K. and Canada
Recombinant Bovine growth hormone (rBGH)
Use: artificial growth hormone given to cows to increase milk production

Concerns: increased risk of breast and prostate cancer

Banned: European Union, Canada, Japan, Australia
YOU MIGHT ALSO LIKE
McDonald's Is Curbing Use of Antibiotics in Chicken, But Does It Go Far Enough?
Hershey's Most Popular Chocolates Will Go GMO-Free by End of the Year
Could Common Food Additives Be Causing Serious Health Problems?
EcoWatch Daily Newsletter
A Starbucks barista prepares a drink at a Starbucks Coffee Shop location in New York. Ramin Talaie / Corbis via Getty Images
By Cathy Cassata
Are you getting your fill of Starbucks' new Almondmilk Honey Flat White, Oatmilk Honey Latte, and Coconutmilk Latte, but wondering just how healthy they are?
By Sharon Kelly
Back in April last year, the Trump administration's Environmental Protection Agency decided it was "not necessary" to update the rules for toxic waste from oil and gas wells. Torrents of wastewater flow daily from the nation's 1.5 million active oil and gas wells and the agency's own research has warned it may pose risks to the country's drinking water supplies.
Swedish climate activist Greta Thunberg takes part in a "Friday for Future" youth demonstration in a street of Davos on Jan. 24, 2020 on the sideline of the World Economic Forum annual meeting. FABRICE COFFRINI / AFP via Getty Images
Treasury Secretary Steven Mnuchin pretended not to know who Greta Thunberg is, and then he told her to get a degree in economics before giving world leaders advice, as The Guardian reported.
The Visible Infrared Imaging Radiometer Suite on the Suomi NPP satellite acquired this image of forest fire smoke hovering over North America on Aug. 15, 2018. NASA Earth Observatory
New York City isn't known for having the cleanest air, but researchers traced recent air pollution spikes there to two surprising sources — fires hundreds of miles away in Canada and the southeastern U.S.
If temperatures continue to rise, the world is at risk from global
sea-level rise
, which will flood many coastal cities as seen above in Bangladesh. NurPhoto / Contributor / Getty Images
The mounting climate emergency may spur the next global financial crisis and the world's central banks are woefully ill equipped to handle the consequences, according to a new book-length report by the Bank for International Settlements (BIS), as S&P Global reported. Located in Basel, Switzerland, the BIS is an umbrella organization for the world's central banks.