6 Alternatives to Milk: Which Is the Healthiest?
A glass of milk for strong bones. Milk with cookies or morning cereal. Everyone loves milk, right? Not quite. Animal-derived milk does have its downside. These include allergies and lactose intolerance, possibly even the risk of certain cancers and diabetes.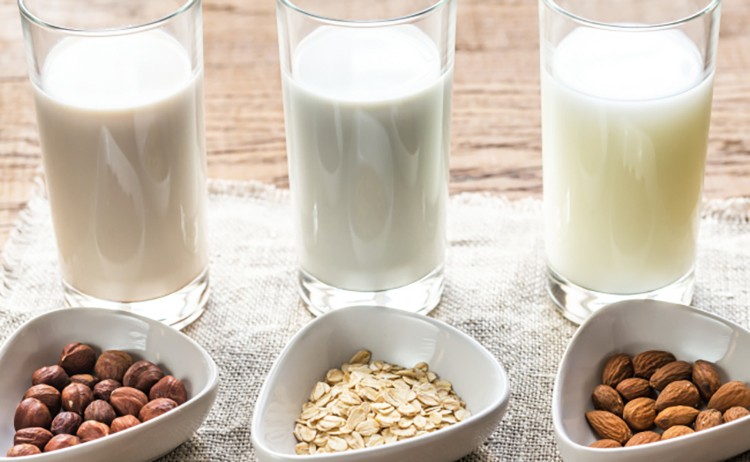 The good news is that those who want or need to stay away from cow's milk can do so with a number of non-dairy milk alternatives. These vary in their levels of nutrition, color, flavor and texture.
1. Soy Milk
A popular alternative to dairy milk, soy milk is a bean extract of soybeans and commonly sold in sweetened, unsweetened and flavored varieties, including chocolate and vanilla.
Pros: In many ways, soy milk is nutritionally equivalent to cow's milk. It's often fortified with calcium, vitamins A and D and riboflavin and it usually includes 8 to 10 grams of protein per serving. Soy milk can also contain isoflavones, which have been associated with a reduced risk of heart disease.
Cons: Even a little soy milk can cause severe allergic reactions to those with a soy allergy. In addition, a review published in 2014 in Alternative Therapies in Health and Medicine revealed that soy might negatively impact fertility in men.
2. Almond Milk
Made from ground almonds, water and (in most cases) sweetener, almond milk is sweet with a creamy texture similar to dairy milk.
Pros: Almond milk contains lots of vitamin E—about 50 percent of the daily value in one cup. Weight watchers will like the fact that almond milk has 1/3 of the calories of 2 percent cow's milk.
Cons: Almond milk has far less protein than dairy milk or soy milk. It also doesn't have the vitamins, minerals and fatty acids found in dairy milk, so it's important to look for fortified almond milk.
3. Rice Milk
Made from boiled rice, brown rice syrup and brown rice starch, rice milk is a popular alternative for cow's milk.
Pros: Rice milk is the most hypoallergenic of the milk alternatives. It's free of soy, gluten and nuts, important for those who are allergic or can't tolerate these ingredients.
Cons: If you're watching your weight, rice milk is high in carbohydrates. And it's low in protein and calcium compared to dairy milk. This milk is also thin and watery, so it's not a good cow's milk substitute for cooking or baking.
4. Coconut Milk
A close alternative to cow's milk, coconut milk most resembles the texture of whole dairy milk. It's somewhat high in fat (about 5 grams of saturated fat per cup).
Pros: Its nutty flavor makes coconut milk suitable for many types of baked foods. It's soy- and gluten-free, so those with multiple food allergies can tolerate this substitute. Coconut milk has far more potassium per cup than dairy milk (630 mg per cup, vs. 150 mg).
Cons: Coconut milk lacks the nutritional value of dairy milk. One cup of coconut milk contains 80 calories, 1 g of protein and 100 mg of calcium—compared to 100 calories, 8 g of protein and 300 mg of calcium for 1 percent dairy milk.
5. Flax Milk
A little thin and sweet, most flax milk is produced by organic, ethically responsible companies that use non-GMO flax.
Pros: High in fiber, flax milk is rich in alpha linoleic acids, which has been used to prevent and treat diseases of the heart and blood vessels. It is used to prevent heart attacks, lower high blood pressure, lower cholesterol and reverse hardening of the blood vessels. When fortified, this non-dairy alternative has as much calcium as regular milk, so it's good for those who need healthy, adequate levels of calcium.
Cons: Flax milk is low in protein. Flavored varieties tend to be heavily sweetened, so read the label for sugar content.
6. Hemp Milk
No, you won't get high on hemp milk. Made from hulled hemp seeds, water and (in most cases) sweeteners, hemp milk is a good alternative for those allergic to soy, nuts and gluten.
Pros: Hemp milk provides more iron than cow's milk. It's also very high in omega-3 fatty acids, which have been shown to promote heart and brain health.
Cons: Unless fortified, hemp milk is relatively low in calcium. It's rather expensive and can have a beany-nutty flavor that may not suit some taste buds. Many store bought varieties have sugar added, so read the label.
YOU MIGHT ALSO LIKE
Are Oats and Oatmeal Gluten-Free?
11 Foods That Can Help You Look Younger
3 Morning Drinks That May Help You Live Longer
10 Ways to Prevent or Reverse Heart Disease Without Taking Drugs
www.elysee.fr
By Andy Rowell
There is a growing feeling within European capitals that a quiet, but deeply positive, revolution is happening under Emmanuel Macron in France.
Macron's opinion poll rating is high, especially boosted in how the young French president has reacted to Donald Trump on the international stage.
Keep reading...
Show less
www.facebook.com
Keep reading...
Show less
Keep reading...
Show less
www.youtube.com
According to Bloomberg, "SeaWorld Entertainment Inc. received a subpoena earlier this month from regulators investigating disclosures and public statements by executives, including comments about the Blackfish documentary that caused a public backlash against the confinement of orcas.
Keep reading...
Show less
By Mary Mazzoni
In 2013, shoppers were reacquainted with the tragic story of their clothing when a massive factory collapse claimed the lives of more than 1,100 Bangladeshi garment workers.
The nonprofit Fashion Revolution, formed in response to that disaster, continues to track the apparel industry's progress on environmental stewardship and human rights. But four years later, big brands are still not doing enough to disclose their efforts to customers, the organization concluded in a recent report.
Keep reading...
Show less
Hawaii Renewable Energy Alliance
The latest issue of the U.S. Energy Information's "Electric Power Monthly" (with data through April 30) reveals that—for the first time since the beginning of the nuclear era—renewable energy sources (i.e., biomass, geothermal, hydropower, solar—inc. small-scale PV, wind) are now providing a greater share of the nation's electrical generation than nuclear power.
Keep reading...
Show less
www.youtube.com
Check out this great 360° virtual reality video by NowThis on the world's largest indoor vertical farm, AeroFarms. Located in Newark, New Jersey, AeroFarms grows more than 2 million pounds of greens a year without sunlight, soil or pesticides.
As reported by EcoWatch in July 2105, the $30 million, 70,000-square-foot AeroFarms headquarters dwarfs Japan's (already impressive) 25,000-square-foot vertical indoor farm, which had been the world's largest until now.
www.facebook.com
"There's no such thing as clean coal," according to this ATTN: video.
Watch above as ATTN: explains the many hazards of coal beyond carbon emissions, that no matter what there's no reviving the coal industry and how investment in renewable energy is the best way forward.
Share this video if you think America needs real energy solutions.
Wikipedia
By Franziska Spritzler, RD, CDE
Boosting your metabolic rate can help you lose body fat. However, most "fat-burning" supplements on the market are either unsafe, ineffective or both.
Fortunately, several natural foods and beverages have been shown to increase your metabolism and promote fat loss.
Keep reading...
Show less


Get EcoWatch in your inbox