56 Most Common Names for Sugar You Should Know
Added sugar may be the single unhealthiest ingredient in the modern diet.
On average, Americans eat about 15 teaspoons of added sugar each day, although sources vary on the exact figure (1). Most of this is hidden within processed foods, so people don't even realize they're eating it.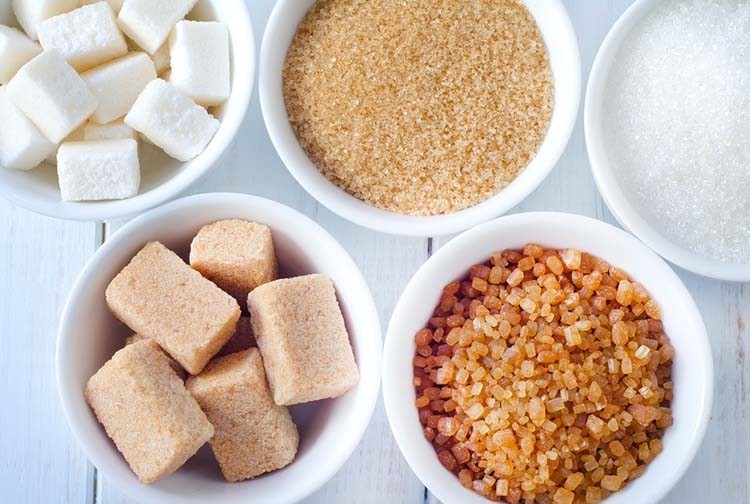 Sugar goes by many different names, so it's very difficult to figure out how much a food actually contains. Photo credit: Shutterstock
All this sugar may be a key factor in several major illnesses, including heart disease and diabetes (2, 3).
Sugar goes by many different names, so it's very difficult to figure out how much a food actually contains. Below are 56 different names for sugar.
But first, let's briefly explain what added sugars are and how the different types can affect your health.
What is Added Sugar?
During processing, sugar is added to food to enhance flavor, texture, shelf life or other properties.
Added sugar is usually a mixture of simple sugars such as glucose, fructose or sucrose. Other types, such as galactose, lactose and maltose, are less common.
Unfortunately, food manufacturers often hide the total amount of sugar by listing it under several different names on ingredients lists.
Bottom Line: Sugar is commonly added to processed foods. Manufactures often use several different kinds of sugar so they can hide the real amount.
Glucose or Fructose—Does it Matter?
In short, yes. Glucose and fructose—even though they're very common and often found together—have very different effects on the body.
Glucose can be metabolized by nearly every cell in the body, while fructose is metabolized almost entirely in the liver (4).
Studies have repeatedly demonstrated the harmful effects of high fructose consumption (5, 6, 7).
These include insulin resistance, metabolic syndrome, fatty liver and type 2 diabetes.
Although eating any extra sugar should be avoided, it is especially important to minimize your intake of added sugars that are high in fructose.
Bottom Line: Added sugar goes by many names, and most types consist of glucose and/or fructose. High-fructose added sugars are more harmful.
56 Different Names for Sugar
1. Sugar/Sucrose
Sucrose is the most common type of sugar.
Often called "table sugar," it is a naturally occurring carbohydrate found in many fruits and plants.
Table sugar is usually extracted from sugar cane or sugar beets. It consists of 50 percent glucose and 50 percent fructose, bound together.
Sucrose is found in many foods, including ice cream, candy, pastries, cookies, soda, fruit juices, canned fruit, processed meat, breakfast cereals and ketchup, to name a few.
Bottom Line: Sucrose is also known as table sugar. It occurs naturally in many fruits and plants, and is added to all sorts of processed foods. It consists of 50 percent glucose and 50 percent fructose.
2. High-Fructose Corn Syrup (HFCS)
High-fructose corn syrup is a widely used sweetener, especially in the US.
It is produced from corn starch via an industrial process, and consists of both fructose and glucose.
There are several different types of HFCS, which contain varying amounts of fructose.
Two notable varieties are:
HFCS 55: This is the most common type of HFCS. It contains 55 percent fructose and 45 percent glucose, which makes it similar to sucrose in composition.
HFCS 90: This form contains 90 percent fructose.
High-fructose corn syrup is found in many foods, especially in the US. These include soda, breads, cookies, candy, ice cream, cakes, cereal bars and many others.
Bottom Line: High-fructose corn syrup is produced from corn starch. It consists of varying amounts of fructose and glucose, but the most common type contains 55 percent fructose and 45 percent glucose.
3. Agave Nectar
Agave nectar, also called agave syrup, is a very popular sweetener produced from the agave plant.
It is commonly used as a "healthy" alternative to sugar because it doesn't spike blood sugar levels as much as many other sugar varieties.
However, agave nectar contains about 70–90 percent fructose, and 10–30 percent glucose.
Given the harmful health effects of excess fructose consumption, agave nectar may be even worse for metabolic health than regular sugar.
It is used in many "health foods," such as fruit bars, sweetened yogurts and cereal bars.
Bottom Line: Agave nectar or syrup is produced from the agave plant. It contains 70–90 percent fructose and 10–30 percent glucose. It may be even more harmful for health than regular sugar.
4 - 37. Other Sugars with Glucose and Fructose
Most added sugars and sweeteners contain both glucose and fructose.
Here are a few examples:
Beet sugar
Blackstrap molasses
Brown sugar
Buttered syrup
Cane juice crystals
Cane sugar
Caramel
Carob syrup
Castor sugar
Confectioner's sugar (powdered sugar)
Date sugar
Demerara sugar
Evaporated cane juice
Florida crystals
Fruit juice concentrate
Golden sugar
Golden syrup
Grape sugar
Icing sugar
Invert sugar
Molasses
Muscovado sugar
Panela sugar
Raw sugar
Refiner's syrup
Sorghum syrup
Sucanat
Treacle sugar
Turbinado sugar
Yellow sugar
Bottom Line: These sugars all contain varying amounts of both glucose and fructose.
38 - 52. Sugars With Glucose Only
These sweeteners contain glucose, either pure or combined with sugars other than fructose (such as other glucose units or galactose):
Barley malt
Corn syrup
Corn syrup solids
Dextrin
Dextrose
Diastatic malt
Ethyl maltol
Glucose
Glucose solids
Lactose
Malt syrup
Maltodextrin
Maltose
Rice syrup
Bottom Line: These sugars are comprised of glucose, either on its own or with sugars other than fructose.
53 - 54. Sugars With Fructose Only
These two sweeteners contain only fructose:
Crystalline fructose
Fructose
Bottom Line: Pure fructose is simply called fructose or crystalline fructose.
55 - 56. Other Sugars
There are a few added sugars that contain neither glucose nor fructose. They are less sweet and less common, but are sometimes used as sweeteners:
D-ribose
Galactose
Bottom Line: D-ribose and galactose are not as sweet as glucose and fructose, but are also used as sweeteners.
There's No Need To Avoid Natural Sugars
There's no reason to avoid the sugar that is naturally present in whole foods.
Fruit, vegetables and dairy products naturally contain small amounts of sugar, but they also contain fiber, nutrients and various beneficial compounds.
The negative health effects of high sugar consumption are due to the massive amount of added sugar that is present in the Western diet.
The most effective way to reduce your sugar intake is to eat mostly whole and unprocessed foods.
However, if you decide to buy packaged foods, be on the lookout for the many different names that sugar goes by.
This article was reposted from our media associate Authority Nutrition.
YOU MIGHT ALSO LIKE
Cheese Really Is 'Daily Crack': New Study Reveals It's as Addictive as Drugs
3 Companies Say 'No' to GMO Arctic Apples
50 Powerful Sources of Plant-Based Protein
Dow CEO Andrew Liveris and President Donald Trump in February.
U.S. Environmental Protection Agency (EPA) administrator Scott Pruitt met with Dow Chemical CEO Andrew Liveris before deciding to reverse an earlier EPA decision to ban the company's toxic and widely used pesticide, chlorpyrifos.
According to records obtained by the Associated Press, the EPA boss met with Liveris for about 30 minutes at a Houston hotel on March 9. Later that month, Pruitt announced that he would no longer pursue a ban on chlorpyrifos from being used on food, ignoring his agency's own review that even small amounts of the pesticide could impact fetus and infant brain development.
Keep reading...
Show less
www.facebook.com
Native communities and environmental justice advocates in Louisiana opened a new resistance camp Saturday to oppose the proposed Bayou Bridge Pipeline project. Called L'eau Est La Vie, or Water is Life, the camp will consist of floating indigenous art structures on rafts and constant prayer ceremonies during its first two weeks.
Keep reading...
Show less
Continuing its march toward elimination of key Clean Water Act protections, the U.S. Environmental Protection Agency (EPA) on Tuesday issued a formal notice of withdrawal of the Obama administration's rule defining which waters can be protected against pollution and destruction under federal law.
Keep reading...
Show less
The U.S. Environmental Protection Agency (EPA) is not doing enough to prevent weed resistance to the herbicide glyphosate (Roundup) says a new report from the EPA's Inspector General's Office, which draws in part on a report from the agbiotech company, Pioneer: Weed Management in the Era of Glyphosate Resistance.
Keep reading...
Show less
SUMR
When it comes to the latest wind turbine technologies, size matters. A group of six institutions and universities is designing an offshore wind turbine that will stand 500 meters in height. That's taller than the Eiffel Tower and the Empire State Building.
The research team, led by researchers at the University of Virginia, believes that its wind turbine concept will produce 50 megawatts of peak power, or about 10 times more powerful than conventional wind turbines.
Keep reading...
Show less
www.facebook.com
Natural gas is often considered the cleanest fossil fuel, but could it actually be dirtier than coal?
Watch as New York Times reporter Mark Bittman, in the above Year's of Living Dangerously video, investigates how much methane is leaking at fracking wells. Find out how the natural gas industry's claims compare to what scientists are reporting.
See what happens when Gaby Petron, an atmospheric scientist with NOAA, converts her van into a mobile methane detector and sets out across northeastern Colorado for two years, taking thousands of readings to uncover the truth.
www.youtube.com
Adrian Grenier was named UN Goodwill Ambassador earlier this month. The Hollywood actor, best known for his iconic role of A-list movie star Vincent Chase in the HBO smash hit and film Entourage, will advocate for drastically reducing single-use plastic and protection of marine species, and encourage his followers to make conscious consumer choices to reduce their environmental footprint, according to the UN Environment announcement.
"Together we must usher in a new era of compassion and carefulness through forward thinking environmental programs to drive measurable change," Grenier said. "I am personally committed to creating ways in which the global community can come together to help solve our most critical climate crises through routine, collective action.
"The more we connect to nature in our daily lives, the more dedicated we will become to our individual commitments. Together, I believe we can go further, faster in our race to achieve the UN Sustainable Development Goals by 2030."
Watch the video above to learn more.
The last week has seen a flood of stories on clean energy's prospects—stories that make your head spin with their conflicting tales of renewable energy's prospects of ending our dangerous addiction to fossil fuel power from coal and gas.
Keep reading...
Show less


Get EcoWatch in your inbox