This website uses cookies to ensure you get the best experience while browsing it. By clicking 'Got It' you're accepting these terms.
56 Most Common Names for Sugar You Should Know
Oct. 26, 2015 10:42AM EST
Food
Added sugar may be the single unhealthiest ingredient in the modern diet.
On average, Americans eat about 15 teaspoons of added sugar each day, although sources vary on the exact figure (1). Most of this is hidden within processed foods, so people don't even realize they're eating it.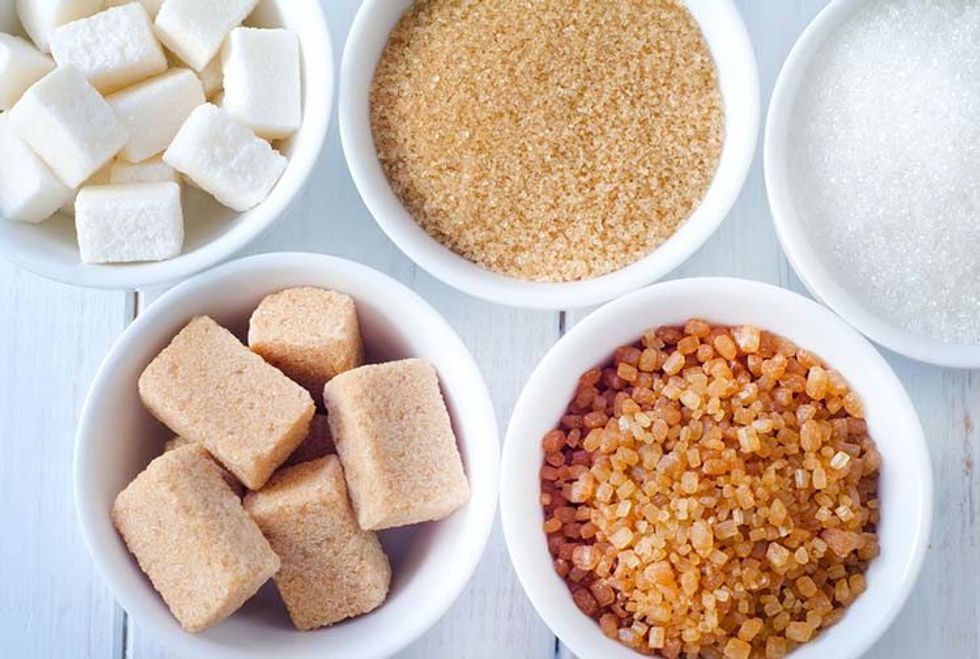 Sugar goes by many different names, so it's very difficult to figure out how much a food actually contains. Photo credit: Shutterstock
All this sugar may be a key factor in several major illnesses, including heart disease and diabetes (2, 3).
Sugar goes by many different names, so it's very difficult to figure out how much a food actually contains. Below are 56 different names for sugar.
But first, let's briefly explain what added sugars are and how the different types can affect your health.
What is Added Sugar?
During processing, sugar is added to food to enhance flavor, texture, shelf life or other properties.
Added sugar is usually a mixture of simple sugars such as glucose, fructose or sucrose. Other types, such as galactose, lactose and maltose, are less common.
Unfortunately, food manufacturers often hide the total amount of sugar by listing it under several different names on ingredients lists.
Bottom Line: Sugar is commonly added to processed foods. Manufactures often use several different kinds of sugar so they can hide the real amount.
Glucose or Fructose—Does it Matter?
In short, yes. Glucose and fructose—even though they're very common and often found together—have very different effects on the body.
Glucose can be metabolized by nearly every cell in the body, while fructose is metabolized almost entirely in the liver (4).
Studies have repeatedly demonstrated the harmful effects of high fructose consumption (5, 6, 7).
These include insulin resistance, metabolic syndrome, fatty liver and type 2 diabetes.
Although eating any extra sugar should be avoided, it is especially important to minimize your intake of added sugars that are high in fructose.
Bottom Line: Added sugar goes by many names, and most types consist of glucose and/or fructose. High-fructose added sugars are more harmful.
56 Different Names for Sugar
1. Sugar/Sucrose
Sucrose is the most common type of sugar.
Often called "table sugar," it is a naturally occurring carbohydrate found in many fruits and plants.
Table sugar is usually extracted from sugar cane or sugar beets. It consists of 50 percent glucose and 50 percent fructose, bound together.
Sucrose is found in many foods, including ice cream, candy, pastries, cookies, soda, fruit juices, canned fruit, processed meat, breakfast cereals and ketchup, to name a few.
Bottom Line: Sucrose is also known as table sugar. It occurs naturally in many fruits and plants, and is added to all sorts of processed foods. It consists of 50 percent glucose and 50 percent fructose.
2. High-Fructose Corn Syrup (HFCS)
High-fructose corn syrup is a widely used sweetener, especially in the US.
It is produced from corn starch via an industrial process, and consists of both fructose and glucose.
There are several different types of HFCS, which contain varying amounts of fructose.
Two notable varieties are:
HFCS 55: This is the most common type of HFCS. It contains 55 percent fructose and 45 percent glucose, which makes it similar to sucrose in composition.
HFCS 90: This form contains 90 percent fructose.
High-fructose corn syrup is found in many foods, especially in the US. These include soda, breads, cookies, candy, ice cream, cakes, cereal bars and many others.
Bottom Line: High-fructose corn syrup is produced from corn starch. It consists of varying amounts of fructose and glucose, but the most common type contains 55 percent fructose and 45 percent glucose.
3. Agave Nectar
Agave nectar, also called agave syrup, is a very popular sweetener produced from the agave plant.
It is commonly used as a "healthy" alternative to sugar because it doesn't spike blood sugar levels as much as many other sugar varieties.
However, agave nectar contains about 70–90 percent fructose, and 10–30 percent glucose.
Given the harmful health effects of excess fructose consumption, agave nectar may be even worse for metabolic health than regular sugar.
It is used in many "health foods," such as fruit bars, sweetened yogurts and cereal bars.
Bottom Line: Agave nectar or syrup is produced from the agave plant. It contains 70–90 percent fructose and 10–30 percent glucose. It may be even more harmful for health than regular sugar.
4 - 37. Other Sugars with Glucose and Fructose
Most added sugars and sweeteners contain both glucose and fructose.
Here are a few examples:
Beet sugar
Blackstrap molasses
Brown sugar
Buttered syrup
Cane juice crystals
Cane sugar
Caramel
Carob syrup
Castor sugar
Confectioner's sugar (powdered sugar)
Date sugar
Demerara sugar
Evaporated cane juice
Florida crystals
Fruit juice concentrate
Golden sugar
Golden syrup
Grape sugar
Icing sugar
Invert sugar
Molasses
Muscovado sugar
Panela sugar
Raw sugar
Refiner's syrup
Sorghum syrup
Sucanat
Treacle sugar
Turbinado sugar
Yellow sugar
Bottom Line: These sugars all contain varying amounts of both glucose and fructose.
38 - 52. Sugars With Glucose Only
These sweeteners contain glucose, either pure or combined with sugars other than fructose (such as other glucose units or galactose):
Barley malt
Corn syrup
Corn syrup solids
Dextrin
Dextrose
Diastatic malt
Ethyl maltol
Glucose
Glucose solids
Lactose
Malt syrup
Maltodextrin
Maltose
Rice syrup
Bottom Line: These sugars are comprised of glucose, either on its own or with sugars other than fructose.
53 - 54. Sugars With Fructose Only
These two sweeteners contain only fructose:
Crystalline fructose
Fructose
Bottom Line: Pure fructose is simply called fructose or crystalline fructose.
55 - 56. Other Sugars
There are a few added sugars that contain neither glucose nor fructose. They are less sweet and less common, but are sometimes used as sweeteners:
D-ribose
Galactose
Bottom Line: D-ribose and galactose are not as sweet as glucose and fructose, but are also used as sweeteners.
There's No Need To Avoid Natural Sugars
There's no reason to avoid the sugar that is naturally present in whole foods.
Fruit, vegetables and dairy products naturally contain small amounts of sugar, but they also contain fiber, nutrients and various beneficial compounds.
The negative health effects of high sugar consumption are due to the massive amount of added sugar that is present in the Western diet.
The most effective way to reduce your sugar intake is to eat mostly whole and unprocessed foods.
However, if you decide to buy packaged foods, be on the lookout for the many different names that sugar goes by.
This article was reposted from our media associate Authority Nutrition.
YOU MIGHT ALSO LIKE
Cheese Really Is 'Daily Crack': New Study Reveals It's as Addictive as Drugs
3 Companies Say 'No' to GMO Arctic Apples
50 Powerful Sources of Plant-Based Protein
EcoWatch Daily Newsletter
A baby burrowing owl perched outside its burrow on Marco Island, Florida. LagunaticPhoto / iStock / Getty Images Plus
Burrowing owls, which make their homes in small holes in the ground, are having a rough time in Florida. That's why Marco Island on the Gulf Coast passed a resolution to pay residents $250 to start an owl burrow in their front yard, as the Marco Eagle reported.
Amazon and other tech employees participate in the Global Climate Strike on Sept. 20, 2019 in Seattle, Washington. Amazon Employees for Climate Justice continue to protest today. Karen Ducey / Getty Images
Hundreds of Amazon workers publicly criticized the company's climate policies Sunday, showing open defiance of the company following its threats earlier this month to fire workers who speak out on climate change.
Locusts swarm from ground vegetation as people approach at Lerata village, near Archers Post in Samburu county, approximately 186 miles north of Nairobi, Kenya on Jan. 22. "Ravenous swarms" of desert locusts in Ethiopia, Kenya and Somalia threaten to ravage the entire East Africa subregion, the UN warned on Jan. 20. TONY KARUMBA / AFP / Getty Images
East Africa is facing its worst locust infestation in decades, and the climate crisis is partly to blame.
By Dan Morgan
Antarctica is the remotest part of the world, but it is a hub of scientific discovery, international diplomacy and environmental change. It was officially discovered 200 years ago, on Jan. 27, 1820, when members of a Russian expedition sighted land in what is now known as the Fimbul Ice Shelf on the continent's east side.
The seafood market in Wuhan, China that has been linked to the spread of the new coronavirus. HECTOR RETAMAL / AFP via Getty Images
China banned its trade in wild animals Sunday until the new coronavirus, which was linked to a market in Wuhan where wildlife was sold, is eradicated. Now, conservationists are calling on the country to make the ban permanent.