$51 Million: That's How Much Big Food Spent So Far This Year to Defeat GMO Labeling
Aug. 04, 2015 10:37AM EST
Food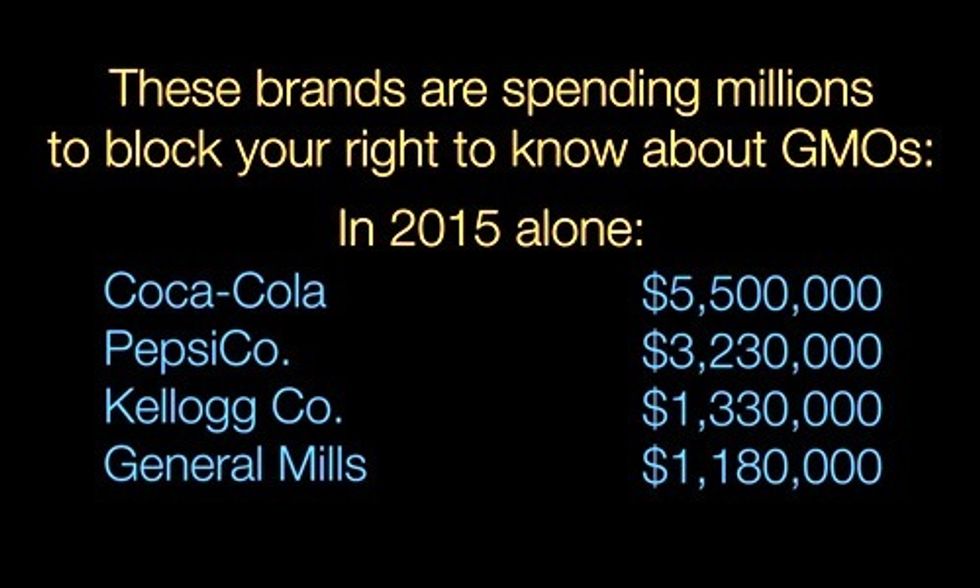 A new analysis from Environmental Working Group (EWG) revealed that big food and biotech companies have vastly increased their lobbying expenditures in the first half of 2015. The main reason is the support they've provided for the Deny Americans the Right to Know Act, also known as the DARK Act, which the House passed last month, despite the fact that 9 out 10 Americans want genetically engineered food, or GMOs, to be labeled.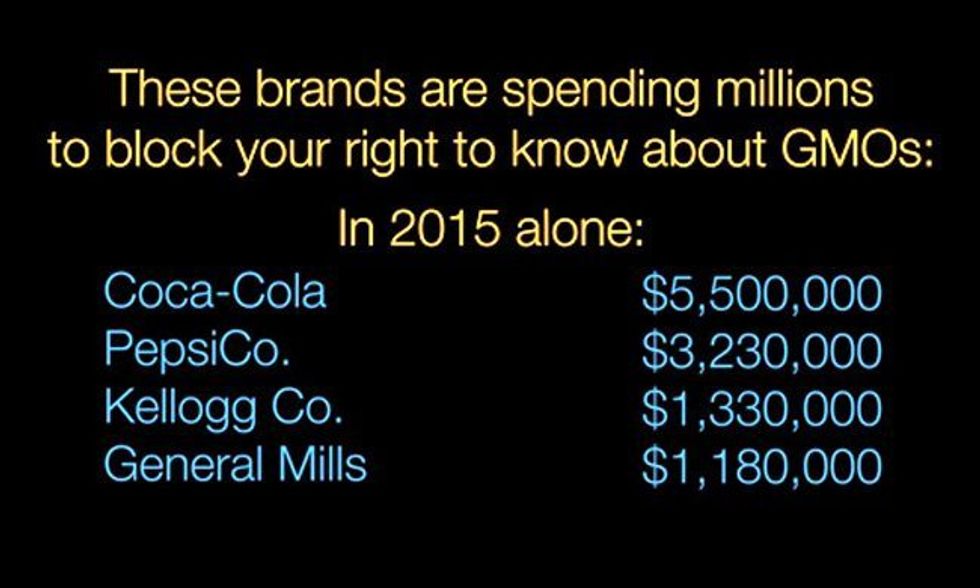 The legislation prevents states from developing their own GMO labeling laws and from prohibiting "natural" claims on GMO foods. The bill also makes it virtually impossible for the U.S. Food and Drug Administration to adopt mandatory national GMO labeling.
In the first six months of this year, Coca-Cola ($5,040,000), PepsiCo ($3,230,000), Kraft ($1,180,000), Kellogg's ($1,310,000), General Mills ($1,100,000) and Land O'Lakes ($720,000) disclosed the largest lobbying expenditures that mentioned GMO labeling, according to EWG analysis.
"With the House passing the DARK Act last month, Big Food will certainly re-stock the cash pipeline and unleash its army of lobbyists who are pushing the Senate to pass the DARK Act and deny Americans in every state the right to know what's in their food," says Libby Foley, a policy analyst with EWG and author of the report.
The spending from proponents of GMO labeling, such as EWG and Just Label It, was dwarfed by Big Food. "The Grocery Manufacturers Association, which represents these and other food manufacturers, reported expenditures of $5.1 million" and "hired 32 lobbyists exclusively to advocate for legislation to block state and federal GMO labeling," reports EWG. Since 2013, industry lobbyists have outspent GMO labeling advocates by 25-to-1.
"The gap between the amount of money spent by Big Food and that spent by public interest groups is simply mind-boggling," Foley said.
Just Label It's latest video asked celebrity moms what they think about Big Food companies denying them the right to know what's in their kids' food.
See what they had to say:
YOU MIGHT ALSO LIKE
How Much Vitamin D Do You Need For Optimal Health?
5 Videos the Tuna Industry Doesn't Want You to See
EcoWatch Daily Newsletter