500 Young Leaders Join Experts to Focus on Solving World's Biggest Environmental Challenges
By Ella Robertson, One Young World
The One Young World Environment Summit at the University of Arizona's Biosphere 2 on May 19-21 is not just an environment conference, it is the first One Young World event to focus solely on environmental challenges and the role young leaders can play in solving them. Since 2010, One Young World has been uniting young leaders from across the planet with such leaders as President Bill Clinton, Kofi Annan and Desmond Tutu (to name just a very few). Coming from the team that created and executes the One Young World conferences, the environmental summit will be a uniquely rewarding experience.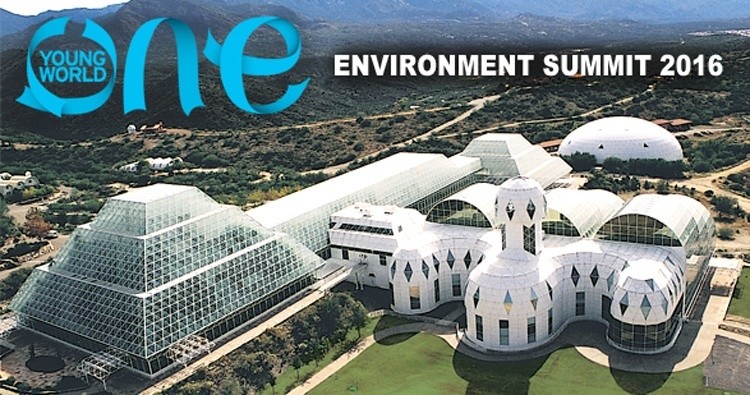 Here are five things it will deliver:
1. The brightest young minds on environmental issues
One Young World is unique among conferences in that many, if not most, of our keynote speakers and presenters are under the age of 30. Despite their young age, they are already world experts in their fields: Take, for example, 21-year-old Parker Liautaud; he has undertaken three expeditions to the North Pole and one to the South Pole, all to conduct climate research. Parker will be speaking at the Environment Summit—and, in fact, all delegates who have their tickets by April 20 will be eligible to apply to give a speech or presentation.
2. Expert speakers and fresh points of view
An initial roster of speakers will be announced later this month, with the full list being released closer to the event. In the meantime, here is a sneak preview of the world-class lineup we will be bringing to Arizona:
Ron Garan: A former NASA astronaut, Garan lived and worked in space for 178 days. He will speak on the subject of Planet Earth as a Fragile Oasis and his perspective on the environment after spending six months on the International Space Station.
Christine Milne: Milne was a senator for Tasmania and leader of the Australian Green Party until 2015, when she resigned after 25 years in politics. She will discuss why political action on the environment has been unsuccessful and holding workshops to mentor delegates who are interested in entering the political arena.
Lord Karan Bilimoria CBE, DL: Lord Bilimoria co-founded Cobra Beer, for which he's now chairman. As a longtime supporter of issues surrounding water, he will speak about water security and the work he is doing to deliver clean water and sanitation.
These world experts will be joined by leading academics from the University of Arizona, including Joaquin Ruiz, the UA Dean of Science—who is a member of both the Mexican and American Academy of Sciences—and important environmental organizations including Water.org and WildAid.
3. The world's biggest earth science laboratory
Biosphere 2 was built in the '90s to conduct experiments about whether humans could survive in space—it now functions as the world's biggest lab for studying the environment. Owned by the University of Arizona since 2011, the Biosphere contains a rainforest, savannah grasslands, a fog desert, mangroves and an ocean with a beach. Delegates will take part in workshops in and around the Biosphere, which will provide an inspirational setting for discussions.
4. Enhanced networking
As well as a full program of talks and activities, One Young World will link delegates together through bespoke workshop tracks, using technology to bring together delegates who share interests and have high collaboration potential. The breakout sessions will be highly interactive and often science based, enabling delegates to network while learning from world experts and each other. Delegates will also experience true Southwestern hospitality from the community of Tucson during a special downtown dining and social event when they will also get exclusive access to University of Arizona facilities including the Mt. Lemmon SkyCenter.
5. Solutions
The most important expectation from the Environment Summit is that genuine solutions will be generated and put into action. Since One Young World was founded in 2010, more than 8.9 million people have been impacted by initiatives inspired by the summits, with 2.7 million people impacted in 2015 alone. The young leaders who will be coming to Arizona in May will demonstrate that this in not just another environment conference—it is a genuine source of tangible solutions for how we can make our companies, countries and communities more sustainable. As we say at One Young World: The world doesn't need another youth conference, but it does need young people to be the change they want to see.
YOU MIGHT ALSO LIKE
NOAA: Carbon Dioxide Levels 'Exploded' in 2015, Highest Seen Since End of Ice Age
Bill Nye's Solar Sail Could Revolutionize Space Travel
Oregon Passes Historic Bill to Phase Out Coal and Double Down on Renewables
Wikimedia Commons
By Stacy Malkan
Neil deGrasse Tyson has inspired millions of people to care about science and imagine themselves as participants in the scientific process. What a hopeful sign it is to see young girls wearing t-shirts emblazoned with the words, "Forget princess, I want to be an astrophysicist."
Keep reading...
Show less
www.youtube.com
By Andy Rowell
Any day now we will truly witness climate change in action. Within days at worst, maybe weeks at best, scientists predict that a huge section of the Larsen C ice shelf in Antarctica will break off into the ocean, in what is called a major "carving" event.
Keep reading...
Show less
www.youtube.com
President Trump visited Cedar Rapids, Iowa on June 21 to speak to a large crowd in the U.S. Cellular Center at a political rally organized by his campaign.
As Trevor Noah noted during The Daily Show episode last night (starts at 2:25), the real reason Trump has these rallies is to "get back in front of his loyal crowds and feed of their energy." Noah believes that "Trump supporters are so on board with their dude he can say anything and they'll come along for the ride."
Keep reading...
Show less
The Kamuthi solar plant in the southern Indian state of Tamil Nadu.
The rapid growth in renewable energy continues to put a dent in the demand for coal.
Coal India, the world's biggest coal mining company and producer of 82 percent of the country's coal, announced the closure of 37 mines that are financially "unviable."
Keep reading...
Show less
www.youtube.com
By Katie O'Reilly
Two years ago—long before coal became one of the most dominant and controversial symbols of the 2016 presidential election—Bloomberg Philanthropies approached production company RadicalMedia with the idea of creating a documentary exploring the U.S. coal mining industry. Last spring, they brought on Emmy-nominated director Michael Bonfiglio, tasked with forging a compelling story out of the multitudes of facts, statistics and narratives underlying the declining industry.
Keep reading...
Show less
Mayors for 100% Clean Energy
Keep reading...
Show less
www.youtube.com
Thanks to Newsy for their coverage on Thursday's news that the U.S. Fish and Wildlife Service removed grizzly bears in the Greater Yellowstone region from the Endangered Species List.
Watch above as Newsy explains that the decision comes despite serious concerns from the environmental and scientific community, and Tribal Nations about a declining, isolated grizzly bear population with diminishing food resources and record-high mortalities.
Keep reading...
Show less
www.facebook.com
By Francine Kershaw
Seismic airguns exploding in the ocean in search for oil and gas have devastating impacts on zooplankton, which are critical food sources for marine mammals, according to a new study in Nature. The blasting decimates one of the ocean's most vital groups of organisms over huge areas and may disrupt entire ecosystems.
And this devastating news comes on the heels of the National Marine Fisheries Service's proposal to authorize more than 90,000 miles of active seismic blasting. Based on the results of this study, the affected area would be approximately 135,000 square miles.
Keep reading...
Show less
By Jill Richardson
Is coconut oil:
good for you
bad for you
neither good nor bad
scientists don't know
The subject of this question is the source of a disagreement. Initially, the question was thought to be settled decades ago, when scientist Ancel Keys declared all saturated fats unhealthy. Coconut oil, which is solid at room temperature, is a saturated fat.
Keep reading...
Show less


Get EcoWatch in your inbox