This website uses cookies to ensure you get the best experience while browsing it. By clicking 'Got It' you're accepting these terms.
500 Ways to Make a Yoga Mat Sandwich
Feb. 27, 2014 01:15PM EST
Food
The controversial "yoga mat" chemical used to make 
Subway sandwich bread
has been discovered in nearly 500 items and more than 130 brands of bread, stuffing, pre-made sandwiches and snacks, according to an analysis by the
Environmental Working Group
 (EWG).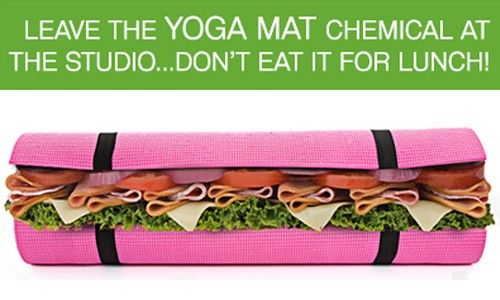 In 1956, a New Jersey pharmaceutical and engineering firm discovered azodicarbonamide (ADA) could be used as a "dough conditioner" to make bread that would rise higher, stay soft and resilient and form an appealing crust. Photo credit: Environmental Working Group
EWG researchers found azodicarbonamide (ADA), an industrial chemical foaming agent, in many well-known brands, including: Pillsbury, Sara Lee, Shoprite, Safeway, Smucker's, Fleischman's, Jimmy Dean, Kroger, Little Debbie, Tyson, Nature's Own and Wonder, according to ingredient data obtained for a new food database project due out later this year.
ADA is a synthetic substance used by plastics makers to generate tiny bubbles that make materials light, spongy and strong. These materials show up in flip-flops, yoga mats and many types of foam packing and insulation.
"It's unacceptable that major food companies are using an unnecessary and potentially harmful chemical in their products, when it's clear they can make food without it," said Vani Hari, creator of 
FoodBabe.com
, in a prepared statement. "These questionable additives are not supposed to be food or even eaten for that matter, but they do end up in the U.S. food supply and are consumed by millions of people, including children, every day."
The information detailed in the EWG analysis was gleaned from research by FoodEssentials, a company that compiles the ingredients and claims made on foods sold in American supermarkets.
It was gathered before mid-February and represents a snapshot of ADA foods on the market. 
In 1956, a New Jersey pharmaceutical and engineering firm discovered ADA could be used as a "dough conditioner" to make bread that would rise higher, stay soft and resilient and form an appealing crust. The Food and Drug Administration (FDA) approved its use as a food additive in 1962.
The World Health Organization has connected ADA to increased risk of respiratory problems and skin irritation in workers handling large quantities of the chemical.
Despite its 50-plus year circulation into popular foods, the additive has not undergone extensive testing to determine its health effects on people.
"ADA is just one example of an American food supply awash in chemical additives that can be mixed into foods with little oversight or safety review," said David Andrews, Ph.D., EWG senior scientist and co-author for the analysis. "Americans have regularly eaten this chemical along with hundreds of other questionable foods additives for years. That is why we are putting together an online database that will enable consumers to make more informed decisions about the foods they eat and feed to their family."
The FDA allows ADA in U.S. food in concentrations up to 45 parts per million, but it is not approved for use as a food additive in either the European Union or Australia.
EWG is calling on food manufacturers to immediately end ADA use in food. The organization plans to launch an online campaign to raise public awareness of the widespread use of this chemical in food and to urge companies that have been using it to immediately drop it from their ingredients.
Earlier this month, Hari spearheaded an online petition that collected more than 92,000 signatures asking Subway to remove ADA from its sandwich bread. Soon after,
Subway announced
it had started phasing out the ingredient and that ADA would be completely removed from its menu in the near future. 
"As my campaign has shown, social media and grassroots advocacy can shake up the food industry and produce real change on behalf of consumers," said Hari. "I will continue to work with EWG and others to keep the pressure on to get these industrial chemicals out of our food."
EWG recommends shoppers consult the following list of products to find out if ADA or other chemical additives are in their food and to take steps to reduce exposure to them.
Brand Name*
Product
Aladdin Bakers
Jumbo Bagels Cinnamon Raisin
America's Choice
Muffin Sandwiches Turkey, Sausage, Egg & Cheese
Amigos
Tortillas
Archer Farms
Simply Balanced 100% Whole Wheat Hamburger Buns
Arnold
Bakery Light 100% Whole Wheat Bread
Sandwich Rolls, Wheat
Artichoke Basilles Pizza Co.
Margherita Pizza
Artisan Fresh
Jumbo Wheat Hoagie
Aunt Hattie's
Onion Buns
Potato Hamburger Enriched Buns
Aunt Millie's
Honey & Hamburger Buns
Whole Grain Bread
Bagel-Fuls
Bagel Filled With Cream Cheese, Original
Baker's Treat
Big Texas Cheese Roll Pastries
Ball Park
Flame Grilled Barbeque Chicken Slider
Flame Grilled Beef Sliders
Flame Grilled Cheese Burger Silders
Hot Dog Buns
Bell's
Traditional Stuffing
Betty Crocker
Pasta Caesar Salad
Suddenly Pasta Salad, Caesar
Big Az
Cheeseburger
Bimbo
Bread Crumbs
Double Fiber Bread
Large Wheat Bread
Sabor Chocolate
Toasted Bread
Toasted Bread, Original
Bon Appetit
Apple Danish
Blueberry Cream Pastry
Cheese & Berries Danish
Cheese Croissant
Super Cinnamon Roll
Bridgford
Cinnamon Pull-Apart Monkey Bread
Ready-Dough Frozen White Bread Dough
Brownberry
Chicago Hot Dog Rolls
Kaiser Sandwich Buns
Sandwich Buns, Onion
Sausage Rolls, Original
Bunny
Hot Dog Buns
Butternut
1/2 Loaf White Enriced Bread
All Whole Grain 100% Whole Wheat Bread
Brown' N Serve Enriched Rolls
Deluxe Buns
Enriched Burger Buns, Sliced
Enriched Hot Dog Buns, Sliced
Hearty Rye Bread
Honey Wheat Bread
Italian Bread
Large Enriched Bread
Sliced Buns, Seeded
Whole Grain White Bread
Whole Wheat Bread
Castillo
Castillo Croissants
Centrella
Hot Dog Buns, Enriched
Restaurant Style Caesar Crotons
Chef M.J. Brando
Grilled Cheese Sandwiches, Cheddar
Grilled Cheese Sandwiches, Swiss
Clear Value
White Bread
Cloverhill
Apple Danish
Cole's
Cheesesticks
Garlic Mini Loaf
Connella
Bread Crumbs
Corfu Foods Inc.
Hand Made Pita
Country Hearth
Dakota Style 12 Grain Bread
Hearty Homestyle 100% Whole Wheat Bread
Hearty Homestyle Honey Grain 'n Oat Bread
Split Top Wheat Bread
Split Top White Bread
D'italiano
Italian Bread
Day'n Night Bites
Country Sausge Muffin With Egg'n Cheese
Drake's
Danish Pastries Cheese
Earthgrains
Honey Wheat Berry Bread
Sliced French Premium Bread
Wheat Rolls
Entenmann's
Raspberry Danish
Essential Everyday
5 Cheese Texas Toast
Garlic Bread
Garlic Bread Sticks
Garlic Texas Toast
European Bakers
Onion Rolls
White Sub Rolls
Farm Rich
French Toast Sticks, Cinnamon Sprinkle
French Toast Sticks, Original
Fiber One
Hamburger Buns
Hot Dog Buns
Fleischmann's
Simply Homemade Baking Mix, Pretzel Creations
Simply Homemade No Knead Bread Mix, Country White
Simply Homemade No Knead Bread Mix, Italian Herb
Simply Homemade No Knead Bread Mix, Multi-Grain
Food Club
Caesar Restaurant Style Croutons
Garlic Cheesesticks
Garlic Dinner Rolls
Seasoned Restaurant Style Croutons
Strawberry Strudel
Stuffing Classics Cornbread Stuffing Mix
Texas Toast, 3 Cheese
Texas Toast, Garlic
French Toast Sticks
Garlic Bread Sticks
Texas Toast, 3 Cheese
Freihofer's
White Bread
Fresh Gourmet
Premium Croutons, Butter & Garlic
Premium Croutons, Cheese & Garlic
Premium Croutons, Classic Caesar
Premium Croutons, Garden Herb
Premium Croutons, Italian Seasoned
Premium Croutons, Parmesan Ranch
Furlani
Garlic Bread
Multi Grain Garlic Toast
Parmesan Garlic Toast
Texas Toast, Garlic
Texas Toast, Pizza
Texas Toast, Three Cheese
Gateway
Soft Rye Bread
Gimbo
Conchas Fine Pastry
Gollo
Galletas De Huevo (Eggs Crackers)
Gonnella
Sandwich Rolls
Great Value
Honey Buns
Hot Dog Buns
Wheat Sandwhich Bread
Grissom's
Hot Dog Sliced Enriched Buns
Harvest Pride
Awesome Rolls
Seeded Italian Bread
Texas Toast Bread
Wheat Bread
White Enriched Bread
Hauswald's
Enriched Bread
Split Top Wheat Bread
Healthy Life
100% Whole Grain Wheat Bread, Flaxseed
100% Whole Grain Wheat Bread, Sugar Free
100% Whole Wheat English Muffins
100% Whole Wheat Whole Grain Bread
High Fiber White Bread
Hot Dog Buns, Whole Grain
Italian Bread
Light English Muffins
Light Multigrain English Muffins
Soft Style 100% Whole Grain Bread
Hearth Of Texas Bread Company
100% Whole Wheat Bread
Enriched Large White Bread
Extra Thin White Bread
Split Top Wheat Bread
Whole Grain White Bread
Honey
Hot Dog Buns
Hormel
Country Crock Homestyle Stuffing
Hungry-Man
Roasted Carved White Meat Turkey
Ihop
French Toast Breakfast Sandwich, Egg, Canadian Bacon & Cheese
French Toast Breakfast Sandwich, Maple Sausage, Egg & Cheese
J. Skinner
Cinnamon Craver's Roll
J.C. Potter
Sausage On A Bun
J.J. Cassone
100% Whole Wheat Sandwich Rolls
Enriched Vienna Rolls
Italian Bread
Sliced Hero Rolls
Sliced Sandwich Rolls
Wheat Bran Sandwich Rolls
Jimmy Dean
Delights Honey Wheat Flatbread, Bacon, Egg & Cheese
Delights Honey Wheat Flatbread, Turkey Sausage, Egg & Cheese
French Toast Griddlers
Muffin, Sausage, Egg & Cheese
Sausage, Egg & Cheese On A Muffin
Turkey Sausages Egg White & Cheese Whole Grain Bagel
Joseph Campione
Authentic Hearth Baked Garlic Bread
Bread Sticks, Garlic
Cheese Stuffed Bread Sticks
Dinner Rolls, Parmesan Garlic
Garlic Bread, Authentic Hearth Baked
Garlic Mini Loaf
Texas Toast, 5 Cheese
Texas Toast, Garlic
Texas Toast, Parmesan
Key Food
Seeded Rye European Hearth Bread, Deli Style
Seedless Rye European Hearth Bread, Deli Style
Kid Cuisine
Kc's Campfire Hot Dog
Kroger
White Enriched Bread
White Hamburger Enriched Buns
L'oven Fresh
Split Top Wheat Bread
Lakeland
Hot Dog Buns Enriched
White Enriched Sandwich Bread
Lewis
Healthy Life Wheat Hot Dog Buns
Whole Wheat Sandwich Buns
Liberty Hearth
New York Deli Kaiser Rolls, Poppy
Little Debbie
Cheese Danish Classic Pastry
Cinnamon Rolls With Icing
Cream Cheese Danish Pastry
Danish Pastry, Cherry Cheese
Honey Buns
Maglio
Stromboli, Philly Style Steak & Cheese
Manischewitz
Pumpernickel Bread
Mariano's
100% Whole Wheat Bread
Asiago Cheese Focaccia
Bell Pepper Focaccia Muffins
Breadstics
Butterflake Rolls
Cheese Pizza Bread
Chefs Collection Italian Focaccia Half
Cinnamon Raisin Bread
Club Rolls
Egg And Onion Brat Bun
Egg Dinner Rolls
English Muffin Bread
Fresh Tomato Focaccia
Garlic Bread
Ham Swiss Sub
Hamburger Buns
Hard Rolls
Hot Dog Buns
Italian Bread
Italian Specialty Bread By The Pound
Jalapeno Cheddar Focaccia
Jalapeno Cheddar Focaccia Muffins
Kaiser Rolls
Large Kaiser Rolls
Marble Rye Bread
Olive And Parmesan Chop Block Bread
Onion Rye Specialty Bread
Paisano Italiano Sandwich
Parisian Chocolate Croissant
Roast Beef & Cheddar Croissant
Rotisserie Chicken Salad Croissant
Rye Specialty Bread By The Pound
Salami And Provolone Chop Block Bread
Tomato Basil Chop Block Bread
Walnut Raisin Specialty Bread
Wheat Bread
Wheat Club Rolls
Wheat Dinner Rolls
Wheat Hamburger Buns
Wheat Hot Dog Buns
White Bread
Whole Wheat Specialty Bread
Marie Callender's
Flaky Croissant With Ham & Swiss
Flaky Croissant With Sausage, Egg & Monterey Jack
Spaghetti With Meat Sauce
Market Street
Butterflake Rolls
Martin's
Cinnamon Raisin Swirl Potato Bread
Hoagie Rolls, Unseeded
Long Roll, Potato Rolls
Potato Bread, 100% Whole Wheat
Potato Bread, Sandwich
Potato Rolls
Potatobred Soft Cubed Stuffing
Marty's
Large Rolls
Master
Hamburger Enriched Buns
Hot Dog Enriched Buns
Mckee
Cheese Danish With Icing
Cinnamon Rolls
Mediterranean Pita
Bread
Met Foodmarkets
Giant White Enriched Bread
Hamburgers Enriched Buns
Hot Dogs Enriched Buns
Mother's
Giant Enriched White Bread
Split Top Wheat Bread
Mrs Baird's
Pastry Kitchen Cinnamon Rolls
Cinnamon Rolls, Cherry
Cinnamon Rolls, Original
Mrs. Cubbison's
Butter & Garlic Croutons
Corn Bread Stuffing, Seasoned
Seasoned Croutons
Mrs. Freshley's
Honey Buns
Murry's
French Toast Bites, Cinnamon Blase
Nature's Own
100% Whole Grain
100% Whole Wheat Bread
100% Whole Wheat Sandwich Rolls
100% Whole Wheat Thin Sliced Bagels
Butterbread
Cinnamon Raisin Swirl Bread
Double Fiber Wheat Bread
Honey Wheat Bread
Hot Dog Rolls
Sandwich Rounds, Multi-Grain
Thin Sliced Bagels, Plain
White Wheat Bread
Whole Grain Bread
New York
Bread Sticks With Real Garlic
Hand-Tied Garlic Knots With Real Garlic
Texas Toast, 5 Cheese
Texas Toast, Garlic
New York Deli
Kaiser Rolls, Plain
Kaiser Rolls, Sesame
Old Style
Cottage Potato Bread
One Republic
Skinny Buns
Oroweat
Raisin Cinnamon Bread
Palagonia
100% Whole Wheat Sandwich Rolls
French Bread
Italian Bread
Mini Heros
Panino Italiano
Rolls
Sliced Italina Bread
Patriotic
Honey Buns
Pelmen
Blueberry Perogies Peroguis Aux Bleuets
Mushrooms Champigons
Perogies, Cherry
Perogies, Potato With Cheddar Cheese
Perogies, Potato With Cottage Cheese
Perogies, Potato With Spinach & Feta
Perogies, Sauerkraut
Perogies, Sauerkraut Mushrooms
Perogies, Sweet Cottage Cheese
Pillsbury
Artisan Dinner Rolls
Artisan Pizza Crust With Whole Grain
Breadsticks, Original
Crusty French Loaf
Italian Bread
Pizza Crust, Thin Crust
Toaster Scrambles, Cheese Sauce, Egg & Bacon
Toaster Scrambles, Cheese Sauce, Egg & Sausage
Toaster Strudel Pastries, Apple
Toaster Strudel Pastries, Apple Cream Danish
Toaster Strudel Pastries, Blueberry
Toaster Strudel Pastries, Boston Cream Pie
Toaster Strudel Pastries, Cinnamon With Brown Sugar
Toaster Strudel Pastries, Cream Cheese & Strawberry
Toaster Strudel Pastries, Danish Style Cream Cheese
Toaster Strudel Pastries, Strawberry
Potmann's Select
Seasoned Croutons
Rainbo
Thin Sliced White Bread
Raybern's New York Deli Style
Raybern's New York Deli Style Philly Cheesesteak
Roast Beef Cheddar Melt
Rhodes
Cinnamon Rolls, Cream Cheese Frosting
Roman Meal
100% Whole Wheat Bread
Rosa Bianca
Garlic Bread
Rosen's
Sweet Hawaiian Rolls
Roundy's
100% Whole Wheat Bread
Blueberry Bagels
Bratwurst Enriched Buns, Sliced
Cinnamon Raisin Swirl Bagel
Croissant Sandwiches
Croutons, Cheese & Garlic
Croutons, Seasoned
Deli Rye Bread, Seedless
Enriched Hot Dog Buns
Everything Bagels
French Bread
Garlic Bread, Original
Garlic Bread, Parmesan
Hamburger Enriched Buns
Italian Sausage Tortelloni
Meat & Fine Herbs Ravioli
Muffin Sandwiches, Ham Egg And Cheese
Muffin Sandwiches, Sausage, Egg & Cheese
Plain Bagels
Presliced Everything Bagels
Quarter Pound Chicken Sandwich
Select 9 Grain Bread
Texas Toast, Garlic
Texas Toast, Three Cheese
Wheat Bread, Split Top
Wheat Muffin Sandwiches, Turkey Sausage, Egg White & Cheese
White Enriched Bread
White Enriched Sandwich Bread
S.Rosen's
Black Bavarian Rye Bread
Bohemian Style Rye Bread
Brat & Sausage Rolls
Enriched Hot Dog Buns
French Rolls, Italian Beef Rolls
Hawaiian Bread, Pineapple
Kaiser Buns
Marble Rye Swirled
Multi Grain Bread
Rye Bread
Rye Bread, Caraway Seeds
Rye Bread, Unseeded
Wheat With Oat Bran Buns
Safeway
Cornbread Stuffing Mix
Five Cheese Garlic Toast
Sara Lee
Blueberry Crumble Breakfast Bread
Brown Sugar Cinnamon Breakfast Bread
Center Split Deli Rolls, White
Cinnamon Breakfast Bread With Raisins
Cinnamon Raisin Bagels
Cinnamon Rolls
Classic Dinner Rolls
Deluxe Bagels, Blueberry
Deluxe Bagels, Cinnamon Raisin
Deluxe Bagels, Plain
Hearty & Delicious 100% Whole Wheat Deli Rolls
Hearty & Delicious Center Split Deli Rolls, White
Honey Wheat Bread
Soft & Smooth 100% Whole Wheat Bread
Soft & Smooth 100% Whole Wheat Hot Dog Buns
Soft & Smooth Hamburger Buns, White
Soft & Smooth Hot Dog Buns, White
Soft & Smooth Wheat Hamburger Buns
White Bread
Schmidt
Enriched Bread
Enriched Hamburger Rolls, Sliced
Rye Bread
Wheat Rolls
Whole Grain White Bread
Select Signatures
Spicy Chicken Sliders
Shoprite
Bangles Whole Wheat
Cinnamon Bread
Country White Bread
Enriched Cinnamon Swirl Bread
Enriched Honey Wheat Bread
Enriched Light Hot Dog Rolls
Enriched Light Wheat Bread
Enriched Round Top White Bread
Garlic Bread Sticks
Garlic Dinner Rolls
Hot Dog Rolls
Italian Bread
Onion Bagels
Poppy Bagels
Potato Hamburger Rolls
Premium Bread
Premium Bread With 100% Stone Ground Wheat
Sandwich White Bread
Sesame Bagels
Sliced Hearth Baked Plain Bagels
Split Top White Bread
Swirl Rye Bread
Texas Toast Garlic
Wheat Bread
Simplyaddwater
Premium Challah Bread Mix
Smucker's
Uncrustables Peanut Butter & Grape Jelly Sandwich
Uncrustables Peanut Butter & Grape Spread Sandwich, Reduced Sugar
Uncrustables Peanut Butter & Rasperry Spread Sandwich
Uncrustables Peanut Butter & Strawberry Jam Sandwich
Uncrustables Peanut Butter & Strawberry Spread Sandwich, Reduced Sugar
Snacks
Iced Honey Buns
Storehmann
Split Top Wheat Bread
White Bread
Sun-Maid
Raisin Bread, Cinnamon Swirl
Sunbeam
Enriched Buns
Grill'n Griddle Bread
Hot Dog Buns
Large, Enriched Bread
Texas Toast Enriched Bread, Thick Sliced
Super Bread
Giant White Enriched Bread
Hamburger Enriched Buns
Honey Wheat Bread
Hot Dog Enriched Buns
Raisin Bread
Tastykake
Glazed Honey Buns
Honey Bun
Iced Honey Buns
The Bakery At Walmart
Glazed Yeast Donuts
Jumbo Croissant
Toufayan Bakeries
Bagels Blueberry
Cinnamon Raisin
Everything Bagels
Mini Bagels, Cinnamon Raisin
Mini Bagels, Plain
Pre-Sliced Bagels, Whole Wheat
Pre-Sliced Mini Bagels, Whole Wheat
Turano
Brat & Sausage Rolls
Extra Long French Bread
French Rolls
Gourmet Sandwich Rolls
Italian Bread
Kaiser Rolls
Old Fashioned Italian Bread
Soft Sub Rolls
Wheat French Rolls
Wheat Rolls
Tuscan Garden
Caesar Gourmet Restaurant Style Croutons
Tyson
Mini Chicken Sandwiches
Mini Chicken Sandwiches With Cheddar Cheese
Mini Grilled Chicken Sandwiches
Unger's
Puff Pastry Shells
Vachon
Carrot Cakes
Valu Time
Wheat Bread White Enriched Bread
Van De Kamp's
Enriched Hot Dog Buns Sliced
Village Hearth
100% Whole Wheat Bread
Cottage Bread, Wheat
Honey Wheat Bread
Light 12 Grain Bread
Light Italian Bread
Light Wheat Bread
White Brat Buns
Weight Watchers Smart Ones
English Muffin Sandwich, Canadian Style Bacon
English Muffin Sandwich, Egg Whites & Cheese
Homestyle Turkey Breast With Stuffing
White Castle
Cheeseburgers
Microwavable Hamburgers
White Rose
Stuffing Mix
Wonder
Light Wheat Bread
Potato Hot Dog Buns
Texas Toast Bread
Visit EcoWatch's FOOD page for more related news on this topic.

EcoWatch Daily Newsletter
Plateau Creek near De Beque, Colorado, where land has been leased for oil and gas production. Helen H. Richardson / The Denver Post / Getty Images
By Randi Spivak
Slashing two national monuments in Utah may have received the most attention, but Trump's Interior Department and U.S. Forest Service have been quietly, systematically ceding control of America's public lands to fossil fuel, mining, timber and livestock interests since the day he took office.
Global SO2 Emission Hotspot Database / Greenpeace
A new report by Greenpeace International pinpointed the world's worst sources of sulfur dioxide pollution, an irritant gas that harms human health. India has seized the top spot from Russia and China, contributing nearly 15 percent of global sulfur dioxide emissions.
The huge surge this year in Amazon deforestation is leading some European countries to think twice about donations to the Amazon Fund. LeoFFreitas / Moment / Getty Images
By Sue Branford and Thais Borges
Ola Elvestrun, Norway's environment minister, announced Thursday that it is freezing its contributions to the Amazon Fund, and will no longer be transferring €300 million ($33.2 million) to Brazil. In a press release, the Norwegian embassy in Brazil stated:
Given the present circumstances, Norway does not have either the legal or the technical basis for making its annual contribution to the Amazon Fund.
Brazilian President Jair Bolsonaro reacted with sarcasm to Norway's decision, which had been widely expected. After an official event, he commented: "Isn't Norway the country that kills whales at the North Pole? Doesn't it also produce oil? It has no basis for telling us what to do. It should give the money to Angela Merkel [the German Chancellor] to reforest Germany."
According to its website, the Amazon Fund is a "REDD+ mechanism created to raise donations for non-reimbursable investments in efforts to prevent, monitor and combat deforestation, as well as to promote the preservation and sustainable use in the Brazilian Amazon." The bulk of funding comes from Norway and Germany.
The annual transfer of funds from developed world donors to the Amazon Fund depends on a report from the Fund's technical committee. This committee meets after the National Institute of Space Research, which gathers official Amazon deforestation data, publishes its annual report with the definitive figures for deforestation in the previous year.
But this year the Amazon Fund's technical committee, along with its steering committee, COFA, were abolished by the Bolsonaro government on 11 April as part of a sweeping move to dissolve some 600 bodies, most of which had NGO involvement. The Bolsonaro government views NGO work in Brazil as a conspiracy to undermine Brazil's sovereignty.
The Brazilian government then demanded far-reaching changes in the way the fund is managed, as documented in a previous article. As a result, the Amazon Fund's technical committee has been unable to meet; Norway says it therefore cannot continue making donations without a favorable report from the committee.
Archer Daniels Midland soy silos in Mato Grosso along the BR-163 highway, where Amazon rainforest has largely been replaced by soy destined for the EU, UK, China and other international markets.
Thaís Borges.
An Uncertain Future
The Amazon Fund was announced during the 2007 United Nations Climate Change Conference in Bali, during a period when environmentalists were alarmed at the rocketing rate of deforestation in the Brazilian Amazon. It was created as a way of encouraging Brazil to continue bringing down the rate of forest conversion to pastures and croplands.
Government agencies, such as IBAMA, Brazil's environmental agency, and NGOs shared Amazon Fund donations. IBAMA used the money primarily to enforce deforestation laws, while the NGOs oversaw projects to support sustainable communities and livelihoods in the Amazon.
There has been some controversy as to whether the Fund has actually achieved its goals: in the three years before the deal, the rate of deforestation fell dramatically but, after money from the Fund started pouring into the Amazon, the rate remained fairly stationary until 2014, when it began to rise once again. But, in general, the international donors have been pleased with the Fund's performance, and until the Bolsonaro government came to office, the program was expected to continue indefinitely.
Norway has been the main donor (94 percent) to the Amazon Fund, followed by Germany (5 percent), and Brazil's state-owned oil company, Petrobrás (1 percent). Over the past 11 years, the Norwegians have made, by far, the biggest contribution: R$3.2 billion ($855 million) out of the total of R$3.4 billion ($903 million).
Up till now the Fund has approved 103 projects, with the dispersal of R$1.8 billion ($478 million). These projects will not be affected by Norway's funding freeze because the donors have already provided the funding and the Brazilian Development Bank is contractually obliged to disburse the money until the end of the projects. But there are another 54 projects, currently being analyzed, whose future is far less secure.
One of the projects left stranded by the dissolution of the Fund's committees is Projeto Frutificar, which should be a three-year project, with a budget of R$29 million ($7.3 million), for the production of açai and cacao by 1,000 small-scale farmers in the states of Amapá and Pará. The project was drawn up by the Brazilian NGO IPAM (Institute of Environmental research in Amazonia).
Paulo Moutinho, an IPAM researcher, told Globo newspaper: "Our program was ready to go when the [Brazilian] government asked for changes in the Fund. It's now stuck in the BNDES. Without funding from Norway, we don't know what will happen to it."
Norway is not the only European nation to be reconsidering the way it funds environmental projects in Brazil. Germany has many environmental projects in the Latin American country, apart from its small contribution to the Amazon Fund, and is deeply concerned about the way the rate of deforestation has been soaring this year.
The German environment ministry told Mongabay that its minister, Svenja Schulze, had decided to put financial support for forest and biodiversity projects in Brazil on hold, with €35 million ($39 million) for various projects now frozen.
The ministry explained why: "The Brazilian government's policy in the Amazon raises doubts whether a consistent reduction in deforestation rates is still being pursued. Only when clarity is restored, can project collaboration be continued."
Bauxite mines in Paragominas, Brazil. The Bolsonaro administration is urging new laws that would allow large-scale mining within Brazil's indigenous reserves.
Hydro / Halvor Molland / Flickr
Alternative Amazon Funding
Although there will certainly be disruption in the short-term as a result of the paralysis in the Amazon Fund, the governors of Brazil's Amazon states, which rely on international funding for their environmental projects, are already scrambling to create alternative channels.
In a press release issued yesterday Helder Barbalho, the governor of Pará, the state with the highest number of projects financed by the Fund, said that he will do all he can to maintain and increase his state partnership with Norway.
Barbalho had announced earlier that his state would be receiving €12.5 million ($11.1 million) to run deforestation monitoring centers in five regions of Pará. Barbalho said: "The state governments' monitoring systems are recording a high level of deforestation in Pará, as in the other Amazon states. The money will be made available to those who want to help [the Pará government reduce deforestation] without this being seen as international intervention."
Amazonas state has funding partnerships with Germany and is negotiating deals with France. "I am talking with countries, mainly European, that are interested in investing in projects in the Amazon," said Amazonas governor Wilson Miranda Lima. "It is important to look at Amazônia, not only from the point of view of conservation, but also — and this is even more important — from the point of view of its citizens. It's impossible to preserve Amazônia if its inhabitants are poor."
Signing of the EU-Mercusor Latin American trading agreement earlier this year. The pact still needs to be ratified.
Council of Hemispheric Affairs
Looming International Difficulties
The Bolsonaro government's perceived reluctance to take effective measures to curb deforestation may in the longer-term lead to a far more serious problem than the paralysis of the Amazon Fund.
In June, the European Union and Mercosur, the South American trade bloc, reached an agreement to create the largest trading bloc in the world. If all goes ahead as planned, the pact would account for a quarter of the world's economy, involving 780 million people, and remove import tariffs on 90 percent of the goods traded between the two blocs. The Brazilian government has predicted that the deal will lead to an increase of almost $100 billion in Brazilian exports, particularly agricultural products, by 2035.
But the huge surge this year in Amazon deforestation is leading some European countries to think twice about ratifying the deal. In an interview with Mongabay, the German environment ministry made it very clear that Germany is very worried about events in the Amazon: "We are deeply concerned given the pace of destruction in Brazil … The Amazon Forest is vital for the atmospheric circulation and considered as one of the tipping points of the climate system."
The ministry stated that, for the trade deal to go ahead, Brazil must carry out its commitment under the Paris Climate agreement to reduce its greenhouse gas emissions by 43 percent below the 2005 level by 2030. The German environment ministry said: If the trade deal is to go ahead, "It is necessary that Brazil is effectively implementing its climate change objectives adopted under the [Paris] Agreement. It is precisely this commitment that is expressly confirmed in the text of the EU-Mercosur Free Trade Agreement."
Blairo Maggi, Brazil agriculture minister under the Temer administration, and a major shareholder in Amaggi, the largest Brazilian-owned commodities trading company, has said very little in public since Bolsonaro came to power; he's been "in a voluntary retreat," as he puts it. But Maggi is so concerned about the damage Bolsonaro's off the cuff remarks and policies are doing to international relationships he decided to speak out earlier this week.
Former Brazil Agriculture Minister Blairo Maggi, who has broken a self-imposed silence to criticize the Bolsonaro government, saying that its rhetoric and policies could threaten Brazil's international commodities trade.
Senado Federal / Visualhunt / CC BY
Maggi, a ruralista who strongly supports agribusiness, told the newspaper, Valor Econômico, that, even if the European Union doesn't get to the point of tearing up a deal that has taken 20 years to negotiate, there could be long delays. "These environmental confusions could create a situation in which the EU says that Brazil isn't sticking to the rules." Maggi speculated. "France doesn't want the deal and perhaps it is taking advantage of the situation to tear it up. Or the deal could take much longer to ratify — three, five years."
Such a delay could have severe repercussions for Brazil's struggling economy which relies heavily on its commodities trade with the EU. Analysists say that Bolsonaro's fears over such an outcome could be one reason for his recently announced October meeting with Chinese President Xi Jinping, another key trading partner.
Maggi is worried about another, even more alarming, potential consequence of Bolsonaro's failure to stem illegal deforestation — Brazil could be hit by a boycott by its foreign customers. "I don't buy this idea that the world needs Brazil … We are only a player and, worse still, replaceable." Maggi warns, "As an exporter, I'm telling you: things are getting very difficult. Brazil has been saying for years that it is possible to produce and preserve, but with this [Bolsonaro administration] rhetoric, we are going back to square one … We could find markets closed to us."
From Your Site Articles
Related Articles Around the Web
Aerial view of lava flows from the eruption of volcano Kilauea on Hawaii, May 2018. Frizi / iStock / Getty Images
Hawaii's Kilauea volcano could be gearing up for an eruption after a pond of water was discovered inside its summit crater for the first time in recorded history, according to the AP.
Gina Lopez, the Philippine secretary of the environment, at a meeting with residents affected by a mine tailing disaster. Keith Schneider
Gina Lopez, a former Philippine environment secretary, philanthropist and eco-warrior, died on Aug. 19 from brain cancer. She was 65.
Trump speaks to contractors at the Shell Chemicals Petrochemical Complex on Aug. 13 in Monaca, Pennsylvania. Jeff Swensen / Getty Images
Thousands of union members at a multibillion dollar petrochemical plant outside of Pittsburgh were given a choice last week: Stand and wait for a speech by Donald Trump or take the day off without pay.
By Simon Mui
States across the country are stepping up to make clean cars cheaper and easier to find. Colorado's Air Quality Control Commission (AQCC) voted Friday to adopt a Zero Emission Vehicle (ZEV) program that will increase the availability of electric vehicles in the state, improve air quality and increase transportation affordability.