500 Ways to Make a Yoga Mat Sandwich
Feb. 27, 2014 02:15PM EST
Food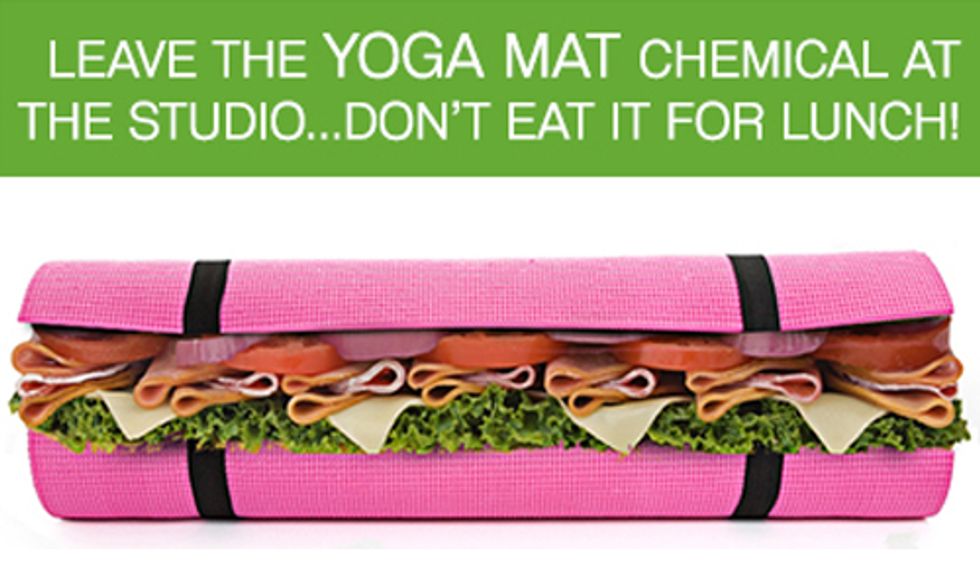 The controversial "yoga mat" chemical used to make 
Subway sandwich bread
has been discovered in nearly 500 items and more than 130 brands of bread, stuffing, pre-made sandwiches and snacks, according to an analysis by the
Environmental Working Group
 (EWG).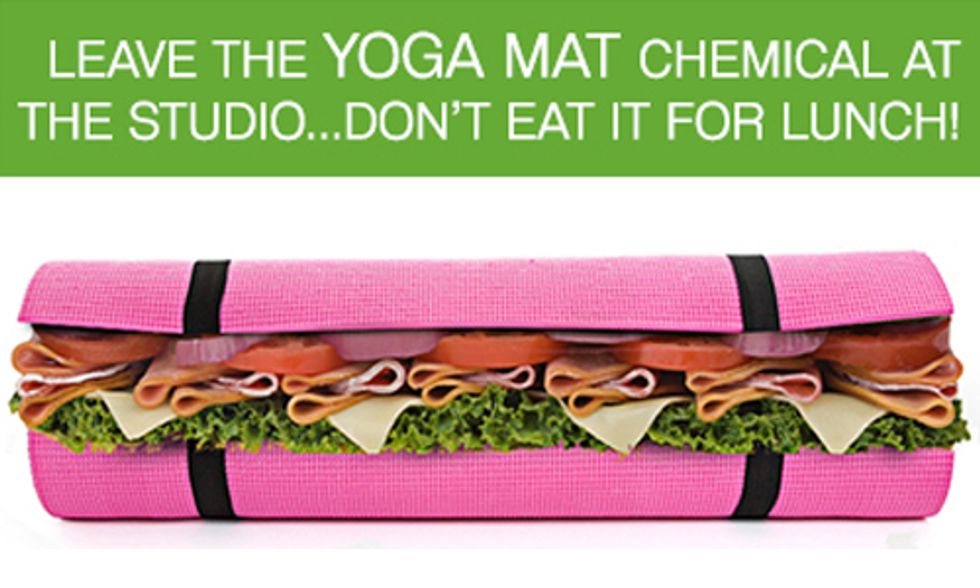 In 1956, a New Jersey pharmaceutical and engineering firm discovered azodicarbonamide (ADA) could be used as a "dough conditioner" to make bread that would rise higher, stay soft and resilient and form an appealing crust. Photo credit: Environmental Working Group
EWG researchers found azodicarbonamide (ADA), an industrial chemical foaming agent, in many well-known brands, including: Pillsbury, Sara Lee, Shoprite, Safeway, Smucker's, Fleischman's, Jimmy Dean, Kroger, Little Debbie, Tyson, Nature's Own and Wonder, according to ingredient data obtained for a new food database project due out later this year.
ADA is a synthetic substance used by plastics makers to generate tiny bubbles that make materials light, spongy and strong. These materials show up in flip-flops, yoga mats and many types of foam packing and insulation.
"It's unacceptable that major food companies are using an unnecessary and potentially harmful chemical in their products, when it's clear they can make food without it," said Vani Hari, creator of 
FoodBabe.com
, in a prepared statement. "These questionable additives are not supposed to be food or even eaten for that matter, but they do end up in the U.S. food supply and are consumed by millions of people, including children, every day."
The information detailed in the EWG analysis was gleaned from research by FoodEssentials, a company that compiles the ingredients and claims made on foods sold in American supermarkets.
It was gathered before mid-February and represents a snapshot of ADA foods on the market. 
In 1956, a New Jersey pharmaceutical and engineering firm discovered ADA could be used as a "dough conditioner" to make bread that would rise higher, stay soft and resilient and form an appealing crust. The Food and Drug Administration (FDA) approved its use as a food additive in 1962.
The World Health Organization has connected ADA to increased risk of respiratory problems and skin irritation in workers handling large quantities of the chemical.
Despite its 50-plus year circulation into popular foods, the additive has not undergone extensive testing to determine its health effects on people.
"ADA is just one example of an American food supply awash in chemical additives that can be mixed into foods with little oversight or safety review," said David Andrews, Ph.D., EWG senior scientist and co-author for the analysis. "Americans have regularly eaten this chemical along with hundreds of other questionable foods additives for years. That is why we are putting together an online database that will enable consumers to make more informed decisions about the foods they eat and feed to their family."
The FDA allows ADA in U.S. food in concentrations up to 45 parts per million, but it is not approved for use as a food additive in either the European Union or Australia.
EWG is calling on food manufacturers to immediately end ADA use in food. The organization plans to launch an online campaign to raise public awareness of the widespread use of this chemical in food and to urge companies that have been using it to immediately drop it from their ingredients.
Earlier this month, Hari spearheaded an online petition that collected more than 92,000 signatures asking Subway to remove ADA from its sandwich bread. Soon after,
Subway announced
it had started phasing out the ingredient and that ADA would be completely removed from its menu in the near future. 
"As my campaign has shown, social media and grassroots advocacy can shake up the food industry and produce real change on behalf of consumers," said Hari. "I will continue to work with EWG and others to keep the pressure on to get these industrial chemicals out of our food."
EWG recommends shoppers consult the following list of products to find out if ADA or other chemical additives are in their food and to take steps to reduce exposure to them.
Brand Name*
Product
Aladdin Bakers
Jumbo Bagels Cinnamon Raisin
America's Choice
Muffin Sandwiches Turkey, Sausage, Egg & Cheese
Amigos
Tortillas
Archer Farms
Simply Balanced 100% Whole Wheat Hamburger Buns
Arnold
Bakery Light 100% Whole Wheat Bread
Sandwich Rolls, Wheat
Artichoke Basilles Pizza Co.
Margherita Pizza
Artisan Fresh
Jumbo Wheat Hoagie
Aunt Hattie's
Onion Buns
Potato Hamburger Enriched Buns
Aunt Millie's
Honey & Hamburger Buns
Whole Grain Bread
Bagel-Fuls
Bagel Filled With Cream Cheese, Original
Baker's Treat
Big Texas Cheese Roll Pastries
Ball Park
Flame Grilled Barbeque Chicken Slider
Flame Grilled Beef Sliders
Flame Grilled Cheese Burger Silders
Hot Dog Buns
Bell's
Traditional Stuffing
Betty Crocker
Pasta Caesar Salad
Suddenly Pasta Salad, Caesar
Big Az
Cheeseburger
Bimbo
Bread Crumbs
Double Fiber Bread
Large Wheat Bread
Sabor Chocolate
Toasted Bread
Toasted Bread, Original
Bon Appetit
Apple Danish
Blueberry Cream Pastry
Cheese & Berries Danish
Cheese Croissant
Super Cinnamon Roll
Bridgford
Cinnamon Pull-Apart Monkey Bread
Ready-Dough Frozen White Bread Dough
Brownberry
Chicago Hot Dog Rolls
Kaiser Sandwich Buns
Sandwich Buns, Onion
Sausage Rolls, Original
Bunny
Hot Dog Buns
Butternut
1/2 Loaf White Enriced Bread
All Whole Grain 100% Whole Wheat Bread
Brown' N Serve Enriched Rolls
Deluxe Buns
Enriched Burger Buns, Sliced
Enriched Hot Dog Buns, Sliced
Hearty Rye Bread
Honey Wheat Bread
Italian Bread
Large Enriched Bread
Sliced Buns, Seeded
Whole Grain White Bread
Whole Wheat Bread
Castillo
Castillo Croissants
Centrella
Hot Dog Buns, Enriched
Restaurant Style Caesar Crotons
Chef M.J. Brando
Grilled Cheese Sandwiches, Cheddar
Grilled Cheese Sandwiches, Swiss
Clear Value
White Bread
Cloverhill
Apple Danish
Cole's
Cheesesticks
Garlic Mini Loaf
Connella
Bread Crumbs
Corfu Foods Inc.
Hand Made Pita
Country Hearth
Dakota Style 12 Grain Bread
Hearty Homestyle 100% Whole Wheat Bread
Hearty Homestyle Honey Grain 'n Oat Bread
Split Top Wheat Bread
Split Top White Bread
D'italiano
Italian Bread
Day'n Night Bites
Country Sausge Muffin With Egg'n Cheese
Drake's
Danish Pastries Cheese
Earthgrains
Honey Wheat Berry Bread
Sliced French Premium Bread
Wheat Rolls
Entenmann's
Raspberry Danish
Essential Everyday
5 Cheese Texas Toast
Garlic Bread
Garlic Bread Sticks
Garlic Texas Toast
European Bakers
Onion Rolls
White Sub Rolls
Farm Rich
French Toast Sticks, Cinnamon Sprinkle
French Toast Sticks, Original
Fiber One
Hamburger Buns
Hot Dog Buns
Fleischmann's
Simply Homemade Baking Mix, Pretzel Creations
Simply Homemade No Knead Bread Mix, Country White
Simply Homemade No Knead Bread Mix, Italian Herb
Simply Homemade No Knead Bread Mix, Multi-Grain
Food Club
Caesar Restaurant Style Croutons
Garlic Cheesesticks
Garlic Dinner Rolls
Seasoned Restaurant Style Croutons
Strawberry Strudel
Stuffing Classics Cornbread Stuffing Mix
Texas Toast, 3 Cheese
Texas Toast, Garlic
French Toast Sticks
Garlic Bread Sticks
Texas Toast, 3 Cheese
Freihofer's
White Bread
Fresh Gourmet
Premium Croutons, Butter & Garlic
Premium Croutons, Cheese & Garlic
Premium Croutons, Classic Caesar
Premium Croutons, Garden Herb
Premium Croutons, Italian Seasoned
Premium Croutons, Parmesan Ranch
Furlani
Garlic Bread
Multi Grain Garlic Toast
Parmesan Garlic Toast
Texas Toast, Garlic
Texas Toast, Pizza
Texas Toast, Three Cheese
Gateway
Soft Rye Bread
Gimbo
Conchas Fine Pastry
Gollo
Galletas De Huevo (Eggs Crackers)
Gonnella
Sandwich Rolls
Great Value
Honey Buns
Hot Dog Buns
Wheat Sandwhich Bread
Grissom's
Hot Dog Sliced Enriched Buns
Harvest Pride
Awesome Rolls
Seeded Italian Bread
Texas Toast Bread
Wheat Bread
White Enriched Bread
Hauswald's
Enriched Bread
Split Top Wheat Bread
Healthy Life
100% Whole Grain Wheat Bread, Flaxseed
100% Whole Grain Wheat Bread, Sugar Free
100% Whole Wheat English Muffins
100% Whole Wheat Whole Grain Bread
High Fiber White Bread
Hot Dog Buns, Whole Grain
Italian Bread
Light English Muffins
Light Multigrain English Muffins
Soft Style 100% Whole Grain Bread
Hearth Of Texas Bread Company
100% Whole Wheat Bread
Enriched Large White Bread
Extra Thin White Bread
Split Top Wheat Bread
Whole Grain White Bread
Honey
Hot Dog Buns
Hormel
Country Crock Homestyle Stuffing
Hungry-Man
Roasted Carved White Meat Turkey
Ihop
French Toast Breakfast Sandwich, Egg, Canadian Bacon & Cheese
French Toast Breakfast Sandwich, Maple Sausage, Egg & Cheese
J. Skinner
Cinnamon Craver's Roll
J.C. Potter
Sausage On A Bun
J.J. Cassone
100% Whole Wheat Sandwich Rolls
Enriched Vienna Rolls
Italian Bread
Sliced Hero Rolls
Sliced Sandwich Rolls
Wheat Bran Sandwich Rolls
Jimmy Dean
Delights Honey Wheat Flatbread, Bacon, Egg & Cheese
Delights Honey Wheat Flatbread, Turkey Sausage, Egg & Cheese
French Toast Griddlers
Muffin, Sausage, Egg & Cheese
Sausage, Egg & Cheese On A Muffin
Turkey Sausages Egg White & Cheese Whole Grain Bagel
Joseph Campione
Authentic Hearth Baked Garlic Bread
Bread Sticks, Garlic
Cheese Stuffed Bread Sticks
Dinner Rolls, Parmesan Garlic
Garlic Bread, Authentic Hearth Baked
Garlic Mini Loaf
Texas Toast, 5 Cheese
Texas Toast, Garlic
Texas Toast, Parmesan
Key Food
Seeded Rye European Hearth Bread, Deli Style
Seedless Rye European Hearth Bread, Deli Style
Kid Cuisine
Kc's Campfire Hot Dog
Kroger
White Enriched Bread
White Hamburger Enriched Buns
L'oven Fresh
Split Top Wheat Bread
Lakeland
Hot Dog Buns Enriched
White Enriched Sandwich Bread
Lewis
Healthy Life Wheat Hot Dog Buns
Whole Wheat Sandwich Buns
Liberty Hearth
New York Deli Kaiser Rolls, Poppy
Little Debbie
Cheese Danish Classic Pastry
Cinnamon Rolls With Icing
Cream Cheese Danish Pastry
Danish Pastry, Cherry Cheese
Honey Buns
Maglio
Stromboli, Philly Style Steak & Cheese
Manischewitz
Pumpernickel Bread
Mariano's
100% Whole Wheat Bread
Asiago Cheese Focaccia
Bell Pepper Focaccia Muffins
Breadstics
Butterflake Rolls
Cheese Pizza Bread
Chefs Collection Italian Focaccia Half
Cinnamon Raisin Bread
Club Rolls
Egg And Onion Brat Bun
Egg Dinner Rolls
English Muffin Bread
Fresh Tomato Focaccia
Garlic Bread
Ham Swiss Sub
Hamburger Buns
Hard Rolls
Hot Dog Buns
Italian Bread
Italian Specialty Bread By The Pound
Jalapeno Cheddar Focaccia
Jalapeno Cheddar Focaccia Muffins
Kaiser Rolls
Large Kaiser Rolls
Marble Rye Bread
Olive And Parmesan Chop Block Bread
Onion Rye Specialty Bread
Paisano Italiano Sandwich
Parisian Chocolate Croissant
Roast Beef & Cheddar Croissant
Rotisserie Chicken Salad Croissant
Rye Specialty Bread By The Pound
Salami And Provolone Chop Block Bread
Tomato Basil Chop Block Bread
Walnut Raisin Specialty Bread
Wheat Bread
Wheat Club Rolls
Wheat Dinner Rolls
Wheat Hamburger Buns
Wheat Hot Dog Buns
White Bread
Whole Wheat Specialty Bread
Marie Callender's
Flaky Croissant With Ham & Swiss
Flaky Croissant With Sausage, Egg & Monterey Jack
Spaghetti With Meat Sauce
Market Street
Butterflake Rolls
Martin's
Cinnamon Raisin Swirl Potato Bread
Hoagie Rolls, Unseeded
Long Roll, Potato Rolls
Potato Bread, 100% Whole Wheat
Potato Bread, Sandwich
Potato Rolls
Potatobred Soft Cubed Stuffing
Marty's
Large Rolls
Master
Hamburger Enriched Buns
Hot Dog Enriched Buns
Mckee
Cheese Danish With Icing
Cinnamon Rolls
Mediterranean Pita
Bread
Met Foodmarkets
Giant White Enriched Bread
Hamburgers Enriched Buns
Hot Dogs Enriched Buns
Mother's
Giant Enriched White Bread
Split Top Wheat Bread
Mrs Baird's
Pastry Kitchen Cinnamon Rolls
Cinnamon Rolls, Cherry
Cinnamon Rolls, Original
Mrs. Cubbison's
Butter & Garlic Croutons
Corn Bread Stuffing, Seasoned
Seasoned Croutons
Mrs. Freshley's
Honey Buns
Murry's
French Toast Bites, Cinnamon Blase
Nature's Own
100% Whole Grain
100% Whole Wheat Bread
100% Whole Wheat Sandwich Rolls
100% Whole Wheat Thin Sliced Bagels
Butterbread
Cinnamon Raisin Swirl Bread
Double Fiber Wheat Bread
Honey Wheat Bread
Hot Dog Rolls
Sandwich Rounds, Multi-Grain
Thin Sliced Bagels, Plain
White Wheat Bread
Whole Grain Bread
New York
Bread Sticks With Real Garlic
Hand-Tied Garlic Knots With Real Garlic
Texas Toast, 5 Cheese
Texas Toast, Garlic
New York Deli
Kaiser Rolls, Plain
Kaiser Rolls, Sesame
Old Style
Cottage Potato Bread
One Republic
Skinny Buns
Oroweat
Raisin Cinnamon Bread
Palagonia
100% Whole Wheat Sandwich Rolls
French Bread
Italian Bread
Mini Heros
Panino Italiano
Rolls
Sliced Italina Bread
Patriotic
Honey Buns
Pelmen
Blueberry Perogies Peroguis Aux Bleuets
Mushrooms Champigons
Perogies, Cherry
Perogies, Potato With Cheddar Cheese
Perogies, Potato With Cottage Cheese
Perogies, Potato With Spinach & Feta
Perogies, Sauerkraut
Perogies, Sauerkraut Mushrooms
Perogies, Sweet Cottage Cheese
Pillsbury
Artisan Dinner Rolls
Artisan Pizza Crust With Whole Grain
Breadsticks, Original
Crusty French Loaf
Italian Bread
Pizza Crust, Thin Crust
Toaster Scrambles, Cheese Sauce, Egg & Bacon
Toaster Scrambles, Cheese Sauce, Egg & Sausage
Toaster Strudel Pastries, Apple
Toaster Strudel Pastries, Apple Cream Danish
Toaster Strudel Pastries, Blueberry
Toaster Strudel Pastries, Boston Cream Pie
Toaster Strudel Pastries, Cinnamon With Brown Sugar
Toaster Strudel Pastries, Cream Cheese & Strawberry
Toaster Strudel Pastries, Danish Style Cream Cheese
Toaster Strudel Pastries, Strawberry
Potmann's Select
Seasoned Croutons
Rainbo
Thin Sliced White Bread
Raybern's New York Deli Style
Raybern's New York Deli Style Philly Cheesesteak
Roast Beef Cheddar Melt
Rhodes
Cinnamon Rolls, Cream Cheese Frosting
Roman Meal
100% Whole Wheat Bread
Rosa Bianca
Garlic Bread
Rosen's
Sweet Hawaiian Rolls
Roundy's
100% Whole Wheat Bread
Blueberry Bagels
Bratwurst Enriched Buns, Sliced
Cinnamon Raisin Swirl Bagel
Croissant Sandwiches
Croutons, Cheese & Garlic
Croutons, Seasoned
Deli Rye Bread, Seedless
Enriched Hot Dog Buns
Everything Bagels
French Bread
Garlic Bread, Original
Garlic Bread, Parmesan
Hamburger Enriched Buns
Italian Sausage Tortelloni
Meat & Fine Herbs Ravioli
Muffin Sandwiches, Ham Egg And Cheese
Muffin Sandwiches, Sausage, Egg & Cheese
Plain Bagels
Presliced Everything Bagels
Quarter Pound Chicken Sandwich
Select 9 Grain Bread
Texas Toast, Garlic
Texas Toast, Three Cheese
Wheat Bread, Split Top
Wheat Muffin Sandwiches, Turkey Sausage, Egg White & Cheese
White Enriched Bread
White Enriched Sandwich Bread
S.Rosen's
Black Bavarian Rye Bread
Bohemian Style Rye Bread
Brat & Sausage Rolls
Enriched Hot Dog Buns
French Rolls, Italian Beef Rolls
Hawaiian Bread, Pineapple
Kaiser Buns
Marble Rye Swirled
Multi Grain Bread
Rye Bread
Rye Bread, Caraway Seeds
Rye Bread, Unseeded
Wheat With Oat Bran Buns
Safeway
Cornbread Stuffing Mix
Five Cheese Garlic Toast
Sara Lee
Blueberry Crumble Breakfast Bread
Brown Sugar Cinnamon Breakfast Bread
Center Split Deli Rolls, White
Cinnamon Breakfast Bread With Raisins
Cinnamon Raisin Bagels
Cinnamon Rolls
Classic Dinner Rolls
Deluxe Bagels, Blueberry
Deluxe Bagels, Cinnamon Raisin
Deluxe Bagels, Plain
Hearty & Delicious 100% Whole Wheat Deli Rolls
Hearty & Delicious Center Split Deli Rolls, White
Honey Wheat Bread
Soft & Smooth 100% Whole Wheat Bread
Soft & Smooth 100% Whole Wheat Hot Dog Buns
Soft & Smooth Hamburger Buns, White
Soft & Smooth Hot Dog Buns, White
Soft & Smooth Wheat Hamburger Buns
White Bread
Schmidt
Enriched Bread
Enriched Hamburger Rolls, Sliced
Rye Bread
Wheat Rolls
Whole Grain White Bread
Select Signatures
Spicy Chicken Sliders
Shoprite
Bangles Whole Wheat
Cinnamon Bread
Country White Bread
Enriched Cinnamon Swirl Bread
Enriched Honey Wheat Bread
Enriched Light Hot Dog Rolls
Enriched Light Wheat Bread
Enriched Round Top White Bread
Garlic Bread Sticks
Garlic Dinner Rolls
Hot Dog Rolls
Italian Bread
Onion Bagels
Poppy Bagels
Potato Hamburger Rolls
Premium Bread
Premium Bread With 100% Stone Ground Wheat
Sandwich White Bread
Sesame Bagels
Sliced Hearth Baked Plain Bagels
Split Top White Bread
Swirl Rye Bread
Texas Toast Garlic
Wheat Bread
Simplyaddwater
Premium Challah Bread Mix
Smucker's
Uncrustables Peanut Butter & Grape Jelly Sandwich
Uncrustables Peanut Butter & Grape Spread Sandwich, Reduced Sugar
Uncrustables Peanut Butter & Rasperry Spread Sandwich
Uncrustables Peanut Butter & Strawberry Jam Sandwich
Uncrustables Peanut Butter & Strawberry Spread Sandwich, Reduced Sugar
Snacks
Iced Honey Buns
Storehmann
Split Top Wheat Bread
White Bread
Sun-Maid
Raisin Bread, Cinnamon Swirl
Sunbeam
Enriched Buns
Grill'n Griddle Bread
Hot Dog Buns
Large, Enriched Bread
Texas Toast Enriched Bread, Thick Sliced
Super Bread
Giant White Enriched Bread
Hamburger Enriched Buns
Honey Wheat Bread
Hot Dog Enriched Buns
Raisin Bread
Tastykake
Glazed Honey Buns
Honey Bun
Iced Honey Buns
The Bakery At Walmart
Glazed Yeast Donuts
Jumbo Croissant
Toufayan Bakeries
Bagels Blueberry
Cinnamon Raisin
Everything Bagels
Mini Bagels, Cinnamon Raisin
Mini Bagels, Plain
Pre-Sliced Bagels, Whole Wheat
Pre-Sliced Mini Bagels, Whole Wheat
Turano
Brat & Sausage Rolls
Extra Long French Bread
French Rolls
Gourmet Sandwich Rolls
Italian Bread
Kaiser Rolls
Old Fashioned Italian Bread
Soft Sub Rolls
Wheat French Rolls
Wheat Rolls
Tuscan Garden
Caesar Gourmet Restaurant Style Croutons
Tyson
Mini Chicken Sandwiches
Mini Chicken Sandwiches With Cheddar Cheese
Mini Grilled Chicken Sandwiches
Unger's
Puff Pastry Shells
Vachon
Carrot Cakes
Valu Time
Wheat Bread White Enriched Bread
Van De Kamp's
Enriched Hot Dog Buns Sliced
Village Hearth
100% Whole Wheat Bread
Cottage Bread, Wheat
Honey Wheat Bread
Light 12 Grain Bread
Light Italian Bread
Light Wheat Bread
White Brat Buns
Weight Watchers Smart Ones
English Muffin Sandwich, Canadian Style Bacon
English Muffin Sandwich, Egg Whites & Cheese
Homestyle Turkey Breast With Stuffing
White Castle
Cheeseburgers
Microwavable Hamburgers
White Rose
Stuffing Mix
Wonder
Light Wheat Bread
Potato Hot Dog Buns
Texas Toast Bread
Visit EcoWatch's FOOD page for more related news on this topic.

U.S. Interior Secretary Deb Haaland announced a pair of climate-related secretarial orders on Friday, April 16. U.S. Department of the Interior
By Jessica Corbett
As the Biden administration reviews the U.S. government's federal fossil fuels program and faces pressure to block any new dirty energy development, Interior Secretary Deb Haaland won praise from environmentalists on Friday for issuing a pair of climate-related secretarial orders.
"Today is a watershed moment in the history of the U.S. Department of the Interior," declared Jeremy Nichols, climate and energy program director for WildEarth Guardians. "With Secretary Haaland's actions today, it's clear the Interior Department is now working for communities, science, and justice. We are grateful for her leadership and bold action to put people over polluters."
EcoWatch Daily Newsletter
David Attenborough narrates "The Year Earth Changed," premiering globally April 16 on Apple TV+. Apple
Next week marks the second Earth Day of the coronavirus pandemic. While a year of lockdowns and travel restrictions has limited our ability to explore the natural world and gather with others for its defense, it is still possible to experience the wonder and inspiration from the safety of your home.
Here are three new films to watch this Earth Week that will transport you from pole to pole and introduce you to the scientists and activists working to save our shared home.
Where to Watch: Apple TV+
When to Watch: From April 16
The coronavirus pandemic has brought home the stakes of humanity's impact on the environment. But the lockdowns also proved how quickly nature can recover when humans give it the space. Birds sang in empty cities, whales surfaced in Glacier Bay and capybara roamed the South American suburbs.
The Year Earth Changed captures this unique year with footage from more than 30 lockdowned cities between May 2020 to January 2021. Narrated by renowned wildlife broadcaster David Attenborough, the film explores what positive lessons we can take from the experience of a quieter, less trafficked world.
"What the film shows is that the natural world can bounce back remarkably quickly when we take a step back and reduce our impact as we did during lockdown," executive producer Alice Keens-Soper of BBC Studios Natural History Unit told EcoWatch. "If we are willing to make even small changes to our habits, the natural world can flourish. We need to learn how to co-exist with nature and understand that we are not separate from it- for example if we closed some of our beaches at for a few weeks during the turtle breeding we see that it can make a huge difference to their success. There are many ways that we can adapt our behavior to allow the natural world to thrive as it did in lockdown."
When to Watch: 12 a.m. PST April 9 to 11:59 p.m. April 18
In 1989, Will Steger led an international team of six scientists and explorers to be the first humans to cross Antarctica by dogsled. Steger and his team weren't just in it for the adventure. They also wanted to draw attention to the ways in which the climate crisis was already transforming the icy continent and to rally support for the renewal of the Antarctic Treaty, which would keep the continent safe from extractive industries.
In After Antarctica, award-winning filmmaker Tasha Van Zandt follows Steger 30 years later as he travels the Arctic this time, reflecting on his original journey and once again bringing awareness to changes in a polar landscape. The film intersperses this contemporary journey with footage from the original expedition, some of which has never been seen before.
"Will's life journey as an explorer and climate activist has led him not only to see more of the polar world than anyone else alive today, but to being an eyewitness to the changes occurring across both poles," Van Zandt told EcoWatch. "But now, these changes are happening in all of our own backyards and we have all become eyewitnesses. Through my journey with Will, I have learned that although we cannot always control change, we can change our response. I feel strongly that this is a message that resonates when we look at the current state of the world, as we each have power and control over how we choose to respond to hardships, and we all have the power to unite with others through collective action around a common goal."
After Antarctica is available to stream once you purchase a ticket to the San Francisco International Film Festival. If you miss it this weekend, it will screen again at the Minneapolis St. Paul International Film Festival from May 13 to May 23.
Tasha Van Zandt
When to Watch: From Earth Day, April 22
While many films about the climate crisis seek to raise awareness about the extent of the problem, The Race to Save the World focuses on the people who are trying to stop it. The film tells the story of climate activists ranging from 15-year-old Aji to 72-year-old Miriam who are working to create a sustainable future. It follows them from the streets to the courtroom to their homes, and explores the impact of their advocacy on their personal lives and relationships.
Emmy award-winning documentary filmmaker Joe Gantz told EcoWatch that he wanted to make a film about climate change, but did not want to depress viewers with overwhelming statistics. Instead, he chose to inspire them by sharing the stories of people trying to make a difference.
"Unless millions of people take to the streets and make their voices heard for a livable future, the politicians are not going to get on board to help make the changes needed for a sustainable future," Gantz told Ecowatch. "I think that The Race To Save The World will energize and inspire people to take action so that future generations, as well as the plants, animals and ecosystems, can survive and thrive on this planet."
Check back with EcoWatch on the morning of Earth Day for a special preview of this inspiring film!
By Michael Svoboda
For April's bookshelf we take a cue from Earth Day and step back to look at the bigger picture. It wasn't climate change that motivated people to attend the teach-ins and protests that marked that first observance in 1970; it was pollution, the destruction of wild lands and habitats, and the consequent deaths of species.
An Amazon.com Inc. worker walks past a row of vans outside a distribution facility on Feb. 2, 2021 in Hawthorne, California. PATRICK T. FALLON / AFP via Getty Images
Over the past year, Amazon has significantly expanded its warehouses in Southern California, employing residents in communities that have suffered from high unemployment rates, The Guardian reports. But a new report shows the negative environmental impacts of the boom, highlighting its impact on low-income communities of color across Southern California.
The report, from the People's Collective for Environmental Justice (PCEJ) and students from the University of Redlands, shared with The Guardian, is meant to serve as an "advocacy tool to help raise awareness related to the warehouse industry's impacts on Southern California's air pollution issues," Earthjustice noted.
California's Inland Empire, 60 miles east of Los Angeles, has emerged as one of the largest "warehousing hubs" in the world in just the past few decades, according to Grist. Since establishing its first warehouse in the region in 2012, Amazon has become the largest private employer in the region, where 40,000 people now work in Amazon warehouses, picking, packing, sorting and unloading, as well as driving trucks and operating aircrafts, The New York Times Magazine reported.
"The company is so enmeshed in the community that it can simultaneously be a TV channel, grocery store, home security system, boss, personal data collector, high school career track, internet cloud provider and personal assistant," The New York Times Magazine added.
In just the last year, Amazon has tripled its delivery hubs in the region due to the demand for online shopping during the COVID-19 crisis. But despite the economic boom, heavy air pollution mainly from trucks going in and out of the warehouses infects nearby communities, the new research showed, according to The Guardian.
The research found, for example, that the populations living within a half-mile of the warehouses are 85 percent people of color, while California's overall population is 64 percent people of color, The Guardian reported. The research also found that communities with the most Amazon warehouses nearby have the lowest rates of Amazon sales per household.
"Amazon has boomed in 2020 and tripled the amount of money it's making, and it is happening at a cost to the folks who live in these communities," Ivette Torres, a PCEJ environmental science researcher and analyst, who helped put the research together, told The Guardian.
The research also demonstrated that the top 10 communities with the most warehouses in the region also experience pollution from other facilities, like gas plants and oil refineries, Earthjustice wrote in a statement.
"The Inland Empire, probably more than any region in the United States, has disproportionately [borne] the brunt of the environmental and economic impact of goods movement, and Amazon is driving that now in the Inland Empire," Jake Wilson, a California State University, Long Beach, professor of sociology, told Grist.
Last year, the San Bernardino International Airport Authority ratified a decision to allow an air cargo facility development at the airport, allowing Amazon to operate more flights out of the region, Grist reported.
Among the local residents to oppose the decision was Jorge Osvaldo Heredia, a resident of San Bernadino in Southern California since 2005. "This whole region has been taken over by warehouses," Heredia told Grist, and commented on the "horrible" air quality in the city on most days. "It's really reaching that apex point where you can't avoid the warehouses, you can't avoid the trucks," he added.
Advocates who published the research are pushing on the South Coast Air Quality Management District, a local air pollution regulatory agency, to move forward with the Warehouse Indirect Source Rule, which would require new and existing warehouses to take action to reduce emissions locally each year, The Guardian reported. Some solutions include moving towards zero-emissions trucks and mitigation fees.
"Last year, we saw some of the worst air quality, with wildfires adding to it, and the trucks were still in and out of our communities. So this is a huge change that we need right now, and that we actually needed yesterday," Torres concluded, according to The Guardian.
From Your Site Articles
Related Articles Around the Web
Xiulin Ruan, a Purdue University professor of mechanical engineering, holds up his lab's sample of the whitest paint on record. Purdue University / Jared Pike
Scientists at the University of Purdue have developed the whitest and coolest paint on record.
Painting buildings white to help cool down cities has long been touted as a climate solution. However, the white paints currently on the market reflect only 80 to 90 percent of sunlight and cannot actually cool a roof to below air temperature, The Guardian reported. However, this new paint can.
"Our paint can help fight against global warming by helping to cool the Earth – that's the cool point," University of Purdue Professor Xiulin Ruan told The Guardian. "Producing the whitest white means the paint can reflect the maximum amount of sunlight back to space."
The new paint, introduced in ACS Applied Materials & Interfaces on Thursday, can reflect up to 98.1 percent of sunlight and cool surfaces by 4.5 degrees Celsius. This means it could be an effective replacement for air conditioning.
"If you were to use this paint to cover a roof area of about 1,000 square feet, we estimate that you could get a cooling power of 10 kilowatts. That's more powerful than the central air conditioners used by most houses," Ruan said in a University of Purdue press release.
The new paint improves upon a previous paint by the same research team that reflected 95.5 percent of sunlight. Researchers say it is likely the closest counterpart to the blackest black, "Vantablack," which can absorb as much as 99.9 percent of visible light. The new paint is so white for two main reasons: It uses a high concentration of a reflective chemical compound called barium sulfate, and the barium sulfate particles are all different sizes, meaning they scatter different parts of the light spectrum.
White paint is already being used to combat the climate crisis. New York has painted more than 10 million square feet of rooftops white, BBC News reported. Project Drawdown calculated that white or plant-covered roofs could sequester between 0.6 and 1.1 gigatons of carbon between 2020 and 2050. The researchers hope their paint will enhance these efforts.
"We did a very rough calculation," Ruan told BBC News. "And we estimate we would only need to paint one percent of the Earth's surface with this paint — perhaps an area where no people live that is covered in rocks — and that could help fight the climate change trend."
The research team has filed a patent for the paint and hope it will be on the market within two years, according to The Guardian. However, Andrew Parnell, who develops sustainable coatings at the University of Sheffield, said it would be important to calculate the emissions produced from mining barium sulphate and compare those with the emissions saved from using the paint instead of air conditioning.
"The principle is very exciting and the science [in the new study] is good. But I think there might be logistical problems that are not trivial," Parnell told The Guardian. "How many million tons [of barium sulphate] would you need?"
Parnell thought green roofs, or roofs on which plants grow, might prove to be a more ecologically friendly alternative.