This website uses cookies to ensure you get the best experience while browsing it. By clicking 'Got It' you're accepting these terms.
50 Dirtiest U.S. Power Plants Huge Contributor to Carbon Emissions
Sep. 18, 2014 11:56AM EST
Climate
U.S. power plants are an outsized contributor to the world's carbon pollution, a new report released by Environment America Research & Policy Center and the Frontier Group says. It found that in 2012, they added more climate change-causing carbon to the environment than the entire economies of any nation other than China. The report, "America's Dirtiest Power Plants: Polluter on a Global Scale," demonstrated that U.S. power plants produced more than six percent of worldwide global warming emissions.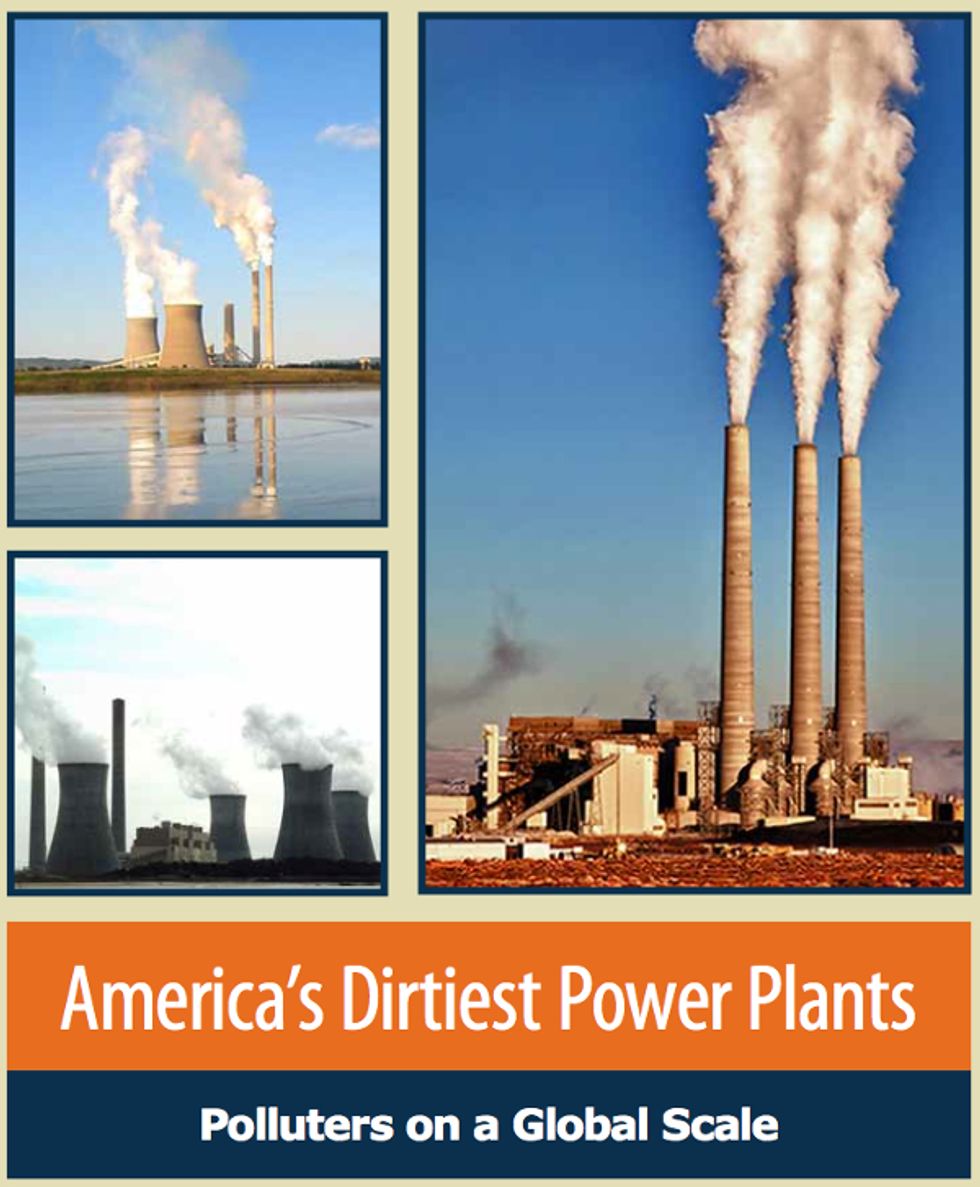 The report found that a relatively small number of primarily older, coal-fired plants were the main culprits. The 50 dirtiest power plants, less than one percent of all U.S. power plants, produced a whopping 30 percent of power-sector emissions in 2012, 12 percent of all U.S. carbon emissions, and nearly two percent of all the world's carbon emissions. The U.S. has about 6,400 electricity-generating facilities. Yet a single one—the Scherer Power Plant in Georgia—produced .4 percent of U.S. carbon emissions, equivalent to the entire economy of Sri Lanka, which ranks 86th in the world.
"U.S. power plants are polluters on a global scale," said Elizabeth Ouzts of Environment America Research & Policy Center. "That's why clean power now must be part of the solution to the climate crisis."
The report emphasized how much pollution the dirty plants produce relative to their energy production. Coal-fired plants produced 74 percent of U.S. power-plant pollution in 2012 but only 37 percent of its electricity. The 50 dirtiest plants contributed only 15 percent of the nation's electricity.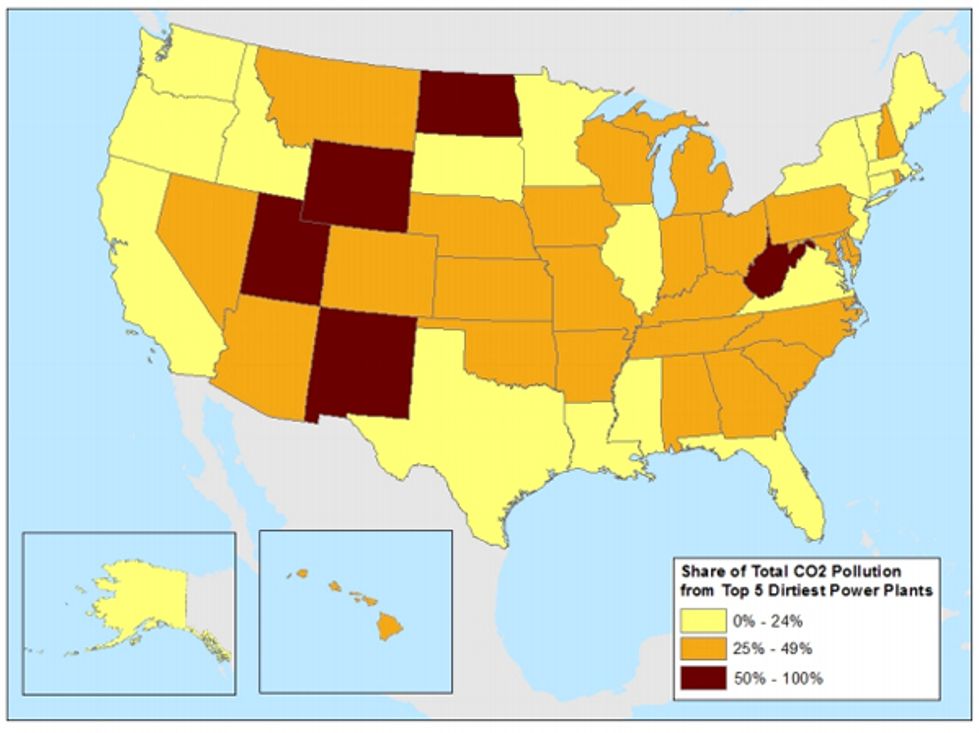 "U.S. power plants make such an outsized contribution to global warming emissions because so many of them are old and inefficient, and because so many of them run on coal, one of the dirtiest fuels on the planet," said the report, which said that 98 of the country's 100 most carbon-polluting plants ran on coal.
The report recommended that the U.S. Environmental Protection Agency (EPA) "strengthen, finalize and implement the Clean Power Plan," and that states begin to implement the plan to meet the standards as quickly as possible, working to quickly phase out the older, polluting plants and move to renewable energy sources. Its series of recommendations also includes urging Congress to pass a national renewable energy standard.
The Environment America Research & Policy Center is among many groups pushing for the Clean Power Plan. Six million comments have been submitted to the EPA and more than a thousand people have testified in hearing held across the country this summer in favor of the plan.
"For too long, power plants and other major polluters have enjoyed a holiday from responsibility," said Rhode Island Senator Sheldon Whitehouse. "Rhode Island and some parts of the country have taken steps to cut carbon pollution and invest in clean energy, but this report shows why federal carbon pollution standards are necessary to protect public health, our communities and future generations from the dangerous threat of climate change."
YOU MIGHT ALSO LIKE
New Website Encourages Americans to Say No to Dirty Energy and Yes to Renewables
7 in 10 Voters Support Strong Carbon Pollution Limits on Power Plants
How Energy Policies Dramatically Cut Carbon Pollution State by Stat
EcoWatch Daily Newsletter
Germany reached an agreement Thursday that will allow it to stop burning coal by 2038.
This photograph shows green photosynthetic cyanobacteria growing and mineralizing in the sand-hydrogel framework. The living material has similar strength to cement-base mortar. College of Engineering and Applied Science at Colorado University Boulder /
EurekAlert!
Cement is a remarkable building material; it's cheap, durable and readily available. However, its production is a leading source of carbon dioxide emissions, coughing up 2.8 gigatons of emissions every year, as Advanced Science News reported.
Internal documents from the Department of Homeland Security reveal that non-violent demonstrators targeting the oil industry were classified as "extremists," with some organization members listed alongside known white supremacists, as The Guardian reported.
An additional 2,100 deaths from fatal injuries may occur in the U.S. every year from a 2 C rise in temperatures, which could have grave implications for global changes associated with the climate crisis.