This website uses cookies to ensure you get the best experience while browsing it. By clicking 'Got It' you're accepting these terms.
50 Cities With Biggest Increases in Heavy Downpours
Jun. 02, 2015 12:13PM EST
Climate
The unprecedented rains and the resulting flooding in Texas and Oklahoma have captured headlines in recent days. Seven locations in those states had the most rain ever reported—including Oklahoma City which had its wettest month ever with almost five times the amount of rain it normally sees in May. And both states logged the wettest month on record.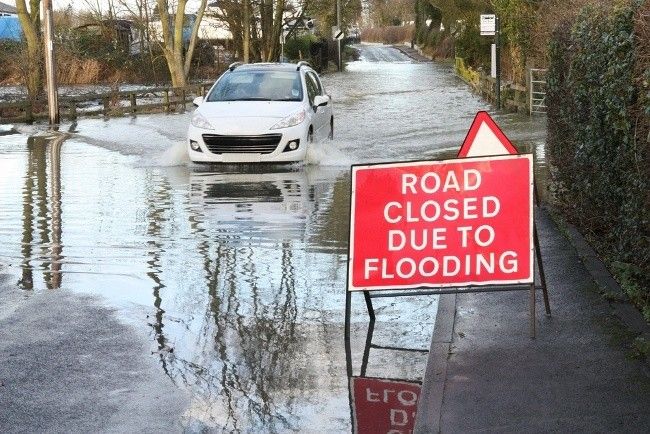 Photo credit: Shutterstock
It might be easy to pass these downpours off as rare and exceptional events that get coverage because they make great TV. But the number of such heavy deluges has increased across the country, resulting in heavy damage to infrastructure, business and school closures, property loss and even fatalities, such as the more than two dozen deaths reported so far in Texas. And scientists are seeing a link to climate change.
"While rainfall in the region is consistent with the emerging El Niño, the unprecedented amounts suggest a possible climate change signal, where a warming atmosphere becomes more saturated with water vapor and capable of previously unimagined downpours," said Climate Central, an organization of scientists and journalists which studies and provides information on climate change.
Looking at 65 years of rainfall data, Climate Central found that 40 of the 48 mainland states had an increase in the number of heavy downpours since 1950. The biggest increases were in the northeast with a 31 percent increase and the midwest with a 16 percent increase. Rhode Island had a 104 percent increase in heavy rainfall, followed by Maine with 61 percent, Wyoming with 58 percent, New Hampshire with 56 percent and Connecticut with 43 percent. Missouri, Vermont, Alabama, New York and Iowa all had increases in excess of 25 percent.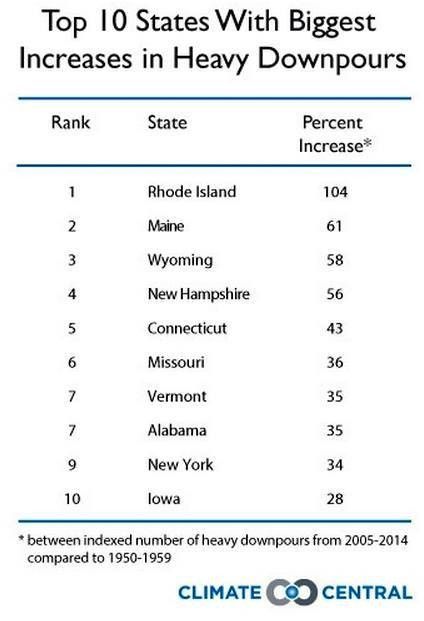 Check out this interactive map that shows the downpour trend in the U.S.:
Sixteen cities have seen rainfall increases of more than 100 percent, with McAllen, Texas far in the lead at 700 percent. Portland, Maine had a 400 percent increase, with Philadelphia, New York and Louisville all having increases of more than 300 percent.
Climate Central cited heavy rainfalls in Nashville and Detroit as examples of the impact of such rains. In Nashville in 2010, 13.6 inches of rain in a mere two days killed 11 people and caused $2 billion in damages. An August 2014 downpour in Detroit killed two and caused $1.1 billion in damages. The group also pointed to the potential health risks of such rainfall. It found that approximately half of the waterborne disease outbreaks in the U.S. from 1948 through 1994 were linked to periods of heavy rain.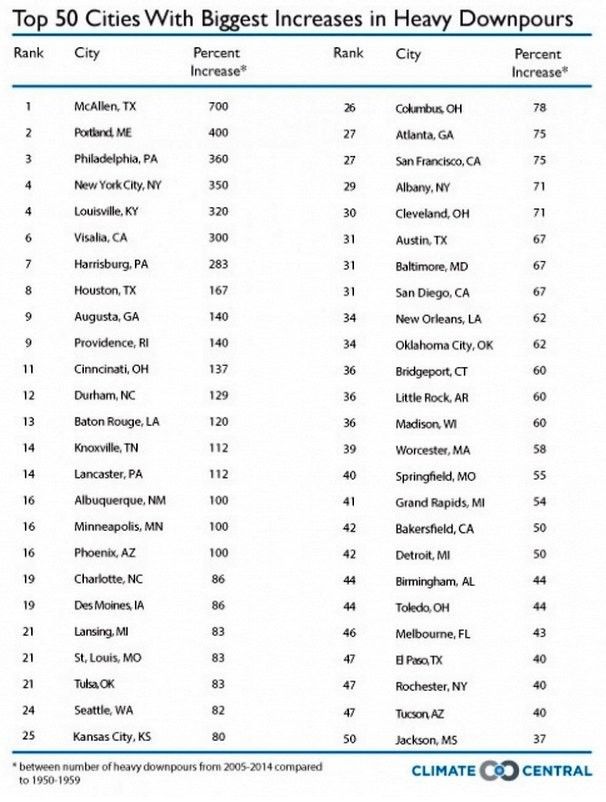 The Texas rainfall has alleviated the drought the state suffered from last year, when half of it was under severe, extreme or exceptional drought. Now none is, and only a small fraction of the state is reporting even moderate drought. But that's probably little consolation to the residents of the 37 Texas counties in which Gov. Greg Abbott has declared disaster areas, saying "You cannot candy coat it. It's absolutely massive."
Both Texas Senators, John Cornyn and Ted Cruz, are climate deniers who would vigorously dispute what Climate Central has to say, despite the fact that Texas suffers from a greater number of costly weather-related disasters than any state, including drought, heat and wildfires.
"Extreme heavy downpours are consistent with what climate scientists expect in a warming world," Climate Central explained. "With hotter temperatures, more water evaporates off the oceans, and the atmosphere can hold more moisture. Research shows that the amount of water vapor in the atmosphere has already increased. That means that  there is often a lot more water available to come down as rain. Climate scientists have already shown that increasing greenhouse gas concentrations as a consequence of human activity are partially responsible for the average global increase in heavy precipitation."
Measuring and dealing with such downpours is made difficult by the fact that, compared to extreme temperatures, they tend to be localized rather than regional events and random in nature, making it hard to tell where they will occur. But according to Climate Central, scientists think the increase in heavy downpours will continue throughout the 21st century.
"Climate models predict that if carbon emissions continue to increase as they have in recent decades, the types of downpours that used to happen once every 20 years could occur every 4 to 15 years by 2100," said Climate Central. "As the number of days with extreme precipitation increases, the risk for intense and damaging floods is also expected to increase throughout much of the country."
YOU MIGHT ALSO LIKE
Deadly Flooding in Texas Latest Example of Extreme Weather
Ted Cruz Continues to 'Coddle' His Fossil Fuel Funders in Wake of Deadly Texas Floods
EcoWatch Daily Newsletter
SHEALAH CRAIGHEAD
By Elliott Negin
On July 19, President Trump hosted Apollo 11 astronauts Buzz Aldrin and Michael Collins and their families, along with the family of their deceased colleague Neil Armstrong, at a White House event to commemorate the 50th anniversary of the first manned landing on the moon.
The study looked at three groups of diverse lizards from South America. Daniel Pincheira-Donoso
Cold-climate lizards that give live birth to their offspring are more likely to be driven to extinction than their egg-laying cousins as global temperatures continue to rise, new research suggests.
Sean Gallup / Getty Images
A stock photo of fire in the Amazon; a record number of fires have burned there this year. Brasil2 / E+ / Getty Images
Tuna auctions are a tourist spectacle in Tokyo. Outside the city's most famous fish market, long queues of visitors hoping for a glimpse of the action begin to form at 5 a.m. The attraction is so popular that last October the Tsukiji fish market, in operation since 1935, moved out from the city center to the district of Toyosu to cope with the crowds.

gmnicholas / E+ / Getty Images
Kristan Porter grew up in a fishing family in the fishing community of Cutler, Maine, where he says all roads lead to one career path: fishing. (Porter's father was the family's lone exception. He suffered from terrible seasickness, and so became a carpenter.) The 49-year-old, who has been working on boats since he was a kid and fishing on his own since 1991, says that the recent warming of Maine's cool coastal waters has yielded unprecedented lobster landings.
Aerial view of lava flows from the eruption of volcano Kilauea on Hawaii, May 2018. Frizi / iStock / Getty Images
Hawaii's Kilauea volcano could be gearing up for an eruption after a pond of water was discovered inside its summit crater for the first time in recorded history, according to the AP.