50,000+ Demand DEC Withdraw Flawed LNG Regulations
Dec. 04, 2013 02:34PM EST
Fracking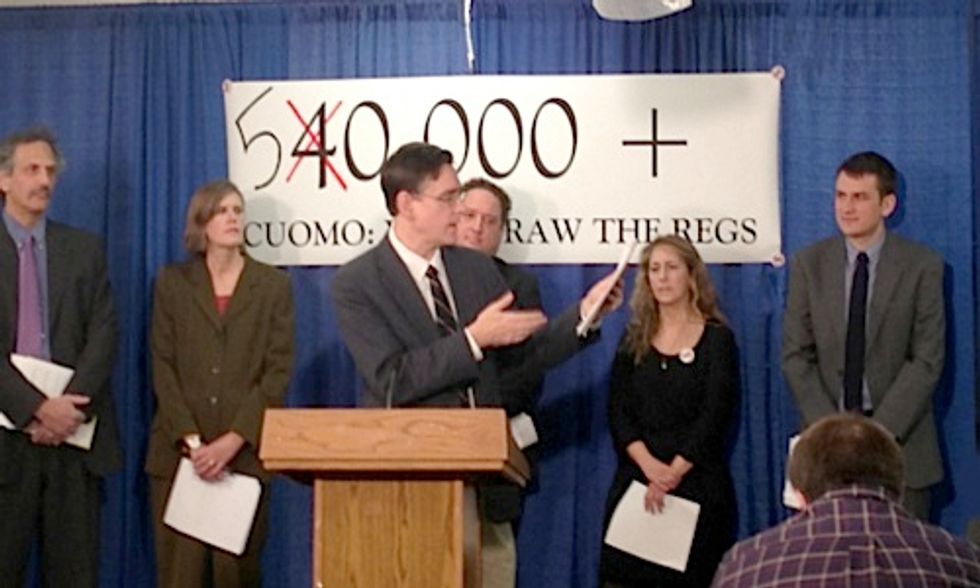 On the last day for public comment on the Department of Environmental Conservation's (DEC) proposed liquefied natural gas (LNG) regulations, New Yorkers Against Fracking, New York Public Interest Research Group (NYPRIG), Sierra Club Atlantic Chapter, Catskills Citizens for Safe Energy, Catskill Mountainkeeper, Food & Water Watch, Frack Action, United For Action and others delivered tens of thousands of comments and demanded that Gov. Cuomo (D-NY) and the DEC withdraw the regulations.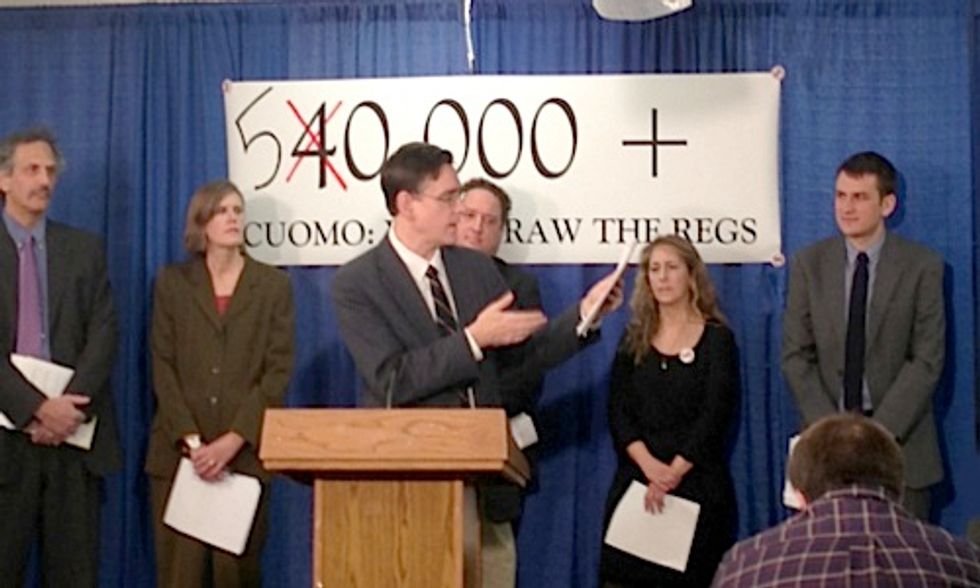 "Governor Cuomo and the DEC must listen to the outpouring of opposition in more than 50,000 comments and withdraw these flawed, dangerous Liquefied Natural Gas regulations," said Alex Beauchamp, Northeast region director of Food & Water Watch and a spokesperson for New Yorkers Against Fracking.
The proposed regulations would lift a decades-old moratorium on new LNG uses that followed a major explosion and death of 40 workers in Staten Island in 1973.
The new regulations go well beyond the regulating vehicle fueling stations—the unmet need offered by DEC—and instead would allow the fossil-fuel industry to build out massive natural gas infrastructure that will encourage fracking, including possibly in New York. The groups urged that if Gov. Cuomo and the DEC honestly claim that the regulations are unrelated to fracking, they must withdraw the current proposed regulations and start over.
They released a letter to Gov. Cuomo detailing why the regulations must be withdrawn.
"The regulations are inadequate on every level and fail to meet the high standards for public safety that the Legislature established in the aftermath of the Staten Island LNG plant explosion that killed forty workers," said Russ Haven, Legislative Counsel for NYPIRG. "It's a shock but perhaps no surprise that DEC came up with a flimsy eight-page regulation that outsources most of the hard work to local governments and beleaguered fire departments."
Rather than conserving domestic reserves for the future, oil and gas companies are interested in exporting fracked liquefied natural gas overseas where consumers in Europe and China will pay double to quadruple the price. Currently, the U.S. Department of Energy has approved four LNG export facilities including one in the Chesapeake Bay in Maryland and 18 permits are pending approval.
"LNG is a super-chilled liquid that requires immense amounts of fossil fuel to make," said Sandra Steingraber, PhD, a distinguished scholar in residence at Ithaca College, and a spokesperson for Concerned Health Professionals of NY. "LNG has to vent climate-killing methane just to stay cool. If it spills into water, it explodes. If it spills on the ground, it rises into an asphixiating cloud. If it ignites, the fire so created can melt steel and burn skin at great distances."  
"It's not a surprise that LNG facilities are known terrorist targets," Steingraber continued. "It is a surprise that the DEC would replace New York's 40-year moratorium on LNG facilities with an insubstantial set of regulations that are little more than a welcome mat, an open doorway, and a passport to overseas markets."
DEC Commissioner Martens and his agency have emphasized that the regulations are for truck fueling stations, however their own documents reveal something very different. The regulations proposed by DEC contain no limits on the type or size of LNG facilities, allowing for the construction of massive import-export terminals, LNG production plants and re-gasification facilities with millions of gallons of storage capacity. Moreover, the regulations could promote rapid deployment of fracking using mobile technology for LNG at well pads.
"It is shameful that after forty years, this is the best that DEC could come up with," Keith Schue, a former engineer with experience in policy and regulatory review. "These so-called 'regulations' fail to protect the public and do nothing to prohibit methane emissions that are a documented problem with LNG." 
"The  DEC's declaration that there are no significant environmental concerns associated with expanding LNG infrastructure in New York contradicts four decades of legislative precaution for the potential explosions, fires and fatalities inherent to the storage and transport of this cryogenic fuel," said Roger Downs, Sierra Club Atlantic Chapter conservation director. "The massive climate change implications alone of advancing a new LNG program should give DEC pause when there are more viable renewable energy and transportation alternatives before us."
"In many important ways, the proposed regulations are so vague as to be virtually meaningless," Jill Wiener of Catskill Citizens for Safe Energy. "They would lift the four-decade long prohibition on LNG facilities and open up another door to infrastructure build out"
On Oct. 30, more than 200 New Yorkers came out to Albany for the one and only public hearing on the regulations, overwhelmingly opposing them and offering crippling testimony. It was further revealed that the regulations are not based in science and that the key study behind them was actually written by an LNG company, Expansion Energy, with significant interests in seeing LNG move forward—a stark conflict of interest.
Visit EcoWatch's FRACKING page for more related news on this topic.

EcoWatch Daily Newsletter