This website uses cookies to ensure you get the best experience while browsing it. By clicking 'Got It' you're accepting these terms.
5 Wishes for the Clean Water Act on Its 40th Birthday
Oct. 18, 2012 06:11AM EST
Insights + Opinion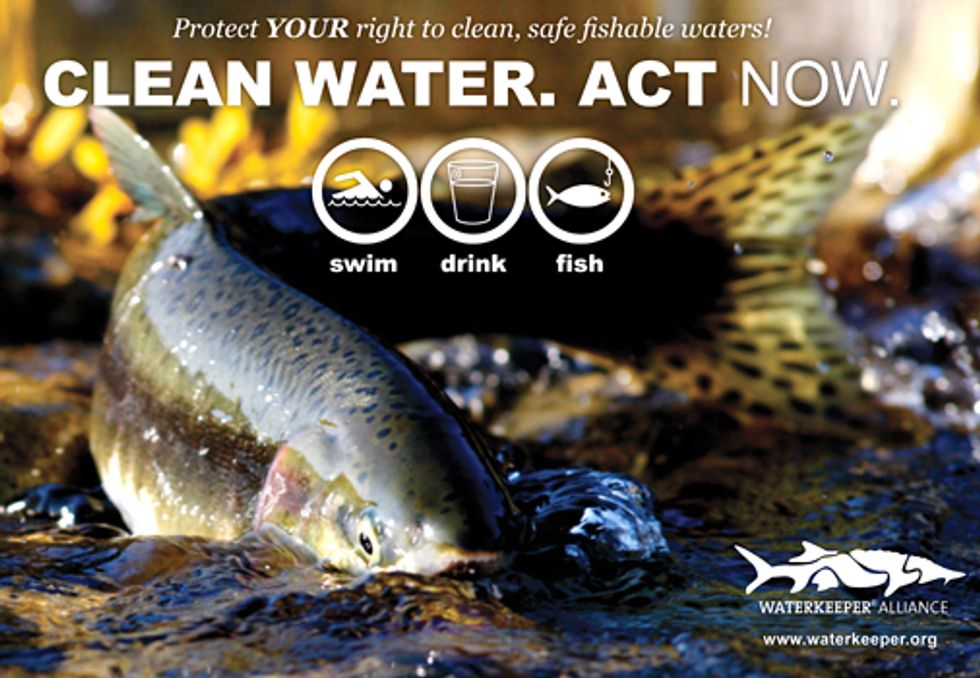 The Clean Water Act turns 40 today. As many know, a 40th birthday can be a momentous occasion for some, an "it's all downhill" moment for others and just another year for the indifferent. We have many successes to celebrate for the Clean Water Act's 40th, but our industry-controlled Congress is making it awfully hard to feel good about blowing out the candles.
After a year of kowtowing to big polluters with piecemeal attempts to gut the Act, last month, House Republicans decided to go whole hog and try to pass a super polluter bill—the "Stop the War on Coal"—which more properly belongs on the pages of Mad magazine. Unfortunately, some members of Congress are dead serious on threatening your right to clean air and water. The bill included attacks on the Clean Water Act, Clean Air Act, the Surface Mining Control Act and U.S. EPA, among other things, including rejecting the science on climate change.
Let's review where we've gotten with the Clean Water Act since 1972:
Forty years ago the Hudson River was more of an industrial waste conveyance than a great waterway. Today, thanks to the Clean Water Act and citizen action from groups like Hudson Riverkeeper, who stood up to polluters and gave meaning and force to the Clean Water Act, the Hudson River is a model of ecosystem revitalization.
Using the Clean Water Act, Puget Soundkeeper forced the City of Bremerton, Washington, to reduce the volume of its combined sewer overflows by 99 percent, which directly led to the reopening of nearby commercial shellfish beds in Puget Sound. These shellfish beds, which had been closed for more than 40 years, are culturally and economically important to the Suquamish Tribe, who now can harvest their ancestral fishing grounds once again.
Clean Water Act successes are by no means limited to the Hudson River and Puget Sound, and there are hundreds of advocates using the Act to fight for your right to clean water. Waterways across America have been brought back from the perilous brink they had reached 40 years ago.
At the same time, many of our waterways remain in decline or have suffered at the hands of greedy polluters. Just ask the citizens of Pike County, Kentucky, whose drinking water would catch fire, turn black or orange, and burn their skin after it was contaminated by the coal industry. Or talk to surfers in Malibu, California, and you're sure to find someone who became sick—some with life-threatening illnesses—after coming into contact with raw sewage and runoff.
Many dirty water horror stories across the country are the result of state and federal agencies abdicating their responsibility to properly implement and enforce the Clean Water Act, along with court decisions and agency guidance documents that are gutting the Clean Water Act's jurisdiction over our waters.
On the Clean Water Act's 40th birthday, here are a few wishes for its future:
1. The U.S. Environmental Protection Agency finally requires closed-cycle cooling for power plants, which now consume more than 70 trillion gallons of water a day, kill billions of fish and vomit hot water back into our rivers destroying ecosystems even further. Closed cycle cooling—a technology already in use—would reduce water withdrawals and fish kills by about 95 percent.
2. The U.S. EPA provides clear information about the location and activities of industrial factory farms, requires states to issue meaningful permits to the factories and enforces the permits.
3. The U.S. EPA convinces the White House to change the chant of "Clean Coal" to "Coal Kills," ends mountaintop removal coal mining, announces a rule to regulate coal ash and stops the export of coal from the U.S. to Asia.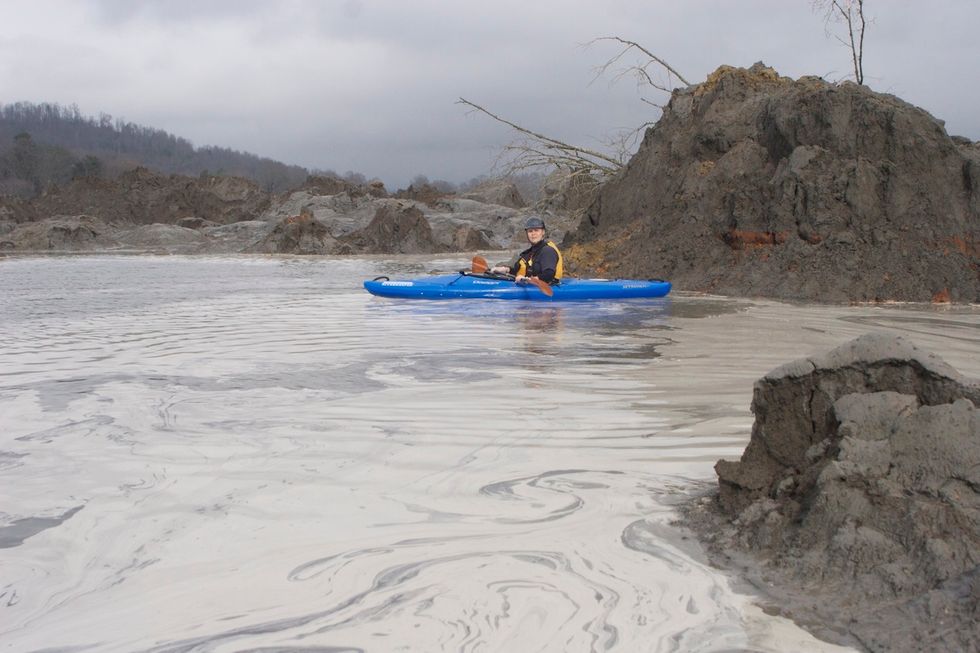 Watauga Riverkeeper Donna Lisenby takes water samples on December 27, 2008 while paddling between giant ash bergs created by the 1 billion gallon TVA Kingston coal ash spill into the Emory River in Tennessee. Photo credit: John Wathen, Hurricane Creekkeper
4. The U.S. Supreme Court affirms every American's right to clean water by upholding NEDC v. Brown, which ruled that polluted stormwater from logging roads is subject to Clean Water Act regulation, and by upholding L.A. County Flood Control District v. NRDC, which requires Los Angeles County to clean up its polluted stormwater. And while we are on stormwater, the EPA promulgates a national stormwater rule that provides for objective performance standards for polluted stormwater, one of the greatest threats to water quality in the U.S. Such a rule would drive innovative green infrastructure techniques to capture polluted runoff on development sites, preventing it from destroying our waterways. It would reduce energy consumption, create jobs, increase property values and much more.
5. Congress passes the "End Polluter Welfare Act" (H.R. 5745), a bill introduced by Sen. Bernie Sanders of Vermont and Rep. Keith Ellison of Minnesota. The fossil fuel industry is the biggest water polluter on earth. Ending more than $110 billion in tax payer subsidies to this toxic industry is the best thing we could do for water and American tax payers.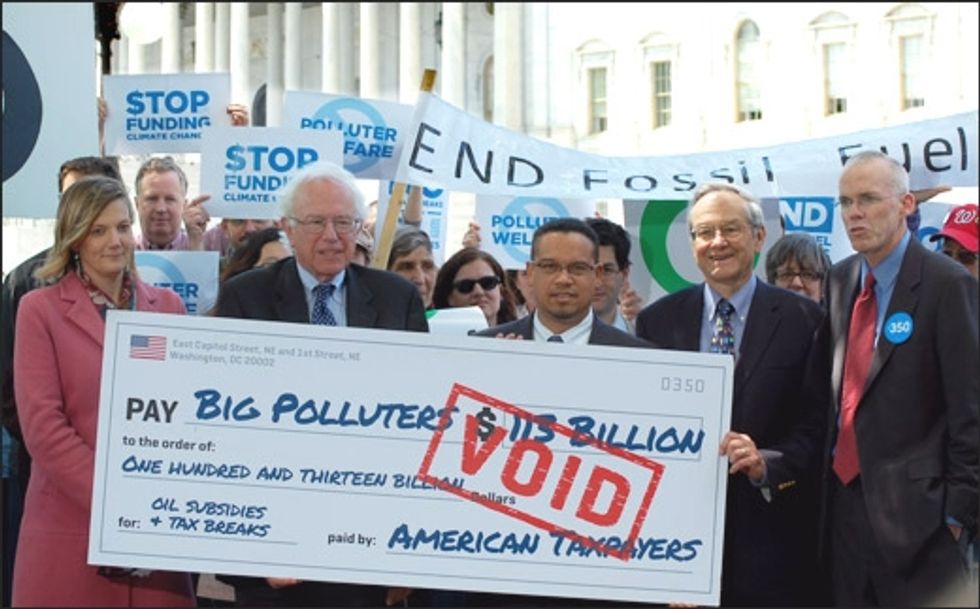 Sen. Bernie Sanders of Vermont and Rep. Keith Ellison of Minnesota introduce "End Polluter Welfare Act" (H.R. 5745) at a press event on Capitol Hill on May 10.
While we reflect on the Clean Water Act's achievements, as well as the threats it faces, we should remember this: the Act's great promise of swimmable, drinkable, fishable waters is not a wish list but a delineation of every American's inalienable right to this precious resource, water.
Happy birthday Clean Water Act—we are grateful to you and will continue to fight for you.
Visit EcoWatch's CLEAN WATER ACT page for more related news on this topic.
--------
WHAT DO YOU WISH FOR THE CLEAN WATER ACT THIS YEAR?
COMMENT BELOW:
EcoWatch Daily Newsletter
A pangolin at a rescue center in Cambodia. Rhett A. Butler / Mongabay
A man carries plastic shopping bags in Times Square on May 5, 2018 in New York City. Kena Betancur / VIEWpress / Corbis / Getty Images
White gold man-made diamond solitaire engagement ring. Clean Origin
While keeping track of the new trends in the diamond industry can be hard, it is still an essential task of any savvy consumer or industry observer. Whether you are looking to catch a deal on your next diamond purchase or researching the pros and cons of an investment within the diamond industry, keeping up with the trends is imperative.
Rep. Alexandria Ocasio-Cortez (D-NY) (C) chants with housing and environmental advocates before a news conference to introduce legislation to transform public housing as part of her Green New Deal outside the U.S. Capitol Nov. 14, 2019 in Washington, DC. Chip Somodevilla / Getty Images
Rep. Alexandria Ocasio-Cortez (D-N.Y.) took to the floor of the House of Representatives yesterday to chide Republicans for not reading the Green New Deal, which she introduced over one year ago, as The Hill reported. She then read the entire 14-page document into the congressional record.
Anti Ivan Duque's demonstrator is seen holding a placard with the photos of social leader Alirio Sánchez Sánchez and the indigenous Hector Janer Latín, both killed in Cauca, Colombia during a protest against Ivan Duque visit in London which included a meeting about fracking, environmental issues, the peace process implementation, and questioning the risk that social leaders in Colombia face. Andres Pantoja / SOPA Images / LightRocket / Getty Images
Colombia was the most dangerous nation in 2019 to be an environmental activist and experts suspect that conditions will only get worse.