5 Ways Trans-Pacific Partnership Threatens Local Food
By Karen Hansen-Kuhn and Ben Lilliston
Congress is quietly considering legislation that would speed the passage of two mega trade agreements, and seeks to specifically eliminate government programs that favor "localization." The bill would give the Obama Administration what is known as "fast track" authority—meaning Congress would surrender its constitutional authority to shape trade agreements negotiated by the President and instead can only vote up or down on the deal.
Why should those working for a fair, sustainable food system care? Perhaps no area of policy has undermined local food systems around the world more than the slew of trade agreements passed over the last several decades. These trade rules cover everything from tariffs, food safety and intellectual property to enshrining corporate rights. They place restrictions on what is allowed in national policies, like the Farm Bill, as well as the state and local level. These deals have heavily tilted the playing field from farmers and consumers toward global agribusiness and food giants like Cargill, Monsanto and Wal-Mart.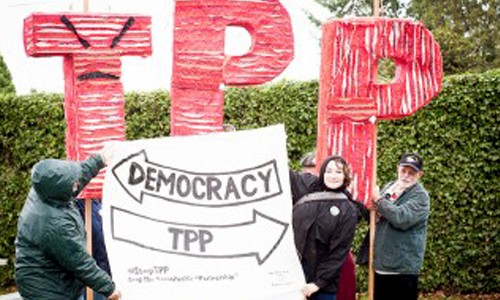 Because these trade deals, like NAFTA and CAFTA, have been so blatantly negotiated on behalf of multinational corporations and have contributed to growing income inequality, they've been extremely unpopular. This is why the Obama Administration has decided to negotiate these two new trade agreements in secret. That's right, the Trans-Pacific Partnership (TTP) (including more than a dozen countries) and the Transatlantic Trade and Investment Partnership (TTIP) (with our biggest trading partner, the EU) is being negotiated entirely behind closed doors. The negotiating text has not been made public, and, amazingly, even many members of Congress are in the dark about what's happening.
Aside from putting these secret trade deals on a fast track, the bill introduced by Sens. Max Baucus (D-MT) and Orrin Hatch (R-UT) and Rep. Dave Camp (R-MI) includes a new negotiating priority objective to eliminate what it calls "localization barriers." Local content requirements have been a stated target of the U.S. Trade Representative (USTR) in other countries like India. But of course, any agreement to undermine local content rules in another country would also apply to U.S. programs that give preference to locally sourced food or energy.
Here are 5 issues on the negotiating table in these trade agreements that local food activists should be worried about:
Procurement policies and local foods: A variety of policies at the municipal, state and federal level give purchasing preferences to local farmers, including U.S. Farm to School programs. Other procurement requirements like "Buy American" or preferences to small or mid-sized companies could also be affected.
Labeling (genetically engineered foods and country-of-origin): Both the U.S. and EU are using trade rules to strike back against consumers right to know about their food. The USTR recently pressured Peru over their mandatory labeling of GE foods, and has consistently attacked EU regulations of GE crops through the World Trade Organization (WTO). The EU supported a WTO ruling striking down country-of-origin labeling (COOL) in the U.S. Fortunately, the USDA has since revised the rule, and that version will face another challenge at the WTO. Rules on labeling established in these trade agreements will affect both national and state-level efforts for more consumer information about their food.
Food safety: Food safety standards have been the subject of trade disputes between the U.S. and EU for years. The U.S. has targeted strong EU restrictions on GE crops, growth hormones, such as ractopamine and chlorinated rinses of poultry carcasses. The EU, for its part, is seeking to overturn U.S. limits on EU beef related to controls to prevent Mad Cow Disease. The EU also is concerned about elements of the recently passed U.S. Food Modernization Act. Food safety rules established under these trade agreements will again limit what additional steps can be taken at the national and state level to protect consumers.
Chemical policy reforms: Trade rules on the use of potentially toxic chemicals, which often find their way into the food supply, could undermine the EU's Regulation on Registration, Evaluation, Authorization and Restriction of Chemicals (REACH), a process firmly grounded in the Precautionary Principle. USTR has been pushing back against REACH since its inception. But, like food safety, a trade agreement could also block efforts at the state and national level in the U.S. to strengthen regulation of toxic chemicals.
Investor-state dispute resolutions: Finally, proposals in TPP and TTIP create a private "dispute resolution mechanism" that would allow corporations to challenge any public "measure"—including food safety laws and court rulings—that threaten their future bottom line by bringing national governments to court. A government that lost before a tribunal of three trade lawyers would either have to change the offending "measure" or pay the plaintiff corporation lost anticipated revenues. Yes, it's as incredible as it seems. Phillip Morris has used this provision to challenge cigarette health warnings. Cargill has used it to challenge trading regulations on high fructose corn syrup. Chevron to gain access to oil deposits. These corporate rights provisions, known as investor-state dispute resolution (ISDR), are a hallmark of U.S. trade agreements.
There is too much at stake for Congress to pass fast track and open the door for the speedy passage of mega trade deals that threaten to undermine much of the important work being done to build more sustainable, healthy and fair food systems. The good news is that we can prevent this from happening. There is growing opposition to Fast Track in Congress. More than 150 House members have expressed their opposition to the bill. Now is the time for the local and sustainable food community needs to tell their member of Congress to oppose fast track. Institute for Agriculture and Trade Policy is a member of the Citizens Trade Campaign; go to their action center and let your member of Congress know your concerns.
Visit EcoWatch's FOOD page for more related news on this topic.

Dow CEO Andrew Liveris and President Donald Trump in February.
U.S. Environmental Protection Agency (EPA) administrator Scott Pruitt met with Dow Chemical CEO Andrew Liveris before deciding to reverse an earlier EPA decision to ban the company's toxic and widely used pesticide, chlorpyrifos.
According to records obtained by the Associated Press, the EPA boss met with Liveris for about 30 minutes at a Houston hotel on March 9. Later that month, Pruitt announced that he would no longer pursue a ban on chlorpyrifos from being used on food, ignoring his agency's own review that even small amounts of the pesticide could impact fetus and infant brain development.
Keep reading...
Show less
www.facebook.com
Native communities and environmental justice advocates in Louisiana opened a new resistance camp Saturday to oppose the proposed Bayou Bridge Pipeline project. Called L'eau Est La Vie, or Water is Life, the camp will consist of floating indigenous art structures on rafts and constant prayer ceremonies during its first two weeks.
Keep reading...
Show less
Continuing its march toward elimination of key Clean Water Act protections, the U.S. Environmental Protection Agency (EPA) on Tuesday issued a formal notice of withdrawal of the Obama administration's rule defining which waters can be protected against pollution and destruction under federal law.
Keep reading...
Show less
The U.S. Environmental Protection Agency (EPA) is not doing enough to prevent weed resistance to the herbicide glyphosate (Roundup) says a new report from the EPA's Inspector General's Office, which draws in part on a report from the agbiotech company, Pioneer: Weed Management in the Era of Glyphosate Resistance.
Keep reading...
Show less
SUMR
When it comes to the latest wind turbine technologies, size matters. A group of six institutions and universities is designing an offshore wind turbine that will stand 500 meters in height. That's taller than the Eiffel Tower and the Empire State Building.
The research team, led by researchers at the University of Virginia, believes that its wind turbine concept will produce 50 megawatts of peak power, or about 10 times more powerful than conventional wind turbines.
Keep reading...
Show less
www.facebook.com
Natural gas is often considered the cleanest fossil fuel, but could it actually be dirtier than coal?
Watch as New York Times reporter Mark Bittman, in the above Year's of Living Dangerously video, investigates how much methane is leaking at fracking wells. Find out how the natural gas industry's claims compare to what scientists are reporting.
See what happens when Gaby Petron, an atmospheric scientist with NOAA, converts her van into a mobile methane detector and sets out across northeastern Colorado for two years, taking thousands of readings to uncover the truth.
www.youtube.com
Adrian Grenier was named UN Goodwill Ambassador earlier this month. The Hollywood actor, best known for his iconic role of A-list movie star Vincent Chase in the HBO smash hit and film Entourage, will advocate for drastically reducing single-use plastic and protection of marine species, and encourage his followers to make conscious consumer choices to reduce their environmental footprint, according to the UN Environment announcement.
"Together we must usher in a new era of compassion and carefulness through forward thinking environmental programs to drive measurable change," Grenier said. "I am personally committed to creating ways in which the global community can come together to help solve our most critical climate crises through routine, collective action.
"The more we connect to nature in our daily lives, the more dedicated we will become to our individual commitments. Together, I believe we can go further, faster in our race to achieve the UN Sustainable Development Goals by 2030."
Watch the video above to learn more.
The last week has seen a flood of stories on clean energy's prospects—stories that make your head spin with their conflicting tales of renewable energy's prospects of ending our dangerous addiction to fossil fuel power from coal and gas.
Keep reading...
Show less