This website uses cookies to ensure you get the best experience while browsing it. By clicking 'Got It' you're accepting these terms.
5 Ways to Make Your Halloween Green
Oct. 23, 2013 01:31PM EST
Halloween tops the list of holidays where lots of money is spent. The U.S. alone spends a mind-boggling $7 billion on candy, costumes and decorations. Much of these Halloween accoutrements are made overseas, shipped here and disposed of shortly after. Unfortunately, this makes for unnecessary waste and carbon emissions.
Want to have a great Halloween but hate the impact all the costumes and decorating have on your health and the environment? Check out our five tips below to green your Halloween.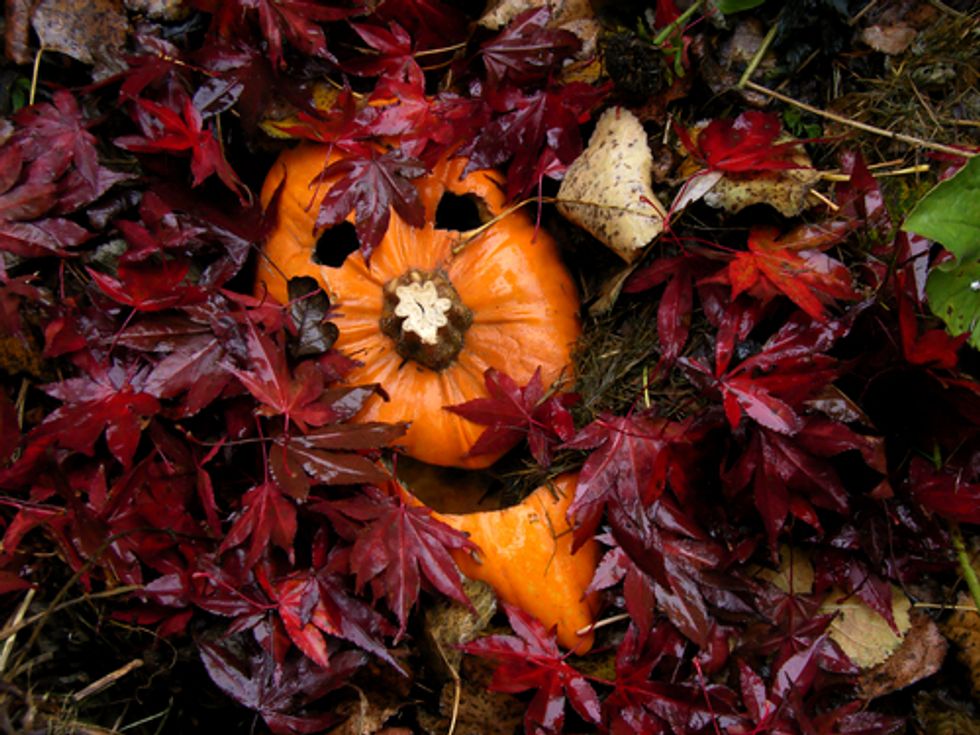 1. Save your child's costume to swap with another family next year, rather than throwing it in the trash. It's too late for this year's first-ever Halloween Costume Swap Day, sponsored by Green Halloween, KIWI magazine, and Swap.com. But if just half the 25 million children who celebrate Halloween in the U.S. exchanged costumes, they'd reduce landfill waste by 6,250 tons.
2. Make your own Halloween makeup. Don't buy conventional face paints marketed for Halloween dress-up. The Ecology Center, a Michigan-based nonprofit environmental organization, found one or more toxic heavy metals in 100 percent of the Halloween cosmetics they tested. The Campaign for Safe Cosmetics has a few easy non-toxic recipes for non-toxic face paint.
3. Give out candy that doesn't harm the environment. Avoid candy that uses palm oil. Look for organic, all-natural, dye-free ingredients that are ethically sourced and packaged with the Earth in mind—for example, candy in compostable packaging or sold in bulk. Green Halloween has ideas for alternative Halloween treats.
4. Make low-impact, recyclable Halloween decorations. Rather than raiding the dollar bin at the discount store, cut gravestones from cardboard or create spider webs from yarn or string. Decorate with bare branches, dry leaves, pumpkins, and gourds.
5. Eat or compost your pumpkin. Americans buy more than 1 billion pounds of pumpkins at Halloween, and the vast majority of those end up in the trash. If you don't want to eat the pulpy inside of your pumpkin, at least roast the seeds. Then put the pumpkin in your compost bin. Smash the shell before composting.Or just bury it in your garden—the pumpkin will decompose quickly and add nutrients to your soil.

EcoWatch Daily Newsletter
A harbour seal on an ice floe in Glacier Bay, Alaska. A new study shows that the climate crisis has warmed waters, changing ecosystems and crippling sea ice growth. Janette Hill / robertharding / Getty Images Plus
Doctors report that only 1 in 4 children are getting the recommended 60 minutes of physical activity per day. Ronnie Kaufman / DigitalVision / Getty Images
By Dan Gray
Pediatricians are being urged to start writing "exercise prescriptions" for the children they see in their office.
A First Nations protester walks in front of a train blockade in Tyendinaga, near Belleville, Ontario, Canada on Feb. 21, 2020. LARS HAGBERG / AFP via Getty Images
An indigenous rail blockade that snarled train travel in Canada for more than two weeks came to an end Monday when police moved in to clear protesters acting in solidarity with another indigenous community in British Columbia (B.C.), which is fighting to keep a natural gas pipeline off its land.
A rainbow snake, a rare reptile spotted in a Florida county for the first time in more than 50 years, seen here on July 5, 2013.
Kevin Enge / FWC Fish and Wildlife Research Institute / Flickr
A Florida hiker recently stumbled across a slithering surprise — a rare snake that hadn't been spotted in the area for more than 50 years.
We need our government to do everything it can to stop PFAS contamination and exposure from wreaking havoc in communities across the country. LuAnn Hun /
Unsplash
By Genna Reed
The EPA announced last week that it is issuing a preliminary regulatory determination for public comment to set an enforceable drinking water standard to two of the most common and well-studied PFAS, PFOA and PFOS.
This decision is based on three criteria:
PFOA and PFOS have an adverse effect on public health
PFOA and PFOS occur in drinking water often enough and at levels of public health concern;
regulation of PFOA and PFOS is a meaningful opportunity for reducing the health risk to those served by public water systems.