This website uses cookies to ensure you get the best experience while browsing it. By clicking 'Got It' you're accepting these terms.
5 Ways to Make Grocery Shopping Healthier for You and the Planet
Jan. 20, 2015 08:42AM EST
Food
Grocery stores in the U.S. are brimming with plenty. Aisle after aisle in these sprawling food meccas is filled with multiple choices, often of similar or identical products—that it can be overwhelming.
Maybe you enjoy food "window shopping"—browsing the alternatives and seeing what products are out there before making your picks. Or maybe you're one of those people who makes a list and a plan and hurries to get just what you need and get out. Either way, there are somethings to keep in mind for healthier shopping beyond the old saw about "Don't go grocery shopping when you're hungry."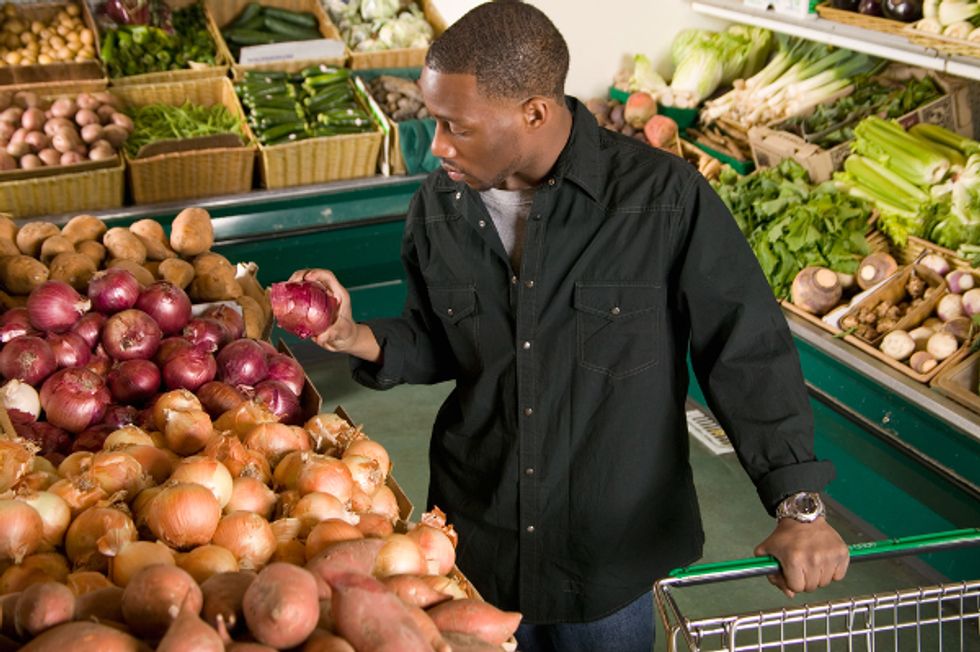 Photo credit: Shutterstock
1. You've probably heard this one before too but avoid the middle aisles as much as possible and shop the perimeters. That's where the unprocessed foods tend to be—produce, dairy products, meats, usually the bakery. Of course, there will be times when you need to pick up coffee, tea, flour or crackers. But the middle aisles are where a lot of processed, packaged foods—like sugary cereals—lie in wait.
2. Start in the produce department and make your cornerstone purchases there. If you fill up your basket and budget there, there's less room for that bag of cookies. And don't just go for a handful of your old favorites when it comes to vegetables and fruits. While almost all are loaded with healthful vitamins and minerals linked to prevention of a whole range of diseases, each has different nutrients in differing amounts. Kale is great, but so are collards and mustard greens and other leafy vegetables. Get a variety of colors too because color is an indicator of which nutrients that particular one has in abundance. And try something new as well. That odd-looking Asian melon might become a new favorite.
3. When you're shopping in those middle aisles, read the labels. Go for the choice that has fewer additives and mystery ingredients, less sugar and salt, and no high-fructose corn syrup. Even if it has a splashy banner that says something like "All Natural!," investigate. While "organic" actually does have a meaning, "natural" doesn't. It can be slapped on anything.
4. In the dairy section, look for butter and milk that are labeled as free of growth hormones and antibiotics. As for eggs, the variety of labels like "cage-free," "free-range," "pasture -raised," "Omega-3 enriched" and "organic" can be confusing. The first three refer to the conditions under which the chickens were raised with free-range better than cage-free and pasture-raised best of all. Organic assures that the chickens have had organic feed and no hormones. Omega-3 enriched is one of those things that makes less difference than marketers want you to think. And no, brown eggs aren't healthier than white ones.
5. Watch out in the beverage aisle, although unless you are picking up coffee or tea, we're not sure why you are there. There are healthy juices certainly, but they're probably in the coolers, not in the aisles where they'd have to be packed with preservatives to extend their shelf life. And that includes some of those fancy energy and athletic drinks which frequently have a lot of added sugar as well.
We'll close with another tip you probably already know. When you head for the checkout, you should be done. Many markets load up the shelf by the checkout with impulse snack purchases and these are virtually never good for you. Refrain.
YOU MIGHT ALSO LIKE
10 Additives You Don't Want in Your Food
5 Food Trends to Watch in 2015
EcoWatch Daily Newsletter
The CDC has emphasized that washing hands with soap and water is one of the most effective ways to prevent the spread of COVID-19. Guido Mieth / Moment / Getty Images
The Centers for Disease Control has emphasized that washing hands with soap and water is one of the most effective measures we can take in preventing the spread of COVID-19. However, millions of Americans in some of the most vulnerable communities face the prospect of having their water shut off during the lockdowns, according to The Guardian.
A California newt (Taricha torosa) from Napa County, California, USA. Connor Long /
CC BY-SA 3.0
Aerial photos of the Sierra Nevada — the long mountain range stretching down the spine of California — showed rust-colored swathes following the state's record-breaking five-year drought that ended in 2016. The 100 million dead trees were one of the most visible examples of the ecological toll the drought had wrought.
Now, a few years later, we're starting to learn about how smaller, less noticeable species were affected.
Disinfectants and cleaners claiming to sanitize against the novel coronavirus have started to flood the market.
Natthawat / Moment / Getty Images
Disinfectants and cleaners claiming to sanitize against the novel coronavirus have started to flood the market, raising concerns for the U.S. Environmental Protection Agency (EPA), which threatened legal recourse against retailers selling unregistered products, according to The New York Times.
A customer packs groceries in reusable bags at a NYC supermarket on March 1, 2020. Eduardo Munoz Alvarez/Getty Images
The global coronavirus pandemic has thrown our daily routine into disarray. Billions are housebound, social contact is off-limits and an invisible virus makes up look at the outside world with suspicion. No surprise, then, that sustainability and the climate movement aren't exactly a priority for many these days.
Ingredients are displayed for the Old School Pinto Beans from the Decolonize Your Diet cookbook by Luz Calvo and Catriona Rueda Esquibel. Melissa Renwick / Toronto Star via Getty Images
By Molly Matthews Multedo
Livestock farming contributes to global warming, so eating less meat can be better for the climate.