This website uses cookies to ensure you get the best experience while browsing it. By clicking 'Got It' you're accepting these terms.
5 Ways to Make Grocery Shopping Healthier for You and the Planet
Jan. 20, 2015 08:42AM EST
Food
Grocery stores in the U.S. are brimming with plenty. Aisle after aisle in these sprawling food meccas is filled with multiple choices, often of similar or identical products—that it can be overwhelming.
Maybe you enjoy food "window shopping"—browsing the alternatives and seeing what products are out there before making your picks. Or maybe you're one of those people who makes a list and a plan and hurries to get just what you need and get out. Either way, there are somethings to keep in mind for healthier shopping beyond the old saw about "Don't go grocery shopping when you're hungry."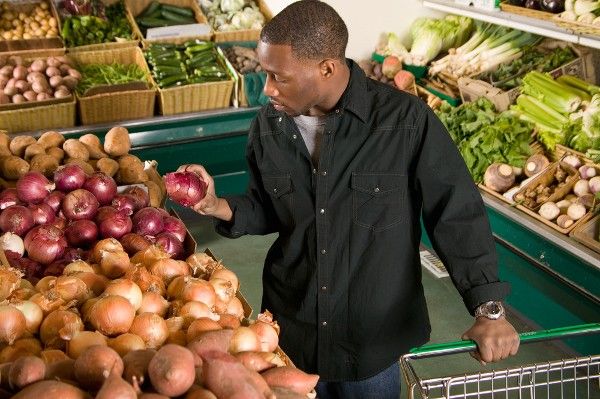 Photo credit: Shutterstock
1. You've probably heard this one before too but avoid the middle aisles as much as possible and shop the perimeters. That's where the unprocessed foods tend to be—produce, dairy products, meats, usually the bakery. Of course, there will be times when you need to pick up coffee, tea, flour or crackers. But the middle aisles are where a lot of processed, packaged foods—like sugary cereals—lie in wait.
2. Start in the produce department and make your cornerstone purchases there. If you fill up your basket and budget there, there's less room for that bag of cookies. And don't just go for a handful of your old favorites when it comes to vegetables and fruits. While almost all are loaded with healthful vitamins and minerals linked to prevention of a whole range of diseases, each has different nutrients in differing amounts. Kale is great, but so are collards and mustard greens and other leafy vegetables. Get a variety of colors too because color is an indicator of which nutrients that particular one has in abundance. And try something new as well. That odd-looking Asian melon might become a new favorite.
3. When you're shopping in those middle aisles, read the labels. Go for the choice that has fewer additives and mystery ingredients, less sugar and salt, and no high-fructose corn syrup. Even if it has a splashy banner that says something like "All Natural!," investigate. While "organic" actually does have a meaning, "natural" doesn't. It can be slapped on anything.
4. In the dairy section, look for butter and milk that are labeled as free of growth hormones and antibiotics. As for eggs, the variety of labels like "cage-free," "free-range," "pasture -raised," "Omega-3 enriched" and "organic" can be confusing. The first three refer to the conditions under which the chickens were raised with free-range better than cage-free and pasture-raised best of all. Organic assures that the chickens have had organic feed and no hormones. Omega-3 enriched is one of those things that makes less difference than marketers want you to think. And no, brown eggs aren't healthier than white ones.
5. Watch out in the beverage aisle, although unless you are picking up coffee or tea, we're not sure why you are there. There are healthy juices certainly, but they're probably in the coolers, not in the aisles where they'd have to be packed with preservatives to extend their shelf life. And that includes some of those fancy energy and athletic drinks which frequently have a lot of added sugar as well.
We'll close with another tip you probably already know. When you head for the checkout, you should be done. Many markets load up the shelf by the checkout with impulse snack purchases and these are virtually never good for you. Refrain.
YOU MIGHT ALSO LIKE
10 Additives You Don't Want in Your Food
5 Food Trends to Watch in 2015
EcoWatch Daily Newsletter

georgeclerk / E+ / Getty Images
By Jennifer Molidor
One million species are at risk of extinction from human activity, warns a recent study by scientists with the United Nations. We need to cut greenhouse gas pollution across all sectors to avoid catastrophic climate change — and we need to do it fast, said the Intergovernmental Panel on Climate Change.
This research should serve as a rallying cry for polluting industries to make major changes now. Yet the agriculture industry continues to lag behind.
Edwin Remsburg / VW Pics / Getty Images
Botswana, home to one third of Africa's elephants, announced Wednesday that it was lifting its ban on the hunting of the large mammals.
"The Ministry of Environment, Natural Resources Conservation and Tourism wishes to inform the public that following extensive consultations with all stakeholders, the Government of Botswana has taken a decision to lift the hunting suspension," the government announced in a press release shared on social media.
Pxhere
By Richard Denison
Readers of this blog know how concerned EDF is over the Trump EPA's approval of many dozens of new chemicals based on its mere "expectation" that workers across supply chains will always employ personal protective equipment (PPE) just because it is recommended in the manufacturer's non-binding safety data sheet (SDS).
By Grant Smith
From 2009 to 2012, Gregory Jaczko was chairman of the Nuclear Regulatory Commission, which approves nuclear power plant designs and sets safety standards for plants. But he now says that nuclear power is too dangerous and expensive — and not part of the answer to the climate crisis.
A lake in Rocky Mountain National Park. Brett Walton / Circle of Blue
By Brett Walton
When Greg Wetherbee sat in front of the microscope recently, he was looking for fragments of metals or coal, particles that might indicate the source of airborne nitrogen pollution in Rocky Mountain National Park. What caught his eye, though, were the plastics.
Gabriele Holtermann Gorden / Pacific Press / LightRocket / Getty Images
In a big victory for animals, Prada has announced that it's ending its use of fur! It joins Coach, Jean Paul Gaultier, Giorgio Armani, Versace, Ralph Lauren, Vivienne Westwood, Michael Kors, Donna Karan and many others PETA has pushed toward a ban.
This is a victory more than a decade in the making. PETA and our international affiliates have crashed Prada's catwalks with anti-fur signs, held eye-catching demonstrations all around the world, and sent the company loads of information about the fur industry. In 2018, actor and animal rights advocate Pamela Anderson sent a letter on PETA's behalf urging Miuccia Prada to commit to leaving fur out of all future collections, and the iconic designer has finally listened.
Amer Ghazzal / Barcroft Media / Getty Images
If people in three European countries want to fight the climate crisis, they need to chill out more.
That's the conclusion of a new study from think tank Autonomy, which found that Germany, the UK and Sweden all needed to drastically reduce their workweeks to fight climate change.
Amazon Employees for Climate Justice held a press conference after the annual shareholder meeting on May 22. Amazon Employees for Climate Justice