This website uses cookies to ensure you get the best experience while browsing it. By clicking 'Got It' you're accepting these terms.
5 Ways to Lose Weight: The Toxic Truth About Gradual Weight Gain
Mar. 14, 2014 08:34AM EST
Food
There are countless reasons why people fail to lose weight.
Most associate weight gain with consuming too much food and not hitting the gym—but it's not nearly that simple.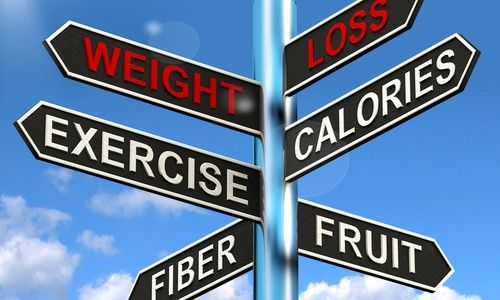 Photo courtesy of Shutterstock
Here are five reasons why gradual weight gain is so tough to beat due, in part, to the chemical and food combinations people ingest, according to Healing the Body.
Toxin Load
Studies indicate that nearly 70 percent of Americans are overweight, and 20 percent are obese. There are a variety of reasons for that shocking number, but one point to hone in on is people's toxin load.
Due to antibiotic- and hormone-rich processed dairy and meats and polluted air, people consume, drink and breathe toxic substances every single day.
And when people take in toxins faster than they expel them, the fat-burning metabolism slows down, digestion becomes sluggish and the body goes into survival mode by isolating toxins in fat, so they don't overload primary organs.
This is why cleansing systems became popular, and it's a smart tactic, however, it is only one piece of the intricate weight loss puzzle.
Sticking to an organic diet and avoiding prolonged pollution exposure will significantly help one's body and aid the environment. 
Hormonal Imbalance
Been a victim of pregnancy weight that never left? Use kids as a reason for the gradual weight increase?
Well, that weight often doesn't come off due to a hormonal imbalance caused by pregnancy, BPA (bisphenol A) plastics and other factors that create bad estrogens. Men are not off the hook either, as items such as plastic can also create bad estrogens that need to be flushed in order for proper hormonal function and a healthy weight.
Apart from weight gain, new research indicates that estrogenic chemicals used to make BPA and BPA-free plastic bottles and cups can cause asthma, cancer, infertility, low sperm count, genital deformity, heart disease, liver problems and Attention Deficit Hyperactivity Disorder. "Pick a disease, literally pick a disease," said Frederick vom Saal, a biology professor at the University of Missouri-Columbia who studies BPA. 
Improper Combination of Foods
People like to attribute certain foods to weight gain, however, what many people fail to consider is how combining certain foods help to spur weight gain. 
For example, animal protein and starches such as potatoes should not be eaten in the same meal. Eating dessert, especially after eating animal protein and carbohydrates, is also a really bad idea. Getting the right combination boils downa to proper assimilation of one's food by your digestive tract, the time frame it takes to do that, and how they interact to either digest effectively or not well at all.
When you put your digestive system in this quagmire, it has increasing difficulty in digestion to the point that it leaves undigested food particles that are essentially left to rot creating gases and toxins that only the local sewer should be capable of producing.
Calorie Counting
It's understandable that people have been taught to count calories or points through several different weight loss systems (like WeightWatchers), and that some people have noted results in the weight loss category.
Yet most of these program do not create lasting results as they don't teach people what they need to know about calories and how the very act of counting them is a fool's errand.
The body needs calories to live, and when given food that is nourishing, the body naturally governs its caloric intake by creating a satisfied signal that makes a person want to stop eating. When people consume foods that are not providing adequate nourishment, the body cries for more calories in hopes it can receive some kind of nutrents, and as a result, people overeat these foods which leads to digestion complications, which in turn, creates more fat storage.
When people decide they really want to lose weight, and for good, a mind shift needs to take place where one transitions to healthy foods that don't require a calculator. Then, once the body is functioning properly and efficiently, it knows it will burn right through that occasional rich snack.
Stress
This is one of the more difficult factors to control. People deal with varying levels of stress, and it knocks the health right out of us one way or another.
When the body feels stress, it's immediate reaction is to 'hold' weight and put more on in anticipation of tougher times ahead. This goes back to periods where food was more scarce, and fat storage was needed for survival.
However, food scarcity is not the same issue today, and to add insult to injury, many people go to food (and often junk food) when they become stressed which further exacerbates the issue.
If you want to start losing weight, you need to be happy with where you are at, so you can lose the stress and ultimately that larger midsection.
Visit EcoWatch's FOOD and HEALTH pages for more related news on this topic.

EcoWatch Daily Newsletter
A dead sea lion on the beach at Border Field State Park, near the international border wall between San Diego, California and Tijuana, Mexico. Sherry Smith / iStock / Getty Images
People crossing the Brooklyn Bridge on July 20, 2017 in New York City sought to shield themselves from the sun as the temperature reached 93 degrees. Drew Angerer / Getty Images
by Jordan Davidson

Taking action to stop the mercury from rising is a matter of life and death in the U.S., according to a new study published in the journal Science Advances.
Salmon fry before being released just outside San Francisco Bay. Jim Wilson / The New York Times / Redux
By Alisa Opar
For Chinook salmon, the urge to return home and spawn isn't just strong — it's imperative. And for the first time in more than 65 years, at least 23 fish that migrated as juveniles from California's San Joaquin River and into the Pacific Ocean have heeded that call and returned as adults during the annual spring run.
Protesters hold a banner and a placard while blocking off the road during a protest against Air pollution in London. Ryan Ashcroft / SOPA Images / LightRocket / Getty Images
By Jessica Corbett
Dozens of students, parents, teachers and professionals joined a Friday protest organized by Extinction Rebellion that temporarily stalled morning rush-hour traffic in London's southeasten borough of Lewisham to push politicians to more boldly address dangerous air pollution across the city.

Jose A. Bernat Bacete / Moment / Getty Images
By Bridget Shirvell
On a farm in upstate New York, a cheese brand is turning millions of pounds of food scraps into electricity needed to power its on-site businesses. Founded by eight families, each with their own dairy farms, Craigs Creamery doesn't just produce various types of cheddar, mozzarella, Swiss and Muenster cheeses, sold in chunks, slices, shreds and snack bars; they're also committed to becoming a zero-waste operation.

By Jessica A. Knoblauch
Summers in the Midwest are great for outdoor activities like growing your garden or cooling off in one of the area's many lakes and streams. But some waters aren't as clean as they should be.
That's in part because coal companies have long buried toxic waste known as coal ash near many of the Midwest's iconic waterways, including Lake Michigan. Though coal ash dumps can leak harmful chemicals like arsenic and cadmium into nearby waters, regulators have done little to address these toxic sites. As a result, the Midwest is now littered with coal ash dumps, with Illinois containing the most leaking sites in the country.

picture-alliance / AP Photo / NOAA Pacific Islands Fisheries Science Center
The Group of 20 major economies agreed a deal to reduce marine pollution at a meeting of their environment ministers on Sunday in Karuizawa, Japan.