This website uses cookies to ensure you get the best experience while browsing it. By clicking 'Got It' you're accepting these terms.
5 Ways to Enjoy Black Friday Without Destroying the Planet
Nov. 27, 2014 11:37AM EST
We're going to assume you didn't rush your family and friends through the holiday meal so you could line up at a local big box story to save a few dollars on a small appliance you don't really need. But before you go out shopping at all, here are a few things to stop and think about, with an emphasis on reuse and recycling.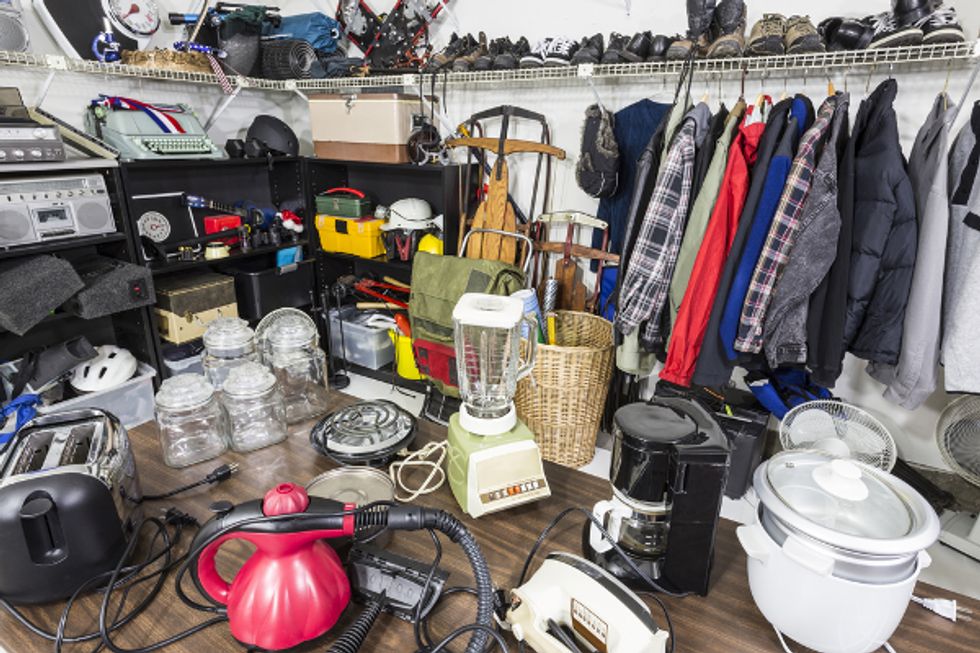 Photo credit: Shutterstock
1. All those sales sound great, but the whole psychology is to make you buy things you don't really need just because you're impressed with how much money you're saving. It's easy to forget you're saving more money if you don't buy the product at all! That $50 you save on the new TV isn't much of a savings if you don't really need that new TV. Before you shop, stop and think about what you do and don't need, and also realize that there's always another sale around the corner. No matter what they say, this is never your "last opportunity."
2. Shop thrift and vintage. Macklemore & Ryan Lewis' amusing hip hop hit "Thrift Shop" last year did more than just make us smile; it also helped make the burgeoning trend of thrifting even more mainstream. Thrift stores have lost their stigma as being a place where only poor people shop and have taken on the aspect of a treasure hunt. Sure, there's a lot of polyester junk but spending time hunting down that unique item you'll never see at the mall is part of the fun. Vintage is a little more expensive because the shop owner has already hunted down and culled the quality stuff. But it's still usually cheaper than buying new, and both are eco-friendly because you're recycling what otherwise might have been discarded.
3. Instead of shopping at all, throw an impromptu swap party this weekend. Surely you've got a few friends aching to get together with understanding pals after spending too much time with that Tea Party uncle ranting about ebola-carrying immigrants (He heard about it on Fox News!) Have each one bring over an armload of clothing and accessories that don't quite fit, don't flatter them or that they're just tired of—they probably already have a bag in the garage they haven't gotten around to dropping off at Goodwill. Spruce up the holiday leftovers with some fresh veggies and clean out the fridge while you're at it, and invite your friends to do the same.
4. Join a Buy Nothing Facebook group. The movement, which has thousands of members and growing, takes the barter economy online. You post anything you have to share, lend or give away on your local Buy Nothing page, and/or ask for anything you'd like receive or borrow. It can be services like rides to the airport or home repairs, items you no longer need (or maybe you're looking for a part for a broken appliance), or people to share your latest culinary creation with. The main rule is that no money changes hands. The goal is to reduce consumption through sharing and reuse; a side benefit is connecting like-minded people who want to decrease their contribution to the waste stream.
5. It's been estimated that as much of a third of all the food in the U.S. is wasted, ending up in landfills producing climate change-causing methane emissions. Don't contribute. You know some of those leftovers will never get eaten so don't spent a week looking at them every time you open the fridge and then finally throw them away. It's time to start that composting project you never got around to. It's not hard and it's really not "icky." You can make a compost container or buy an inexpensive one (you don't really need one of those fancy tumblers) and recycle both your kitchen scraps and yard waste. The rich compost will give your garden a jumpstart in the spring.
YOU MIGHT ALSO LIKE
How California's 75 Percent Recycling Goal Will Create Thousands of Green Jobs
Are You Making These 7 Common Recycling Mistakes?
A Look at the Sustainable Chicago Restaurant That Recycled and Composted Everything for 2 Years
EcoWatch Daily Newsletter
Traffic moves across the Brooklyn Bridge on Aug. 2, 2018 in New York City. Drew Angerer / Getty Images
The Trump administration is expected to unveil its final replacement of Obama-era fuel-efficiency standards for cars and light trucks Tuesday in a move likely to pump nearly a billion more tons of carbon dioxide into the atmosphere over the lifetime of those less-efficient vehicles.
U.S. President Donald Trump listens as Anthony Fauci, Director of the National Institute of Allergy and Infectious Diseases speaks in the Rose Garden for the daily coronavirus briefing at the White House on March 29 in Washington, DC. Tasos Katopodis / Getty Images
By Jake Johnson
Just over a month after proclaiming that the number of coronavirus cases in the U.S. would soon "be down to close to zero," President Donald Trump said during a press briefing on the White House lawn Sunday that limiting U.S. deaths from the pandemic to between 100,000 and 200,000 people would mean his administration and the country as a whole did "a very good job."
Dicamba is having a devastating impact in Arkansas and neighboring states. A farmer in Mississippi County, Arkansas looks at rows of soybean plants affected by dicamba. The Washington Post / Getty Images
Documents unearthed in a lawsuit brought by a Missouri farmer who claimed that Monsanto and German chemical maker BASF's dicamba herbicide ruined his peach orchard revealed that the two companies knew their new agricultural seed and chemical system would likely damage many U.S. farms, according to documents seen by The Guardian.
Washington State Governor Jay Inslee and other leaders speak to the press on March 28, 2020 in Seattle. Karen Ducey / Getty Images