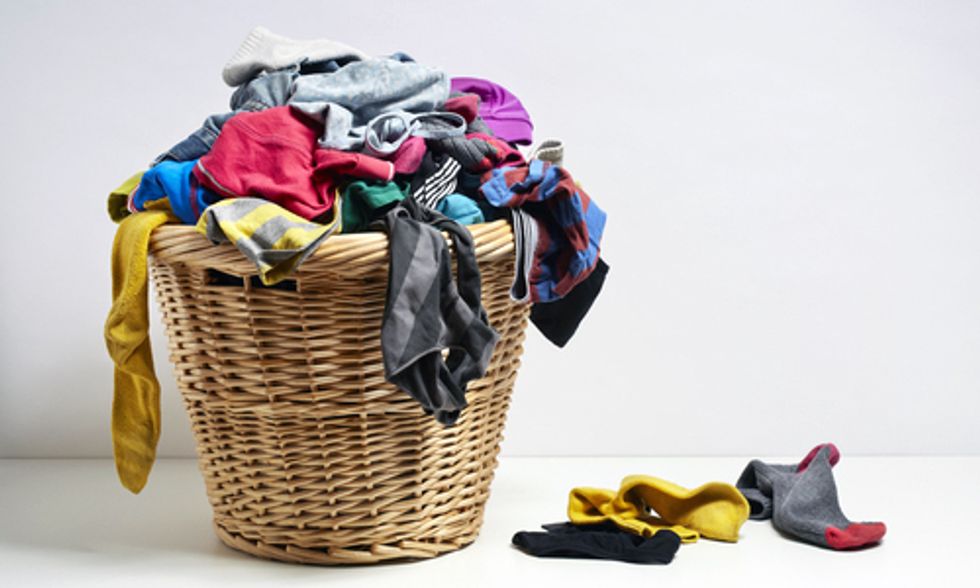 Ah, laundry! Clean, fresh-smelling clothes after that week you spent in those grubby sweats. But is that laundry really as healthy as that fresh smell suggests? Maybe not. Here are a few things you can do to make sure you aren't carrying toxic chemicals around in your laundry basket.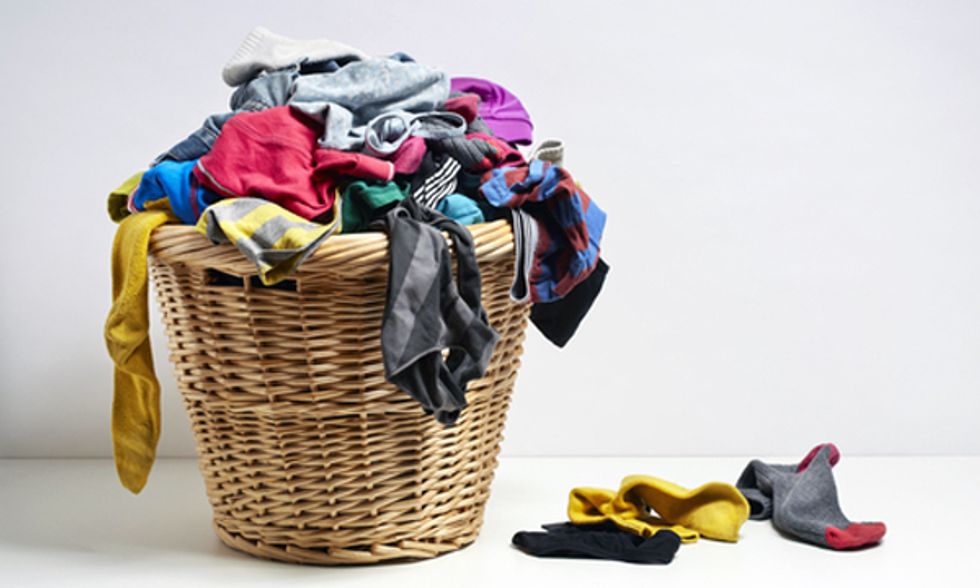 Photo credit: Shutterstock
1. Know what's in your laundry detergent. Read the label and you'll see a long list of things that sounds like the components of a toxic dump site. Fragrant laundry detergents in particular are apt to contain volatile organic compounds, but even unscented detergents can contain more than a dozen such chemicals, including one or more of 24 classified by the U.S. government as hazardous or toxic or even carcinogenic. Since you probably don't have the time or expertise to look up each one, Environmental Working Group has a handy guide that rates hundreds of laundry products on an A-F scale. Sadly, it rates almost 40 percent "F" and only 5.4 percent "A."
2. Don't fall for marketing labels like "natural," "green, "environmentally friendly" or even "organic," which means nothing  on a cleaning product. There are no set standards for any of these terms. However, Green Seal and EcoLogo are independent certifiers of environmentally friendly products that restrict some chemicals. Products with their seal must be reevaluated regularly to assure they meet current standards. The seals are most often found on commercial cleaning products, but if you see it on a home laundry product, grab it.
2. Don't use dyer sheets! Seriously, why are you doing that? You don't need to smell like a field of flowers if your clothes are clean and about the only thing they contribute is another dose of chemicals. Even if you're not sensitive to the fragrance chemicals used to make them smell so sweet—and some of your friends probably are—they have other toxic impacts. While the exact makeup of fragrance compounds is usually a trade secret (and doesn't THAT make you uneasy?), the fabric softeners found in dryer sheets have chemicals known to cause headaches, dizziness and asthma attacks.
5. You obviously want to avoid adding a fabric softener to your wash too. It contains all those toxic chemicals found in dryer sheets. It works by coating your clothes with a thin layer of chemicals that make them feel smoother. One of the most frequently used is quantenary ammonium salts which can cause skin irritation, respiratory problems, nausea, vomiting, convulsions, coma and even death. Although you are unlikely to die from walking around in clothes coated with it—a rash or allergic-type reaction is more likely— why would you want to?
5. Instead of dryer sheets, try an alternative like reusable wool balls. They will soften your clothes and get rid of static clean and wrinkles, won't create waste like throw-away dryer sheets and won't leave your clothes smelling like a cloying bouquet. Or just toss an old wool sweater in the dryer along with your clothes to make them dry faster and smoother.
YOU MIGHT ALSO LIKE
6 Eco-Friendly Alternatives to Toxic Dryer Sheets
EcoWatch Daily Newsletter