This website uses cookies to ensure you get the best experience while browsing it. By clicking 'Got It' you're accepting these terms.
5 Ways the Farm Bill Brings Home the Bacon for Big Ag
Jan. 29, 2014 02:46PM EST
Food
Today the U.S. House of Representatives passed the Farm Bill, which fails to make meaningful reforms to correct this imbalance in our food policy:
1. "Direct Payments" Bait and Switch
The Farm Bill eliminates the "Direct Payments" program—long the poster child for wasteful agricultural subsidies, known for handing out checks to rich landowners who don't even farm. But in a political sleight of hand, the bill plows more than half the savings from cutting Direct Payments into a new subsidy program that will continue to give handouts to large agribusinesses that don't need our tax dollars.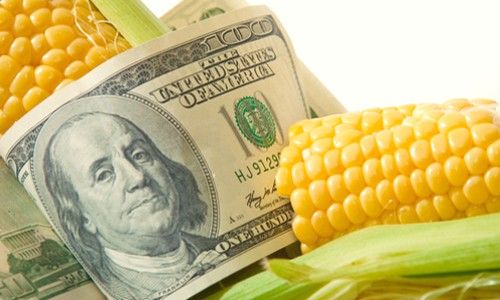 Photo courtesy of Shutterstock
The new "Shallow Loss" programs would lock in the record high prices of recent years. A study commissioned by the Environmental Working Group found that if prices fell, the new program could cost taxpayers $20 billion more over the next decade than the discredited "Direct Payments" program.
2. Big Profits Mean Big Subsidies
Since 1995, just four percent of agribusinesses have made off with three quarters of the subsidies. Yet the bill does next to nothing to reduce or eliminate subsidies for agribusinesses with high incomes. For millionaire farmers, the checks will keep on coming.
3. No Caps Mean Million Dollar Checks
The bill fails to put any cap on how big a check an agribusiness can receive to help pay its insurance bill. Currently, taxpayers pay more than 60 percent of the premiums for insurance that compensates agribusinesses for poor yields, price declines or both. On top of that, taxpayers pay 15 private insurance companies $1.3 billion to run the program.
Because the program has no caps, 26 agribusinesses have received more than $1 million in a single year, while 80 percent get $5,000 on average, according to a study from the Environmental Working Group.
Instead of reining in this program and capping how much agribusinesses can receive, the bill would actually expand it.
4. Paying to Market Big Macs and Underwear Abroad
The Farm Bill makes no changes to the $200 million per year Market Access Program, which has subsidized ad campaigns for giant agricultural companies and their trade associations. Companies receiving funding have ranged from McDonald's to Fruit of the Loom. Taxpayer money has even been used to pay for a reality TV show in India to promote cotton. Companies are perfectly capable of buying their own airtime—they don't need taxpayer dollars to subsidize their ads.
5. Subsidizing Junk Food
At a time when America faces an obesity epidemic, billions in subsidies underwrite the production of junk food additives. Between 1995 and 2012, U.S. PIRG research found that $19.2 billion subsidized four common junk food additives, including high fructose corn syrup. That's enough to buy every kid under 18 eight 2-liter bottles of soda every year. By contrast, the subsidies for apples—the only fruit or vegetable that gets significant subsidies—would pay for less than half of an apple for each taxpayer.
Visit EcoWatch's FOOD and HEALTH pages for more related news on these topics.

EcoWatch Daily Newsletter
SHEALAH CRAIGHEAD
By Elliott Negin
On July 19, President Trump hosted Apollo 11 astronauts Buzz Aldrin and Michael Collins and their families, along with the family of their deceased colleague Neil Armstrong, at a White House event to commemorate the 50th anniversary of the first manned landing on the moon.
The study looked at three groups of diverse lizards from South America. Daniel Pincheira-Donoso
Cold-climate lizards that give live birth to their offspring are more likely to be driven to extinction than their egg-laying cousins as global temperatures continue to rise, new research suggests.
Sean Gallup / Getty Images
A stock photo of fire in the Amazon; a record number of fires have burned there this year. Brasil2 / E+ / Getty Images
Tuna auctions are a tourist spectacle in Tokyo. Outside the city's most famous fish market, long queues of visitors hoping for a glimpse of the action begin to form at 5 a.m. The attraction is so popular that last October the Tsukiji fish market, in operation since 1935, moved out from the city center to the district of Toyosu to cope with the crowds.

gmnicholas / E+ / Getty Images
Kristan Porter grew up in a fishing family in the fishing community of Cutler, Maine, where he says all roads lead to one career path: fishing. (Porter's father was the family's lone exception. He suffered from terrible seasickness, and so became a carpenter.) The 49-year-old, who has been working on boats since he was a kid and fishing on his own since 1991, says that the recent warming of Maine's cool coastal waters has yielded unprecedented lobster landings.
Aerial view of lava flows from the eruption of volcano Kilauea on Hawaii, May 2018. Frizi / iStock / Getty Images
Hawaii's Kilauea volcano could be gearing up for an eruption after a pond of water was discovered inside its summit crater for the first time in recorded history, according to the AP.