This website uses cookies to ensure you get the best experience while browsing it. By clicking 'Got It' you're accepting these terms.
5 Ways the Farm Bill Brings Home the Bacon for Big Ag
Jan. 29, 2014 02:46PM EST
Food
Today the U.S. House of Representatives passed the Farm Bill, which fails to make meaningful reforms to correct this imbalance in our food policy:
1. "Direct Payments" Bait and Switch
The Farm Bill eliminates the "Direct Payments" program—long the poster child for wasteful agricultural subsidies, known for handing out checks to rich landowners who don't even farm. But in a political sleight of hand, the bill plows more than half the savings from cutting Direct Payments into a new subsidy program that will continue to give handouts to large agribusinesses that don't need our tax dollars.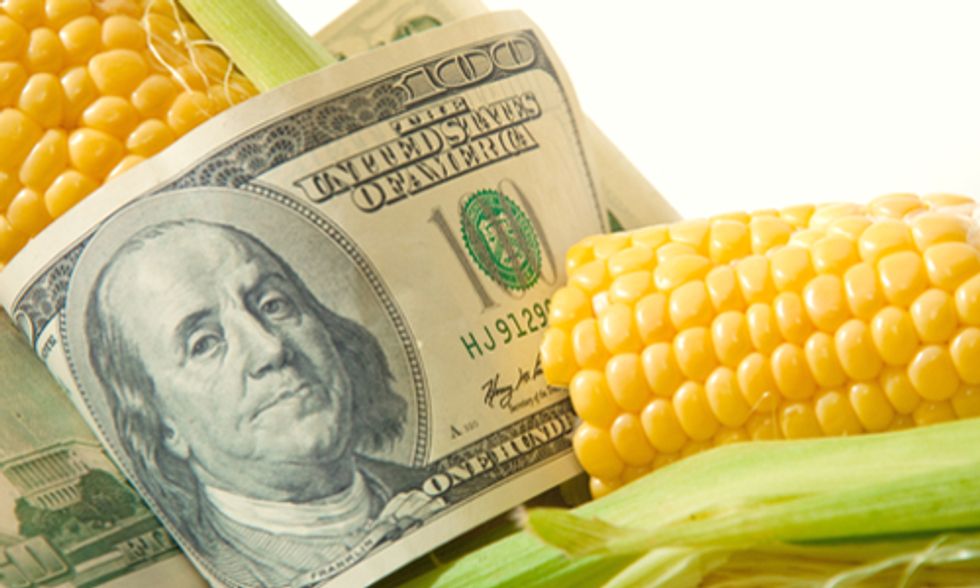 Photo courtesy of Shutterstock
The new "Shallow Loss" programs would lock in the record high prices of recent years. A study commissioned by the Environmental Working Group found that if prices fell, the new program could cost taxpayers $20 billion more over the next decade than the discredited "Direct Payments" program.
2. Big Profits Mean Big Subsidies
Since 1995, just four percent of agribusinesses have made off with three quarters of the subsidies. Yet the bill does next to nothing to reduce or eliminate subsidies for agribusinesses with high incomes. For millionaire farmers, the checks will keep on coming.
3. No Caps Mean Million Dollar Checks
The bill fails to put any cap on how big a check an agribusiness can receive to help pay its insurance bill. Currently, taxpayers pay more than 60 percent of the premiums for insurance that compensates agribusinesses for poor yields, price declines or both. On top of that, taxpayers pay 15 private insurance companies $1.3 billion to run the program.
Because the program has no caps, 26 agribusinesses have received more than $1 million in a single year, while 80 percent get $5,000 on average, according to a study from the Environmental Working Group.
Instead of reining in this program and capping how much agribusinesses can receive, the bill would actually expand it.
4. Paying to Market Big Macs and Underwear Abroad
The Farm Bill makes no changes to the $200 million per year Market Access Program, which has subsidized ad campaigns for giant agricultural companies and their trade associations. Companies receiving funding have ranged from McDonald's to Fruit of the Loom. Taxpayer money has even been used to pay for a reality TV show in India to promote cotton. Companies are perfectly capable of buying their own airtime—they don't need taxpayer dollars to subsidize their ads.
5. Subsidizing Junk Food
At a time when America faces an obesity epidemic, billions in subsidies underwrite the production of junk food additives. Between 1995 and 2012, U.S. PIRG research found that $19.2 billion subsidized four common junk food additives, including high fructose corn syrup. That's enough to buy every kid under 18 eight 2-liter bottles of soda every year. By contrast, the subsidies for apples—the only fruit or vegetable that gets significant subsidies—would pay for less than half of an apple for each taxpayer.
Visit EcoWatch's FOOD and HEALTH pages for more related news on these topics.

EcoWatch Daily Newsletter
Doctors report that only 1 in 4 children are getting the recommended 60 minutes of physical activity per day. Ronnie Kaufman / DigitalVision / Getty Images
By Dan Gray
Pediatricians are being urged to start writing "exercise prescriptions" for the children they see in their office.
A First Nations protester walks in front of a train blockade in Tyendinaga, near Belleville, Ontario, Canada on Feb. 21, 2020. LARS HAGBERG / AFP via Getty Images
An indigenous rail blockade that snarled train travel in Canada for more than two weeks came to an end Monday when police moved in to clear protesters acting in solidarity with another indigenous community in British Columbia (B.C.), which is fighting to keep a natural gas pipeline off its land.
A rainbow snake, a rare reptile spotted in a Florida county for the first time in more than 50 years, seen here on July 5, 2013.
Kevin Enge / FWC Fish and Wildlife Research Institute / Flickr
A Florida hiker recently stumbled across a slithering surprise — a rare snake that hadn't been spotted in the area for more than 50 years.
We need our government to do everything it can to stop PFAS contamination and exposure from wreaking havoc in communities across the country. LuAnn Hun /
Unsplash
By Genna Reed
The EPA announced last week that it is issuing a preliminary regulatory determination for public comment to set an enforceable drinking water standard to two of the most common and well-studied PFAS, PFOA and PFOS.
This decision is based on three criteria:
PFOA and PFOS have an adverse effect on public health
PFOA and PFOS occur in drinking water often enough and at levels of public health concern;
regulation of PFOA and PFOS is a meaningful opportunity for reducing the health risk to those served by public water systems.
Charging EVs in Stockholm: But where does a dead battery go? Ranjithsiji / Wikimedia Commons
By Kieran Cooke
Driving an electric-powered vehicle (EV) rather than one reliant on fossil fuels is a key way to tackle climate change and improve air quality — but it does leave the old batteries behind as a nasty residue.