This website uses cookies to ensure you get the best experience while browsing it. By clicking 'Got It' you're accepting these terms.
5 Ways Obama's Budget Fights Climate Change and Expedites Renewable Energy
Feb. 03, 2015 09:32AM EST
Climate
President Obama's FY2016 budget proposal prominently demonstrates his commitment to fighting climate change while investing in America's future.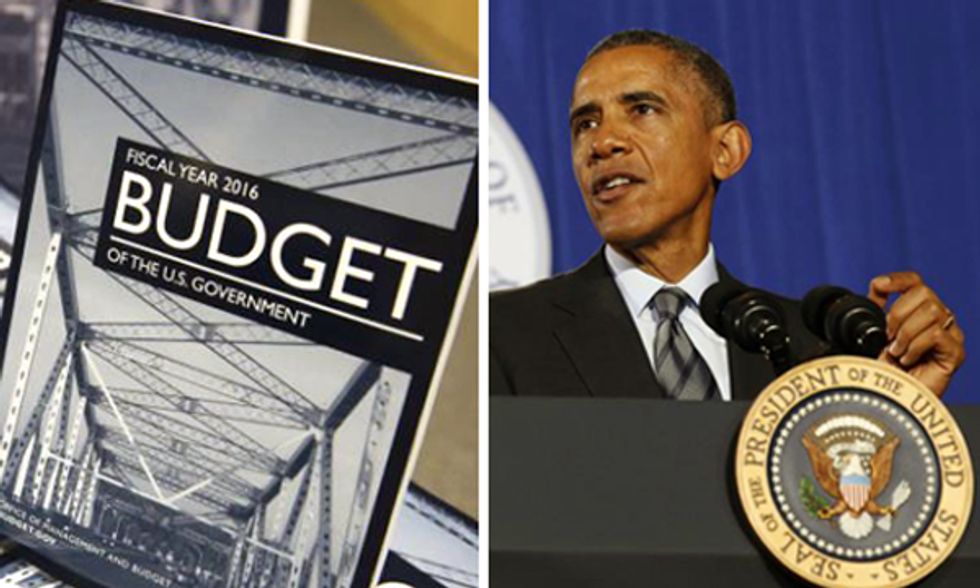 In the last few years this administration has cut carbon pollution from cars and trucks, proposed the first-ever federal standards limiting carbon pollution from existing power plants (the Clean Power Plan), set a raft of new energy-efficiency standards, proposed replacing the biggest uses of the HFC "super pollutants," and set a schedule for first steps on methane pollution.
This budget proposal continues these efforts while expanding efforts in resilience, investing in clean energy and taking a leadership role in global climate initiatives.
The president's commitment stands out in his Message to Congress:
No challenge poses a greater threat to future generations than climate change. Fourteen of our planet's 15 warmest years on record have all fallen in the first 15 years of this century. The world's best scientists are telling us that our activities are changing the climate, and if we do not act forcefully, we'll continue to see rising oceans, longer, hotter heat waves, dangerous droughts and floods, and massive disruptions that can trigger greater migration, conflict, and hunger around the globe. The Pentagon says that climate change poses immediate risks to our national security. And as discussed in the Budget, the significant costs to inaction on climate change hit the Federal Government's bottom-line directly, as worsening climate impacts create Government liabilities. That's why this Budget takes action on climate by supporting the Climate Action Plan that I released in 2013 with investments to accelerate carbon pollution reductions, to build on-the-ground partnerships with local communities and help them put in place strategies for greater resilience to climate change impacts, and to support America's leadership abroad on this important moral and fiscal issue.
Here's a quick tour of key climate budgetary highlights. (For a comprehensive summary, look here).
The president's budget includes $25 million in state grants to help states develop their own implementation strategies to clean up power plants, the nation's number one source of the pollution driving dangerous climate change.
The budget also proposes a $4 billion fund to encourage and reward states that go beyond the Clean Power Plan's minimum goals, or meet those goals ahead of schedule. For example, this fund could support job-creating wind and solar energy and energy efficiency investments, transmission and other infrastructure that reduces carbon pollution, or help clean up pollution that disproportionately affects low-income communities.
The budget includes funding for American leadership in clean energy technology development. It invests $7.4 billion, primarily through the Energy, Defense, and Agriculture Departments, in research, development, and deployment of technologies ranging from wind, solar, and energy efficiency to carbon capture and storage. The president proposes extending the production tax credits for new wind and solar energy installations.
To underscore the president's climate diplomacy and promote a global climate agreement in Paris this December, the budget requests $1.29 billion towards the Global Climate Change Initiative. This includes a $500 million installment towards the President's $3 billion pledge to contribute to the Green Climate Fund (GCF), an outgrowth of the international climate fund launched by President Bush and Treasury Secretary Hank Paulson in 2008.
The GCF is an important investment in maintaining the stability of the world's most vulnerable nations as they cope with disastrous storms, droughts, and other manifestations of a changing climate. It contributes to U.S. national security by preventing climate impacts from undermining the stability of vulnerable nations by aggravating civil conflicts or creating humanitarian and refugee crises.
The budget documents call attention to the enormous financial cost the federal government has incurred from climate change—more than $300 billion in direct costs over the last decade due to extreme weather and fire alone. To reduce future costs and danger across the United States, the budget proposes climate resilience investments across the departments to improve our understanding of projected climate change impacts while building resilience-enhancing infrastructure and activities.
The budget proposes $400 million in funding for National Flood Insurance risk mapping, which will help communities and businesses understand local flood risks. A new $50 million program at the National Oceanic and Atmospheric Administration will help coastal regions plan and implement resilience plans. $20 million will go to the Climate Resilience Toolkit, a public resource that provides scientific tools and information to help Tribes, businesses, communities and citizens understand both the risks from climate change and the opportunities for action.
The president's climate budget proposals are a direct challenge to Congress's know-nothing/do-nothing leadership. Today, we heard only more of the same from Senate Majority Leader Mitch McConnell, who announced that he's joining an appropriations subcommittee overseeing the Environmental Protection Agency. As reported by The Hill, McConnell said: "You can guarantee that I will continue to fight back against this Administration's anti-coal jobs regulations on behalf of the Kentuckians I represent in the U.S. Senate."
Votes taken last month on the Keystone XL pipeline bill call into question whether McConnell has the votes to block EPA from carrying out its climate responsibilities under the Clean Air Act. Five members of the Republican caucus broke ranks to recognize that human activity "significantly" contributes to climate change. Ten other Republicans backed another affirmation of climate science. Two Republican Senators voted against efforts to condemn the president's climate agreement with China and interfere with his diplomacy with other nations.
McConnell is short of 60 votes, and far short of the 67 he'd need to override presidential vetoes.
Just this weekend, the New York Times released the latest poll demonstrating that the American people overwhelmingly favor action on climate change. That includes a near-majority—47 percent—of Republicans. The Senate and House leadership's climate denialism is increasingly out of step.
If McConnell cannot block the Clean Power Plan entirely, will he seek to cut the funds that the president has proposed to help Kentucky businesses and consumers? Where will that kind of intransigence lead his party?
YOU MIGHT ALSO LIKE
Robert Redford: Fossil Fuels Need to Stay in the Ground, Renewable Energy Is the Future
UN Confirms 2014 Was 'Hottest Year on Record'
New Satellite Data Reveals Dramatic Shrinkage of Arctic Ice Cap
EcoWatch Daily Newsletter
The CDC has emphasized that washing hands with soap and water is one of the most effective ways to prevent the spread of COVID-19. Guido Mieth / Moment / Getty Images
The Centers for Disease Control has emphasized that washing hands with soap and water is one of the most effective measures we can take in preventing the spread of COVID-19. However, millions of Americans in some of the most vulnerable communities face the prospect of having their water shut off during the lockdowns, according to The Guardian.
A California newt (Taricha torosa) from Napa County, California, USA. Connor Long /
CC BY-SA 3.0
Aerial photos of the Sierra Nevada — the long mountain range stretching down the spine of California — showed rust-colored swathes following the state's record-breaking five-year drought that ended in 2016. The 100 million dead trees were one of the most visible examples of the ecological toll the drought had wrought.
Now, a few years later, we're starting to learn about how smaller, less noticeable species were affected.
Disinfectants and cleaners claiming to sanitize against the novel coronavirus have started to flood the market.
Natthawat / Moment / Getty Images
Disinfectants and cleaners claiming to sanitize against the novel coronavirus have started to flood the market, raising concerns for the U.S. Environmental Protection Agency (EPA), which threatened legal recourse against retailers selling unregistered products, according to The New York Times.
A customer packs groceries in reusable bags at a NYC supermarket on March 1, 2020. Eduardo Munoz Alvarez/Getty Images
The global coronavirus pandemic has thrown our daily routine into disarray. Billions are housebound, social contact is off-limits and an invisible virus makes up look at the outside world with suspicion. No surprise, then, that sustainability and the climate movement aren't exactly a priority for many these days.
Ingredients are displayed for the Old School Pinto Beans from the Decolonize Your Diet cookbook by Luz Calvo and Catriona Rueda Esquibel. Melissa Renwick / Toronto Star via Getty Images
By Molly Matthews Multedo
Livestock farming contributes to global warming, so eating less meat can be better for the climate.