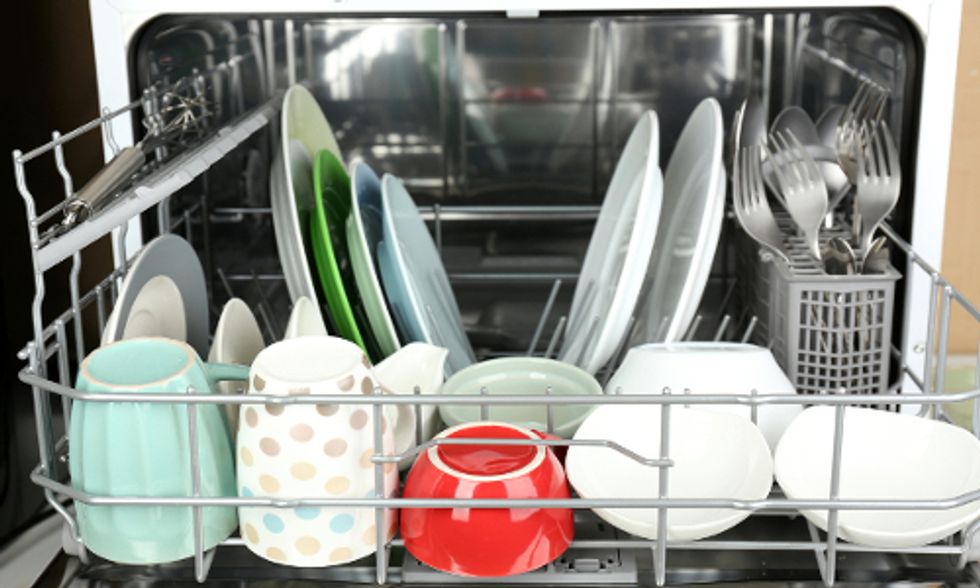 Whether you wash your dishes by hand in the sink or use a dishwasher, there is a multitude of ways of making the process cleaner and greener. Here are a few ways you can make your dishwashing safer and healthier for you and the planet.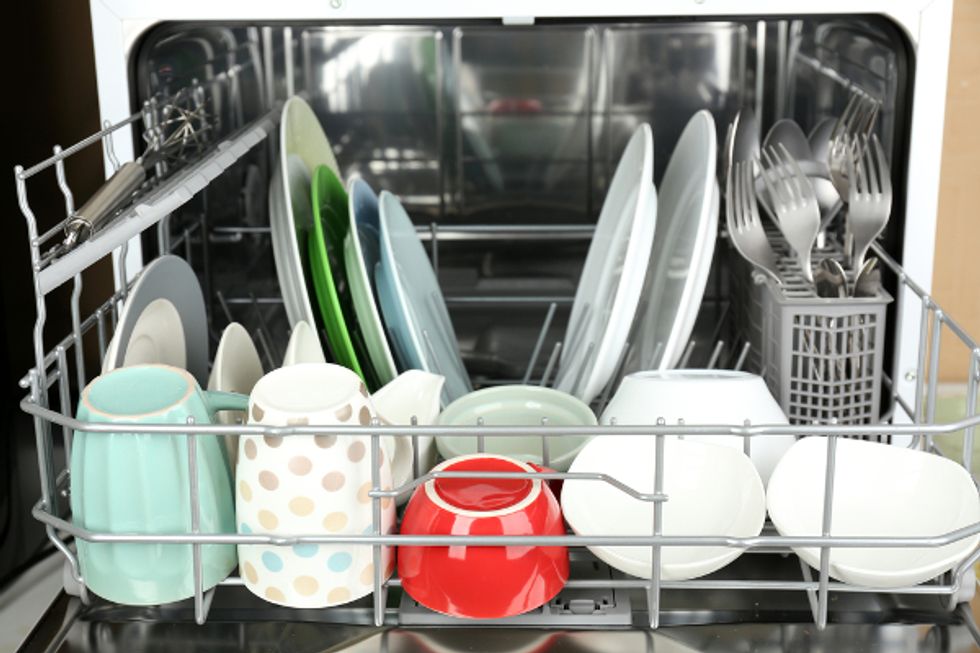 Photo credit: Shutterstock
1. The first thing you'll want to look at is your dishwashing soap. These come in such a vast array of brands, sizes, types and scents that it can be overwhelming and you end up just picking your favorite color container or fragrance. That's not the best way to choose. Many such products contain harsh and/or unsafe chemicals and that "fragrance" could be one of them. Some use bright green containers and call themselves "green" or "natural" but those designations don't mean anything in particular. The Environmental Working Group (EWG) scores some of the better products available for both hand dishwashing and dishwashers, listing all the ingredients and flagging any likely to cause reactions such as allergies, rashes and asthma. It also warns you off soaps that are unhealthy. And it scores them for environmental impact as well.
2. Check those kitchen hand towels you dry the dishes with—damp, dirty towels can be a breeding ground for bacteria. The University of Wisconsin Extension reports on a study of 82 such towels collected in five cities. "All kitchen towels collected had at least 1,000 bacteria per towel and some had 1,000,000,000 per towel," it said. "The overall average across the 82 kitchen towels was 100,000,000  per towel. Fecal bacteria were detected in 89 percent of towels and E. coli in 25.6 percent of towels." It suggests laundering towels after each use or, if you absolutely can't do that, hang it on a rack to dry after use. It also recommends having separate sets of towels for dish and hand drying. You can also use paper towels, which can be recycled in your compost bin.
3. Sponges are another place bacteria can collect. It's tempting to just rinse them off between uses. But when they're used to clean pots and dishes and other items that come in contact with food, it's smart to sanitize them afterward. You can do that in your washing machine or dishwasher setting it the "hot" cycle. Or you can pop them in your microwave for one minute to kill almost all the bacteria. And if they really start to look grubby, just toss them.
4. What should you look for if you prefer a dishwashing machine? Dishwasher tubs are made from from either plastic or stainless steel and both are safe. Stainless steel, while more expensive, is a totally safe choice because it's bacteria-resistant, and it takes a beating and lasts. Plastic dishwasher tubs are generally made from polypropylene which does not contain the endocrine disruptors bisphenol A (BPA) or phthalates everyone's so rightfully concerned about. But some stainless steels racks may be coated with polyvinyl chloride (PVC) containing health-threatening phthalates, dioxins and lead, which can shed as the PVC deteriorates. Higher-end dishwashers usually come with safer and more durable nylon coating. It's worth checking into.
5. While you're looking for a new dishwashers, also look at its environmental impact. Most new dishwashers are made to use less water and less energy, and most are Energy Star certified, indicating that the dishwasher has reached a certain standard for energy efficiency. And, to save energy and water, remember the simple rule to only run the dishwasher when it's full.
YOU MIGHT ALSO LIKE
8 Steps to a More Eco-Friendly Kitchen
3 Common Chemicals That May Cause Breast Cancer
EcoWatch Daily Newsletter