5 Things You Should Know About the Kick Off of Paris Climate Talks
Dec. 01, 2015 10:12AM EST
Climate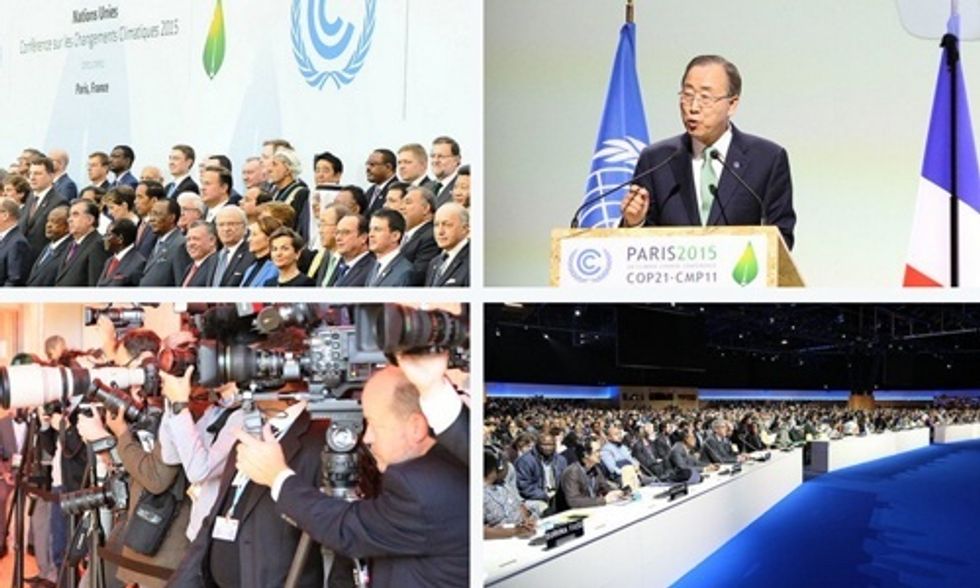 On Sunday, Nov. 29, more than half a million people took to the streets from more than 175 countries to show support for the Paris climate talks, which officially kicked off on Monday with unprecedented momentum and political will.
Despite the cancellation of massive mobilizations in the City of Light due to security concerns after the devastating Nov. 13 terrorist attacks, activists were determined to show their support for a strong climate deal. Tens of thousands of shoes, including pairs from Pope Francis and UN Secretary Ban-Ki Moon, were laid out at Paris's Place de la Republique to symbolize those who could not march.
More than 140 heads of state were present at the opening of the COP's two day high level leaders day. President Obama spoke long and eloquently about the impact of climate change on future generations and made clear the U.S. intentions to increase support to developing and climate vulnerable nations.
Check out our @Flickr account for some great pics of the #COP21 Leaders Event https://t.co/FycPGyFw6D https://t.co/wCl1XAbImS

— UN Climate Action (@UN Climate Action)1448971744.0
Canadian Prime Minister Justin Trudeau drew loud applause when he pronounced, "Canada is back, my good friends. We're here to help." Canada has long been seen as a laggard in the climate action arena, but Trudeau's new government has already been rehabilitating Canada's climate stances and has pledged to review and reform the country's policies on climate and energy in the coming weeks and months.
Chinese President Xi also reaffirmed his country's commitment to climate action and India's Prime Minister Modi announced a solar power alliance with more than 100 countries intended to accelerate the adoption and scaling of solar infrastructure across the global south.
Faith leaders delivered a petition signed by nearly 2 million people of different faiths to the head of the UN Framework Convention on Climate Change, Christiana Figueres. Representatives from different faith groups have turned out in force for this COP, buoyed by statements of religious leaders like Pope Francis and the Dalai Lama, who make the moral case for acting on climate.
It wasn't just the activists, faith leaders and heads of state making noise, business leaders joined in to announce the biggest ever clean tech fund on Monday, which will double global clean energy spending to $20 billion. Microsoft founder Bill Gates is spearheading the effort and is joined by 27 other corporate heavyweights, called the Breakthrough Energy Coalition. It was complemented by an international initiative called Mission Innovative, endorsed by 20 countries, including the U.S. The initiative is meant to pay for research and development of new clean energy technologies and will double spending from a current $10 billion. U.S. Energy Secretary Ernest Moniz said he hopes the announcement will "set the tone" for the Paris climate talks.
YOU MIGHT ALSO LIKE
These 4 Kids Walked to the North Pole and Now They Need Your Help
Obama: We Must Create a 'World That is Worthy of Our Children'
Prince Charles: Governments Must Scrap Fossil Fuel Subsidies
EcoWatch Daily Newsletter